One Month of Easy Crockpot Dinner Meals for Meal Planning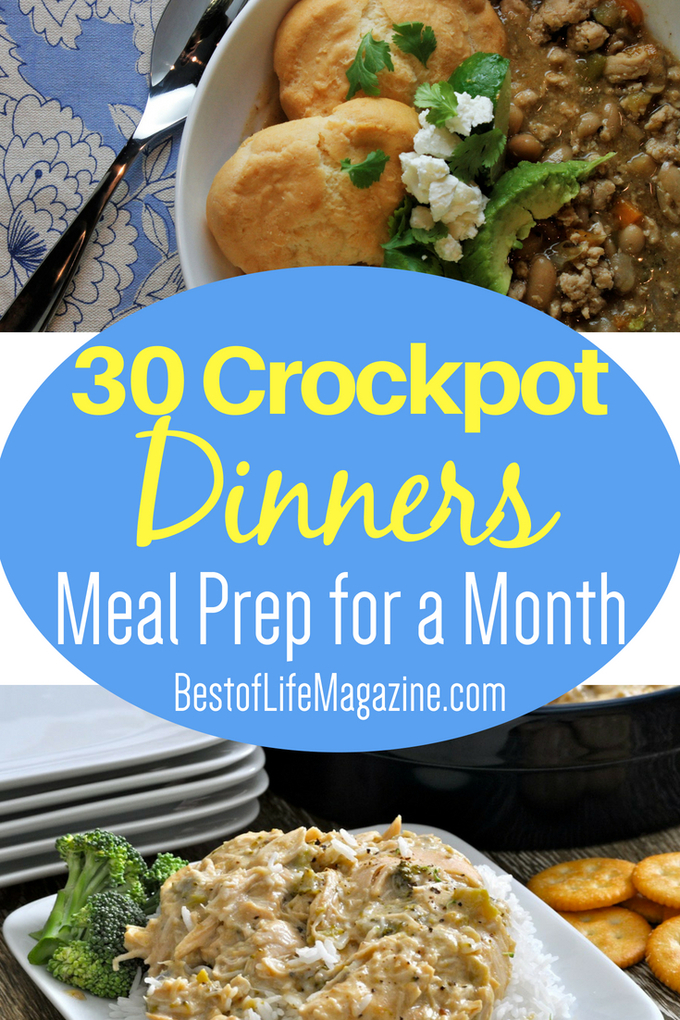 Crockpots inherently make life easier for everyone who owns one. How it works is simple: use recipes that allow you to toss everything into the slow cooker, turn it on, and go about your day. For the most part, leftovers can be thrown into a freezer safe container and enjoyed later. Better yet, if you plan your crockpot meals in advance, you can enjoy even more free time throughout your month. Add disposable crockpot liners to your routine, and cleanup will be a breeze, as well.
Enjoy an entire month of easy crockpot dinner meals and get more free time, healthier dinners, and keep every meal exciting for you and your family.
The goal of a crockpot is to make cooking easier for everyone. There are crockpot recipes for families and there are crockpot recipes that are meant to yield leftovers. There are just a ton of different crockpot recipes that you can enjoy.
The best part is, there are enough easy crockpot dinner meals that you can plan ahead. You can plan so far ahead that you will not have to worry about what is for dinner any night of the week.
You can have a full month of crockpot dinner recipes at the ready and enjoy your weeknights again.
Easy Crockpot Dinner Meals | Day 1-6
Easy Crockpot BBQ Ribs Recipe | Slow Cooker BBQ Ribs | Best of Life Magazine
Ketogenic Crockpot Bacon and Chicken Recipe | Low Carb Chicken and Bacon | Best of Life Magazine
Veggie Crockpot Lasagna | Pinch of Yum
25 Crockpot Side Dishes for Any Occasion | Best of Life Magazine
Beef Stroganoff Crockpot Recipe with Golden Mushroom Soup | Best of Life Magazine
Shredded Chicken and Crackers Crockpot Recipe | Best of Life Magazine
Easy Crockpot Dinner Meals | Day 7-12
Healthy Vegetarian Crockpot Recipes | Best of Life Magazine
Shredded Chicken Tacos Crockpot Recipe (Dairy Free & Ketogenic) | Best of Life Magazine
Turkey Chili Crockpot Recipe | Best of Life Magazine
Easy Crock Pot Chicken Tortilla Soup Recipe | Low Carb Slow Cooker Tortilla Soup | Best of Life Magazine
Slow Cooker Lo Mein | Damn Delicious
Crockpot Keto Side Dishes | Slow Cooker Low Carb Side Dishes | Best of Life Magazine
Easy Crockpot Dinner Meals | Day 13-18
Crock Pot Soups for Fall | Best of Life Magazine
Slow Cooker Baked Ziti | The Recipe Rebel
Dairy Free Slow Cooker Chicken Fajitas Recipe | Best of Life Magazine
Slow Cooker Beef and Brown Rice Recipe | Best of Life Magazine
35 Crockpot Beef Recipes | Best of Life Magazine
Crockpot Keto Chicken Recipes | Best of Life Magazine
Easy Crockpot Dinner Meals | Day 19-24
Crockpot Recipes with Chicken for Weight Loss | Best of Life Magazine
Slow Cooker Teriyaki Chicken | Joy Food Sunshine
Crockpot Chicken Taco Recipes | Slow Cooker Chicken Tacos | Best of Life Magazine
Keto Ground Beef Crockpot Recipes | Low Carb Crockpot Beef Recipes | Best of Life Magazine
Crockpot Keto Chicken Recipes | Best of Life Magazine
100+ Most Pinned Crockpot Recipes | Best of Life Magazine
Easy Crockpot Dinner Meals | 25-30
Crockpot Chicken Chili with Roasted Peppers | Best of Life Magazine
Three Ingredient Crock Pot Beef Roast with Vegetables | Best of Life Magazine
Slow Cooker Chicken Broccoli and Rice Casserole | Dairy Free Crock Pot Recipe | Best of Life Magazine
Crockpot Chicken Burrito Bowl Recipes for the Family | Best of Life Magazine
Vegetarian Taco Soup | Running in a Skirt