This site contains affiliate links. Please read our Policies for information.
Crockpot meals make weeknight dinners easier and save so much time in the kitchen without compromising flavor. This crockpot bacon and chicken with peppers recipe is perfect for those busy nights when you just want to fix it and forget it. Slow cooker chicken and bacon can be served over rolls or buns for a sandwich or is keto diet friendly when served over lettuce. Trust me – with the bacon, you won't miss the bread at all!
Fix it and forget it with this crockpot bacon and chicken recipe with red peppers that is keto diet friendly and offers a low carb dinner everyone will love.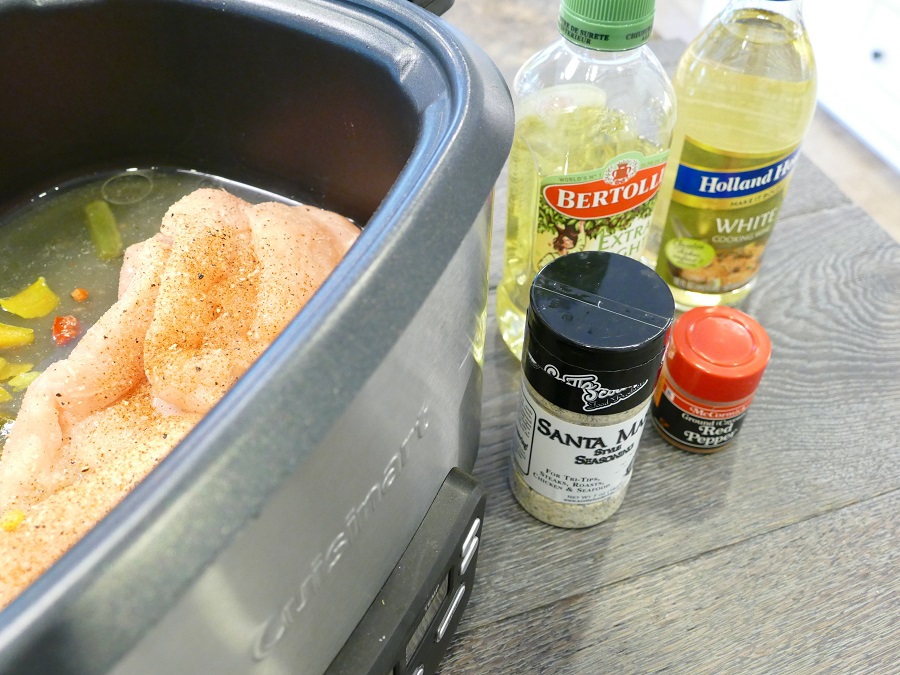 Crockpot Bacon and Chicken Ingredients:
Take some chicken breasts and turn them into an amazing dish that utilizes your crockpot and saves you time. One ingredient that will elevate this dish is the cooking wine, mixed with chicken broth, olive oil and a special blend of spices you will end up with chicken as you've never tasted before.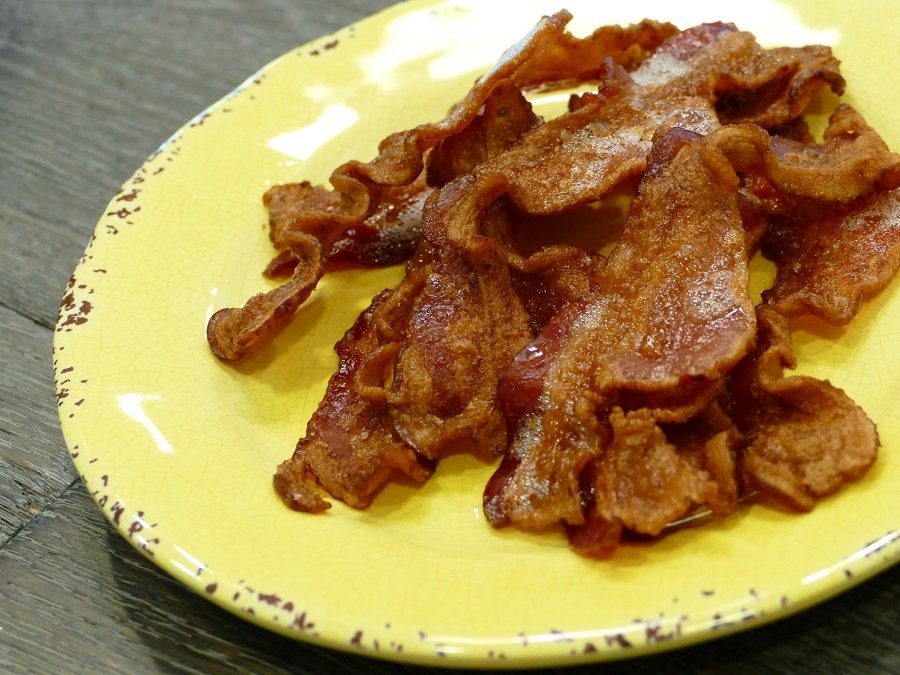 My favorite thing about crockpot recipes is that I can toss all of the ingredients in the slow cooker in the morning and have a delicious dinner waiting for me at the end of the day. With carpool and driving my kids to and from sports, those evening hours are precious. Make it part of your crockpot chicken meal plan!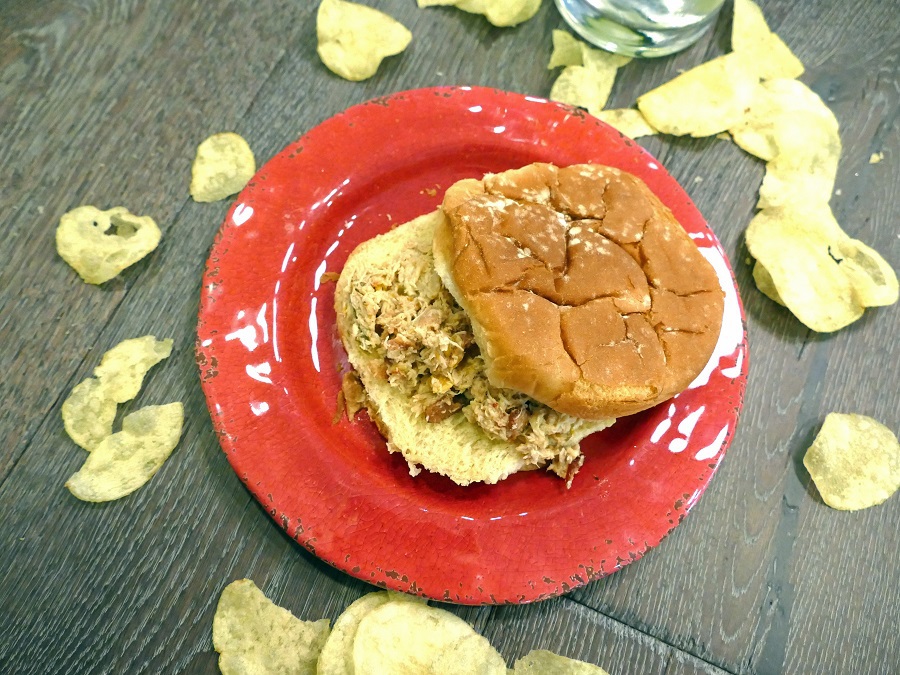 Crockpot Chicken and Bacon Directions:
Add all ingredients except cheese and bacon to crockpot. Cook on low for 6-8 hours or until chicken is fully cooked. The chicken should shred easily on its own when you touch it with a fork.
About one hour before the chicken will be done, cook the bacon in the oven at 350 degrees for 20-25 minutes. Cook the bacon on tin foil to make cleanup easier.
Crumble crispy bacon into cooked chicken and add shredded cheese.
Mix together in the crockpot and simmer or keep on warm until the cheese is blended and all of the ingredients are warm.
I serve this crockpot bacon and chicken over lettuce or in lettuce wraps for a ketogenic low carb meal. If you are not on a low carb diet, you can serve this over toasted sandwich buns, rice, or base of your choice. It's a versatile meal for sure!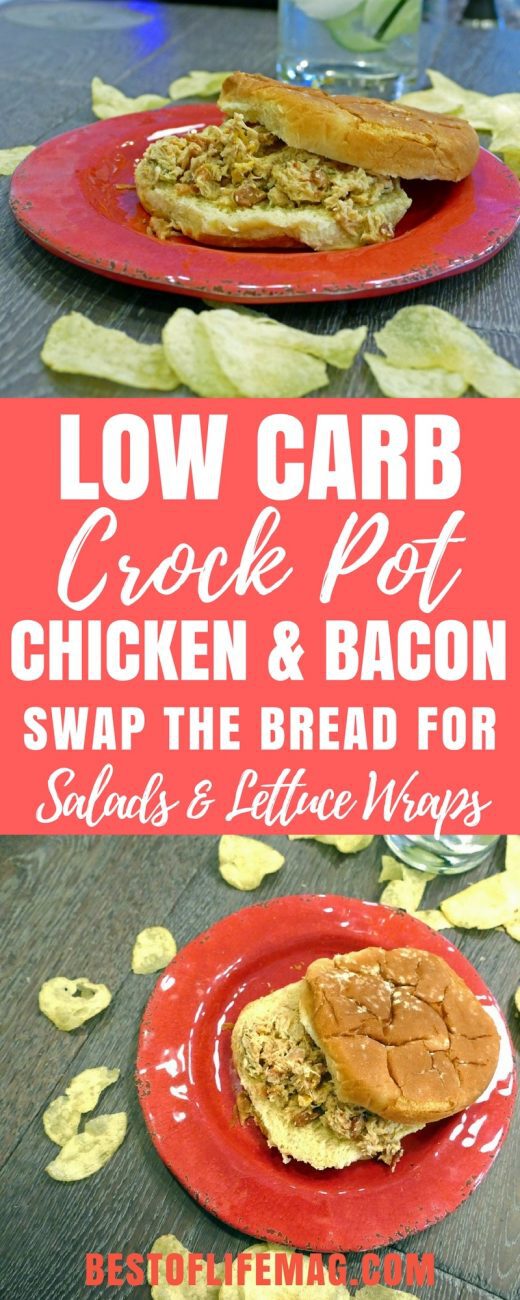 Crockpot Chicken and Bacon Keto Tips
This ketogenic recipe does contain cheese so it's important to make sure you stay within your keto carb limit for the day. I serve this delish crockpot bacon and chicken on sandwich buns for the rest of my family.
To keep this crockpot chicken and bacon recipe low carb, I serve mine of romaine leaves. Let's face it – bacon makes everything better, right?
Enjoy this crockpot chicken and bacon recipe with guests during parties, for an easy holiday recipe served over Hawaiian rolls.
Other Popular Crockpot Recipes to Try
Crockpot Chicken Chili with Roasted Peppers
Crockpot Chicken Meal Plan | 1 Week Meal Plan for Dinner
Low Carb Keto Crockpot Recipes for Lunch
Shredded Chicken Tacos Crockpot Recipe (Dairy Free & Ketogenic)
Crockpot Beef Sandwiches | Shredded Beef Recipe
Keto Crockpot Chili Recipes | Low Carb Chili
SaveSave