Crockpot Recipes with Chicken for Weight Loss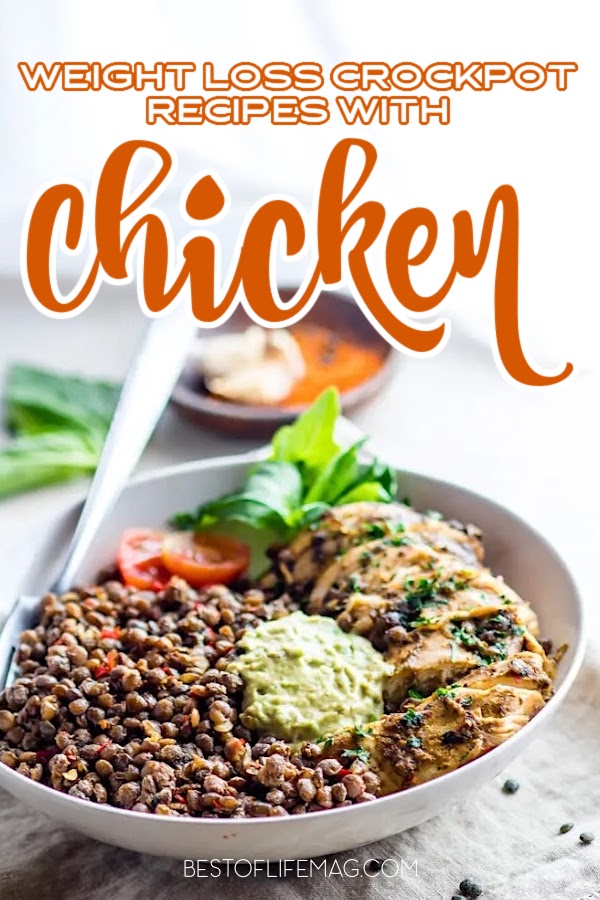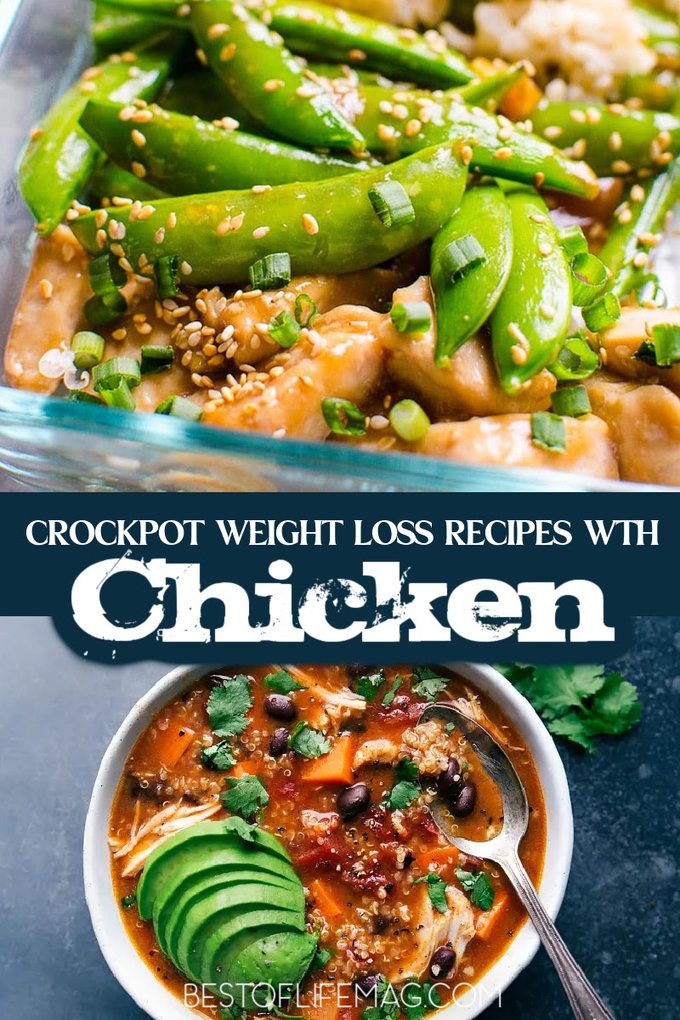 When meat is lean, it is filled with healthy properties that will mostly be used by the body, like protein. Chicken can also be altered in many different ways, making it easy to eat multiple times a week without getting too bored with it. In fact, there are enough crockpot recipes with chicken for weight loss that you can fill a meal plan calendar with them.
Crockpot recipes with chicken for weight loss will not only help you lose weight; they will also help you kick-start your weight loss journey (and stay on track) with exciting new dishes every night. Using chicken to lose weight is almost a no-brainer. Chicken is filled with healthy vitamins and minerals and is super easy to make.
The protein and lack of fat alone is enough to make chicken almost mandatory for losing weight. But if the idea of having chicken for dinner multiple times a week sounds boring to you, don't fret. Using crockpot recipes with chicken for weight loss will help keep it exciting (and easy, since you can just throw the ingredients in and forget about it.)
Plus, you will get more benefits from the chicken like healthy bones from the calcium, along with lower stress and greater immunity from the vitamin B5. Most diet programs include chicken, and some diet programs have more chicken than just about anything else.
The reason chicken is such a popular weight loss meat is because it has little fat and is considered to be a lean meat.
The Best of Life Magazine Recipes to Try
Dump and Go Crockpot Teriyaki Chicken Dinner Recipe
Crockpot Coconut Chicken Tikka Masala
Dairy Free Slow Cooker Chicken Fajitas Recipe
Low Carb Crockpot Chicken and Veggies Soup
Crock-Pot Spicy Chicken Bowl Recipe with Spinach
Dairy & Gluten Free Slow Cooker Hawaiian Chicken Recipe
Crockpot Chicken Chili with Roasted Peppers
Shredded Chicken and Crackers Crockpot Recipe
Crockpot Recipes with Chicken for Weight Loss
Chicken fits into pretty much every diet plan out there, except for vegetarian. Still, chicken packs a lot of protein and nutrients that will make you feel fuller, quicker. But the best part about these chicken dishes is that chicken is affordable. You can stock your freezer with nothing but different types of chicken and still run out of chicken before you run out of recipes.
These recipes will help you get into the swing of healthier nutrition. The goal should be to eat healthy for at least 21 days. They say that is as long as it takes to make something a routine. You may find that you start reaching for healthier ingredients while shopping without even thinking about it.
Thai Chicken Curry | Show Me The Yummy
Quinoa Risotto with Carrots and Asparagus | Delish
Honey Ginger Chicken | The Skinny Fork
Chicken Chili | The Seasoned Mom
Salsa Chicken with Black Beans and Corn | Skinnytaste
Chicken Weight Loss Recipes
Chicken is a meat that takes on flavor very well. These crockpot recipes with chicken for weight loss give you plenty of options. Having options is important so that you don't get bored with the recipes you're eating. People often find that they feel safe sticking with a handful of recipes that work.
However, you will get bored with those recipes before you reach your goals. Don't be afraid to venture out and try new things. Start by planning out a week of recipes and shop for those recipes only. Then, try planning out two weeks and shop for that and so on. Eventually, you will find that you have a ton of healthy favorites you can turn to when you need them.
BBQ Paleo Chicken Wings | Food Faith Fitness
Orange Chicken | Well Plated
Buffalo Chicken Stuffed Sweet Potato | The Real Food RDS
Garlicky Green Chicken and Lentils | Cotter Crunch
Chicken and Beans | The Fitchen
Crockpot Recipes with Chicken
The best crockpot recipes with chicken for weight loss are also great for saving time. Yes, these recipes may take 6-8 hours to cook. However, you can set these recipes up in the morning, go to work, and come home to a meal that is ready to serve. It all comes down to how you organize your time.
People who want to lose weight often overlook all of the other positive changes that have happened in their journey. One of those positive changes is organization. You can't lose weight by just winging it every day. You will need to learn how to organize your recipes, shopping, and schedule.
Pineapple Chicken | Damn Delicious
Cashew Chicken with Vegetables over Quinoa | Savoring the Thyme
Teriyaki Chicken Meal Prep | iFoodReal
White Chicken & Quinoa Chili | Eat Yourself Skinny
Sweet Potato, Chicken, and Quinoa Soup | Chelsea's Messy Apron
Even More Crockpot Chicken Recipes
Easy Crock Pot Chicken Tortilla Soup Recipe | Chicken tortilla soup just tastes better when you make it from scratch at home.
Ketogenic Crockpot Bacon and Chicken Recipe | Bacon is all you need to know when talking about a keto diet. Bacon fits into the diet, it's delicious, and it will help you lose weight.
Crock Pot Bone Broth Recipe | Instant Pot Bone Broth | Bone broth is a much healthier substitute to water in pretty much any savory dish.
Shredded Chicken Tacos Crockpot Recipe (Dairy Free & Ketogenic) | Shredded chicken can be used in many different ways. But tacos might just be the easiest.
Slow Cooker Chicken Broccoli and Rice Casserole | Chicken and broccoli is a delicious meal that is filled with nutrition and easy to make.