3 Simple Quesadilla Recipes with 5 Ingredients or Less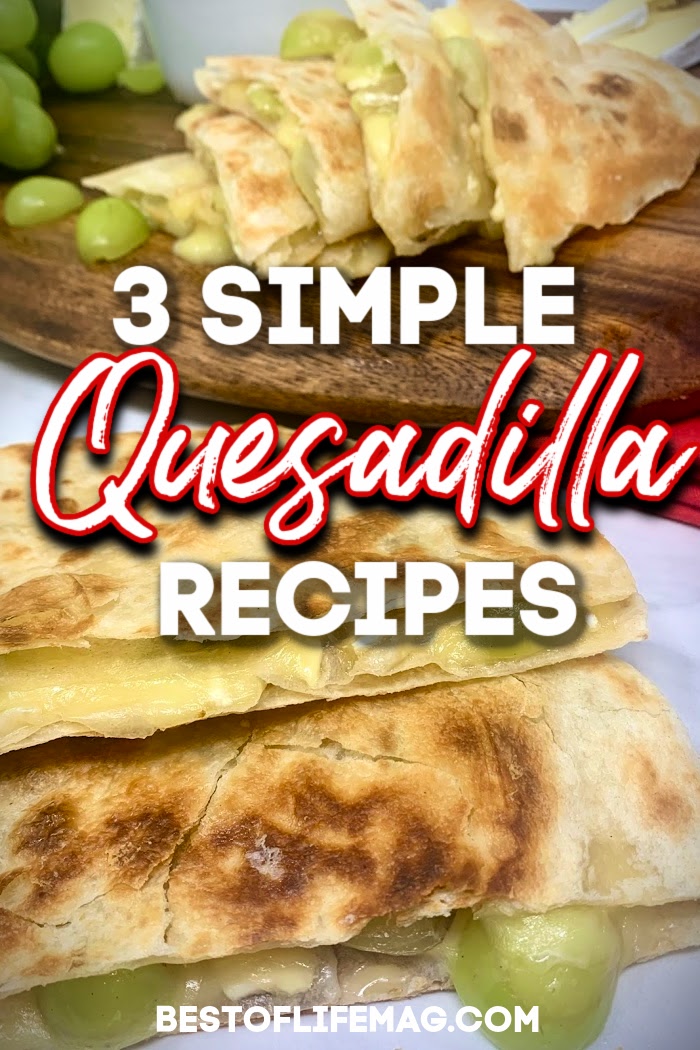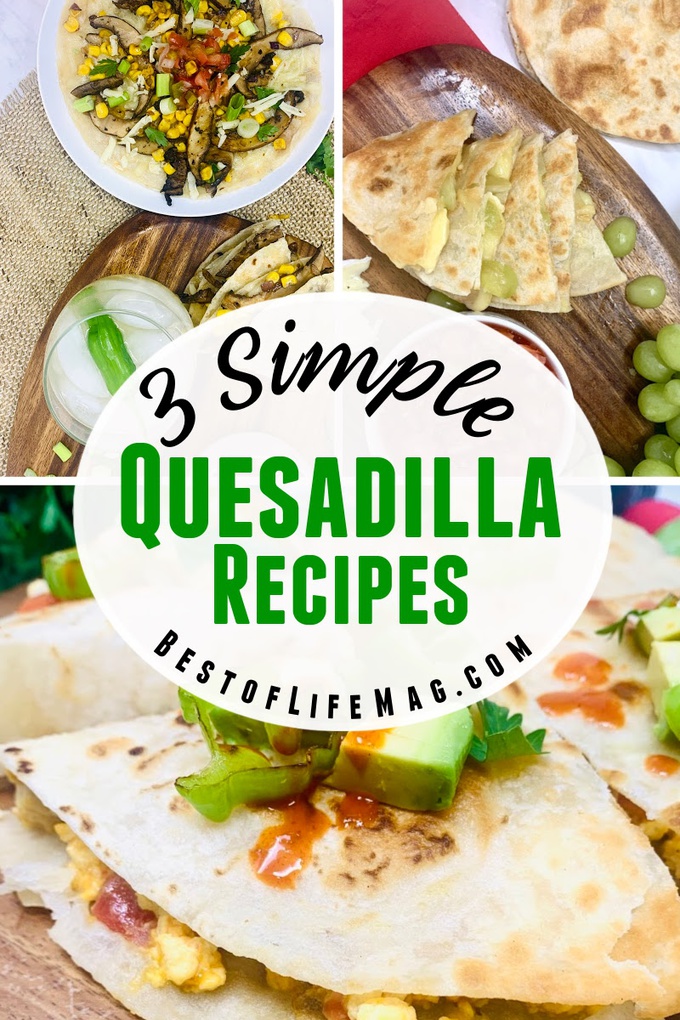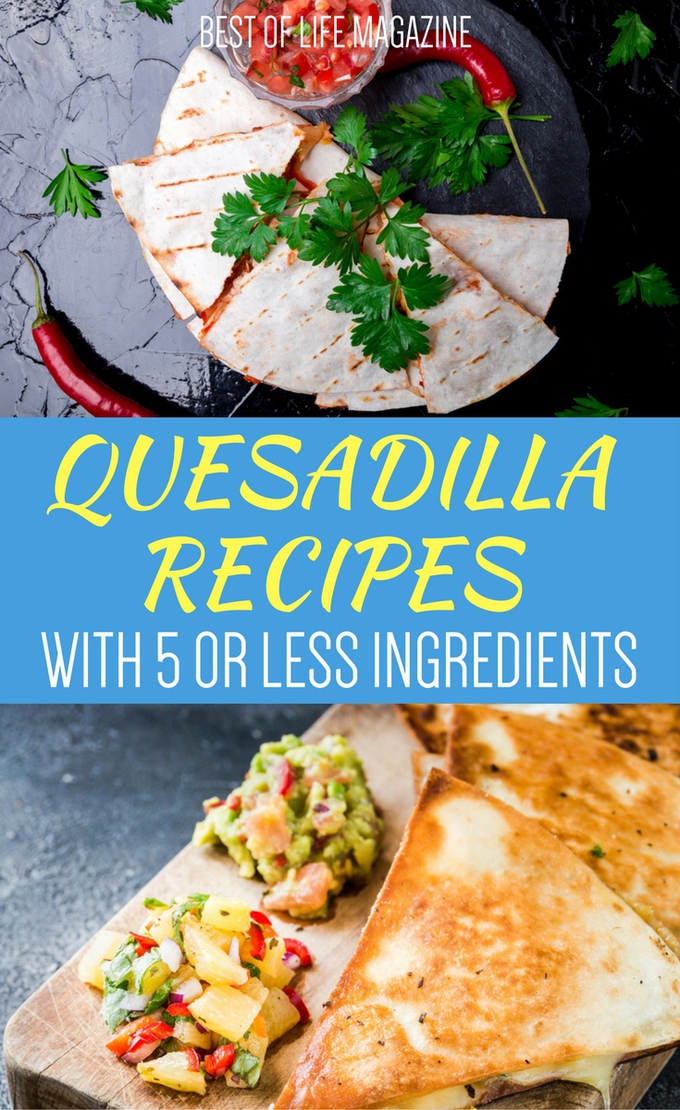 Some people live their lives in a constant state of rushing around. These people are usually late to everything, plan stuff at the last minute, or not even plan at all. Then there are people who plan every detail down to the millisecond. But most of us live somewhere in the middle. We all find ourselves rushing around from time to time and other times we are meticulously planning our days. The one thing we can control is what we cook on those days when we are rushing around. Need a quick bite for family dinner or something easy for parties? Some simple quesadilla recipes could be the answer for which you search.

There are three simple quesadilla recipes are the perfect meals or snacks we can use when we are planning a family dinner or party.
Quesadillas do not have to be boring. We think of them as nothing more than a tortilla folded in half or two tortillas with a layer of cheese in between. There are also those quesadillas with some meat added to keep things interesting.
But there are even more ways to make quesadillas. In fact, there are 3 simple quesadilla recipes that fit into every type of taste preference.
You can make a sophisticated quesadilla with brie and grapes, or a savory one with portobello mushroom and corn. You can even make a breakfast quesadilla complete with eggs, cheese, avocados, and tomatoes.
These are not the quesadillas you order off a kid's menu. These are better quesadilla recipes everyone can enjoy.
Basic Quesadilla Directions
All three of these quesadillas have terribly similar cooking directions. Of course, there are some differences. For example, you will want to fry or scramble the eggs before you start cooking the quesadilla.
The difference is usually how you prep the ingredients. Just remember that all the ingredients should be prepped ahead of the first step below.
Coat your pan with ¼ cup vegetable oil and let it warm up over low medium heat in a cast iron skillet.
Mix all your ingredients in a mixing bowl.

When the oil is hot, place the tortilla in the pan and lay all ingredients on top of the tortilla.

Fold the tortilla in half or place another whole tortilla on top of the ingredients.

Flip the tortilla over to lightly brown each side and continue flipping until you prefer.

Remove the quesadilla and cut into sixths or quarters.
Simple Quesadilla Recipes Ingredients
The first step is to pick which quesadilla you want to make or prep the ingredients for all three and enjoy them all at once. Each of the quesadillas requires fewer than 5 ingredients. That is what makes these quick recipes so much better.
Brie and Grape Quesadilla Recipe Ingredients
You will only need five ingredients for this one and that includes the tortilla. All you need is thinly sliced brie, a cup of green grapes sliced in half, and some salt and pepper.
Here is the printable recipe card for the brie and grape quesadilla recipe.
Portobello Mushroom & Corn Quesadilla Recipe
This one requires a couple more ingredients, but it is still amazingly simple to make. You need portobello mushrooms thinly sliced, some cooked corn, shredded pepper jack cheese, thinly sliced red onion, your tortillas, and some salt and pepper. Printable Recipe coming soon.

Breakfast Quesadilla Recipe Ingredients
This one is our favorite out of the three simple quesadilla recipes. All three of them are amazing but we just love breakfast time in our home.
We use fried eggs, but you can use scrambled as well, shredded cheddar cheese, sliced avocados, sliced tomatoes and of course, cilantro Tapatio sauce.
You can find the printable recipe card for the breakfast quesadilla right here.
More Easy Recipes
Slow Cooker Beef and Brown Rice Recipe
Low Carb Mini Bell Pepper Nachos Recipe
Crockpot Black Bean Dip Recipe | Slow Cooker Cheesy Bean Dip
2B Mindset Portobello Pizza Recipe