This site contains affiliate links. Please read our Policies for information.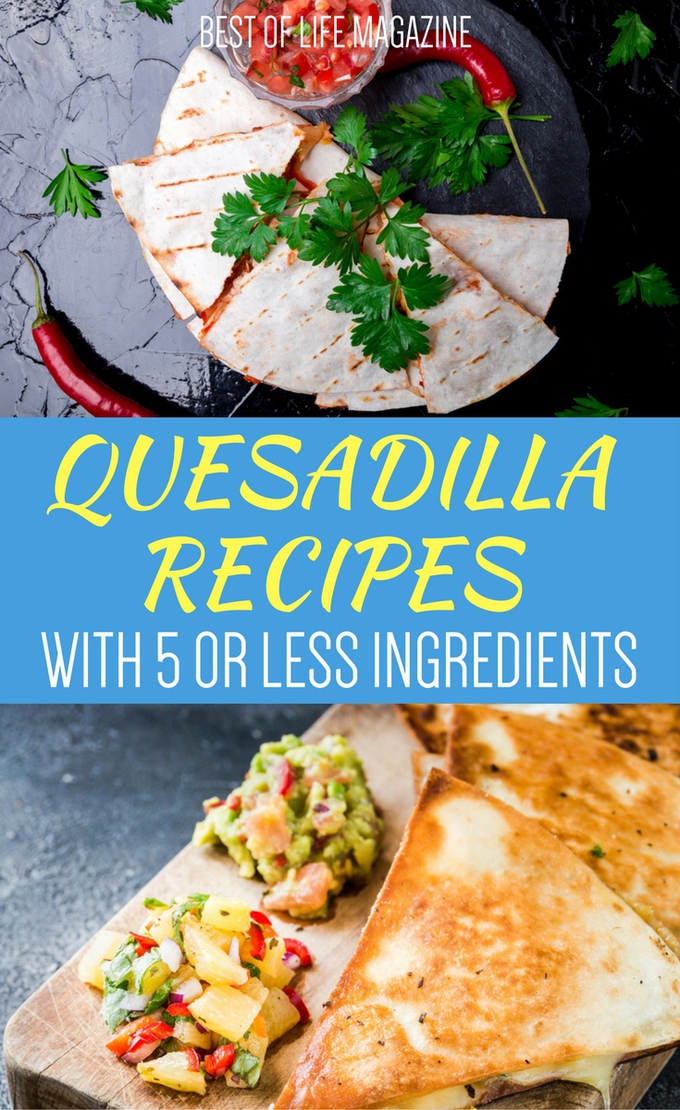 Quesadillas not only taste incredible but they are super easy to make – perfect for week nights when we all want fast meals. These simple quesadilla recipes each offer a unique taste, but also include five ingredients or less! This makes them perfect for quick meals before and after sports for your kids or evening events you may have.
We have three simple and delicious quesadilla recipes with only five ingredients or less that will satisfy any craving you may have!
One of the easiest snacks to make is a quesadilla. Quesadillas come in many different forms from savory to sweet and each one can be made very fast. That's what makes quesadillas so amazing, you can cure any craving you have in very little time. The best quesadilla recipes will take full advantage of the benefits of this snack. Now you can try the tastiest three versions of a quesadilla.
To make each of the quesadilla recipes, follow this easy recipe for how to make a quesadilla:
Coat your pan with 1/4 cup vegetable oil and let it warm up over low to medium heat in a cast iron skillet.
Mix all of your ingredients in a mixing bowl.
When the oil is hot, place the tortilla in the pan and lay all ingredients on top of the tortilla.
Fold the tortilla in half or place another whole tortilla on top of the ingredients.
Flip the tortilla over to lightly brown each side and continue flipping until you prefer.
Remove the quesadilla and cut into sixths or quarters.
Brie and Grape Quesadilla Recipe Ingredients:
¼ lb brie thinly sliced
1 cup green grapes halved
Salt and pepper to taste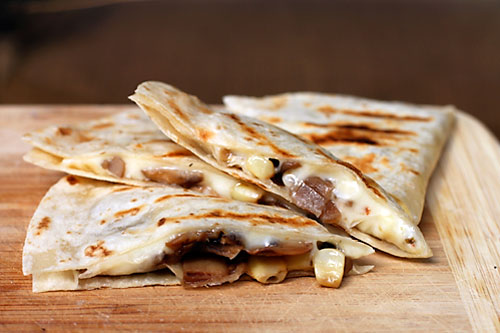 Portabella Mushroom & Corn Quesadilla Recipe Directions and Ingredients:
2 large Portabella Mushroom thinly sliced
1/2 cup Corn
1 cup shredded Pepper Jack cheese
½ medium red onion thinly sliced
4 tortillas
Salt and pepper to taste
Oil

Breakfast Quesadilla Recipe Directions and Ingredients:
2 eggs, fried or scrambled
1 cup shredded cheddar cheese
2 avocados sliced
Tomatoes
Cilantro Tapatio sauce
Contributor: Elisa Krall lives in Ladera Ranch with her two sons ages 13 and 11. She works as a Corporate Recruiter for a Management Consulting firm. Elisa enjoys watching her sons play sports, ballroom dancing, running, travel and is a self-described foodie. Prior to living in the OC, she lived in San Francisco for several years. She is also an active volunteer in her community and enjoys sharing resources with others. Since becoming a widow in 2011, she has found writing as a cathartic way to express herself in her personal blog and is privileged to be sharing her articles with you.