Health Benefits of Bone Broth + Bone Broth Recipe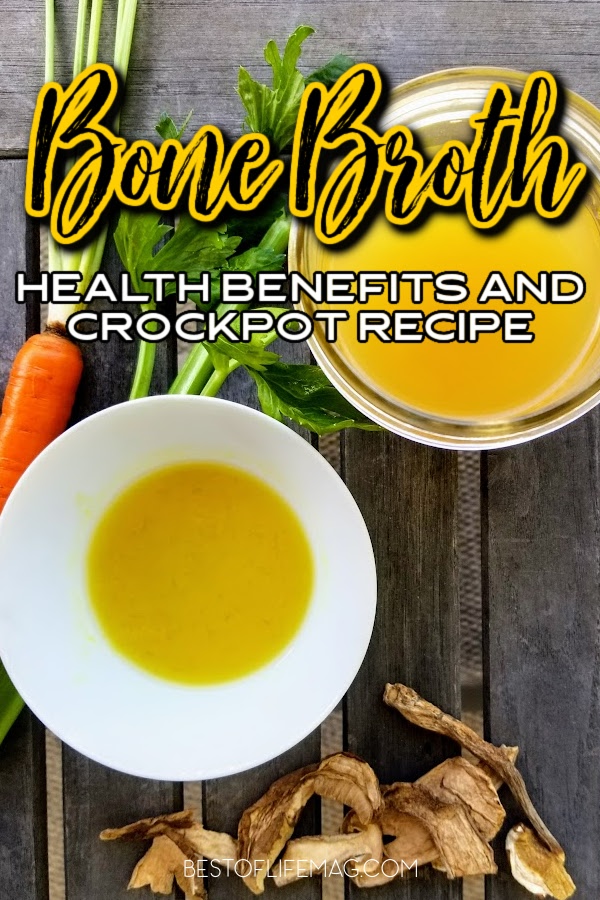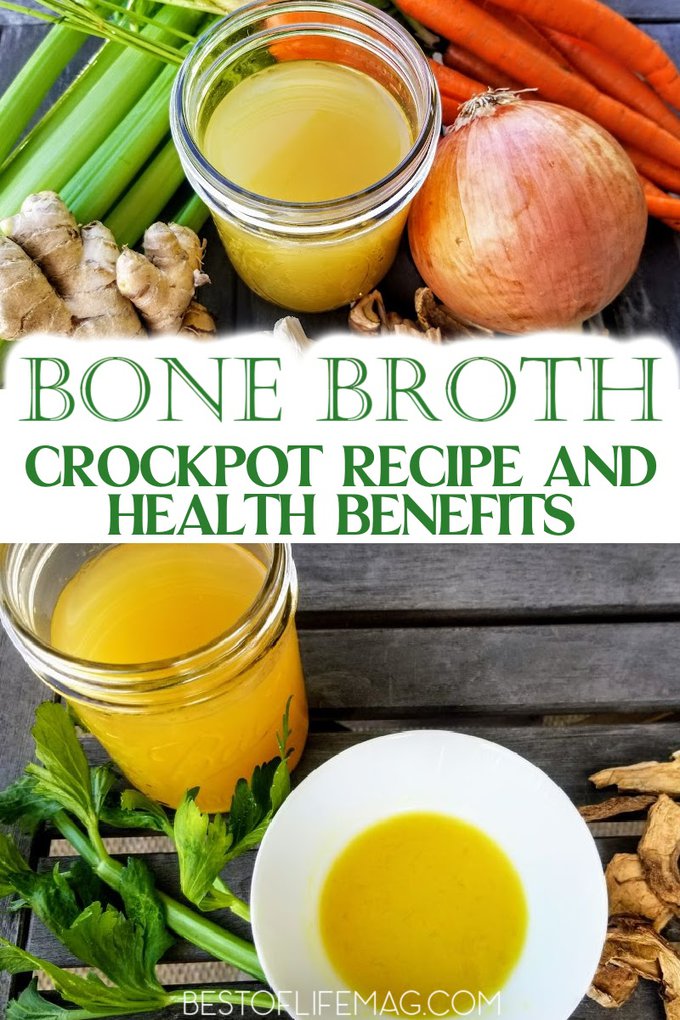 With the emergence of Allergen-Free, Paleo, and Primal diets, we are once again discovering that what we eat can actually affect our health. Bone broth, or stock, has been a kitchen staple around the world, probably since the discovery of fire. It's been used as a base for soups and stews and added to food as a flavoring and cooking liquid, mostly without us even realizing the numerous beneficial properties it has.
There are many health benefits that come from simple bone broth or stock that you can easily discover by using it more places than usual. You can find quality pre-made bone broth and supplements that contain bone broth properties, or you could make your own.
Cook with it, sip bone broth for added protein, freeze it and keep it on hand. You may even like to add bone broth protein powder to your shakes. Bone broth stock is truly a healthy staple that needs to be in your diet for so many reasons.
If you still need convincing, here are three good reasons you need bone broth in your kitchen, along with a ridiculously easy and time-saving recipe for your Crock Pot or Instant Pot.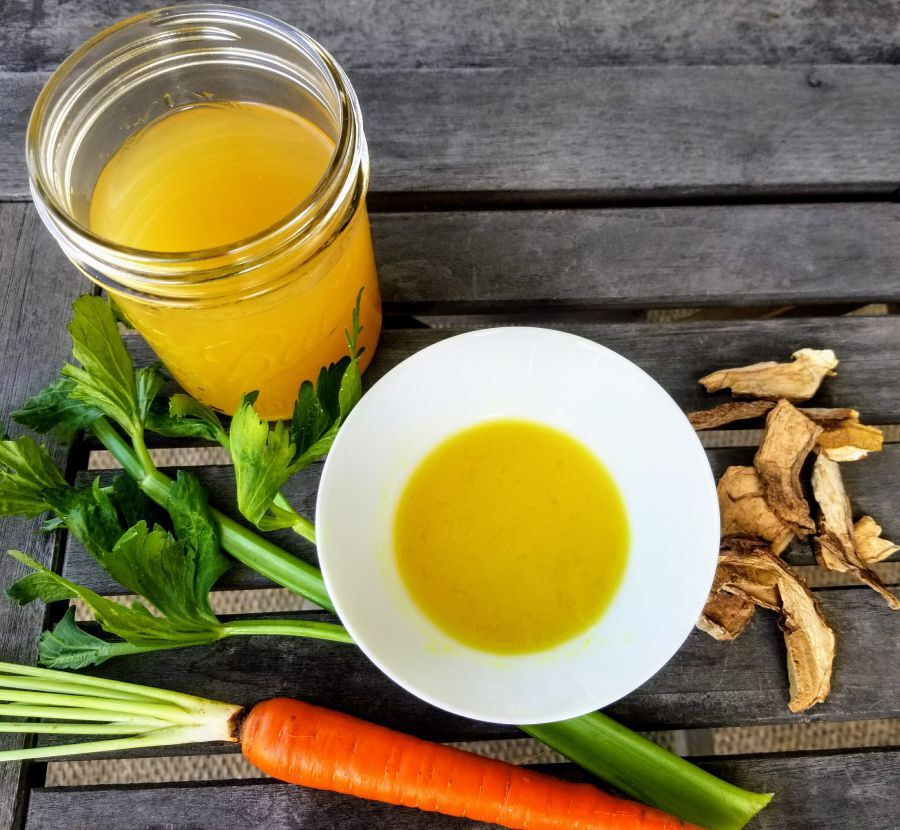 Bone Broth Health Benefits | Fight Cold and Flu Season
You have undoubtedly heard of chicken soup as a cure for what ails you. Bone broth, slowly simmered with vegetables and spices is the reason! During cold and flu season I like to keep extra stock in my freezer, in various sized containers.
I can grab one, heat and use as a sipping broth or add to vegetables and rice or noodles for a quick soup. Nothing is more comforting than a warm bowl of chicken soup when you are under the weather. I even deliver stock in care packages to sick friends.
What exactly is so healing about stock you ask? In a word, Collagen! The process of cooking bones, combined with certain vegetables, releases collagen and its many healthy and healing properties like the amino acids, Glycine and Proline which help to reduce inflammation and ease tension.
Arginine aids the immune system and liver function and Glutamine helps in metabolism and digestion. All of these amino acids, as well as hydrating electrolytes, are present in Collagen. In bone broth, they are in an easily digestible form which is just what you need when you are not feeling well.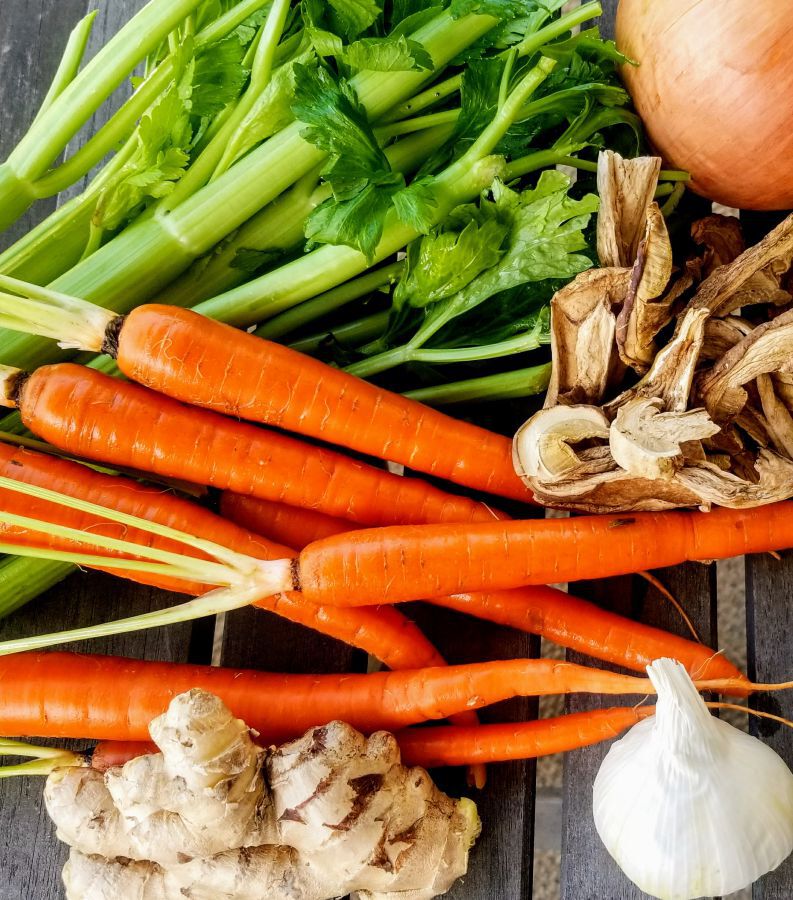 Find Relief From Digestion and GI Issues with Bone Broth
If you experience the occasional digestive issues, or even if you suffer from more chronic problems like IBS, "Leaky Gut", Colitis or Crohn's disease, stock can help you find relief. Gelatin, which is the cooked form of bone collagen, soothes the GI tract and helps to repair the intestinal lining.
Your body is then able to efficiently break down foods, making them easier to digest. It also hydrates and seals the intestinal lining which prevents undigested food particles and bacteria from leaking into your body and causing an immune response, inflammation and disease.
Glutamine, a component of Gelatin, encourages good bacteria and reduces inflammation, which is essential for a healthy digestive system. So much of our overall health is a direct reflection of the health of our digestive system!
If our bellies are not healthy we are more prone to food reactions, autoimmune disease, skin conditions and general fatigue. Quality, homemade bone broth can be a preventive measure, a natural and effective form of relief and, for some, an alternative to supplements.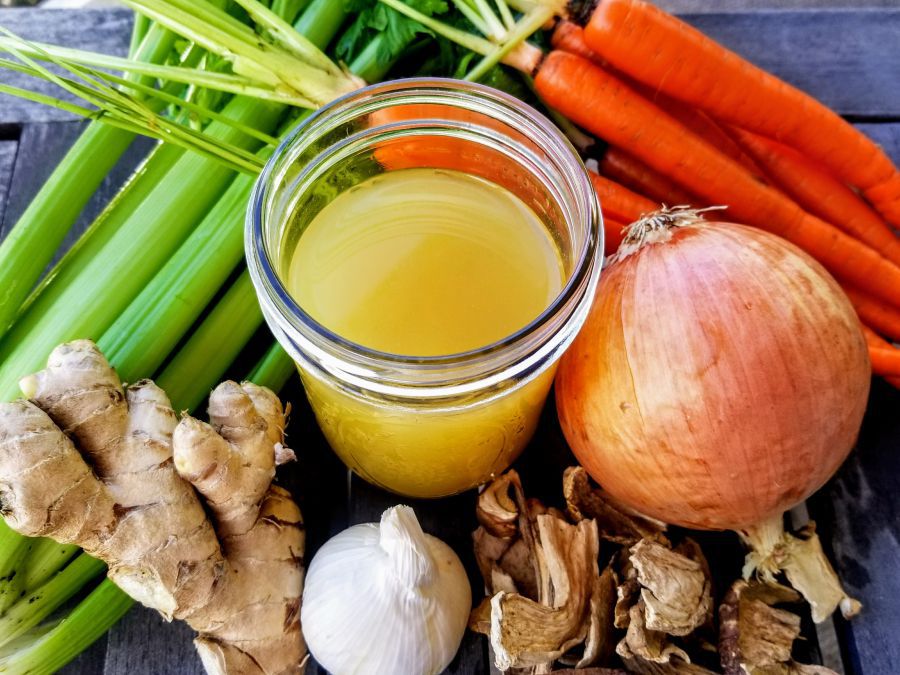 Fight Aging Aches and Pains with Bone Broth
No, sipping stock will not make you younger, but it can help you feel younger and alleviate some of those aches and pains that come with age. It makes sense that the properties of bones could actually help maintain and restore bones. And they do.
Collagen is the main component of connective tissue, cartilage, ligaments, and tendons. It also contains something called Glycosaminoglycans (GAGs) which are essential for skin health, cell turnover, maintaining connective tissues and restoring the lubricating fluid around your joints.
Many people take Glucosamine supplements as a way to maintain joint health and alleviate pain associated with arthritis. This too is present in stock in a more natural form. As we age, bone density becomes an issue.
Bone broth provides an easily absorbed source of Calcium, Magnesium, and Potassium! Be sure to add apple cider vinegar when making your own bone broth to draw these minerals out and reap the benefits.
Bone Broth Recipe | How to Make Bone Broth at Home
With a variety of ways to flavor your bone broth to your liking, there is no reason not to keep stock on hand and incorporate it into your diet. Whether you use it daily or just have it on hand to make flavorful and healthful homemade soup and stews, it is low calorie, easily digestible, liquid-gold.
Now go for it! You can easily make your own bone broth at home with this easy broth recipe converted for the Crock-Pot and Instant Pot.
More Healthy Ideas
Healthy Slow Cooker Recipes with Chicken | Chicken is such a versatile meat. You can use it many different ways.
Low Carb Vegetarian Recipes for Dinner | Being a vegetarian and trying to eat low carb is not always easy. But it's not impossible, either.
Keto Granola Recipe Ideas for a Quick Snack | Granola is a delicious snack that you can make at home with ease.
Healthy Zucchini Noodle Recipes | Zucchini noodles may not be trending anymore. However, they are still healthy and delicious.
Healthy Chicken Caprese Recipe | Did we mention how versatile chicken can be?