35 At Home Workouts for Women | Full Body Workout Options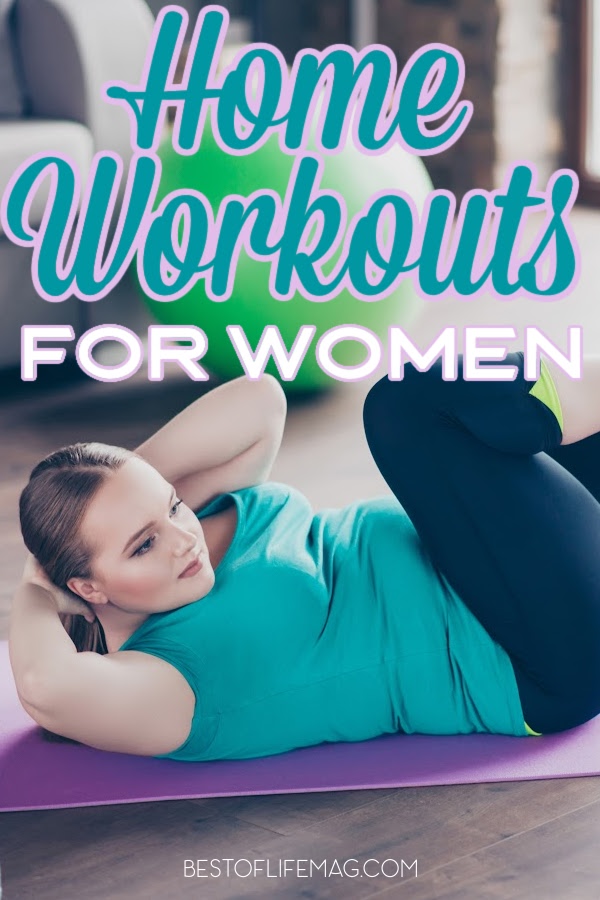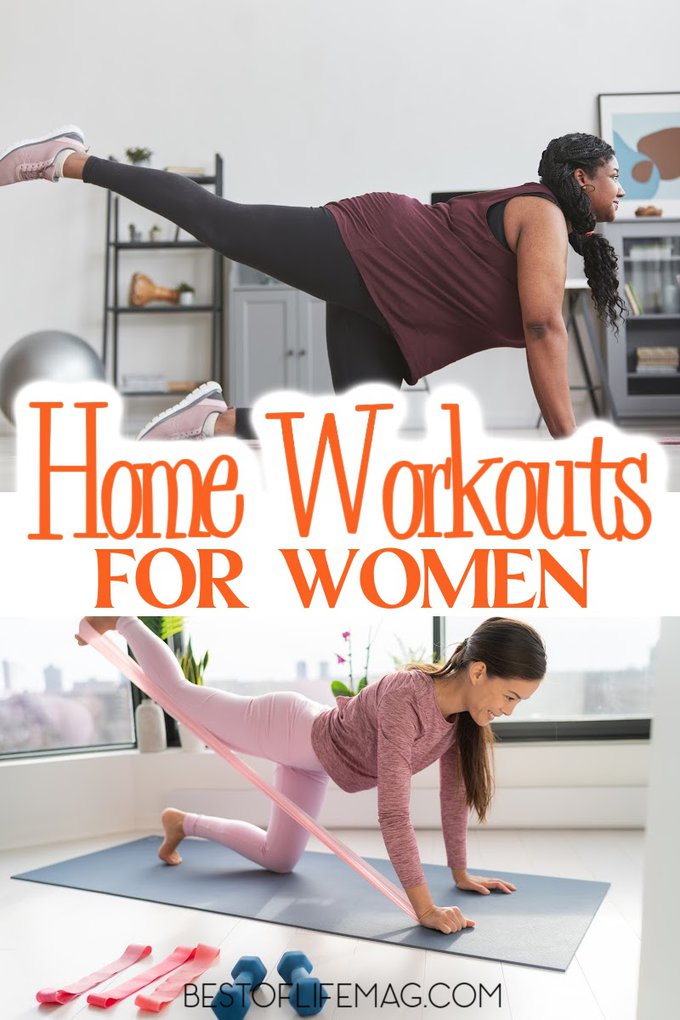 You can work out at the gym, go for a run or consider the weekly errands enough physical activity for the week. But there is a more popular way to work out that doesn't require a gym membership, and you even get a trainer, at home workouts. At home workouts for women are among the most popular and there are many to choose from.
There are many different at home workouts for women to choose from, and we have hand selected 35 that will keep your workouts varied, so you get the results you want working out at home. Many of us have tried an at home workout for women hoping to get similar results as the women on the cover or in the testimonials.
After we have given it our all, we have failed. If you've followed each step as laid out and still failed, chances are that routine wasn't for you. But that doesn't mean there isn't one out there that will work. Luckily, there are dozens upon dozens of at home workouts that actually work.
All you need to do is find the one that works best for you and run with it. You will get the desired results and get into that healthy lifestyle you've worked so hard.
At Home Workouts for Women | Zumba Fitness Incredible Slimdown DVD System
Zumba is one of the most popular and long-running at home workouts for women. With Zumba, you can dance your way to the body you want. With this particular set, you even get wraps to cover your feet so you can move properly.
Start! Walking at Home with Leslie Sansone
If heart health is what you're after, this at home workout for women is perfect. Learn how to increase your heart rate healthily and safely and all at your own pace. The DVD set is available on Amazon Prime, so you can watch it just about anywhere!
Focus T25 Get It Done in 25 Minutes
Shaun T is a top-rated workout instructor with many different success stories under his belt. Focus T25 is meant to help busy women get a great workout in just 25 minutes. Using studies that show which workouts burn the fattest, Shaun is helping people worldwide get fit.
Read our 5 Ways to Modify Focus T25 Workouts & Get T25 Results
BurstFIT: Dr. Josh Axe's Complete Home Fitness Workout DVD
Dr. Josh Axe's BurstFIT will be your guide through a set of at home workouts for women that utilize strength workouts, cardio, and core training to help you lose your body fat fast. This routine is a full set, with the DVDs, a guide, and a nutrition guide as well.
Gentle Yoga for Balance, Flexibility and Mobility, Relaxation, Stretching For All Levels
Yoga helps strengthen your core, improve balance and increase flexibility. Yoga also helps people relax and get fit in a calming way. This at home yoga workout program will improve your overall lifestyle in just 20-minute segments.
Build Balance and Inner Strength!
Low-Impact workouts allow people with certain injuries to get fit and healthy, but they are great workouts for just about anyone. These low impact workouts let you take your shoes off and build core strength, and postural alignment, and gain balance, all in just 2-4 days a week.
These workouts can be mixed and rearranged to fit your lifestyle, and that's a beautiful way to workout.
DanceX: Fun Total Body Cardio Fitness
Dancing your way to a fit body may seem too complicated. Not everyone knows how to dance or is confident to try it, but this routine is different. There are no complicated moves, and there is no judgment in how well you do them.
P90X Base Kit
Few people haven't heard of P90X and the testimonials it provides. Results are all but guaranteed, but there will be plenty of work to get there. There is no shortcut to a fit and toned body, but P90X proves it knows how to get there anyway.
Rushfit Georges St-Pierre 8 Week Ultimate Home Training Program
Mixed Martial Arts is a pro sport with a massive following, and the stars of the sport are of the fittest in the world. George St-Pierre is one of those stars who designed a set of at home workouts for women. The workouts are total-body workouts, and these workouts ensure results.
Jillian Michaels Ripped in 30
Jillian Michaels is a household name because of her ability to inspire, motivate and get results. Ripped in 30 is a routine that is made up of four 24-minute workouts, each designed to get results. Whether you're looking for abs, cardio, and more.
The best part is this workout is designed for beginners and follows through to the advanced stages. Read our Printable Jillian Michaels Quotes from Ripped in 30
3 Week Yoga Retreat Workout Program
Yoga is a great workout, but not everyone likes learning in front of a dozen strangers or more. Using this yoga retreat program, you can learn everything you need to know about yoga in 21 days. The program will teach you about helpful nutrition, basic moves, and different poses to turn you into a pro.
Circuit Burnout 90
If the pros are to be believed, you can change your life in 90 days with hard work and dedication to the cause. Circuit Burnout is one of those 90-day workouts that includes DVDs, training calendars, nutrition guides, and more.
You'll have all of the tools at your disposal to get that healthy, happy body you've always wanted.
RIPT90: 90 Day Workout Program
Another 90-day routine is the RIPT90 program. In this program, you'll burn fat, build strength, and improve your endurance in 90 days. Jody Hendrix is the personal trainer who will walk you through each workout and has designed the entire program.
BurstFit Fire
Dr. Josh Axe is back with another workout routine designed to help you lose fat, lean, and tone up those muscles. This workout aims to keep your heart rate up so that you can burn as many calories as possible in a short amount of time.
This program comes with a workout guide calendar and the DVDs you'll need to get started.
Insanity Max by Shaun T
Shaun T has become known as a trainer who isn't for those who are just starting out. Shaun T's Insanity Max is one of the toughest from the Beachbody trainer and may not be for beginners. There are 12 workouts, with 10 DVDs and even a nutrition guide that allows you to eat right even when you don't have time for it.
You Are Your Own Gym
Most DVD workouts require tools like weights or dumbbells to get the proper workout, but not all workouts are the same. This workout routine was created by Mark Lauren and is meant to be all bodyweight workouts. There is no need for barbells, weights, or any weight tools of any kind.
Jillian Michaels 30 Day Shred
Jillian Michaels is a very popular fitness trainer; some even call her "America's Trainer." 30 Day Shred is one of Jillian's routines that has taken the world by storm due to its ease of use and results. The routine uses a 3-2-1 interval system to build strength, burn calories and get results.
Read our Jillian Michaels 30 Day Shred Workout Tips
Rip: 60
Georges St. Pierre isn't just providing one workout; there is another. This workout routine is filled with progressive workouts and a 60-day nutrition plan. Results are on their way to you from day one.
Insanity: The Asylum
Some people looking to workout from home may not be beginners, and that's where Shaun T can help. The Asylum workout is for elite athletes who need to increase speed, coordination, agility, and power.
Zumba Exhilarate Body Shaping System
Zumba is back with an enhanced workout routine that's so popular it often sells out. While the workouts are more exhilarating, the moves are still easy to do. These workouts will include dances like salsa, merengue, reggaeton, calypso, cumbia, hip-hop, and belly dance.
Jillian Michaels Killer Abs
Abs are among the hardest parts of our bodies to tone up, and most of the fight is done in the kitchen. But working out will also help your abs become a stand-out feature. Jillian Michaels can help you do it in just 30 minutes per workout with Killer Abs.
Chalene Johnson's PiYo Base Kit
What do you get when you combine pilates and yoga? PiYo, is a revolutionary workout routine by Chalene Johnson. These workouts sculpt muscle and firm cores and enhance flexibility and strength.
21 Day Fix Workout Program
The 21 Day Fix is a trendy, total workout and nutrition program. With this program, we can monitor our health through Tupperware. While that may seem like a simple concept that won't work, the results many have experienced speak for themselves.
Read our 21 Day Fix Workout Review: Total Body Cardio Fix
Jillian Michaels Body Revolution
Jillian Michaels wants to prove that she can provide you with a body revolution within 90 days. Using metabolic training and a little motivation from Jillian Michaels, your dream body is just a few months away. The best part is that you can change your life right from home.
Read our Jillian Michaels Body Revolution Home Workout Review
Hip Hop Abs
Meet Shaun T in one of his most popular at home workouts for women ever, Hip Hop Abs. With this routine, you can flatten your tummy, tone your abs, and learn to dance all in one set. There are also a few bonus DVDs, including dance tutorials and Shaun himself extra workouts.
Leslie Sansone's Miracle Miles!
As far as at home workouts for women go, Leslie Sansone may be the trainer that will change your life. Walk off the weight at home with these 5 DVDs filled with a training method known as miles. Each mile you complete is another step toward your fitness and health goals.
XTFMAX: 90 Day Workout
Taking just 35 minutes per day, you can shred fat, build muscle, and tone up with a little help from XFTMAX. This 90-day program 12 workouts with a nutrition plan, training guide, and training calendar. Not only are the workouts provided, but a way to modify each workout to fit your fitness level comes with each one.
Tai Cheng
Not all at home workouts for women enhance only the body; some enhance the mind and spirit. Tai Chi is a physical activity that improves balance, energy, and agility and can even reduce aches and pain. Learn how to complete the many different Tai Chi moves in just 90 days with Tai Cheng.
Body Beast
If adding muscle weight is your goal, Body Beast is the workout for you. This workout will take you 90 days and is filled with workouts, nutrition tips, and a nutrition schedule. Following the Dynamic Set Training methods from these workouts is essential to get results.
Country Heat
Autumn Calabrese's Country Heat is another dance at home workout for women and men but with a twist. Most dance workouts are set to hip-hop music, but these workouts are set to country music. Each 30-minute workout is high-energy and filled with the best dance moves to help you lose weight and feel great.
Read our Country Heat Workout by Autumn Calabrese: Review & Tips
Tony Horton's P90
Before there was P90X, there was P90, the original 90-day workout by Tony Horton. This set is meant for all fitness levels and can be modified for more experienced fitness levels as well as for beginners. These at home workouts for women are simpler and shorter but still extreme enough to reach your goals.
Autumn Calabrese's 21 Day Fix Extreme
The original 21 Day Fix workout and diet plan is a great place to start, but once complete; it's time to move on. The next level of 21 Day Fix is Extreme. Make sure to get the complete package with a water bottle, color-coded containers, DVDs, recipes, and more.
Core De Force
Core De Force is another workout routine inspired by mixed martial arts. This workout includes 10 inspired workouts, a quick start guide, a 30-day calendar, and even an eating plan. The most impressive part is that the workouts are 3 minutes each and move between boxing and kickboxing.
Read our Core De Force Review
22 Minute Hard Corps Workout
Ready for a hard corps at home workouts for women that will blast your body into shape? All you need is the 22 Minute Hard Corps Workout, dedication, and 22 minutes per workout. There is even a "Hell Week" challenge to show you your success.
Slim in 6
Maybe your goal is to lose weight and feel great; the Slim 6 Workout is what you'll need. In just 6 weeks, you can get slimmer, and all you'll need are the three workouts for fat burning, a step-by-step nutrition guide, and a 6 day express diet plan. Altogether, these tools will help you get healthier and slim in no time.
More Workouts
At Home Workout Equipment for Small Spaces. | We can manage our weight and health without equipment. But we will need equipment if we want to grow muscle.
35 Upper Body Workout Ideas for Women. | Workout routines like the ones above are perfect all-inclusive resources. But sometimes, we want to target specific areas.
15 Do Anywhere No Weights Needed At Home Workouts. | Managing our health is accessible and doesn't require weights to get the job done.
At Home Tabata Workouts for Beginners. | Tabata is great and can be done at home without trainers or high costs.
25 Oblique Workouts to Do at Home. | Ready to target the obliques?