At Home Workout Equipment for Small Spaces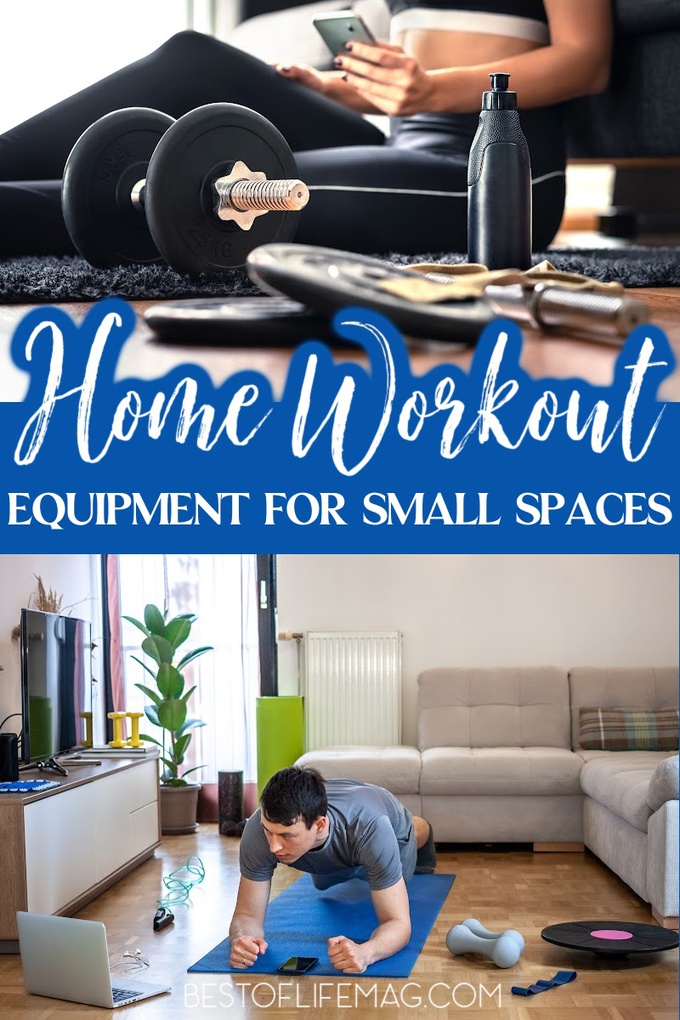 Not everyone has enough space for workout equipment in their homes. Luckily, there is yet another solution, at home workout equipment for small spaces. The best part is that you can find that exact type of equipment on Amazon.
There are so many people out there who don't work out as often because they don't like working out around other people. Some people just don't want to have another automatic payment coming out of their accounts every month. The solution is at home workout equipment.
You can use at home workout equipment for small spaces to make sure you stick to your workout plan while exercising in the comfort of your home. Working out at home makes staying fit and healthy even easier. You don't have to leave your house, you can be more comfortable with your skill level, and best of all, it is usually just a one-time fee.
But space can be a major problem for many people. There are all-in-one machines that are great for home workouts but they take up a lot of space. That means people either give up on working out or suffer through the gym stereotypes.
Smaller gym equipment is a clear answer but what equipment is worth the investment? Small workout equipment might not get the job done as well as those all-in-one machines. That is why it is important to do your research before deciding on which at home equipment for small spaces is best for you.
At Home Workout Equipment for Small Spaces | Black Mountain Resistance Band Set | $19.99
Resistance bands might be the best option as these can be used just about anywhere. The bands come in different colors which designate the amount of tension they provide. You can get so many different workouts done with resistance bands.
Ab Carver Pro | $29
The Ab Roller is not a new idea but it does work. The Ab Carver Pro adds in resistance to help make your workouts more difficult. The wheel is wider as well which makes going left, right, and straight even easier. You will even get a foam knee pad to make your workout more comfortable.
Pure Fitness Multipurpose Doorway Pull-Up Bar | $14.99
There is nothing better than at home workout equipment for small spaces. This pull-up bar is a perfect example. You can take this bar out of the closet, hang it in your doorway, and do 8 different exercises. Put it in the closet again when you're done.
AmazonBasics Neoprene Dumbbells | $20.59
Dumbbells are great for workouts and there are so many different ways to use them. It is important to remember that you don't need that many either. You can find the right weight for you. Then, just make sure you have two of each weight. Store them away when not in use or just keep them out since they're so small.
Gaiam Essentials Thick Yoga Mat | $14.44
The Gaiam Essentials Thick Yoga Mat is not just good for yoga. You can actually use this mat as your workout space. That means you can turn a hard floor into a comfortable workout zone. Everyone who works out at home should add a thick yoga mat to their at home workout equipment for small spaces list.
Synergee Core Sliders Dual Sided | $9.95
Synergee Core Sliders might be the smallest at home workout equipment for small spaces that you can buy. These sliders take the ab roller to a whole new level. You can use these sliders for so many different workouts without ruining your floor. The dual-sided option allows you to use them on both hard floors and carpets.
DEGOL Skipping Rope | $5.51
Jumping rope doesn't seem like much of a workout until you try it. Just ten minutes of jumping rope can be equal to a 30-minute jog in terms of cardio. The DEGOL Skipping Rope allows for smooth, fast rope movements and you can easily hide it away without any issue.
LuxFit Foam Roller | $9.75
Foam rollers aren't exactly for workouts. However, it is important that you take care of your muscles as much as you work them out. The LuxeFit Foam Roller makes it easier to stretch out, massage, and just heal your muscles very easily.
AmazonBasics Medicine Ball | Price Varies by Weight
A medicine ball can easily be used for both upper and lower body workouts. The AmazonBasics Medicine Ball comes in different weight options and is texturized, think weighted basketball. In fact, this medicine ball is the size of a basketball, which means it can easily be stored in the closet.
Kettlebell Gryp | $34.95
You already have a set of dumbbells in your closet. However, you could do different exercises and workout different muscle groups with a kettlebell. The problem is, this is about at home workout equipment for small spaces.
That means it wouldn't be wise to buy both a set of dumbbells and a set of kettlebells. Instead, you can turn your dumbbells into kettlebells with the Kettle Gryp.
Fit Simplify Resistance Loops | $5.89
Resistance bands allow you to do many different upper and lower body workouts. Resistance bands are similar except they are meant for different workouts. The Fit Simplify Loops are meant to be used for Yoga, Pilates, and other workouts for the back, butt, and thighs.
THERACK Workout Station 30 LB Pro Version | $159.95
This is the first piece of equipment that is on this list that requires you to fold it up and store it away. However, it is worth it to add to a list of at home workout equipment for small spaces. THERACK is a workout station that can be used for 19 different functional workouts like dips, curls, push-ups, and so much more.
The best part is, it is already small and can fold up to be even smaller.
Under Desk Folding Treadmill | $329.99
Treadmills might just be the most popular at home workout machines in the country. However, many treadmills are very big and usually end up stored away in the garage or in a storage unit. The Miageek Under Desk Treadmill is small enough to fit under your desk or bed and can be folded up or down to make it even more compact.
There is a remote control that you can use when the handles are folded down as well.
Escape Fitness Deck | $154.85
Another piece of equipment that could be very valuable is the Escape Fitness Deck. This piece of equipment can be used as a step stool, a weight bench, a plyometric box, and a ramp. The deck folds down to be very low to the ground and can be slid under your bed.
BEOUZO Fitness Stair Stepper | $79.03
You may be thinking that there is no way you could store any type of elliptical in your small space. However, one look at the BEOUZO Fitness Stair Stepper will change your mind. This device is meant to give you the same type of workout as an elliptical.
However, the machine is portable and could be stored in a cabinet or closet with ease.
More Fitness Ideas
15 Do Anywhere No Weights Needed At Home Workouts | Not using weights can be a good way to get started on a workout journey.
35 At Home Workouts for Women | Full Body Workout Options | Full body workouts are perfect for losing weight, especially since targeting specific areas for weight loss is impossible.
10 Minute At Home Workouts for Abs | That illusive third category of workouts, the core workouts are easily done at home.
25 Oblique Workouts to Do at Home | Just be sure not to forget your obliques when you are toning and working out your abs.
Lower Body Disk Slider Workouts | Disk sliders can help make a difference in your workouts without the need for much space at all.