Low Sugar Snacks for a Low Carb Diet (Diabetes Friendly Too!)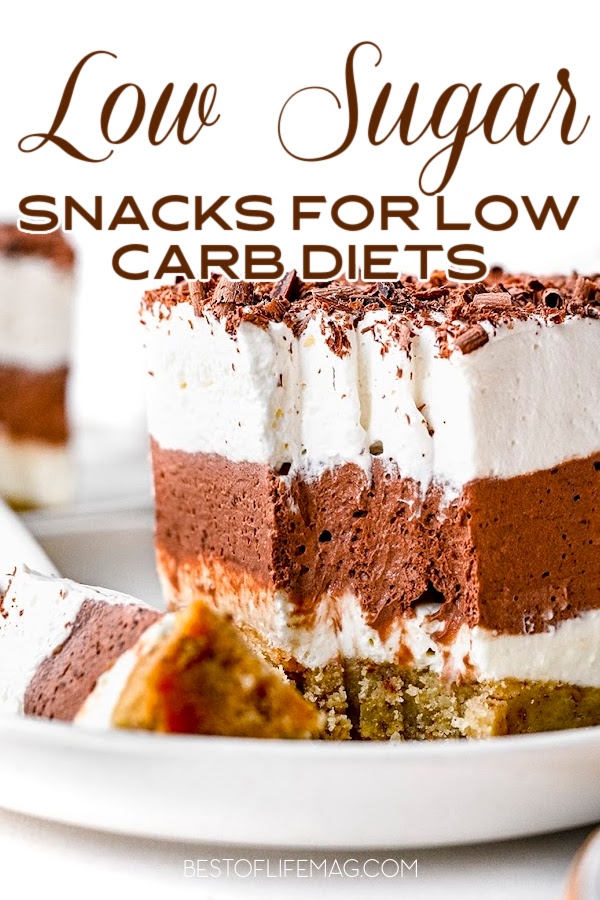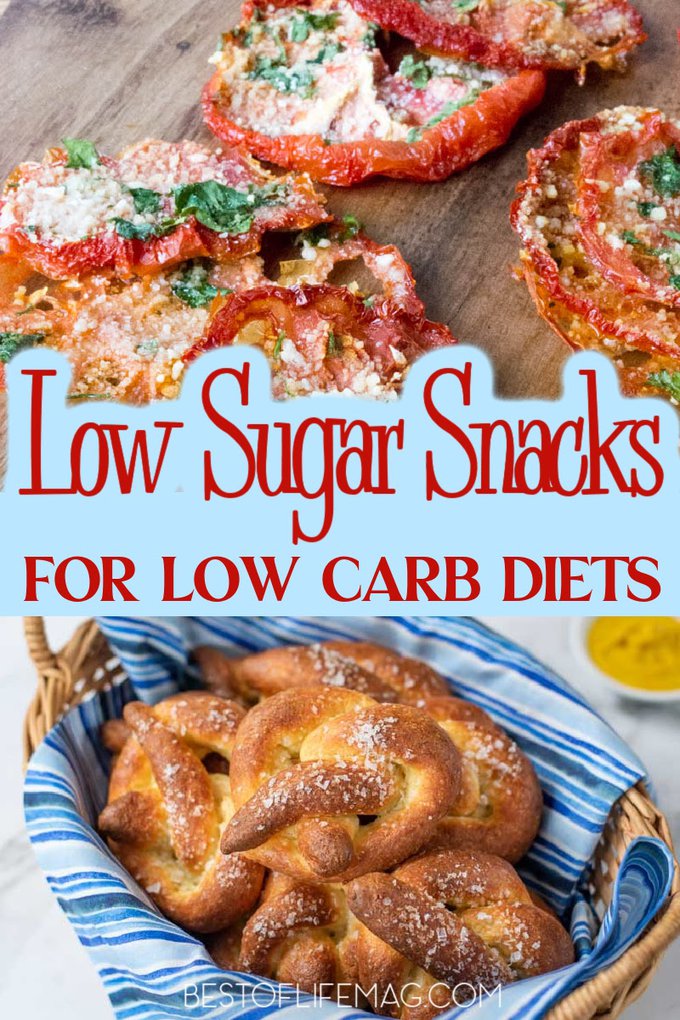 There are different types of low-carb diets. A low sugar diet, specifically low in added sugar and processed sugar, offers the benefit of lowering blood sugar levels while still allowing for some (restricted) complex carb consumption. This is why low sugar snacks can actually work with your diet plan.
Using low sugar snacks, you can enjoy snacking and getting healthier along the way, not to mention these snacks qualify as snacks for diabetics as well. There are many different types of low-carb diets out there, and with good reason.
Studies show that less carb consumption lowers blood sugar levels. One of the best and easiest ways to do this is with a low-sugar diet. Added sugar has zero nutritional value and is the most direct link to cardiovascular issues and obesity.
Consuming less sugar, even if allowing for some carb consumption in other forms, can have significant health benefits. You have probably heard about your body's glycemic response to eating carbohydrates and something called the glycemic index.
A low sugar, low carb diet takes this index into consideration. Not all carbs are made the same. Not all carbs will excessively raise blood sugar levels as straight-up as sugar will. This is an excellent tool for those who have been diagnosed with diabetes since many foods that are good for a low-sugar low-carb diet can be diabetic-friendly.
Whether you are trying to lose weight or take control of your eating habits, once you commit to improving your health and going low sugar, the only question is, what do you eat? Revamping your old standby recipes can be hard, and sifting through cookbooks is time-consuming.
There are literally thousands of recipes online as well, but who has the time for that? That is where we come in.
We have narrowed your search down to save you time and give you all the low sugar snacks to satisfy your mid-day or late night cravings. These 25 low sugar snacks are low carb and are ideally suited for your low carb diet. They contain zero added or refined sugars, making them diabetic-friendly.
If your cravings are mainly for the sweet, and you feel like you're out of luck on a low sugar diet, think again! 10 of these recipes are just for your sweet tooth. Whip up a batch of sugar-free cream cheese brownies or even a mug cake or brownie that is a single serving and takes almost no time to prepare.
For those times when you really need something savory or salty, you have even more to choose from. These low-sugar snacks will satisfy you and fit perfectly into your meal plan.
2B Mindset Buffalo Cauliflower Bites | The Best of Life Magazine
2B Mindset Salt and Pepper Kale Chips | The Best of Life Magazine
Keto Fudge Fat Bombs | Real Balanced
Sugar-Free Low Carb Cream Cheese Brownies | Doughmesstic
Heavenly Keto Butter Mousse | Perfect Keto
Low Sugar Snacks for a Low Carb Diet
Carbs and sugars are essentially the same things. Sugars are broken down by the body and turned into carbs. People who start a low carb diet learn that sugar is in basically everything which is why carb counting actually matters. You can easily count your way to a low sugar snack every day if you want.
However, it is important that you remember that blood sugar is essential, especially for diabetics. In fact, low carb diets could be even more difficult for diabetics. It is important that they monitor their blood sugar through this process.
No Bake Almond and Coconut Keto Clusters | Essential Keto
Sex in a Pan, Sugar-Free Low Carb Gluten Free | Wholesome Yum
Healthy 1-Minute Low Carb Brownie | The Big Man's World
Keto Lemon Mug Cake | Keto Corner
Healthy Cinnamon Apple Chips | Cook Craft Love
Carbs and Glucose Levels
Low sugar snacks for a low carb diet are great snacks for diabetics. Diabetics have to be concerned about higher glucose levels. In fact, studies have shown that low carb diets are more than suitable for diabetics; they are ideal.
Low carb diets were used as a way to treat diabetics before the discovery of insulin. That means that low sugar snacks and low carb diets are healthy for diabetics and could help them manage their glucose levels far more easily.
Raw Protein Thin Mints (gluten-free, low sugar, vegan) | Purely Twins
Peanut Butter Protein Balls | Diabetes Meal Plans
Raw Zucchini Sushi Rolls | Fresh Dreamer
Brussels Sprouts Chips | Delicious By Dre
Crispy Parmesan Tomato Chips | Sugar-Free Mom
Low Carb Diets
Low sugar snacks for a low carb diet are just part of the equation. In fact, low carb diets require people to eat a specific amount of carbs daily. The goal is to get deprive your body of a source of energy as much as possible.
People who want to lose weight will discover that their bodies start to use the stored fat for energy instead of the constant intake of glucose. Of course, this means that physical exercise is necessary for the body to require energy.
Low Carb French Fries | Sugar-Free Like Me
Melon Proscuitto and Mozzarella Skewers | The Comfort of Cooking
Ham and Pickle Roll-Ups | Julie's Eats and Treats
Low Carb Keto Nachos | Peace Love and Low Carb
Salt and Vinegar Roasted Edamame | Emilie Eats
Weight Loss Tips
You can use as many of these low sugar snacks for a low carb diet as you enjoy. However, you may want to utilize a couple of tips if your goal is to lose weight. Intermittent fasting is an excellent way to help the body manage nutrition better.
Just make sure you don't eat anything before noon and eat your last meal before 8 pm. You will also want to incorporate cardio into your workout plan so that your body needs to use energy. Working out for at least half an hour a day for at least 5 days a week should get you the results you seek.
Cheesy Baked Cauliflower Tots | Kalyn's Kitchen
Jalapeno Parmesan Crisps | Keto Connect
Low Carb Keto Soft Pretzels | My Keto Kitchen
Cauliflower Bagels | Eazy Recipes
Roasted Cauliflower Popcorn | Low Carb Delish
More Low Carb Diet
Keto Breakfast Muffins | You can still enjoy muffins; you need keto recipes to do the job healthily.
Low Carb Portobello Mushroom Pizza Recipe. | Pizza crust is not good for a carb-free diet. But you can still enjoy pizza; ditch the crust.
High Protein Low Carb Recipes for Breakfast. | Breakfast is an important part of the day, even if it just sets the right tone for the rest of the day.
Keto vs Atkins: Low Carb Diet Differences. | There are a couple of keto diet plans you can choose from, but which is right for you?
How to Get your Body in Ketosis. | You will want to get your body into ketosis if you want to lose those pounds.