This site contains affiliate links. Please read our Policies for information.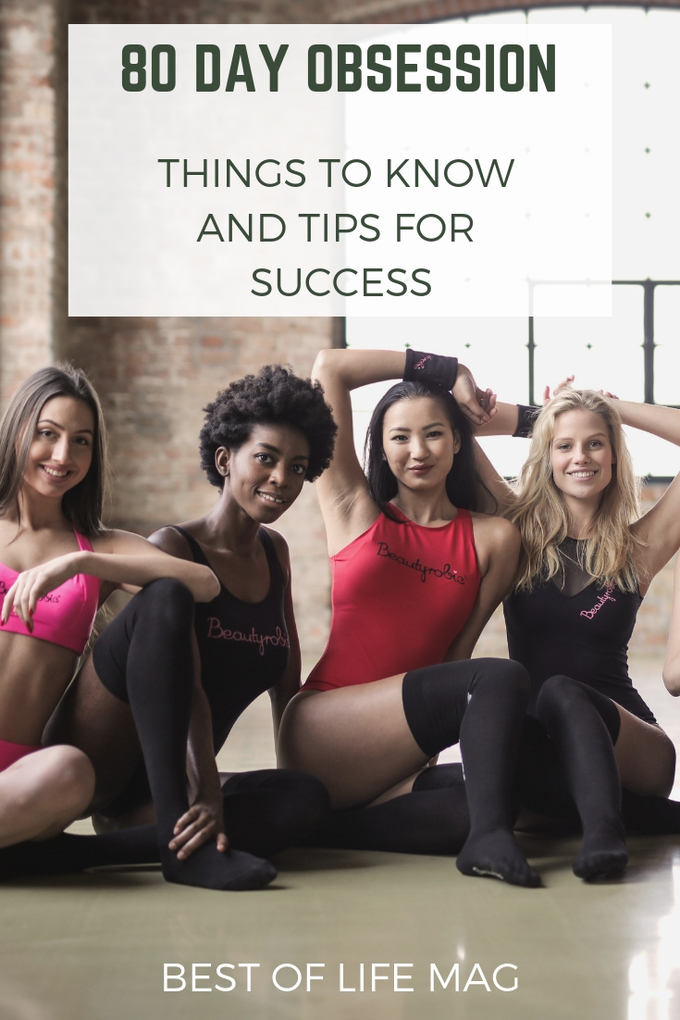 Making a commitment to get healthy, get in shape or transform your body doesn't have to be a difficult decision. It's as easy and getting yourself informed and prepared for success. With our busy daily lives, spending hours in the gym and thousands on a personal trainer just isn't going to happen. Consider that problem solved! With Beachbody on Demand's 80 Day Obsession, the planning, scheduling and even the trainer will come to you! All you need to do is check off this prep list and begin!
We all want to make the most of our 80 Day Obsession workout results! Find out everything you need to know about Autumn Calabrese's newest Beachbody on Demand workout program and get ready to get obsessed!
Getting prepped to start any workout routine or fitness regimen requires a bit of work. That work will help ensure success and may even make the actual workout easier. 80 Day Obsession is no different, there is some prep that will need to be done before you start.
Some of the best prep is getting tips on things you need, what to expect and how others have succeeded. You may even find, that in prepping for the workout, you become more motivated and inspired to reach your goals.
Get Prepped for Success
Get prepared for your 80 Day Obsession, total body transformation with all the necessary 80 Day Obsession equipment. Check everything off this list and then prepare to get obsessed with getting healthy, leaner and stronger in just 80 days! It's all laid out for you from Day 1 to Day 80 on Beachbody on Demand.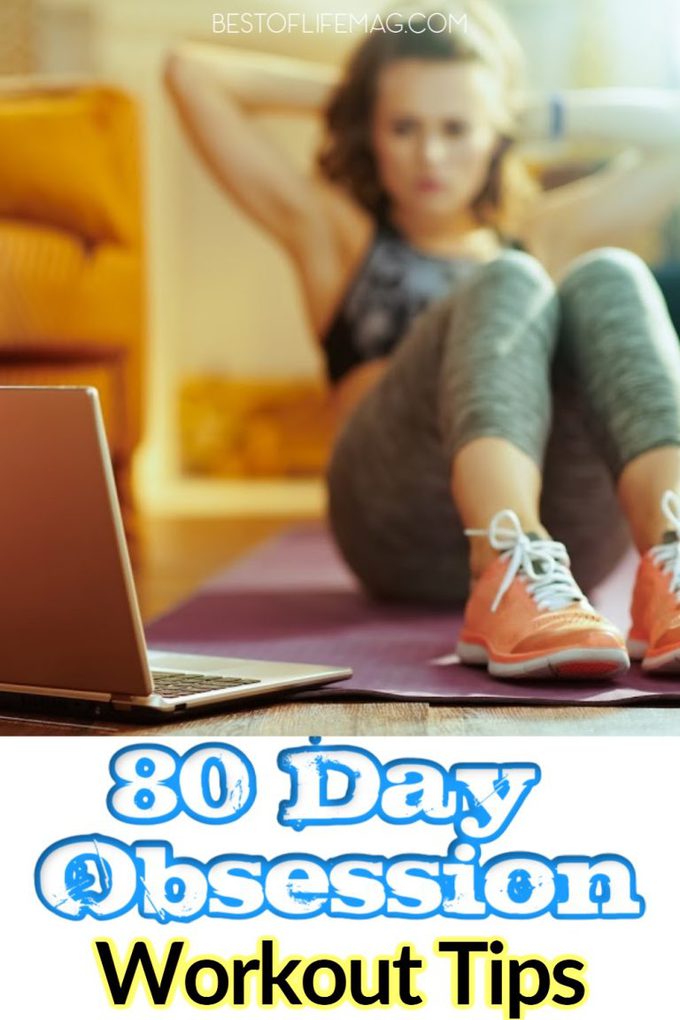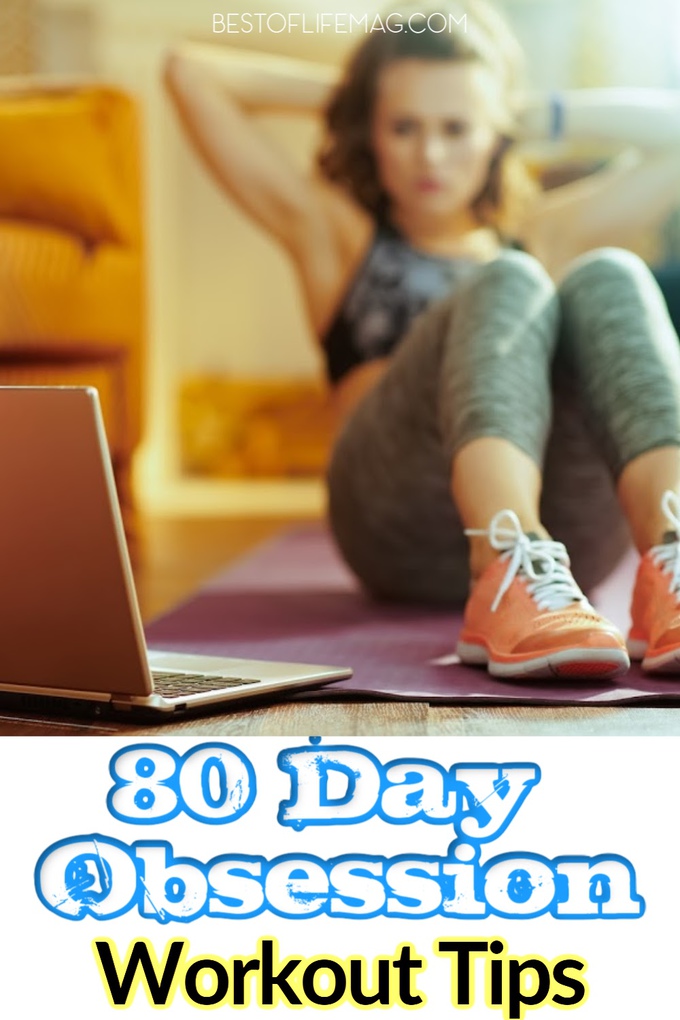 The 80 Day Obsession Start Guide gives you an overview of the program, helps you calculate your calorie intake target and set up a personal meal plan. You will never be alone on this journey because Autumn is going to guide you through your 80 Day Obsession with 6 different types of workouts that change daily!
No two workouts are the same so you need to be prepared for anything that comes your way.
Get Up and Get Started
Get that camera ready! Take your 80 Day Obsession "before" picture on day 1 of the program. Then take some simple measurements. After each phase and again on day 80 you will snap photos and take measurements tracking your amazing results.
At the end of your journey send your transformation into the Beachbodychallengecontest.com for your free 80 Day Obsession tank or tee.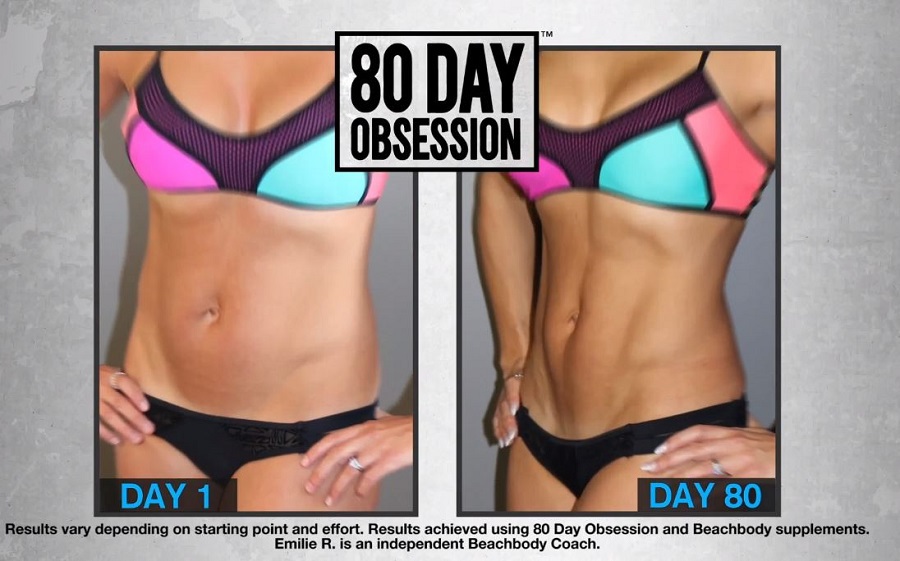 Get Obsessed With Meal Planning
In all three phases of 80 Day Obsession, what you eat is just as important as the workouts you are doing. You will have support along the way with the Calorie Target worksheets, the 80 Day Obsession Meal Planning Guide and Eating Plan Tips Videos to help you make the healthiest decisions.
Portion-control containers make the 80 Day Obsession Eating Plan is simple to follow. You will learn about the key features of 80 Day Obsession Eating Plans like:
• WORKOUT BLOCK – a 4- to 5-hour window surrounding your workout that ensures that you have the right fuel for energy during your workout, plus the nutrition you need to help rebuild muscle and recover faster after the workout is done.
• REFEED DAY – Introduced in Phase 2, Refeed Days are times you'll increase your carb intake to send glycogen to your muscles, giving you a little extra energy for the next day's workout.
• PEAK WEEK – During this last week of 80 Day Obsession, you can choose to do optional days, where you'll reduce your carbs and increase your protein in order to "shed and shred" so you WILL be your absolute best on Day 80!
Get Your Supplements
Having the right supplements for peak performance and results is a key part of your 80 Day Obsession.
Shakeology is strongly recommended in 80 Day Obsession because it helps provide you with the nutrition you need to get your best results. It can also help maintain proper muscle function, provide antioxidants and assist immune function which is so important when you are following a transformation plan.
Beachbody Performance Supplements have also been integrated into the 80 Day Obsession to help you energize, hydrate, recover and recharge.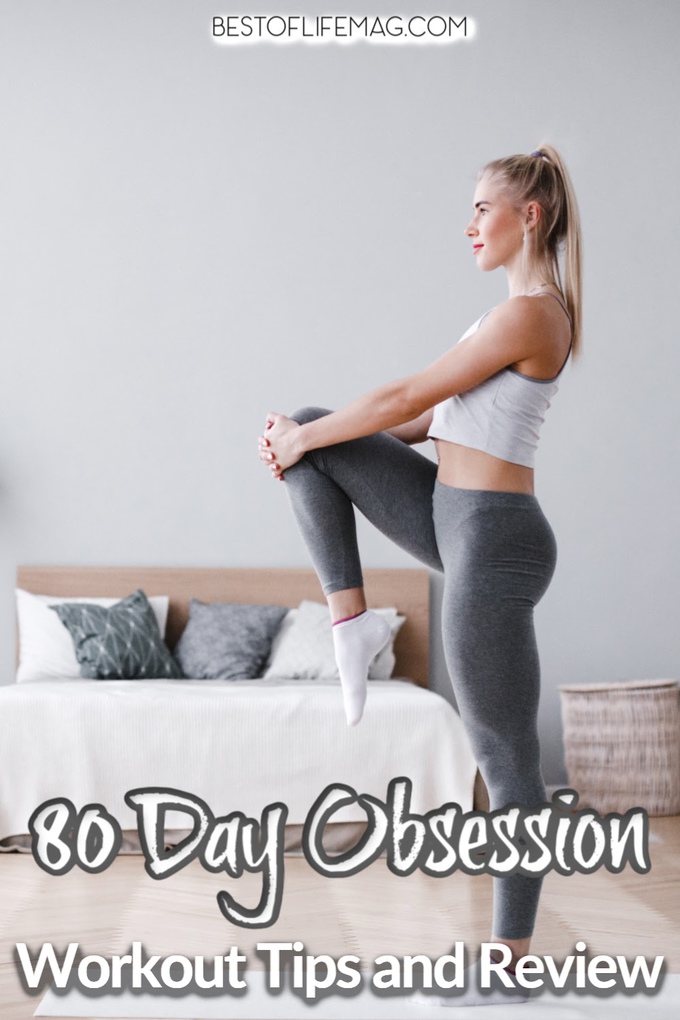 Get Obsessed With Workouts
Autumn's 80 Day Obsession program is literally 80 days of different workouts intended to keep you from the dreaded plateau. Each workout has a focus
• Total Body Core works your entire body using compound movements to increase resistance and muscle activation.
• Booty targets exactly that, the glutes, using isolated movements to sculpt and tone.
• Cardio Core mixes high- and low-intensity cardio intervals with challenging core moves for max calorie burn.
• AAA stands for Arms, Abs and A##! You will use weights, resistance loops and strength slides in these challenging workouts.
• Legs focuses on building stronger, more sculpted quadriceps, hamstrings, glutes, and calves.
• Cardio Flow is a dynamic endurance workout using primary movement patterns.
• Self Care Routines like "Roll and Release" and "Stretch and Release" can be done anytime in your 80 Day Fix to stretch and increase your Use them anytime throughout your 80 days to help stretch and massage away soreness and to increase your flexibility.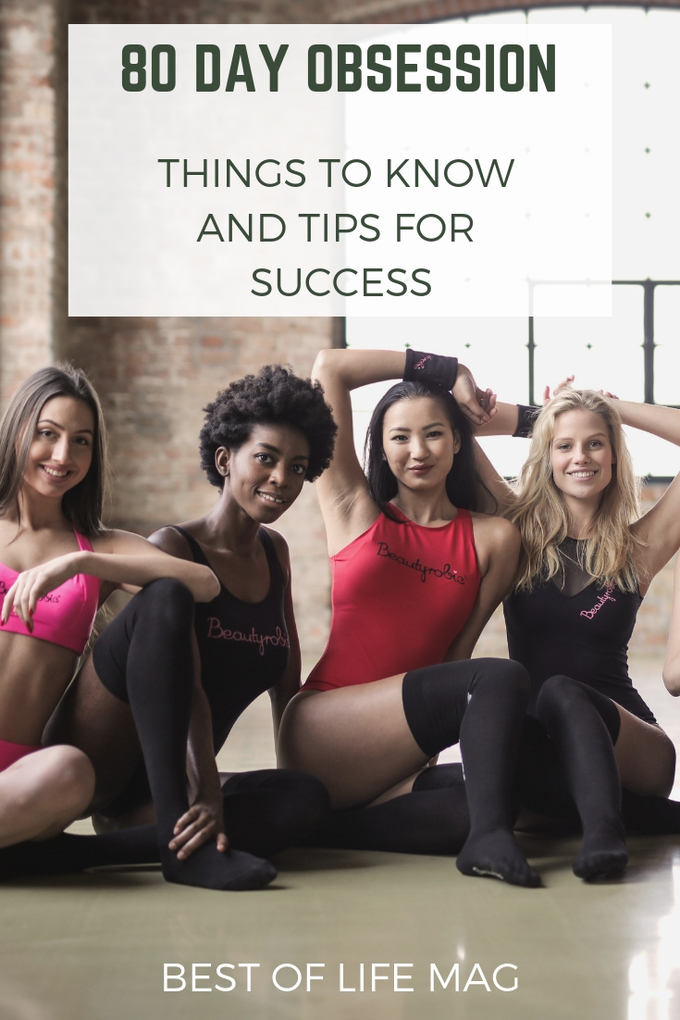 Set Up Your Space
Being prepared means you are ready for each of these 80 Day Obsession workouts with the right equipment. The great thing about this plan is you don't need a gym, just a few key pieces and you are ready to transform yourself
● Light, Medium and Heavy weights
● Light, Medium and Heavy Beachbody Resistance Loops (maybe a few extra for as you get stronger and double up!)
● Beachbody Strength Slides
● Foam Roller
● Beachbody Core Comfort Mat
● A towel and water
● 80 Day Obsession Workout Tracking Sheets
Get Ready To Track
Print the 80 Day Obsession Workout Tracker sheets and keep them handy. Every day, every workout, every phase you will track your weight and resistance bands used.
This is so important as you progress through 80 Day Obsession to help you see where you are getting stronger, where you need to increase your weight and resistance and to target weak or problem areas that you can focus on.
Not only that but at the end of the program, you will be able to look back and see where you began to get results and how much stronger you became.
Now that you are informed and prepared, it's as easy as starting 80 Day Obsession Workout!