This site contains affiliate links. Please read our Policies for information.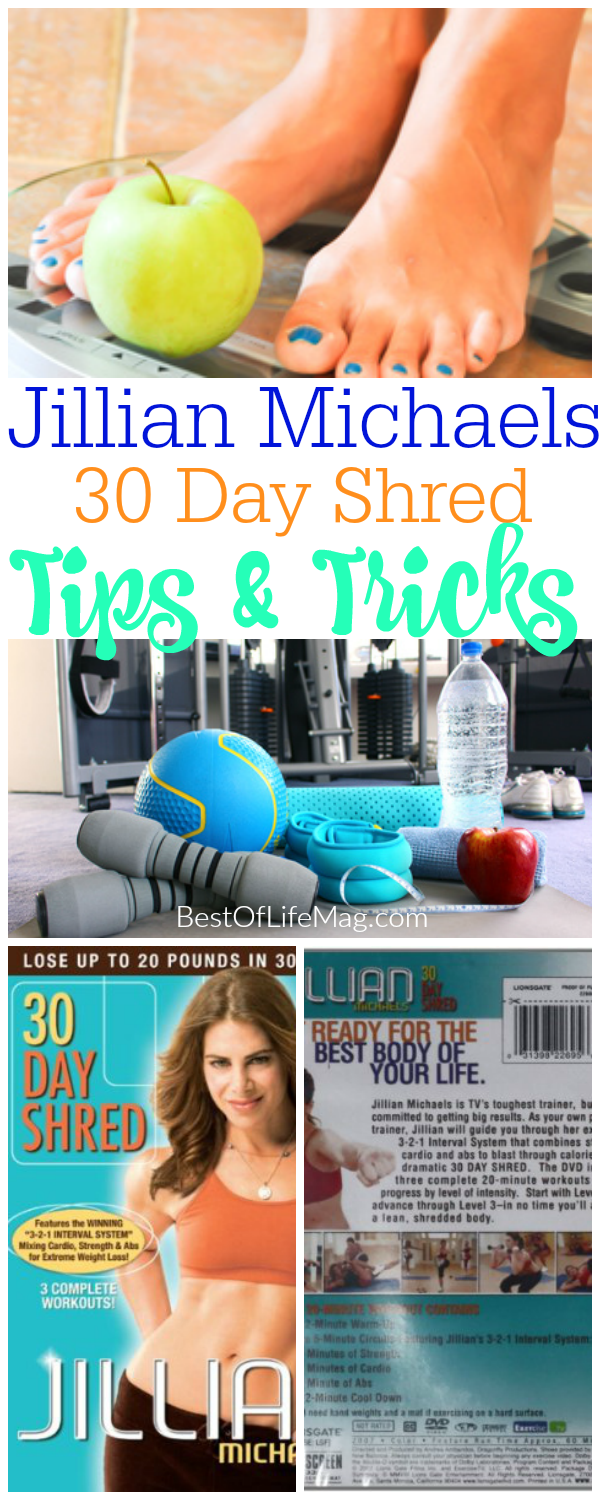 Workouts can be time consuming and redundant, this is one of the main reasons why people quit before they even start. Thankfully there are now programs like Jillian Michaels 30 Day Shred. In case you've never heard of this plan before, let me fill you in on the details! Jillian Michaels 30 Day Shred is a DVD workout series that can help you lose up to 20 pounds in just 3o days.
Follow these Jillian Michaels 30 Day Shred workout tips to make your experience successful!
There is a reason the Jillian Michales 30 Day Shred program has become such a sensation…it works! Not many people LOVE working out but this high intensity workout program gets you done fast, which is a great feature of any program because we all know time is valuable.
The only thing you need to start the Jillian Michaels 30 Day Shred is a small pair of hand weights and the DVD. There are variations for beginners in each workout; if you are severely out of shape, no worries, it will be torture for you too!
Jillian LOVES to make people do jumping jacks so prepare yourself for that…as you'll hear her say "I have 400 pound people who can do jumping jacks and if they can do it, so can you". The good news is that if you put in the work, 20 minutes a day for 30 days, you'll see some awesome results. You might even find that you come to like yelling at Jillian on the TV for 20 minutes a day.
Jillian Michaels 30 Day Shred Workout Tips:
Don't Skip a Workout
If you're really hurting or feeling bad use the beginner modifications in the workout or go half speed. Don't skip the whole day!
Eat Right
This should be a no brainier but eating better will help fuel you for your tough workouts with Jillian. Put good stuff in, get good stuff out!
Push Through the Pain
Don't use the beginner moves the entire time! Do as much as you can with the tough stuff and then instead of giving up completely, use the beginner moves. Pushing yourself can seem tough in the moment but it will help get you the best results.

Water Water Water
Drink water until you think you're going to drown yourself…this goes for before, during, and after your workout. The Jillian Michaels 30 Day Shred is a workout program that is VERY intense. This high level of intensity can trick you into thinking you didn't work as hard as you really have, your body will need plenty of water to stay hydrated and help in muscle healing.
Listen to Jillian
Trust her expertise in this department. She used to be in your shoes and after years and years of experience she knows what she's doing. Follow her plan and do your best to follow her instructions. This will help you get the most out of the 30 Day Shred plan.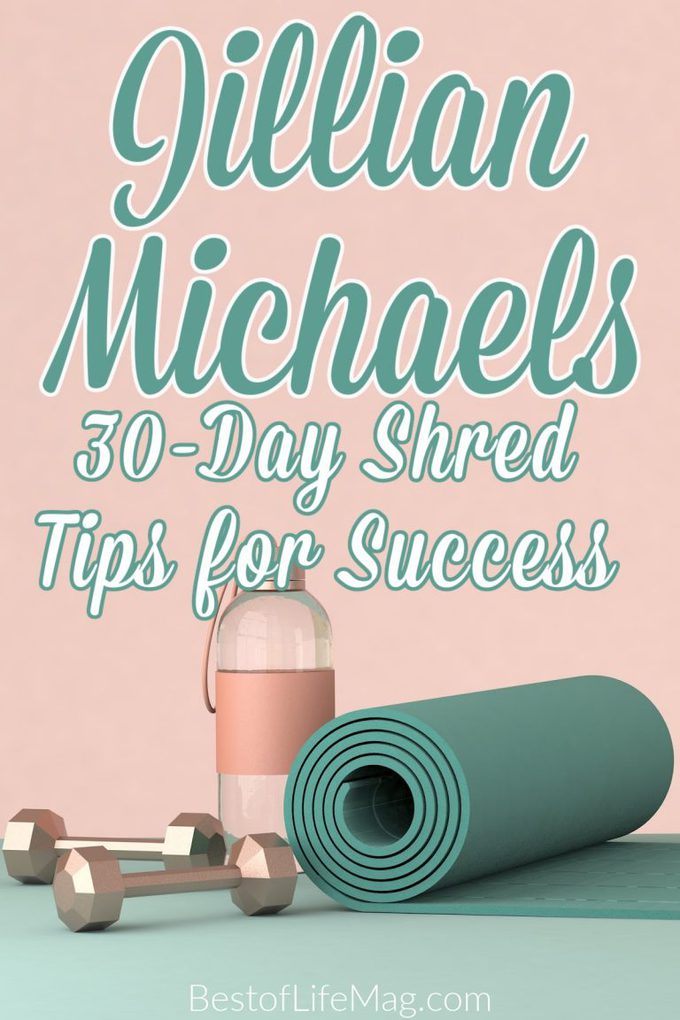 Eat
Starting a new diet or exercise plan can make many people go the starvation route…don't do that. You won't have nearly enough energy to get through your workouts with Jillian Michaels if you don't eat enough. Try making small changes to your diet instead of large drastic changes that you can't keep up long term.
Partner Up
Find a workout partner. If you don't have someone at home that can workout with you, find an online buddy to help you stay motivated and on track. Trust me when I say yelling out in misery at Jillian with a partner is so much more fun!

Equipment
All you need are some weights and a mat. If you plan to progress through the video and continue to use it for workout sessions I would recommend getting a set of free weights so you can progress along as you get stronger. If you are planning a once and done cycle, just use the level of free weights =you feel most comfortable with!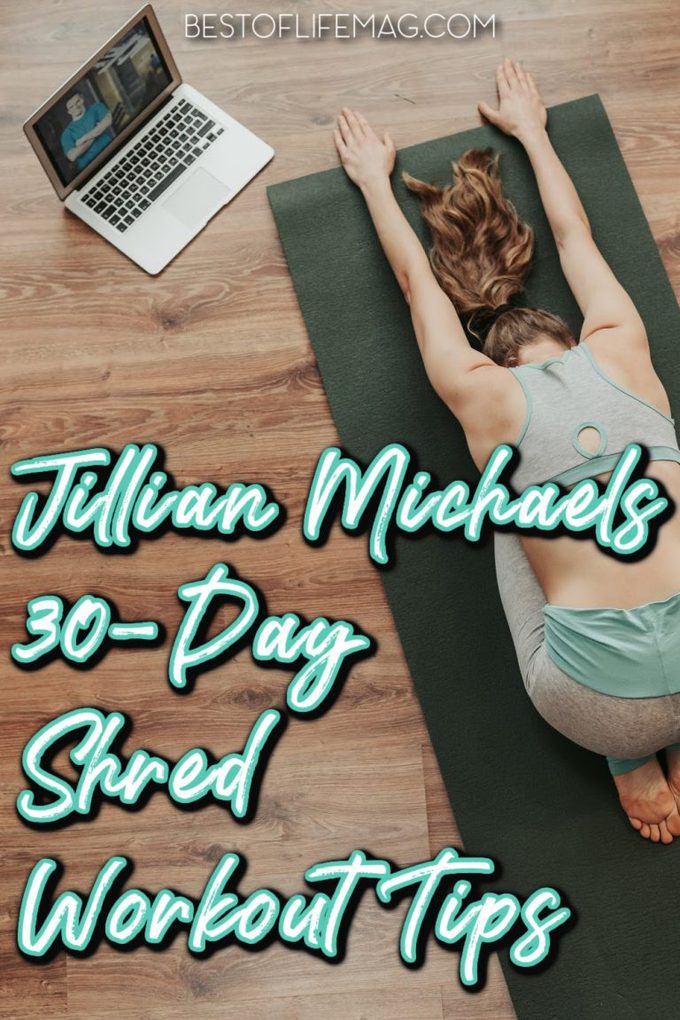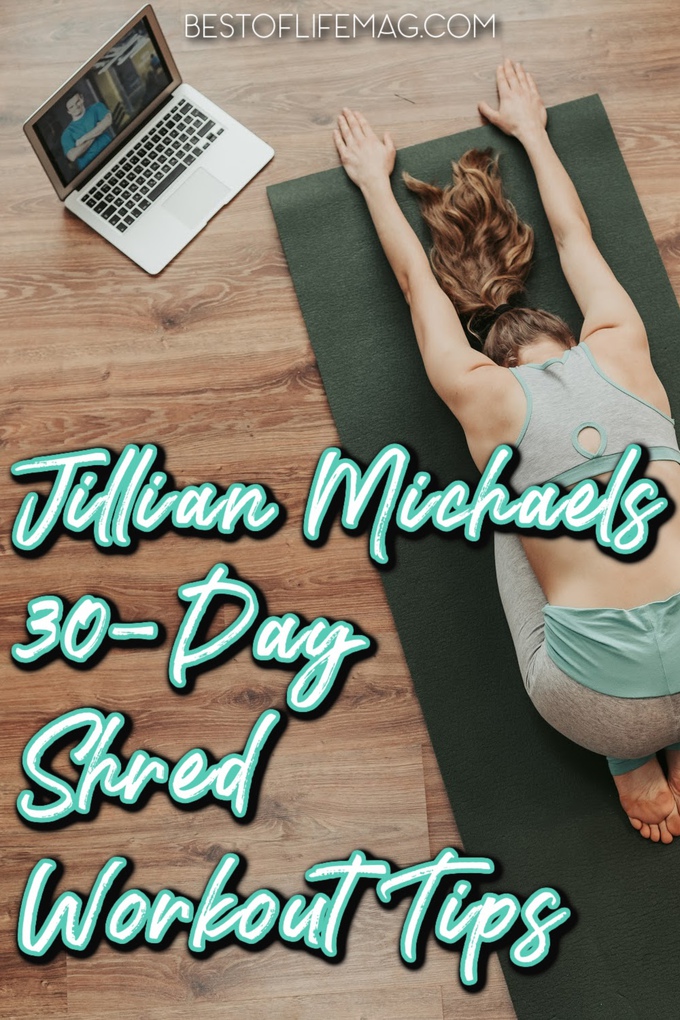 Scream, Shout, Let it all Out
Ha. Yeah, I know, it's goofy. Do it! Scream and yell and get mad. At least for most of the time it's going to be tough. Jillian Michaels 30 Day Shred is a great example of her typical no nonsense attitude. She won't take any excuses and you'll feel better if you yell at the screen a little bit, go for it!
If you're looking for even more Jillian Michaels workout info, tricks, and recipes you can get all of that and more right here!
Save
Save
Save