5 Ways to Modify Focus T25 Workouts & Get T25 Results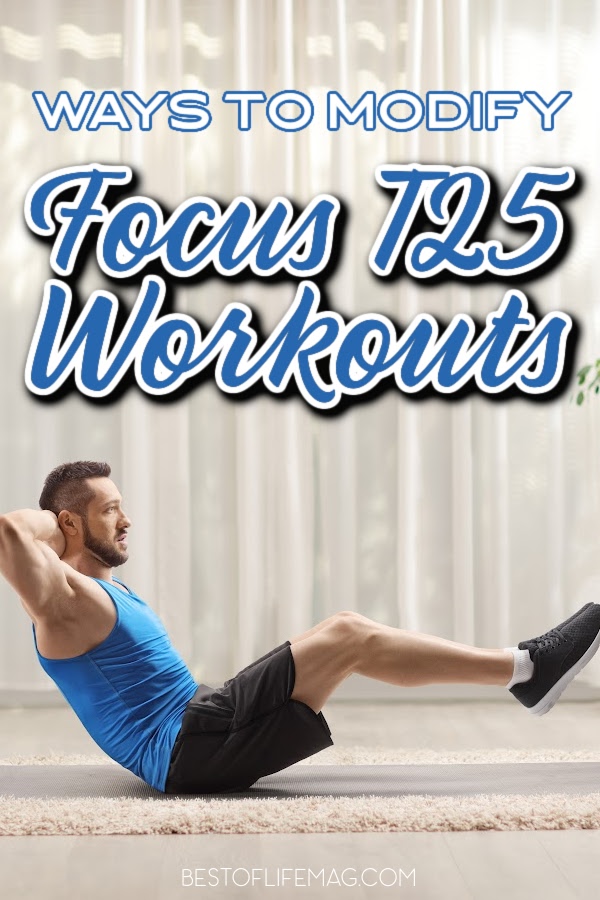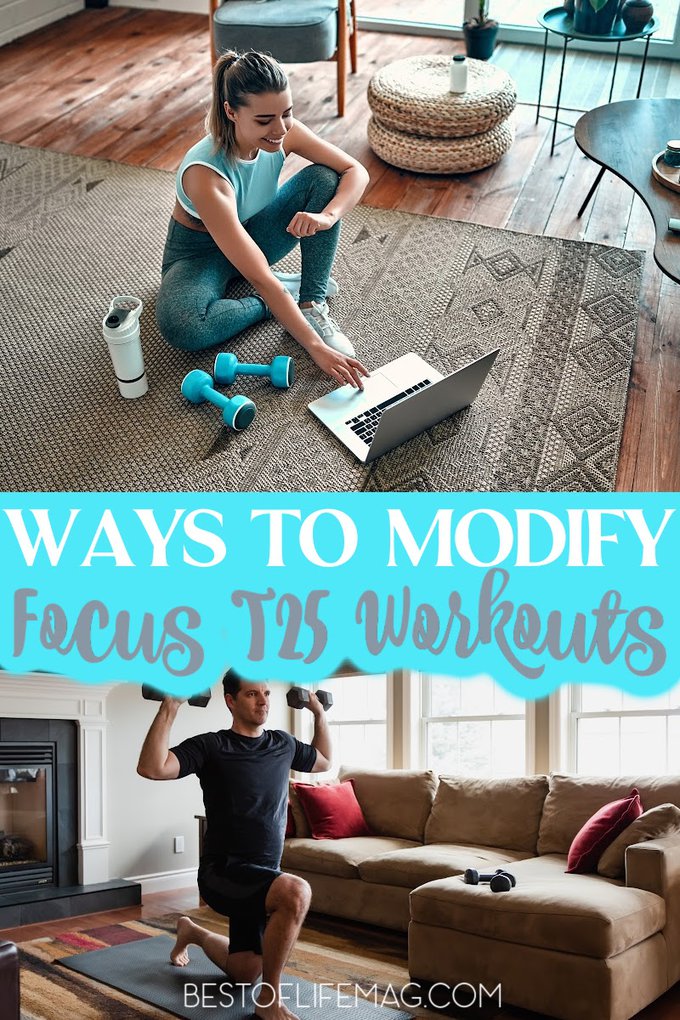 There are many different workout routines, and box sets that you can choose from for your fitness goals. Most of them differ from each other greatly, and that's done on purpose. The goal is to make sure there's a routine that will work for just about anyone since everyone is different. However, when it comes to workouts like the Focus T25, some modifications may need to be made to make it work for you.
Of course you'll need the T25 workout program but you might also be wondering what you'll need to get through this process. I'd recommend you have a few things for any at home workout program. These items go great with any of the Beachbody Programs.
A high quality yoga mat is good for floor work in all the programs. I also recommend a set of free weights and some resistance bands. They'll help you modify moves so that you can get a great workout without hurting yourself.
Other than that you'll just need some sneakers and the determination to go at it everyday! Wondering if you can do Focus T25 workouts? Yes, you can, and these modifications will help you get the results you want.
We have finished the 10-week fat blasting Focus T25 workout program, and I have fallen in love with it. We will continue with the program and probably add other DVD's that we didn't initially purchase because T25 results are worth it!
Can a beginner really do Focus T25 workouts with Sean T? Or you may just be wondering if you have options in case you can't survive a T25 workout regardless of your fitness level.
Ways to Modify Focus T25 Workouts Start and Build
Start with 15 minutes and build by 2-minute intervals until you reach the full 25-minute workout. Unlike many exercises that say they are (fill in the blank) long and then end up being 10 minutes longer, T25 is literally 25 minutes long. Starting is all you need to do, and you will make it!
Never Stop Moving
Walk or jog in place. Finish a move and if you are seriously having trouble, simply continue. When the next move starts, join back in and nail it. The key is to keep at it, and each time you do the workout, you will modify less and less.
Slow the Pace
The most important thing with any workout but especially those that challenge you is to keep trying. There are some moves in Focus T25 that one simply cannot do as prescribed due to injuries or pain. Don't quit and stare at the TV – just slow the pace of the move or do less of a rotation.
The moves in Focus T25 are chosen with intent and really do strengthen the entire body, so it is important to try your very hardest to do the moves. Slowly but surely you will be able to do each workout for the full 25 minutes and complete each exercise to your personal best and lose weight fast.
Standing Toe Kicks
When you need an even smaller break, stand with your feet evenly planted and your arms out to your side. Kick one leg straight out in front of you and touch your toes with the opposite hand. Keep your core strong as you do each of these.
This will give you a small break but still keep your heart rate up so you can reenter the workout easily.
Jump Around
This may sound silly but even jumping jacks could even be a modification; there are times when Sean T's pace is killer. Take a break and just do jumping jacks. It will keep you moving at a fast rate but give you a small break you need.
Move your way from #1 through #5 on the modification list, and this will take you to the potential you need to make it through each workout. Your goal is to either keep up with Tania as she provides modifications for Focus T25 as well and then move your way onto keeping up with Sean T himself.
More Beachbody
Beachbody Chocolate Shakeology Recipes | Shakeology is a popular program from Beachbody that uses meal replacements shakes for weight loss.
2B Mindset Meal Plan Ideas for Lunch | You have so many different options with Beachbody that can help you lose weight.
Beachbody Hybrid Calendars for LIIFT4 Workouts | Working out is important if you want to lose weight. But not all workouts have to be the same.
Beachbody Challenge Group Ideas | Having a group to work with could help keep us on track.
21 Reasons to Try 21 Day Fix Workouts | Ready for another round of workouts from Beachbody?