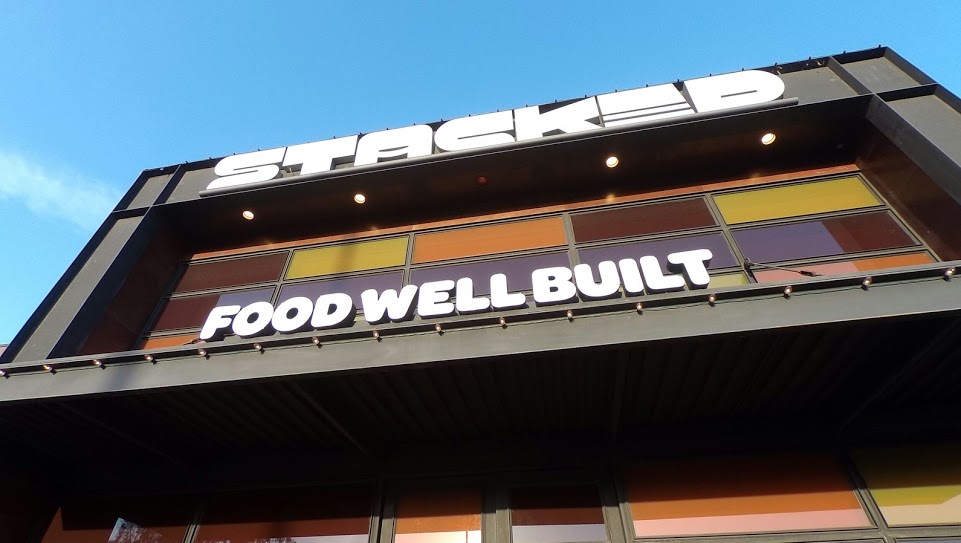 This site contains affiliate links. Please read our Policies for information.
Some restaurants insist on serving you food the way the way the chef thinks it tastes best. At Stacked, it's the total opposite. You build it the way you want it with a tech flair. Stacked takes their name to heart and displays it in its exterior design of multi-colored plate glass.
Stacked is all about customization and they do a great job inviting customers to create plates just the way they want.

Menu
Burgers, pizzas, salads, and macaroni and cheese are the main offerings on the menu. All can be created with whatever you want from sriracha mayo to peanut butter. I know, peanut butter sounds like a crazy option, but it is delicious on a burger. There are some standard creations for the less inventive, but even those can be altered to your liking. For those that are gluten-free, Stacked offers plenty and is willing to accommodate your dietary needs. It's great to see restaurants go out of their way to meet the needs of their customers. We deal with that regularly. My son has a peanut butter allergy and they were extremely attentive and cautious with his food too.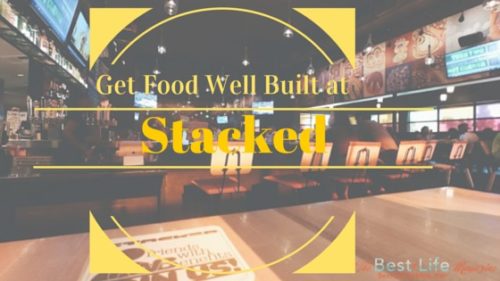 Experience
Stacked has a reputation for being a tech savvy eatery as well. All your orders from beverages to desserts take place on an iPad. This frees up the service staff to deal with the specific needs of its guests. I couldn't believe how prompt their staff was to answer questions, provide refills or just give us help scanning through all the options. The best part is you can get a visual of your stacked entree before it arrives at the table. Another great feature is the ability to stack sauces and condiments on the side. This was a hit with my wife. So if you're worried about the heat in the curry ketchup, just get it on the side.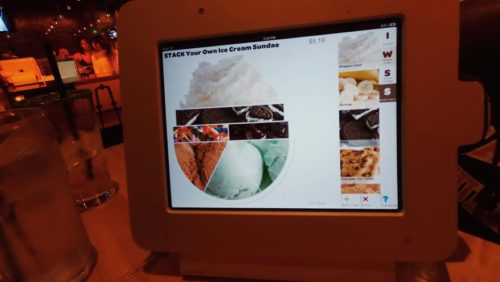 Kid's Menu
The kids meal isn't quite as creative as the adults, but it provides solid choices. Sliders came with a reasonable portion of fries and carrot sticks as well. Kids are provided Wikki Sticks to play with as they wait for their meal. They provided plenty of entertainment at the table. My kids enjoyed creating sundaes on the iPad as well. They were able to build exactly what they wanted. The shakes and sundaes are fully customizable, just like many of the main entrees. There are plenty of adult shake options as well.
Drink Flights
Another great feature for those that want to try everything are the drink flights. Many restaurants offer beer flights, but Stacked takes things further by offering flights of wine, whiskey, and tequila even. The craft beer selection is commendable with Bell's and Ballast Point making the list. There are several big screens around the bar in the center of the restaurant, making this a great place to take in a sporting event and get some great food at the same time.
Stacked offers a great environment to enjoy a nice meal with the family. Be bold and try your very own version of a burger and a shake or whatever your stomach is craving.
Stacked recently opened in Cerritos and is located just outside the Cerritos Mall.