Totally Tasty Tequila Drinks that are not All Margaritas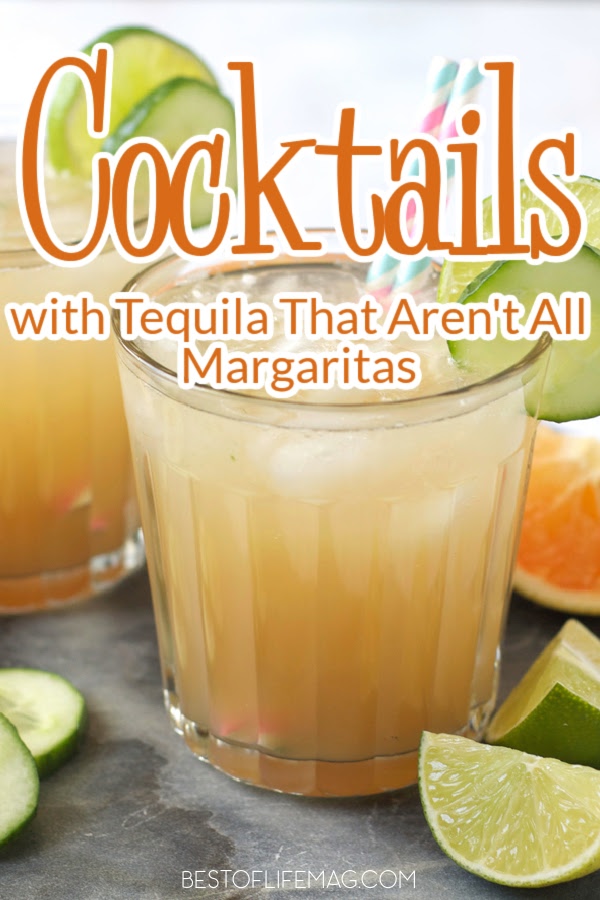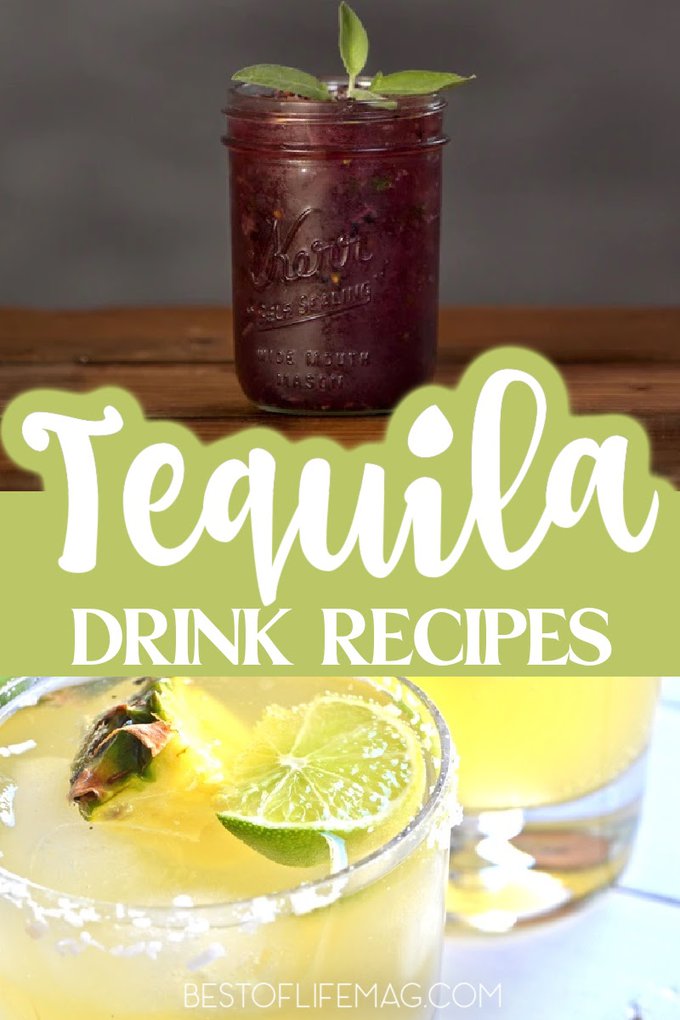 Nothing says "let's have a good time" quite like tequila!?! Am I right?! Not everyone, myself included, likes to drink plain shots of tequila. Luckily, there are TONS of totally tasty tequila drinks out there! Before we get too excited, I know that maybe you don't like margaritas, not to worry because there are plenty of options.
We love making our favorite cocktails at home, so we have to keep the essentials on hand. I love to have a set up specifically for the bar. A standard bar set like this is great as well as a variety of glasses. We love to make margaritas too so I always have some glasses that are appropriate for all beverages!
Keeping standard mixes on hand also makes mixing up tasty drinks easier than ever! Tequila goes far beyond a margarita! Enjoy these tasty tequila drinks that suit everyone's tastes! From shots to margaritas and drinks that are NOT margaritas, they are all perfect!
Since the most popular tequila drinks are typically margaritas, we'll start the collection off right! These margarita recipes are out of this world. We're not talking average, boring, green juice on ice here…Some of these are totally wild and full of fun flavors! Join me, we'll try them all!
Margarita Recipes
It is hard to talk about cocktails with tequila and not mention margaritas. Margaritas come in different flavors and even different types. There is something for everyone. However, people get tired of the same old thing, even if they haven't tried them all.
Luckily, there are still more recipes to go that aren't margaritas. They will be just as delicious, just as amazing, and get you right where you want to be. Some are cocktails, others are shots, but all of them are tequila drinks that we can enjoy.
Blood Orange Margaritas | The Best of Life Magazine
Blackberry Lime Margaritas | Cooking & Beer
Patron Skinny Margarita | The Best of Life Magazine
Champagne Margaritas | The Kitchen is my Playground
Light Strawberry Margarita | The Best of Life Magazine
Easy Margarita | The Best of Life Magazine
Blackberry Lemonade Margaritas | From Val's Kitchen
Perfect Lime Tequila Margarita | The Best of Life Magazine
Creamsicle Margaritas | The Blonde Cook
Bright Flavors of Tequila Drinks
After you're done trying all of those delicious margaritas perhaps you will need something a little different to spice things up! That's where these tequila drinks shine brightly. All of these beautiful and creative drinks contain tequila but some of them hide it really well.
If you're not one for an overbearing tequila taste you might like some of these drinks that also contain juices. The Paloma recipes are especially refreshing and delicious. If you need something with a few less calories you should definitely check out the skinny tequila squeeze; totally tasty without the added calories!
Sparkling Blood Orange Margarita | The Best of Life Magazine
Raspberry Mango Margaritas | Baker by Nature
Patron Grapefruit Margaritas | The Best of Life Magazine
Moscow Mule Margarita | Oh My Creative
Pineapple Margaritas | Babble
ALL the Margaritas | My Crazy Good Life
Strawberry Margarita | The Best of Life Magazine
Grapefruit Jalapeno Margaritas | Eat Well 101
Strawberry Jalapeno Margaritas | The Best of Life Magazine
Mixed Drinks with Tequila
Now we get to the down and dirty…let's face it, this is where tequila likes to be! If you like trying out new recipes for shots, then these tequila drinks are for you! All of these recipes would be great for your next party or a night out BUT they're also really fun to whip up at home.
Finally, no tequila drinks collection would be complete without a shot of tequila. You probably don't need a recipe for this one, tried and true tequila fans will take a regular shot of tequila all by itself! But there are shots that add more flavor and are just as good. Those are coming next.
Cucumber Grapefruit Paloma | Turnip the Oven
Orange Mint Tequila Smash | Bon Bon Break
Skinny Tequila Squeeze | Little Bits Of…
Grapefruit Tequila Slammer | Self Proclaimed Foodie
Mexican Sunset | Real Housewives
Blackberry Sage Tequila Smash | Two Tumbleweeds
Tequila Shots
Shots are easier to make though they do require a bit of a gentle hand. That is because many of them are pouring straight into the shot glass. The last thing you want is to overfill the shots. But they are worth the effort to make and can make taking shots more fun and less…shivery, if you know what we mean.
Dirty Mary | Mantitlement
Cadillac Margarita Jello Shots | Bakers Royale
Crows Cup | Sauza
Hot Cheetos Tequila Shots | Tipsy Bartender
Tequila Lime Jello Shots | Gluesticks and Gumdrops
The Princess Shot | Tumbr
More Cocktails
Sparkling Cucumber Cooler with Gin Cocktail Recipe | Gin makes a great cocktail, especially a cucumber cooler which is refreshing and light.
Slow Cooker Spiked Peppermint Hot Chocolate Recipes | You could also go for something a little heavier, warmer, and better suited for colder months.
Mojito Cocktail Recipes: Refreshing Drinks with Rum | Cocktails come in all different shapes, sizes, and flavors for you to choose from.
Cherry Blackberry Mojito Recipe | When was the last time you enjoyed a blackberry mojito?
Fireball Whisky Cocktail with Passion Fruit | Or a cocktail made with Fireball whisky and passion fruit?