This site contains affiliate links. Please read our Policies for information.
Today was our Zoku Baptism.  After a super helpful tutorial from
Becca over at My Crazy Good Life
, we took the plunge and purchased our Zoku Pop maker and all of the accessories at Williams Sonoma.  We quenched our thirst on this warm day and made healthy snacks for the family with this recipe for Cantaloupe Zoku Pops with Raspberries.
Ingredients:
3 cups of cantaloupe
3 tablespoons water
1 tablespoon agave nectar
Directions:
1. Place all ingredients in the Vita-Mix and blend on high until smooth.
2. Slice the raspberries and place on the sticks.  Gently place them inside and stick them to the edges of each Zoku Pop.
3.  Fill with the canteloupe juice, place your sticks in, and watch them freeze!
The kids loved watching them freeze and a short 8 minutes later, our first Zoku Pop was born.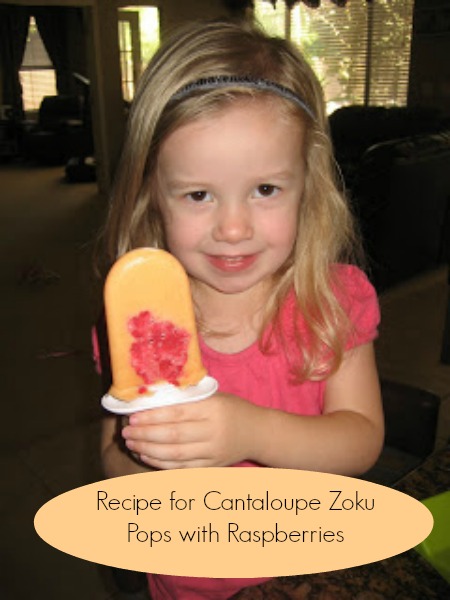 They ate half and saved the rest for after dinner tonight.
Healthy and tasty!
Kind of hard to beat that as a mom if you ask me.