This site contains affiliate links. Please read our Policies for information.

Easter Day is filled with so many tasty foods to be enjoyed with family and friends; the day is filled with traditions that fill a home with true happiness. Easter Dinner and dessert are certainly to be enjoyed but so are these amazing and gorgeous Easter Appetizers!
Entertaining, cooking for and serving your friends and loved ones is so much fun! It's also a lot easier if you have the right tools on hand. I survive the holidays in the kitchen by having my stand mixer, apron, baking sheets, cookware, serving utensils, extra serving dishes, and flatware all ready to go!
Easter Dinner and dessert are certainly to be enjoyed but so are these amazing and gorgeous Easter Appetizers! They add color to the table & taste amazing!
Cream Cheese Deviled Eggs | Epicurean Mom
Easter Mice Bunny Stuffed Eggs | My Fudo
Shredded Chicken and Crackers | Best of Life Magazine
Pink Deviled Eggs | The Year In Food
Israeli-Style Fish Cakes | Tori Avey
Crème Fraiche Deviled Eggs | MaryellaJourdak
Tulip Tomatoes | A Thrifty Mom
Deviled Potatoes | My Recipes
Carrot Shaped Veggie Pizzas | Hungry Happenings
Roasted Asparagus Wrapped in Ham | Kalyn Kitchen
Crescent Roll Carrots Filled with Egg or Ham Salad | Hungry Happenings
Bacon Blue Deviled Eggs with Roasted Garlic And Asparagus | How Sweet It Is
Cream Cheese And Smoked Salmon Deviled Eggs | The Curvy Carrot
Creamy Deviled Eggs | A Food Centric Life
Purple Deviled Eggs | Melangery
Curried Egg And Prawn Cocktails | Whole Some-Cook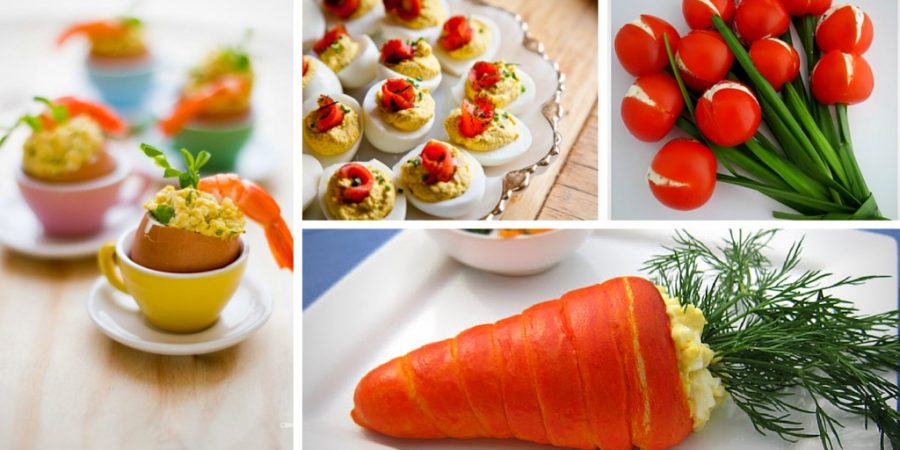 Fairy Salad And Ginger Dressing | Working Mom Cook Fusion
Veggie Bars | Garnish and Glaze
Easter Cucumber Sandwiches | Cherished Bliss
Bread Cones | Complete Recipes
Easter Deviled Eggs | Real Mom Kitchen
Bunny Carrot Dip & Easter Bread Basket | Pizzazzerie
Chipotle Guacamole Deviled Eggs | The Petite Cook
Chorizo, Saffron And Goat's Cheese Devilled Eggs For Easter | Eat. Live. Travel. Write.
Ricotta and radish mini bagels | Ricotta And Radishes
Maple Mustard Deviled Easter Eggs | E is for Eat
Sriracha Deviled Eggs | Hapanom
Deviled Eggs | the Gingham Apron
Duck Fat Toasts with Quail Eggs and Asparagus Pesto | Katie At the Kitchen Door
"Blt" Ranch Deviled Eggs | The Curvy Carrot
Pickled Beet Deviled Eggs Recipe | Love And Duck Fat
Mediterranean Beet Dip | Confessions of a new Old Home Owner
Beet & Bean Salad Crostini | Snappy Gourmet
Mini Antipasto Quiche | The Well Floured Kitchen
Chickie Eggs | Just Jenn Recipes
Egg Casserole with Ham, Cheese and Spinach | Jules Food
Which of these Easter appetizers are you going to make for the day? Once you decide on that be sure to check out these favorite Easter treats; they are so colorful and pretty!
Save