35 Amazing Easter Appetizers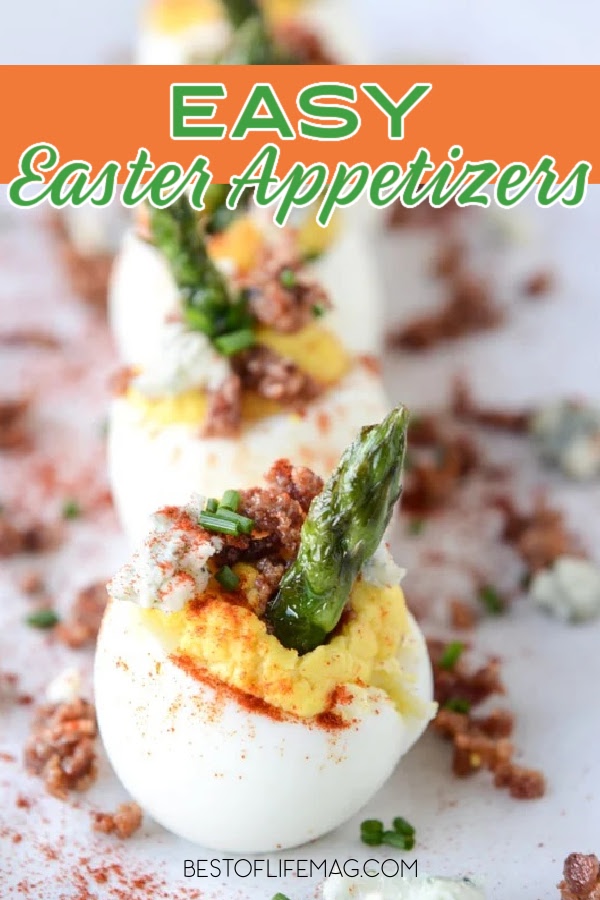 Easter Day is filled with so many tasty foods to be enjoyed with family and friends; the day is filled with traditions that fill a home with true happiness. Easter Dinner and dessert are certainly to be enjoyed but so are these amazing and gorgeous Easter Appetizers!
Entertaining, cooking for, and serving your friends and loved ones is so much fun! It's also a lot easier if you have the right tools on hand. I survive the holidays in the kitchen by having my stand mixer, apron, baking sheets, cookware, serving utensils, extra serving dishes, and flatware all ready to go!
Easter may not be part of the holiday season that is more commonly referenced like Thanksgiving and Christmas. However, it is still a holiday that most people spend with family and friends. That is why having some tips to get you through the Easter dinner is important.
You can easily go with the classic ham dinner and the sides decide themselves after that. Easter Dinner and dessert are certainly to be enjoyed but so are these amazing and gorgeous Easter Appetizers! They add color to the table & taste amazing! Luckily, there are plenty of recipes to choose from.
Most of these appetizer recipes are perfect for parties. They also fit the theme of the holiday pretty well and keep things light enough for the main event. Which of these Easter appetizers are you going to make for the day?
Once you decide on that be sure to check out these favorite Easter treats; they are so colorful and pretty!
Easy Twice Baked Potatoes Recipe
Healthy Chicken Caprese Recipe
Easy Bruschetta Recipe that'll Make you Wow as a Hostess
Low Carb Mini Bell Pepper Nachos Recipe
Low Carb Buffalo Cauliflower Bites Recipe
Perfect Pesto Pasta Salad Recipe
Easter Appetizers
There are so many different appetizers for you to choose from. The idea is simple, we want the appetizers to be simple to make but also to fit the season. We could do that in a couple of different ways. You can either use seasonal foods of any group or theme the food with color and appearance.
There are some things that are specifically in season like apples, apricots, lemons. Using the seasonal ingredients allows for a wide variety to choose from for your appetizers. But you can also go obvious with things like deviled eggs or anything with carrots.
Pink Deviled Eggs | The Year In Food
Israeli-Style Fish Cakes | Tori Avey
Crème Fraiche Deviled Eggs | MaryellaJourdak
Tulip Tomatoes | A Thrifty Mom
Deviled Potatoes | My Recipes
Carrot Shaped Veggie Pizzas | Hungry Happenings
Roasted Asparagus Wrapped in Ham | Kalyn Kitchen
Crescent Roll Carrots Filled with Egg or Ham Salad | Hungry Happenings
Bacon Blue Deviled Eggs with Roasted Garlic And Asparagus | How Sweet It Is
Cream Cheese And Smoked Salmon Deviled Eggs | The Curvy Carrot
Creamy Deviled Eggs | A Food Centric Life
Cooking for a Crowd
Easter appetizers from these recipes should be able to serve a good-sized crowd. However, you should always check the recipe to see how many people it serves and weigh that against how many people you intend to serve.
You may also want to keep a shorter menu so bulking up on one or two may require some math. Luckily, it is simple to figure out how many times you need to multiply ingredients. You can also just repeat the recipe over and over again if that way works for you.
Either way, making Easter appetizers for a crowd will be very simple.
Fairy Salad And Ginger Dressing | Working Mom Cook Fusion
Veggie Bars | Garnish and Glaze
Easter Cucumber Sandwiches | Cherished Bliss
Bread Cones | Complete Recipes
Easter Deviled Eggs | Real Mom Kitchen
Bunny Carrot Dip & Easter Bread Basket | Pizzazzerie
Chipotle Guacamole Deviled Eggs | The Petite Cook
Chorizo, Saffron, and Goat's Cheese Deviled Eggs For Easter | Eat. Live. Travel. Write.
Ricotta and radish mini bagels | Ricotta And Radishes
Purple Deviled Eggs | Melangery
Curried Egg And Prawn Cocktails | Whole Some-Cook
Easter Party Ideas
Recipes aren't the only thing that matter. Of course, you want the best Easter appetizers with a theme but the theme should go deeper. Decorate the home a bit, nothing big, maybe a wreath on the door or a few flowers around the home.
You don't even need to make it Easter decor, it can be spring decor ideas instead. A few plastic eggs will go a long way. Enjoy these Easter appetizers, not as the only source of a theme, but to deepen the theme in the minds of your guests and even yourself.
Enjoy your holiday with family and friends, happy Easter!
Maple Mustard Deviled Easter Eggs | E is for Eat
Sriracha Deviled Eggs | Hapanom
Deviled Eggs | the Gingham Apron
Duck Fat Toasts with Quail Eggs and Asparagus Pesto | Katie At the Kitchen Door
"Blt" Ranch Deviled Eggs | The Curvy Carrot
Pickled Beet Deviled Eggs Recipe | Love And Duck Fat
Mediterranean Beet Dip | Confessions of a new Old Home Owner
Beet & Bean Salad Crostini | Snappy Gourmet
Mini Antipasto Quiche | The Well Floured Kitchen
Chickie Eggs | Just Jenn Recipes
Egg Casserole with Ham, Cheese, and Spinach | Jules Food
More Party Ideas
35 Easter Treats for the Family | Easter is not just about the dinner. Most families have Easter celebrations all day long.
Dairy Free Easter Candy Recipes | An all-day event means there needs to be more than just dinner, there need to be party snacks.
35 Amazing Easter Appetizers | You can also use appetizers for your party food. You want to keep it light and easy like appetizers.
Easy Appetizers for Wine Parties | Will you serve wine at your Easter event? You could have two themes going, an Easter theme and a wine theme.
25 DIY Peeps Crafts For Any Age | But you don't only have to eat the Easter treats. You can have some fun with those treats. Save