This site contains affiliate links. Please read our Policies for information.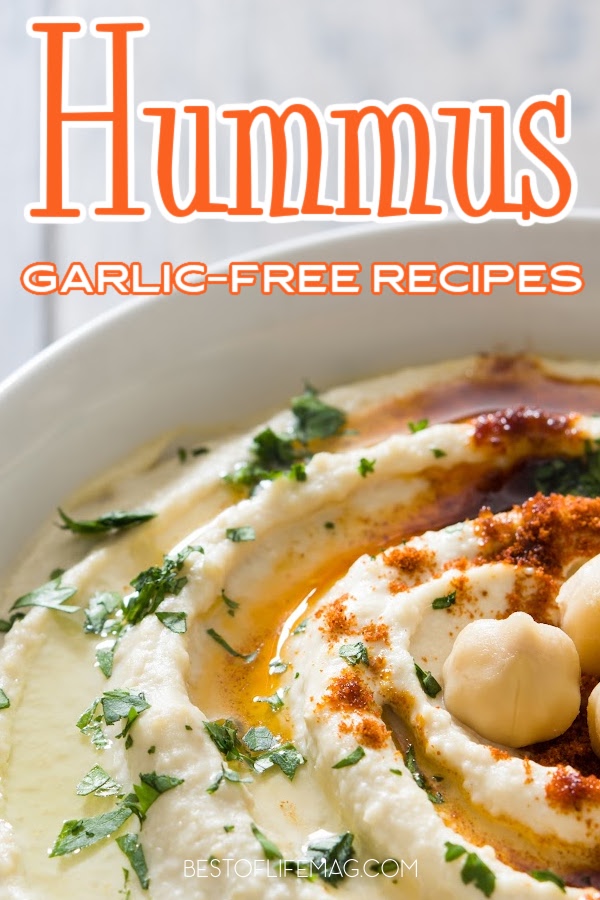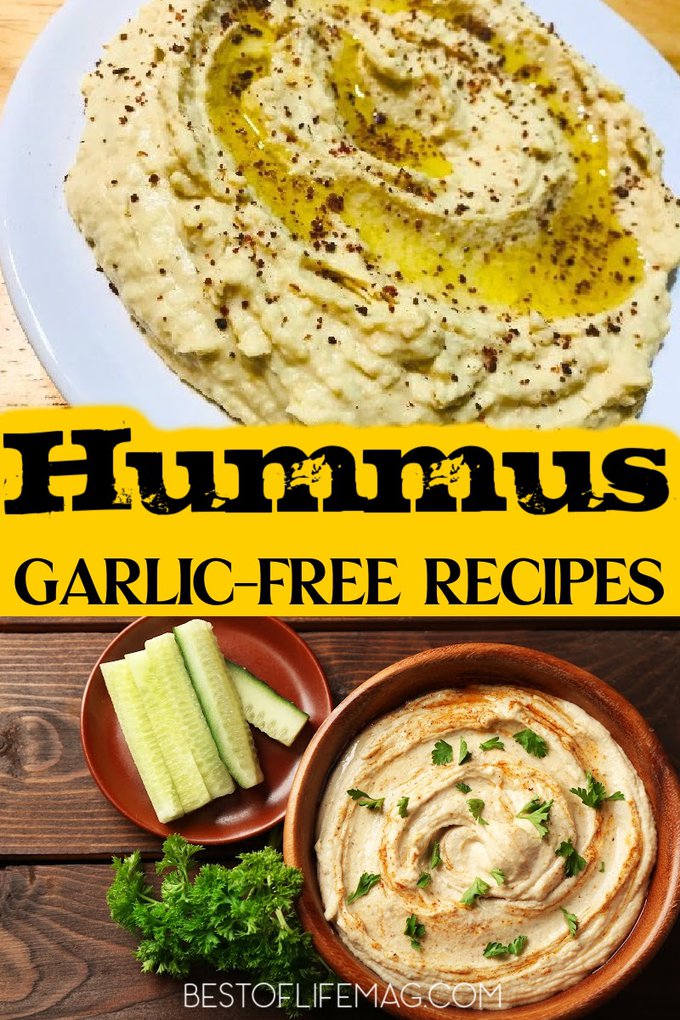 Traditional hummus has two ingredients that add more flavor than the rest, garbanzo beans and garlic. But you can make garlic free hummus recipes that taste amazing, so you don't have to feel left out if you have a garlic allergy or intolerance.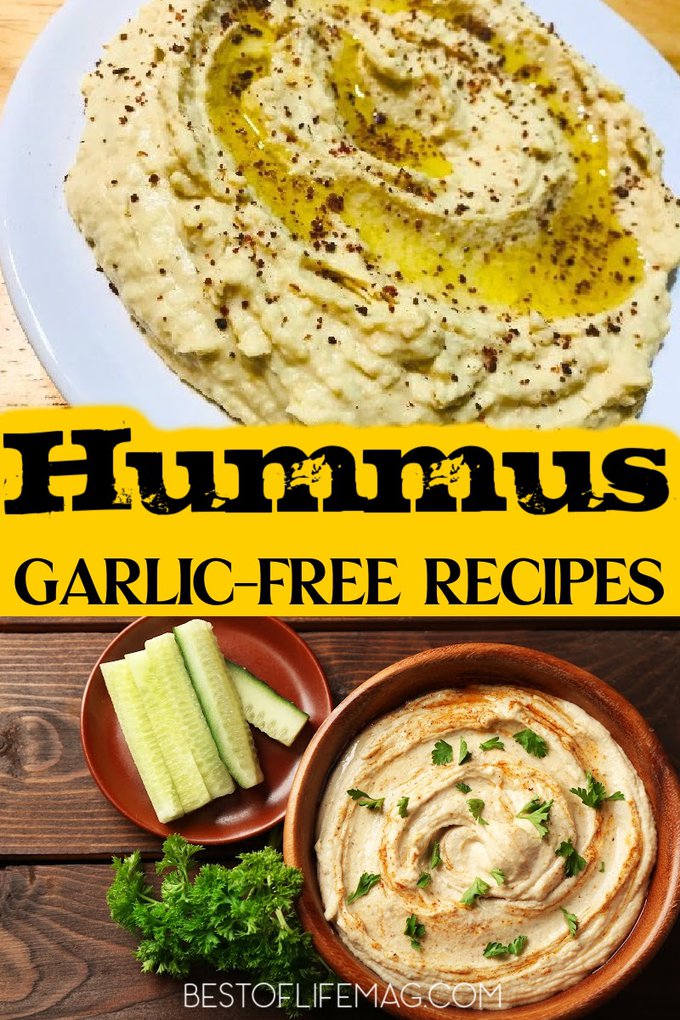 There is a very rare allergy out there to garlic. There is also a slightly more common garlic intolerance. The allergy triggers an immune system response; my husband suffers from intolerance, and the response is incredibly uncomfortable.
Those who suffer from either an allergy or an intolerance can't enjoy hummus, at least not as it is traditionally made. Having a garlic allergy or garlic sensitivity can be difficult, but you can still enjoy these garlic free hummus recipes for a healthy snack!
You may be surprised by the number of dishes that are made with garlic. Garlic is a flavoring agent in salad dressings, vinaigrettes, marinades, sauces, meats, soups, stews, and so much more. That makes having a garlic allergy or intolerance very difficult.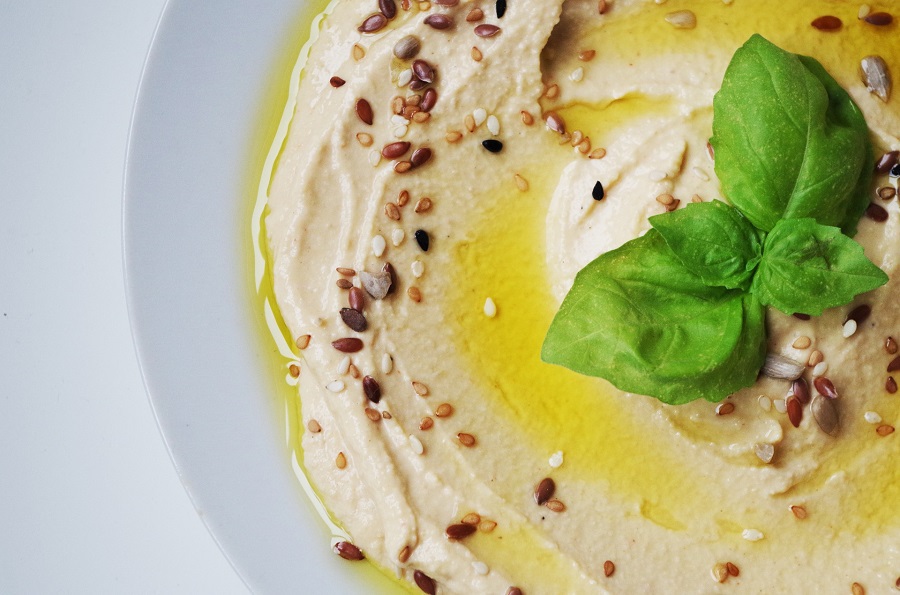 Garlic Allergy
You will need to navigate your way through a restaurant's menu very carefully. The fact that this allergy is rare makes it even more difficult as most chefs and cooks don't come across it very often. Luckily, none of these recipes contain garlic. That will make it easier for all to enjoy.
Hummus without Garlic | Mighty Good Eats
Organic Hummus | Living Safe
Creamy Hummus | Nourishing Yas
Dreamy Hummus | Pinki's Palate
Seasoned Hummus | Peanut Head
Yogurt Hummus | Simply Sentient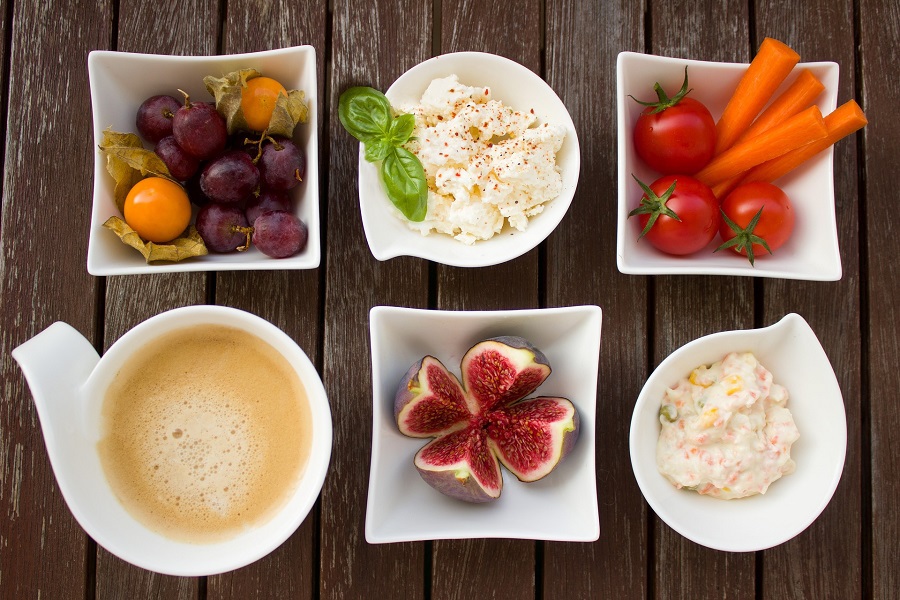 Garlic Free Hummus Recipes
You can still make your own dishes, and you can still make garlic free hummus recipes. These recipes are proof that you can still enjoy tasty dishes, even if garlic is usually the star of the dish. These dips are perfect for any type of chips or veggies. You can also use pita bread as your go-to option.
Hummus 101 | Yang Haiying
No Garlic Hummus | The Yoga House
Hummus Without Garlic | Gratify Cooking
Sattvic No Garlic Hummus | Dosha Fit
Very Sesame Hummus | Spark Recipes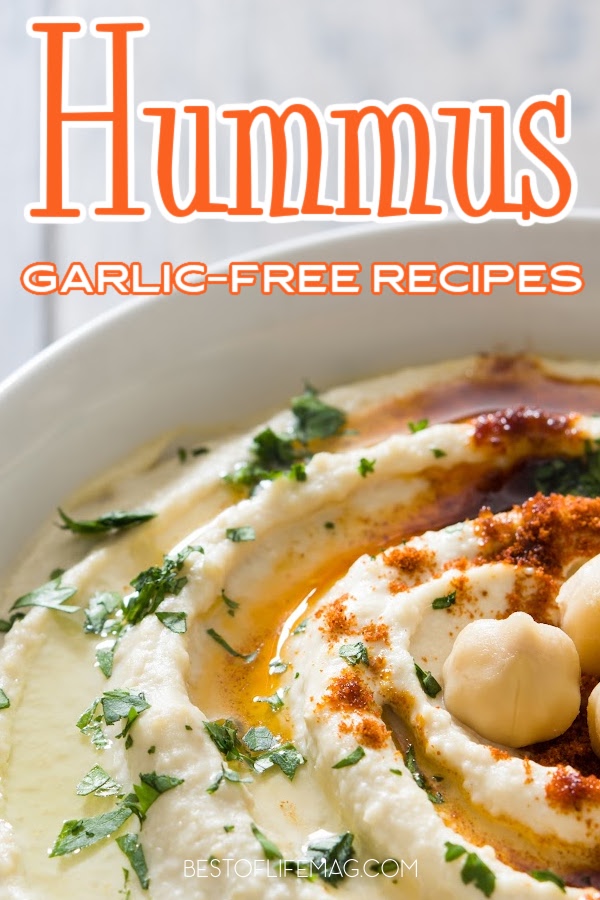 Garlic is a major component of hummus. That is why it is the perfect place to start.
More Food Allergy Recipes
Chicken and Veggies Sheet Pan Dinner | Dairy Free | Chicken and veggies is a great dinner, and now, you don't even need to make a big mess.
Dairy Free Recipes for Picky Eaters | Picky eaters are not fun to cook for daily. But these recipes could make things easier.
Dairy & Gluten Free Slow Cooker Hawaiian Chicken Recipe | Take a trip to Hawaii without ever leaving your kitchen.
Healthy Crockpot Granola Recipe | Gluten Free and Vegan Trail Mix | Granola can easily be made at home as a healthy snack.
Dairy Free Salad Recipes | Healthy Dairy Free Recipes | Living with food allergies is not easy, but it's not impossible, either.