35 Easter Treats for the Family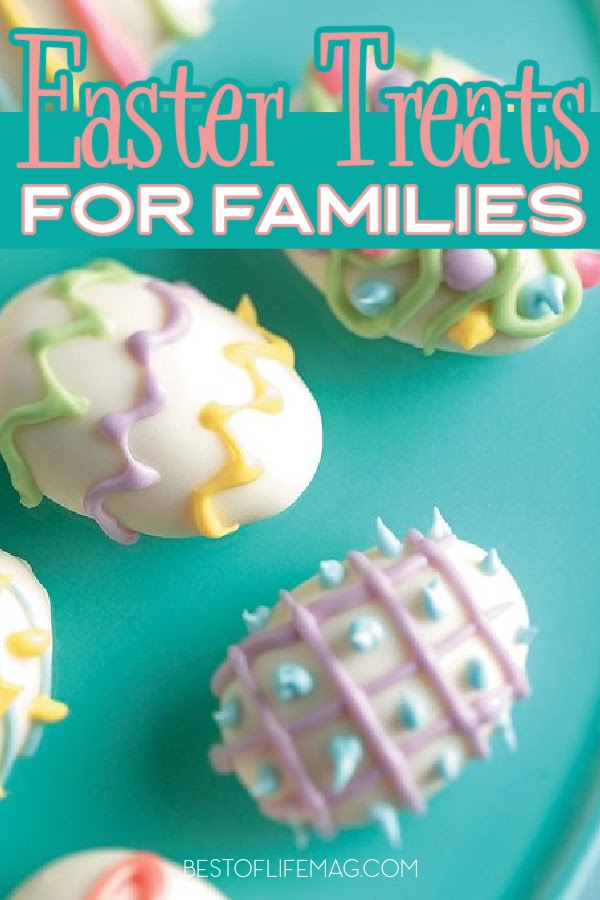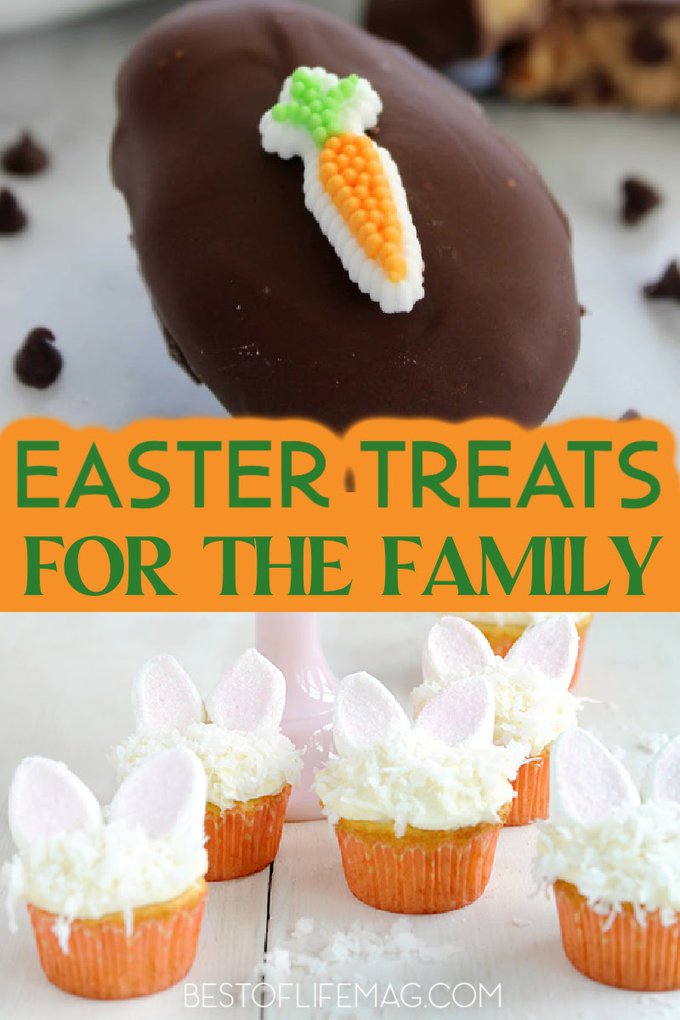 Spring is filled with beautiful natural colors all over the country. We use those colors to help us celebrate Easter. People are making DIY Easter décor with plenty of those bright pastels. But now you can do the same thing with some homemade Easter treats the whole family will love.
Homemade Easter treats are a great way to spend time with the family and enjoy the flavors of springtime. What constitutes an Easter treat? Shapes and colors are what we are looking for. We want colorful eggs, chocolates shaped like bunnies, and just beautifully colored snacks that fit right into our celebrations.
There are many DIY Easter treats you can choose from and each of them bring the season to life. For example, a simple fruit juice is fantastic because it is part of the season or something more colorful like a puppy chow with Easter sprinkles.
Not to mention, making these Easter recipes with the family gives us an awesome Easter activity to do with our kids. Entertaining, cooking for and serving your friends and loved ones is so much fun! It's also a lot easier if you have the right tools on hand.
I survive the holidays in the kitchen by having my stand mixer, apron, baking sheets, cookware, serving utensils, extra serving dishes, and flatware all ready to go!
The Best Easter Treats
Fresh Pineapple Juice | The Best of Life Magazine
Oatmeal Apple Crisps | The Best of Life Magazine
Classic Hot Cross Buns | The Best of Life Magazine
Mini Apple Crumble Cups | The Best of Life Magazine
Dairy Free Easter Candy Recipes | The Best of Life Magazine
Gluten-Free Apple Cinnamon Cheerios | The Best of Life Magazine
Easy Pink Pinwheel Sugar Cookies | The Best of Life
25 DIY Peeps Crafts For Any Age | The Best of Life Magazine
More Easter Recipes
Easter is filled with themed food to choose from. Most of these recipes incorporate the things mentioned above like spring colors or flavors. The best part of making these recipes is that you have the freedom to add or remove things. For example, a few of the above recipes require a little customization.
But you don't need the customizations to be required. You can enjoy changing things up however you please. Add more colorful sprinkles, take out some of the color, make the frosting fluffier, whatever you can think of, try it.
Chocolate Chip Cookie Dough Easter Eggs | Cincy Shopper
Bunny Shaped Cinnamon Rolls | Betty Crocker
Hidden Surprise Easter Eggs | Rice Krispies
Nested Easter Egg Cupcakes | Bakers Royale
Bunny Coconut Cupcakes | Styling My Everyday
Easter Nest Cupcakes with Easter Eggs | Niner Bakes
Extravaganza Bark | Sweetapolita
Making it Tradition
Holidays are filled with traditions, and Easter is no different. We celebrate Easter in a few different ways like attending church, having BBQs, and hunting for Easter eggs. Don't forget about the Easter bunny stopping by to drop off Easter baskets as well.
But what makes the holidays even better are the traditions we have all to ourselves, within our families. You can easily turn making Easter treats into a tradition. The recipes can be switched out or maybe you find one that your family loves the most.
Either way, starting new traditions is a great way to make the holiday yours.
Pistachio Salad Easter Peeps | Mom Endeavors
Hollow Chocolate Confetti Eggs | Brit + Co
Easter Basket Cookies | Oh! Nuts
Chocolate-Covered Eggs | Taste of Home
Easter Egg Oreo Truffles | Gimme Some Oven
Cake Pops for Easter | Bakerella
Cake Balls for Easter | Skinny Taste
A Taste of History
Did you know that the bunny and eggs may have come from Germany? The first record of an Easter bunny is in the 1700s. German immigrants came to Pennsylvania and would celebrate Easter with a being called "Osterhase", which we now know as Easter bunny.
Their kids would make nests for the bunny to lay colorful eggs in and to leave chocolate, candy, and other gifts behind. Over time, the tradition spread across the country and adapted. We changed out the nests with baskets and there was even a time when it was commonplace to leave out carrots for the bunny.
Here's another fun fact, the first White House Easter egg roll was all the way back in 1878.
Oreo Bark | Lil Luna
Easter Blossom Sugar Cookies | My Kitchen Craze
No-Bake Chocolate Egg Nest Cookies | Chef in Training
Carrot Garden Cupcakes | Your Cup of Cake
Easter Cake | The Gunny Sack
Marshmallow Easter Bunny Paws | Hungry Happenings
Chocolate Pretzel Bites | Kid Friendly Things to Do
Easter Treats and More
Easter is a holiday that has changed and adapted over the years in many ways. This time, it is your chance to adapt the holiday to your family. Of course, there are some things that won't be changed like the religious aspects of the holiday.
But that doesn't mean the way you celebrate it needs to always stay the same. Who knows, you may even be the founder of the next Easter tradition that sweeps the world alongside these amazing Easter treats.
Easter Gelatin Cups | Sugar Hero!
Spring Dipped Oreos | Mom Does Reviews
Bunny Butt Cupcakes | Preppy Kitchen
Cinnamon Sugar Bunny Twists | It's Always Autumn
Easter Blondies | Buns in My Oven
Crock Pot Easter Candy | The Slow Roasted Italian
More Easter Ideas
Healthy Easter Dinner Side Dishes | Easter isn't all about treats and snacks. There are plenty of other amazing Easter recipes as well.
35 Amazing Easter Appetizers | But before you start dining on the main dish, oyu will need some Easter appetizers as well.
Spring Break Planning Tips and Ideas for Families | Spring break is another important aspect of spring and should not be forgotten.
Chocolate Dairy-Free Cupcakes | Change the colors of the sprinkles used to make them Easter-ready.
Puppy Chow | You will need to change the colors of the sprinkles used to Easter colors.Save