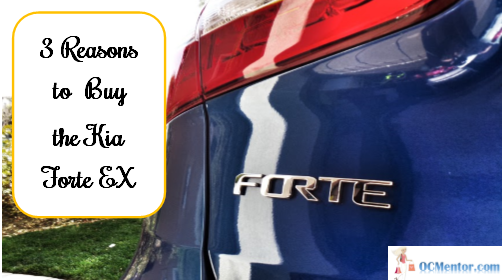 This site contains affiliate links. Please read our Policies for information.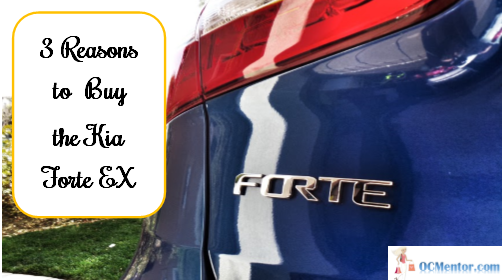 January was a pretty awesome month.  New opportunities await that I am very excited about and I attended my first International CES in Las Vegas with Becca.  With only a 4 hour drive ahead of me, I had the opportunity to drive the Kia Forte EX to CES 2014.  
The sporty feel and smaller footprint made for the perfect drive and while I was mainly hoping to achieve great gas mileage on the drive from SoCal to Las Vegas, I found many reasons to love the Kia Forte EX.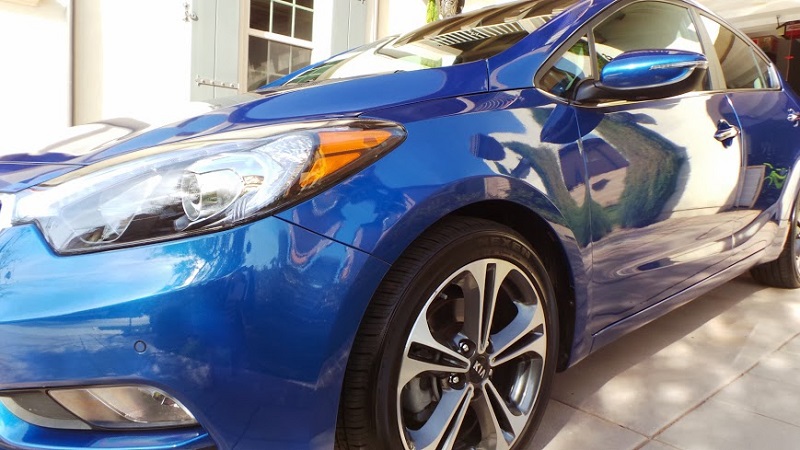 1.  The Kia Forte EX has Amazing Fuel Economy:
I drive a mid-sized SUV in my "normal" life so really wanted to test drive a car for my trip to CES that would get me stellar gas mileage.  Normally, it costs me around $60 to fill our tank on the Buick Enclave and it would take us two full tanks to do this trip for a round trip total cost of $120 or so.
I left for my trip to CES with just over 3/4 tank of gas and filled the Kia Forte EX up about 60 miles outside of Las Vegas.  I thought for certain the gas pump was broken when the pump shut off at $30.  Realizing it was full, I happily swiped my card and went on my merry way.  I did a few small drives between hotels at CES and then made my return trip of 275 miles.
Only to make it home on the tank of gas that I filled up with on my way to Vegas.  With an average fuel economy of 36  miles per gallon, the Kia Forte EX scores beautifully in this area.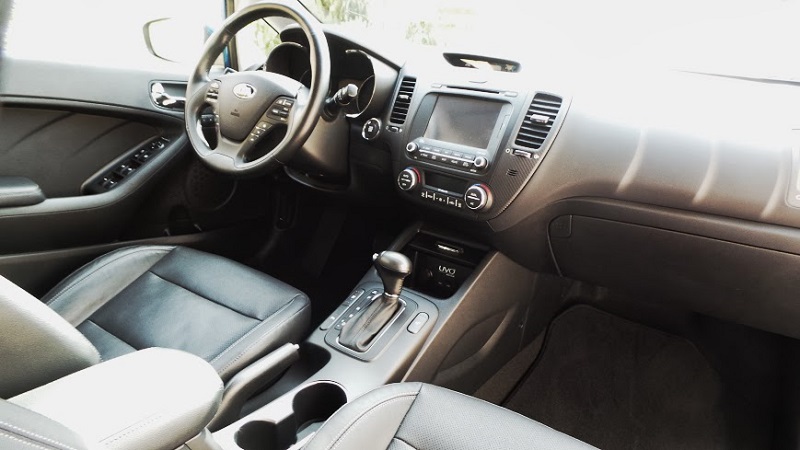 2. The Kia Forte EX is Priced Well AND Loaded with Features:
With Kia Motors being one of the fastest growing car companies in the last five years, the Kia Forte earned a huge accolade in 2013 with the Forte being named to WardsAuto's list of "10 Best Interiors of 2013."  It's easy to see why they would earn this award; there is a definite European feel to it and honestly the amenities included for a vehicle that has a base price of $15,900 are considerably impressive.
WardsAuto's "10 Best Interiors" list is based on a combination of technology, comfort, stylish elements and amenities. The 2014 Forte is available in two trims, but what I love is that "standard" features in the Kia Forte are ones that many would think require an upgraded trim package. Steering wheel-mounted audio controls, SiriusXM™ Satellite Radio and an incredibly easy to operate Bluetooth technology package are included in the standard package.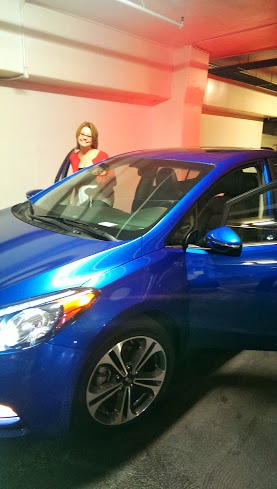 3.  The Kia Forte EX is FUN to Drive:
With all of the features I mentioned and the sporty appeal, the Kia Forte EX is simply fun to drive.  It has enough pick up to handle city and highway driving and the interior accents made me feel like I was surrounded in fun and style.  The chrome accents are a nice touch for a vehicle priced below $25,000 and being surrounded in leather, heated seats and tech gadgets everywhere completed the fun and sporty feel.  Our children were also impressed that the rear seat of the Kia Forte EX had air conditioned seats as well; a first for them that did not go unnoticed.   The Kia Forte EX has an interior that is built with the driver in mind as the instrument panels are all large and easy to read to meet our needs in the variety of driving conditions we face on a daily basis.   As the navigation menu auto prompted me to search for the nearest fuel station when my gas level was low, I was again reminded of the quality that Kia surrounds its drivers with.
Which feature do you like most about the Kia Forte EX?  If you have any questions, please leave a comment and I will reply to you.  Additionally, be sure to follow along on my auto adventures over at She Buys Cars where I am an auto writer as well!