This site contains affiliate links. Please read our Policies for information.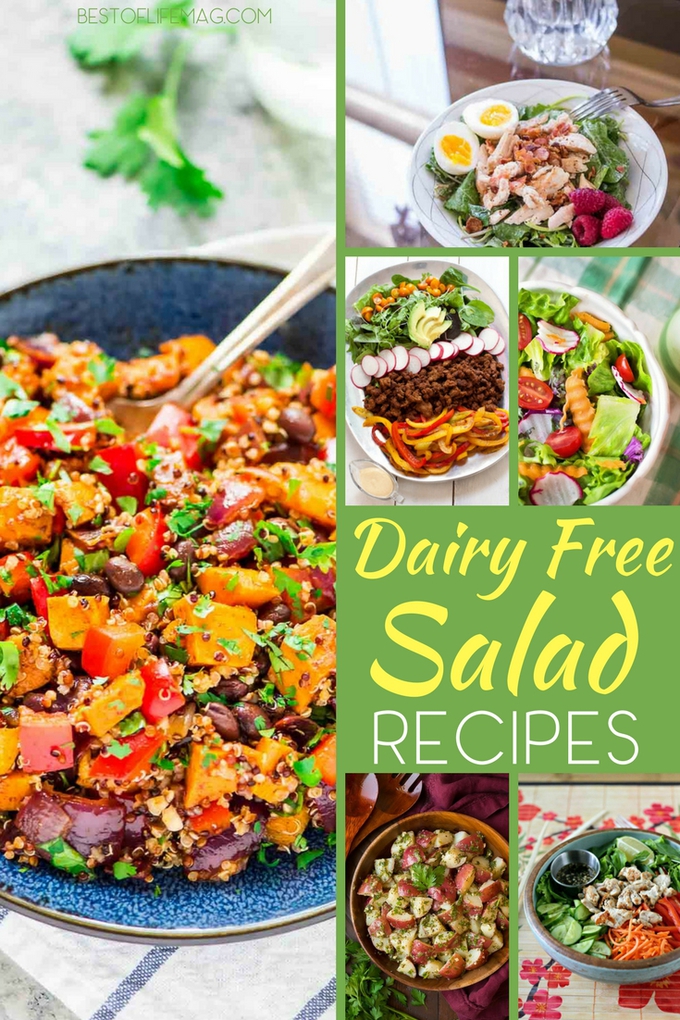 Finding a dairy free salad is a lot harder than it sounds. If a salad doesn't include some form of dairy, the dressing does. There's also the added difficulty in finding salads that are dairy free and taste good at the same time. However, the best dairy free salad recipes not only taste good, but are also easy to make. There's no need to run around finding dairy substitutes or to sacrifice flavor because there is no dressing. Instead, make one of these delicious dairy free salad recipes that are full of flavor.
Eating a dairy free salad sounds a lot easier than it is. But the best salad recipes are healthy, easy to make and dairy free all in one serving.
Everyone knows that living a dairy free lifestyle means sacrificing things like cheeses, milk, and more. But few people know that even salads can be difficult. When you eat dairy all of the time without any issue, you tend not to notice everything you eat that contains some sort of dairy. This includes salad recipes. While most salads are just greens and other chopped veggies, most dressings contain dairy. Besides that, cheese is a common salad ingredient. Take those things out of the salad and you've got a pretty bland bowl of leaves and veggies. However, there are dairy free salad recipes that are truly impressive. Not only are they delicious, these dairy free salad recipes are easy to make and don't cost much either.
Apple Walnut Spinach Salad | Real Simple Good
Keto Kale Caesar Salad | Keto Summit
Southwest Chicken Salad | Noshtastic
Sweet Potato Quinoa Black Bean Salad | Well Plated
Vietnamese Herb Salad | Everyday Maven
Garlic herb Potato Salad | Cooking Classy
Taco Salad | Migraine Relief Recipes
Pear Walnut Salad | A Virtual Vegan
Italian Sub Salad | Iowa Girl Eats
Chicken Salad | Simply Whisked
Asian Chicken Salad | Allergy Free Alaska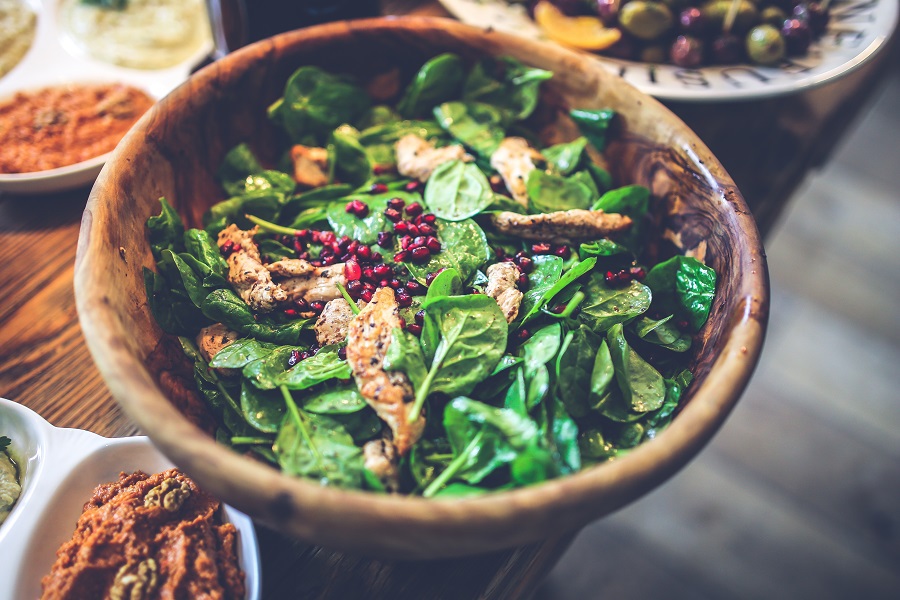 Creamy Potato Salad | Genius Kitchen
Simple Veggie Pasta Salad | Mississippi Kitchen
Superfood Salad | Nutritionist in the Kitchen
Ranch Pasta Salad | Go Dairy Free
Curry Paleo Chicken Salad | Food Faith Fitness
Camping Salad | Avocado Pesto
Cranberry Kale Salad | Meaningful Eats
Mediterranean Orzo Salad | Honey What's Cooking
Deconstructed Hummus Salad | The View From Great Island
Blueberry Bacon Spinach Salad | A Healthy Life for Me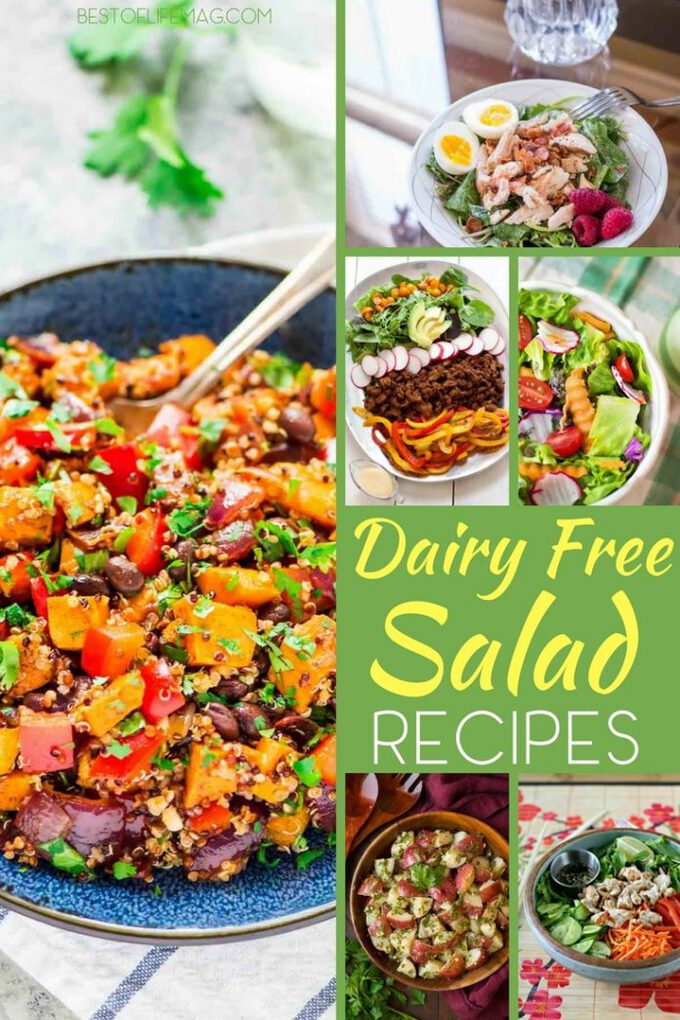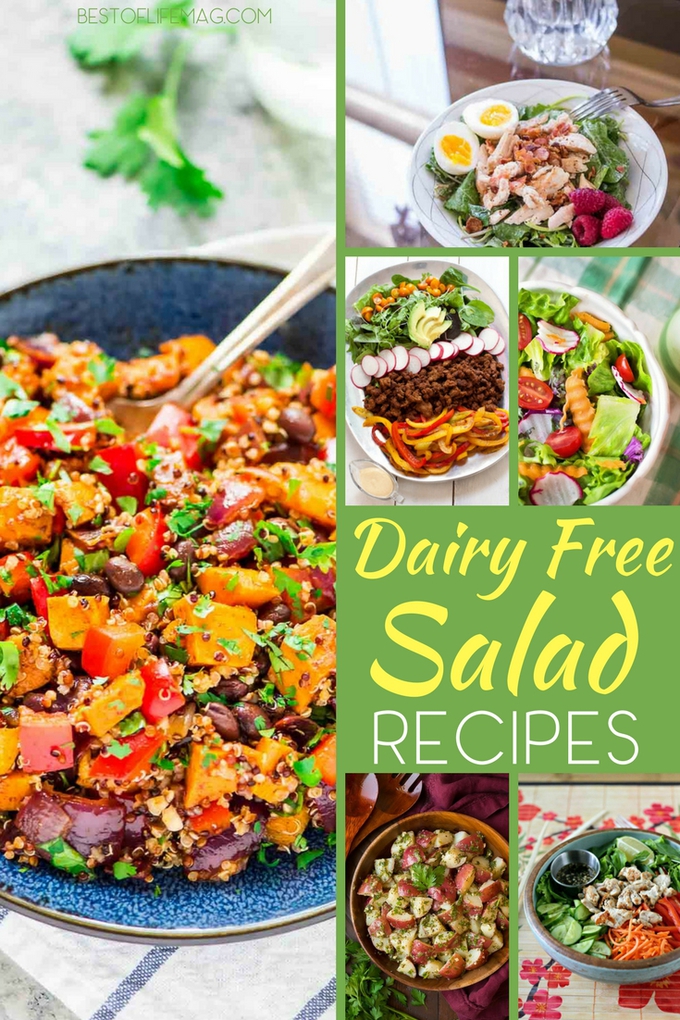 More Dairy Free Recipes
Slow Cooker Chicken Broccoli and Rice Casserole | Dairy Free Crock Pot Recipe
Shredded Chicken Tacos Crockpot Recipe (Dairy Free & Ketogenic)
Dairy Free Ketogenic Chicken Recipes
Dairy Free Fresh Blueberry Pie Recipe
Peanut Butter Oatmeal Balls {No Bake Gluten Free Dairy Free Recipe}
Dairy Free Slow Cooker Chicken Fajitas Recipe
Dairy Free Crockpot Recipes & Meals for Any Occasion
Strawberry Banana Dairy Free Ice Cream Recipe
25 Dairy Free Ice Cream Recipes