Disney Aulani DVC 2 Bedroom Villa Photo Tour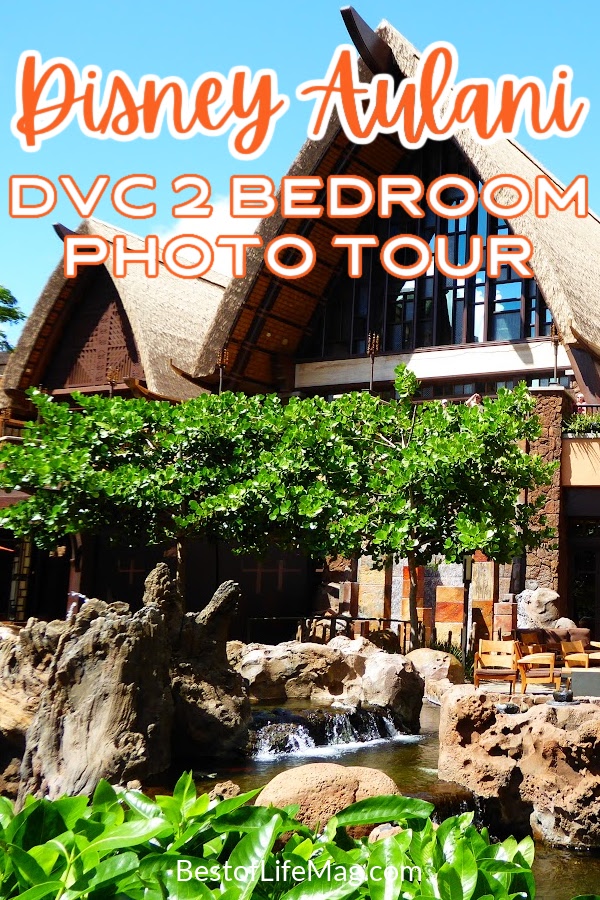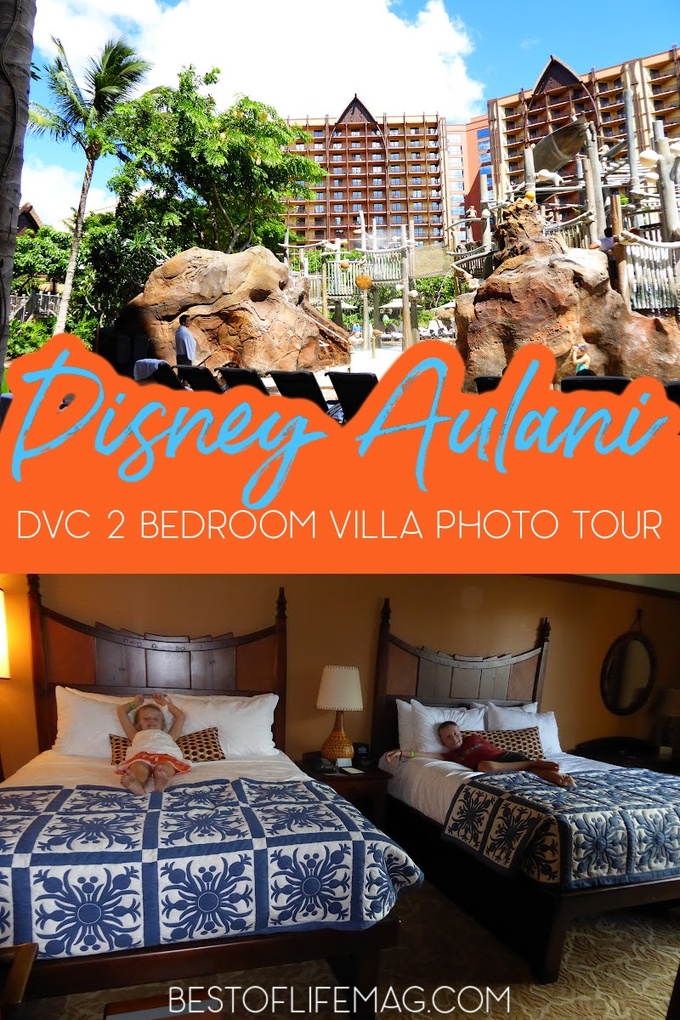 The DVC rooms can be accessed through DVC and are a notch above the rest. However, many people don't know what to expect when they book a 2 bedroom villa at Disney's Aulani Resort. Luckily, we took photos and have a tour waiting for you.
Being a Disney Vacation Club member or DVC member has its perks. One of those perks is access to a special villa at Disney Aulani. Wondering what a DVC 2 bedroom villa looks like at Aulani? Come on inside with us as we take a tour around the room and share our experience.
After spending our third year at our Disney Vacation Club timeshare property, Disney Aulani, I thought I would give you a tour of the 2-bedroom villa that we stay in each year. I often get asked if we stay in the same unit each year, which we don't.
But, we do get the same floor plan each year, which is part of how DVC members determine how many points they want to purchase.
You enter the unit through the door in the upper right and have a fully stocked kitchen to your right as you walk in. The dinette is perfect for family meals in our room and seats six to eight people depending on size.
As you walk passed the dinette, we have a nice living room with a fold-out couch and a fold-out chair as well, which the adorable Ava is sitting on. The television is great and we love having a DVD player in our room; remember those 30 things to do in Aulani? Watching Disney movies in our room is on that list!
As you enter the main door, there is a nice half bathroom off to the left. We have two and a half bathrooms in our DVC Villa at Aulani which is another reason we always feel at home. Space is plentiful!
Off to the left of the living room is an incredibly spacious bedroom for the children with two full beds in it. They have their own patio as well with television which allows us to divide up some personal time if we need it during our vacation.
Their bathroom has a full shower and sink area in one section and then a separate area for the toilet. Again, convenience is key to traveling with children, isn't it?
On the other side of the unit, to the right of the living room, is a full master suite with a king-sized bed, desk, television, and patio as well. The tower you are in determines if you have your own balcony or one that is open across the master, living room, and second bedroom. But you always have three patio doors!
Our master bathroom is HUGE and leaves us missing it each year when we leave. The Jacuzzi tub is right on the other side of this half wall and we have a large sink area, walk-in shower, and closet in one room and a separate toilet room.
Having multiple showers is really nice for families after a day at the beach or pool. Everyone can clean up quickly for evening plans.
We also have our own washer and dryer which makes packing and unpacking a breeze! We pack three outfits and wash them in the middle of our trip. Then, we go home without a load of laundry to do.
A stunning view awaits from our balcony each and every year. Remember if you have questions about being a Disney Vacation Club Member I answered the most common DVC ones for you. Have you traveled to Aulani or do you want to?
More Travel Ideas
25 Things to Do in Wailea Maui | There is more to Hawaii than Aulani and you will want to explore as much as possible in your time there.
Beach Bag Essentials | You will want to make sure you have everything you need for a day at the beach. Especially since a lot of your time will be spent on one.
Best Places to Stay on Catalina Island for Luxury Travelers | Catalina Island is not Hawaii, but it is an island and it is close to the main land; perfect for a day trip or weekend getaway.
Tips for your Walk Across the Golden Gate Bridge | San Francisco is known for food, drinks, and good vibes all around. But you will want something to do that will help you walk off those calories.
Experience Caribbean Luxury at Sandals Negril Jamaica | Jamaica makes for a memorable trip that you and your family will truly enjoy.