This site contains affiliate links. Please read our Policies for information.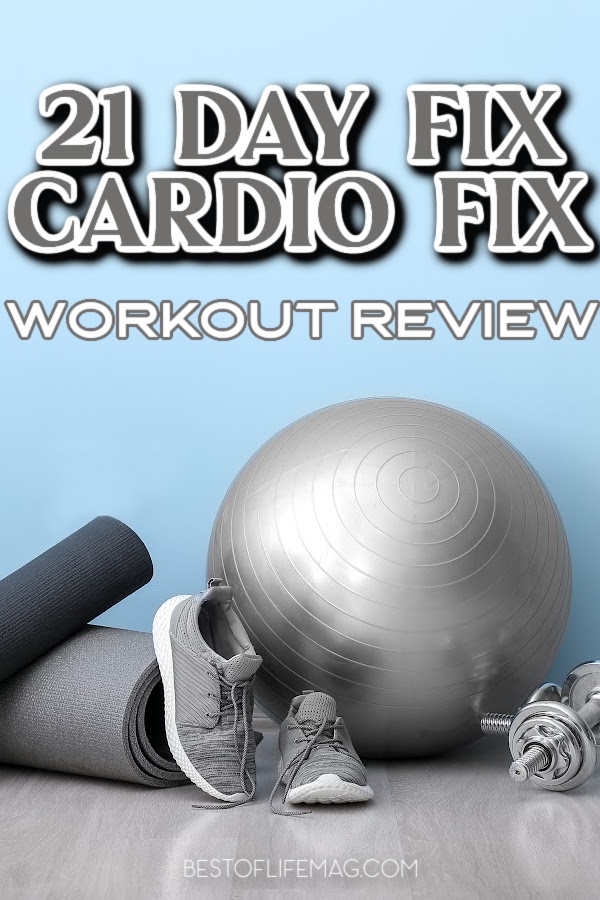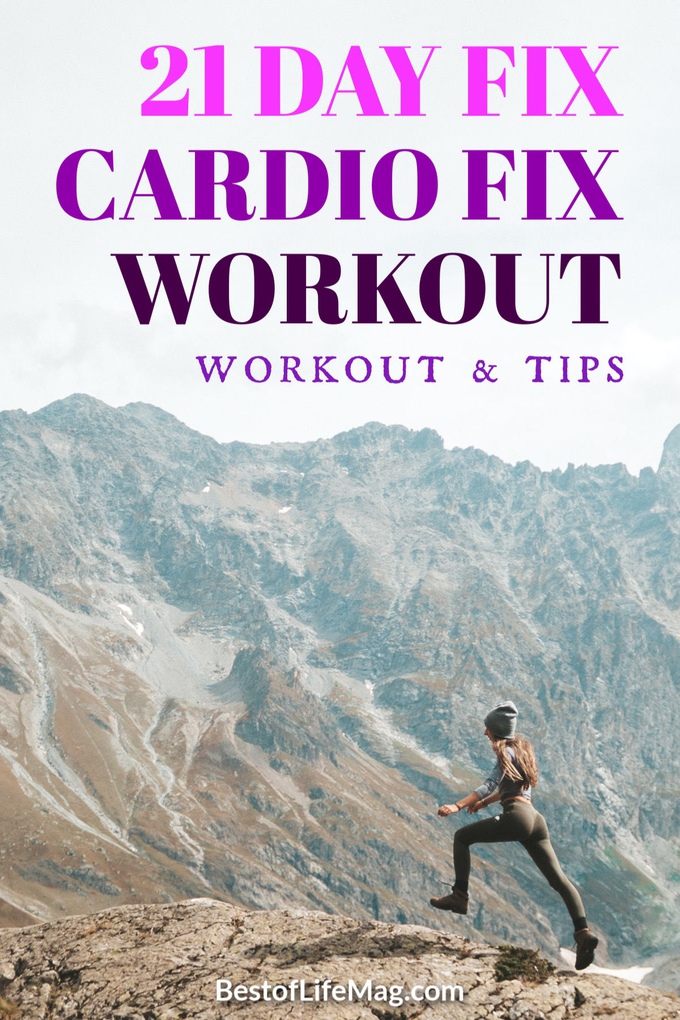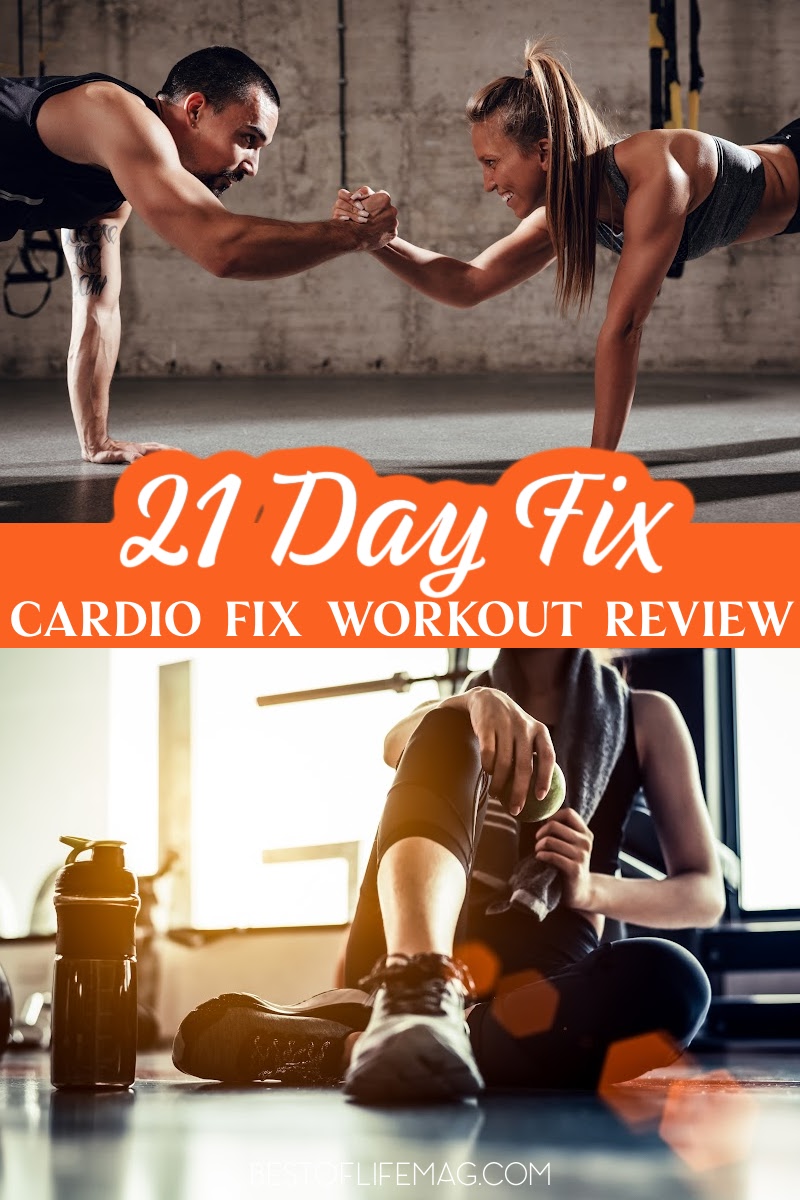 The 21 Day Fix program is a diet and exercise routine that helps teach you and your body portion control and healthy muscle movements that will both strength muscles and burn fat. The fourth workout in the 21 Day Fix system is called 21 Day Fix Cardio Fix and it's all about getting your heart rate up.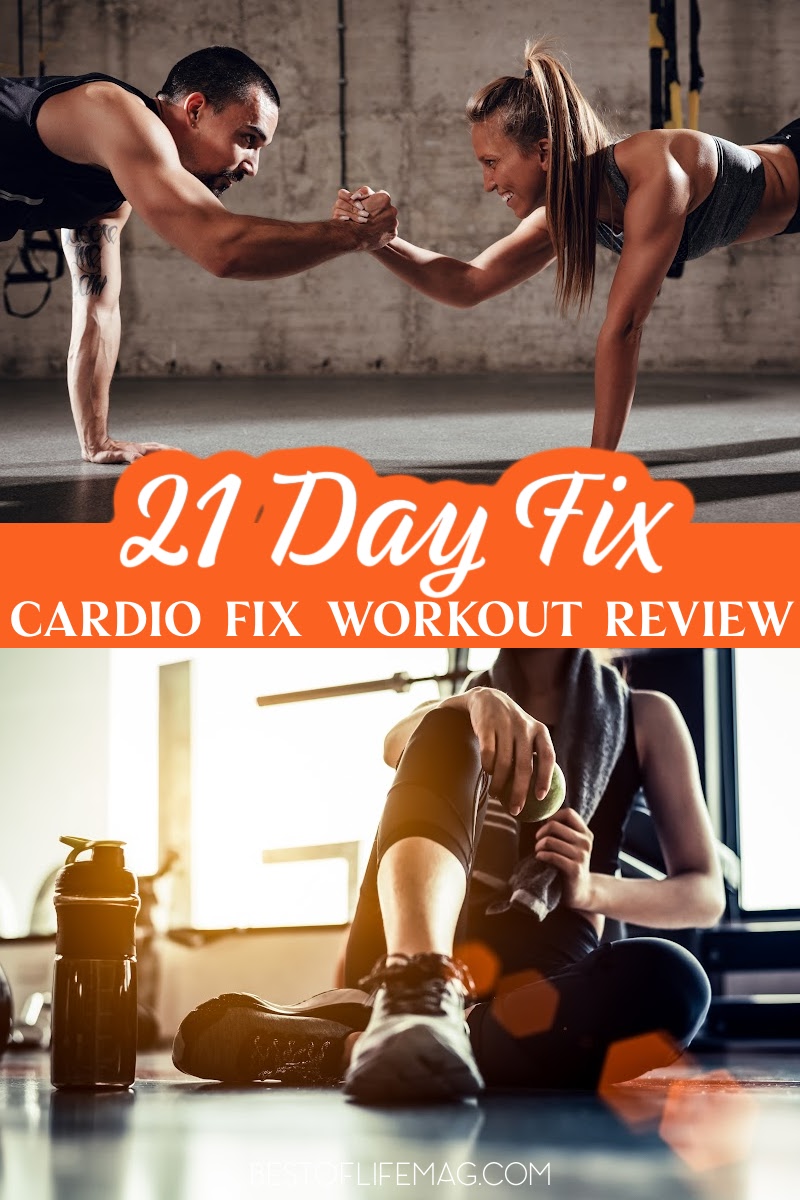 The 21 Day Fix Cardio Fix workout from Beachbody is a great cardio workout that will get the heart pumping to burn fat and lose weight.
21 Day Fix Cardio Fix Review
Overall the 21 Day Fix Cardio Fix workout is one of the tougher programs in this lineup. It's designed to fall on your schedule after a day with something like the Pilates Fix workout where you are focusing more on stretching and strengthening instead of really pushing your heart rate.
Plan accordingly and this workout will easily become one of your favorites. It will definitely have you feeling like you've accomplished something! If you are like me (you occasionally cherry pick workouts based on effort, time, etc.) this is a great one for those days when you just want to scream.
I love doing an all out cardio workout like the 21 Day Fix Cardio Fix to alleviate some stress and even anger!
21 Day Fix Cardio Fix Workout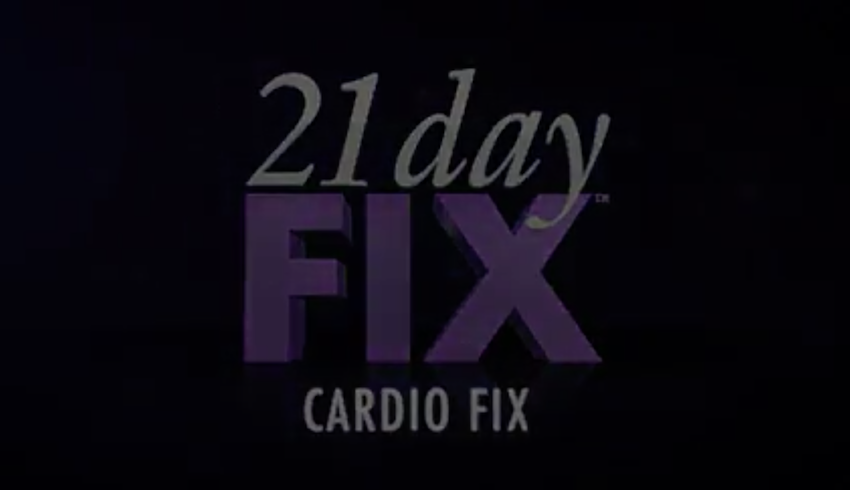 The 21 Day Fix Cardio Fix Workout Consists of the Following Layout:
3 Minute Warm Up (don't skip this, it's important)!
Each warm up move should take about 20 seconds.
Jog in place
Jumping Jacks
Windmills – Forward / Back
Over the Tops – L / R
Rotating toe touches
REPEAT
4 Rounds
Complete each move for one minute with a 20 second rest after.
Round One
Cross Jacks
High Knees
Repeat Round One
Round Two
Skater Jumps
Mountain Climbers
Repeat Round Two
Round Three
Reverse Lunges
Burpees
Repeat Round Three
Round Four
Lateral Squats
Oblique Knee Pulls
Repeat Round Four
Bonus Round
Down & Ups
Repeat Bonus Round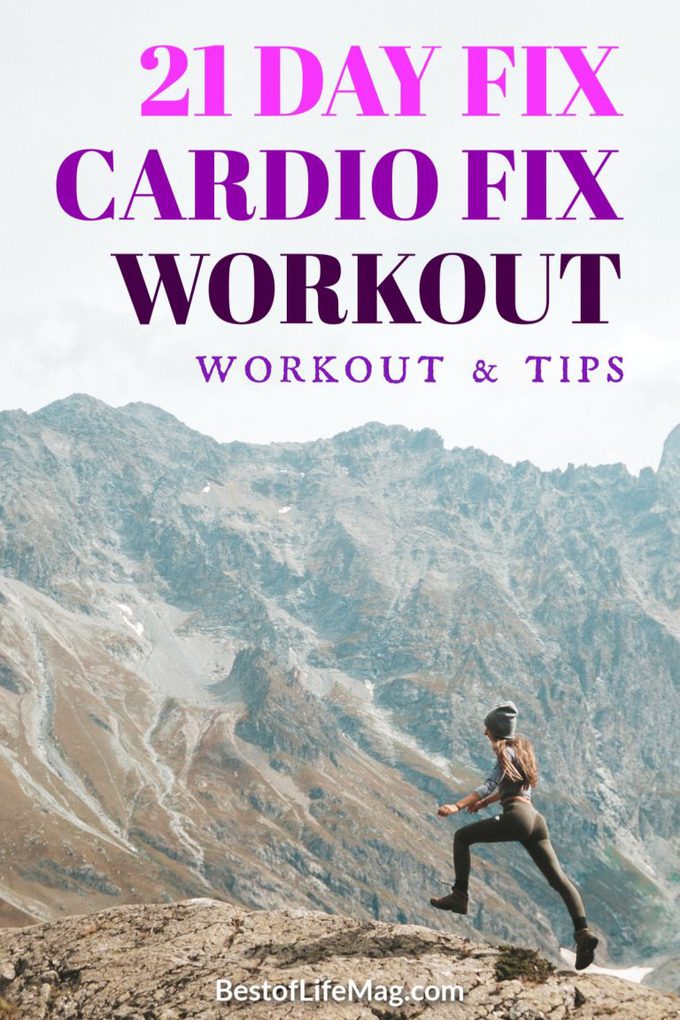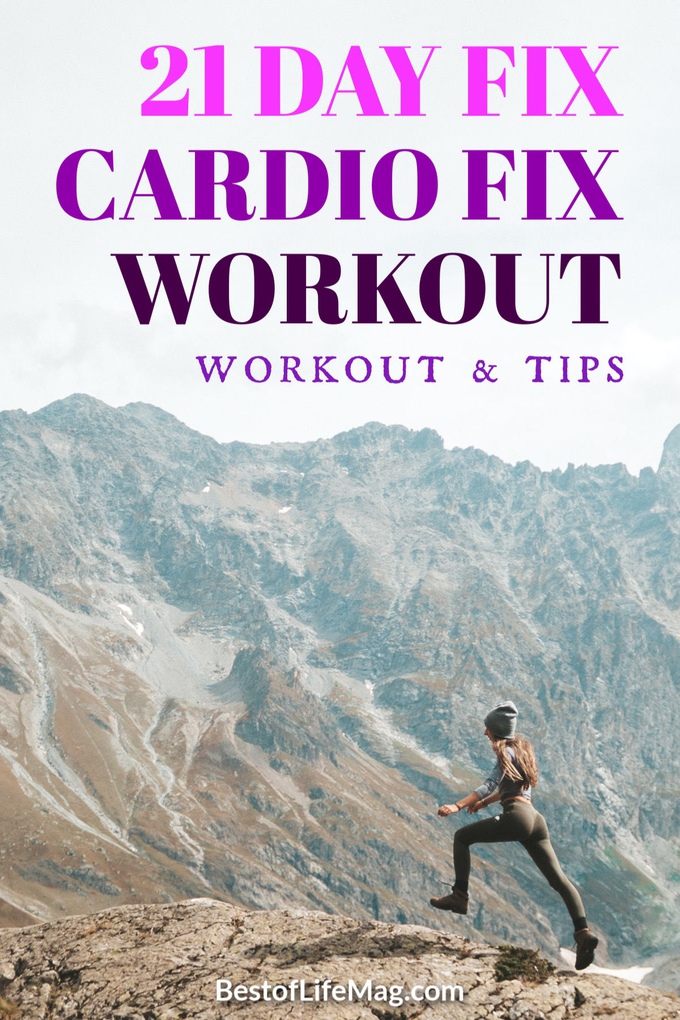 3 Minute Cool Down (don't skip this either, it's only three extra minutes)!
Child's Pose
Sitting toe grabs to the front
Butterfly
Toe stretches – center, right, left
Arm stretches
Quad stretch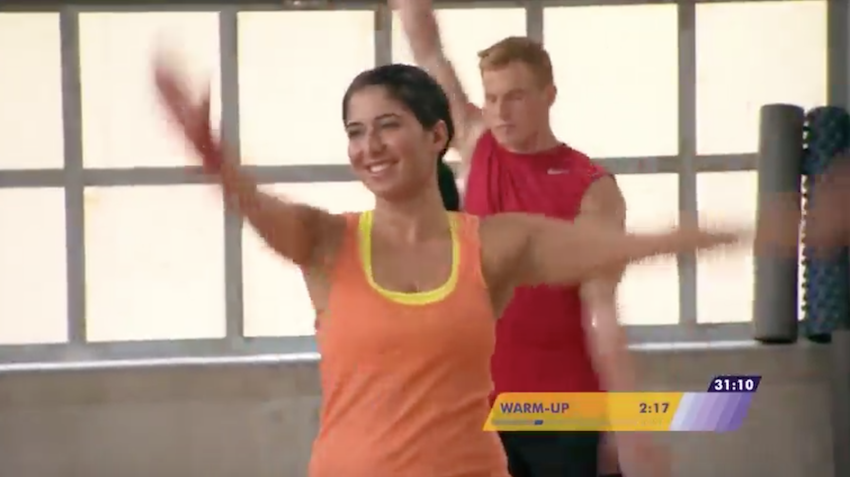 21 Day Fix Cardio Fix Calories Burned
The Cardio Fix workout burns an average of 312 calories for the average user. This number will be impacted by the effort you put into the workout as well as your personal height, weight, and muscle mass. Now that fitness tracking software is so easy to get, wear, and afford.
I'd recommend an exercise tracker or smartwatch of some kind so you can see exactly what calories you burn!

21 Day Fix Cardio Fix Workout Videos
The Cardio Fix consists of 30 minutes and is a lot of motion. Be prepared to be moving around the entire time. It's not like some of the strength focused workouts where you are doing a lot of weight work and ground work. There are no weights used in this workout and the only thing you are going to need is some good sneakers and a towel to mop up all that sweat!
You can get the 21 Day Fix program here. It's a full workout and nutritional program that allows you to watch the DVDs in the comfort of your own home. You can get the workout gear you need pretty easily on Amazon. A good yoga mat, sneakers, a water bottle and a set of free weights is pretty much the only things you need to make the most of this system!
As far as the nutritional aspect is concerned I've found that having an extra set of containers on hand is a great way to keep on track and meal prep. Use them for storage or better yet, use them as measuring devices so you can portion out snacks and meals into bags or storage containers.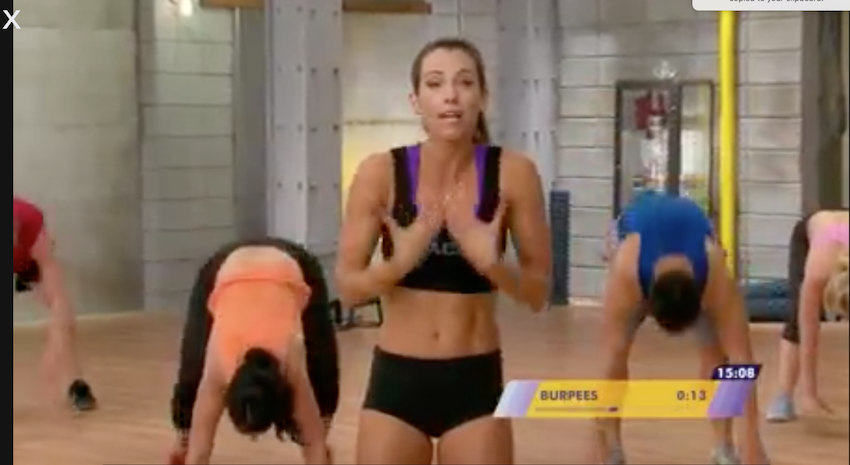 Cardio Fix Workout on DVD
If you don't want to deal with carrying DVDs around you can always use the Beachbody On Demand system. This online portal allows you access all of your favorite Beachbody programs and nutritional guides online, wherever you are! This is a great feature for anyone who travels frequently. No more missed workouts!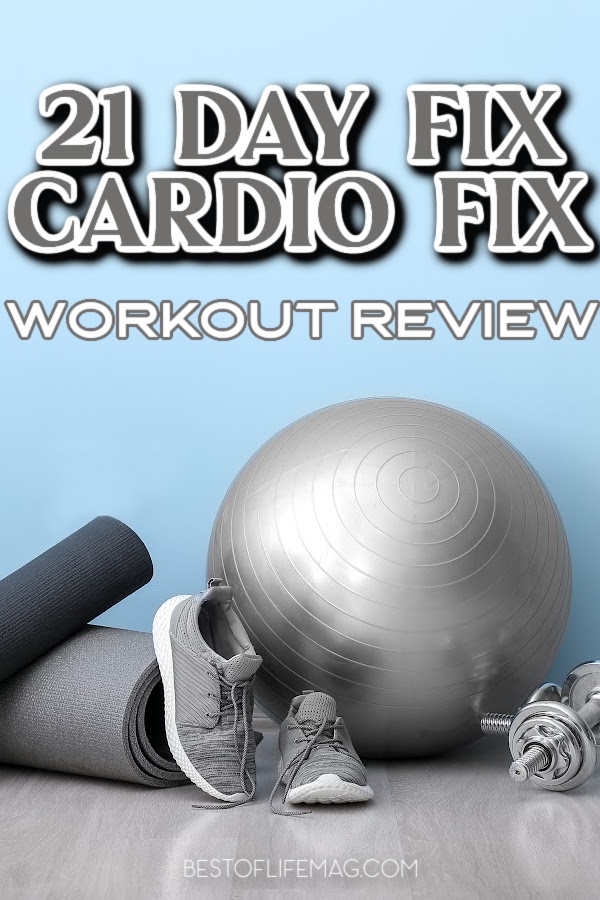 More 21 Day Fix Workout Reviews
21 Day Fix Total Body Cardio Fix | You can take things up a notch by focusing on your entire body.
Upper Fix Workout Review | You can also be more direct if you want to focus on your upper body with the help of 21 Day Fix.
Pilates Fix Workout Review | There is also a pilates version of 21 Day Fix that can really make a difference.
Lower Fix Workout Review | Don't forget the lower body. It is important that you focus on your whole body but if you want to gain more strength in your legs, butt, and back, this is it.