This site contains affiliate links. Please read our Policies for information.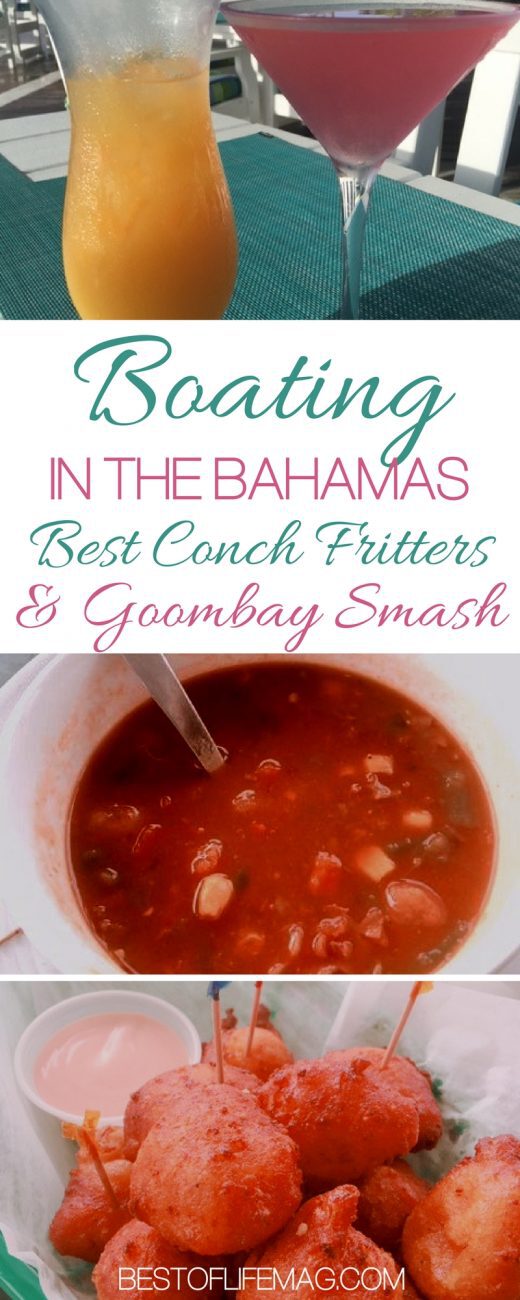 Boating in the Bahamas is easy, once you know the rules for entering the Bahamas by boat. You will find plenty of marinas and moorings throughout the Abacos. And what better way to spend a late afternoon on the boat than with a cocktail hour with boat drinks? Some of our favorite marinas include Bluff House Marina on Green Turtle Cay, Treasure Cay Resort Marina on Treasure Cay, Conch Inn Marina in Marsh Harbor, and Man o War Marina on Man o War Cay.
We always take the essentials on any boating journey. I always have to have my camera, sunscreen, comfy shoes, and we usually travel with the drone so we can get some great footage of the beautiful places we visit! We usually try and keep some great snacks on hand, dairy free options are a must!
Boating in the Bahamas is easy once you know the rules for entering the Bahamas by boat. Whether traveling from Florida or beyond, you will want to find the best Conch Fritters and Goombay Smash.
On this trip while boating in the Bahamas, we were on the hunt for the best Goombay Smash – the official drink of the Bahamas, and the best conch fritters. For this trip, we were visiting four islands: Green Turtle Cay, Man o War Cay, Marsh Harbor on Great Abaco, and Great Guana Cay.
Green Turtle Cay
Green Turtle Cay is a great place for family vacations, and with beaches on all sides, there is no shortage of water fun! Our favorite beach on Green Turtle is the Bluff House beach. The water is calm and clear, and a great place to snorkel! A perfect beach for families!
There are quite a few dining choices on Green Turtle Cay, but here are our favorites:
The Wrecking Tree restaurant is a new to us find. As the story goes, back in the 19th century, one of the main "industries" in Abaco was wrecking. All wreckers had to be licensed by the government, and their salvaged goods brought to Nassau and sold at auction. Wreckers not only salvaged wrecked ships but they also rescued survivors. On Green Turtle, there were up to 17 wrecking vessels, and all of them brought their salvaged goods to the spot this restaurant occupies, under the "wrecking tree" where the goods were recorded and prepared for shipping to Nassau.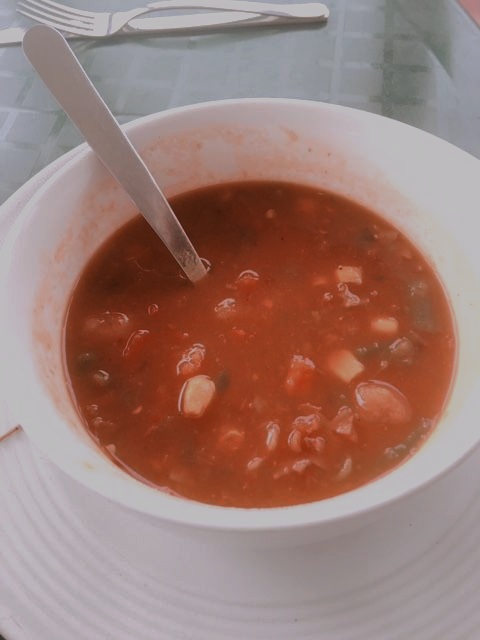 We tried the conch chowder, filled with tender, sweet conch and the conch fritters. The fritters were light and filled with conch that had been hand pounded, and very tender. The fritters were definitely a contender. The view from the Wrecking Tree is of New Providence's harbor, and eating outside and enjoying the view is a great way to spend lunch.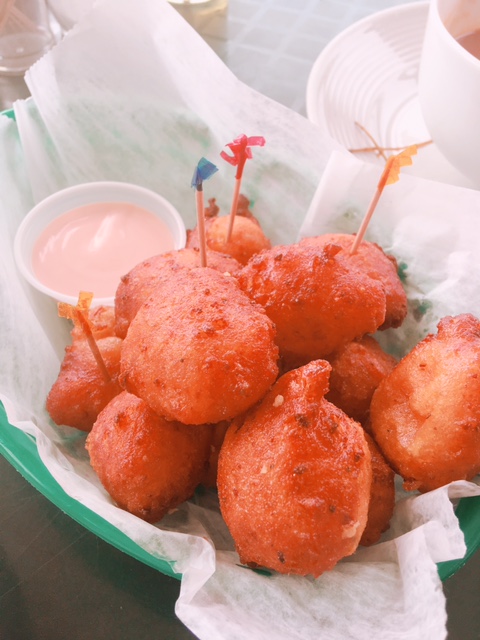 Ballyhoo Bar & Grill and the Tranquil Turtle Beach Bar, located at the Bluff House are both fabulous! Ballyhoo offers full service for breakfast and dinner. The menu is varied and includes traditional fare as well as local favorites. Dine outside on the patio and take in the gorgeous sunsets over the marina.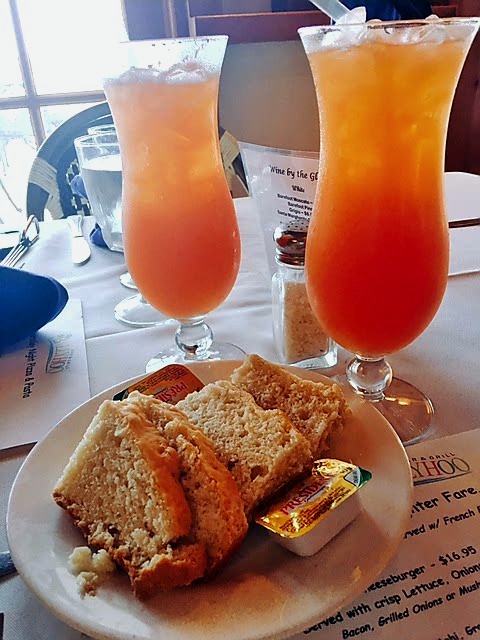 The Tranquil Turtle Beach Bar is located right on the Bluff House beach. You can while away the day playing beach volleyball, cornhole, or swim and kayak. When you are ready for a break, shake off the sand and sit on the patio and nosh on island favorites (hint: the conch fritters are an excellent choice) and sip a Tranquil Turtle, Bluff House's take on a Goombay Smash. They are guaranteed to make you relaxed!
For a change of pace and view, check out Leeward Yacht Club's restaurant. Though the menu is not huge, it is full of Bahamian favorites (hint: try the lobster & truffle mac – filled with succulent lobster, and delish!). The Goombay Smash at Leeward is good, and not quite as potent as the Tranquil Turtle at Bluff House. I tried the Turtletini, with vodka, peach schnapps, mango rum and pineapple, and it packs a punch.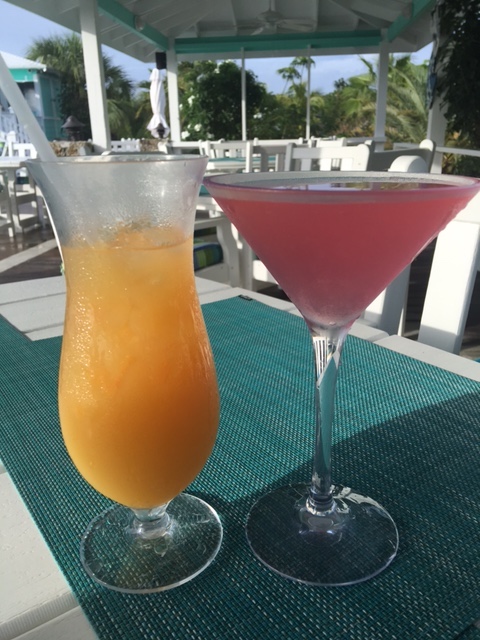 Marsh Harbor
Marsh Harbor is home to the Conch Inn Marina. The marina has 80 slips, pool, shower & laundry facilities, and you can clear customs here also. The marina is also a Moorings Yacht Charter base; if you are looking to charter a sailing catamaran or a power catamaran, this is a great location to do so when boating in the Bahamas.
Our favorite restaurant in Marsh Harbor is Wally's Restaurant. Wally's has been a staple of Marsh Harbor for many years. Located in a pink and white colonial style home, on Front Street, across from the harbor. Seating is on the open-air porch. Wally's serves authentic Bahamian dishes using locally sourced fresh seafood. We know the staff and are greeted like old friends each time we visit. All of the staff is friendly and knowledgeable – most have been there for years. When you walk through the pink archway, you are a stranger. When you walk out through the pink archway, you leave as a friend. We choose not to order the Goombay Smash at Wally's – we love their sangria! Jim likes the red, and I prefer the white – cheers for an excellent way to end the day, a sangria at Wally's!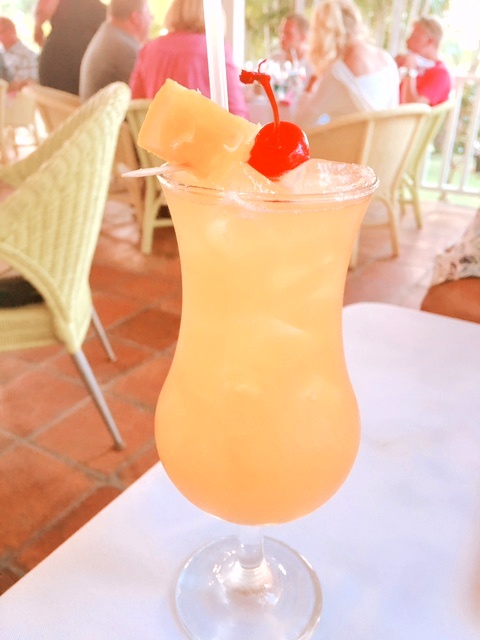 Man o War Cay
Man o War Cay is our very, very favorite island in the Abacos! We first visited the island in 2015, planning to stay a day or two, and we ended spending three weeks. Tommy Albury runs Man o War Marina, and he'll be glad to share a bit of its history with you, and direct you to the Man o War museum, located in a small house at the top of the hill.
The heritage of Man o War has always been a community of boat builders and fishermen; today that legacy continues. With beaches on all sides of the cay, you are sure to find one to suit your tastes. We have a secret beach that we love – the water is gin clear, and if you just sit in the water, your aches and pains will disappear. The bonus? Seeing a carpet of starfish just out of reach; a beautiful stingray gracefully swimming so close you can touch it; sea turtles are slowly swimming in the water, and turning to look you straight in the eye.
The Dock and Dine restaurant is our very favorite restaurant in the entire Abacos making it a must when boating in the Bahamas! Chef Devan and Chef Timmy are cooking up your favorite Bahamian and American favorites at the Dock and Dine. Taking the Bahamian staple of conch, they have given it their own culinary twist, and island grilled conch is a signature dish and must try! For dessert, the guava duff is tangy and sweet and lays on a homemade shortbread crust – this is a to-die-for dessert.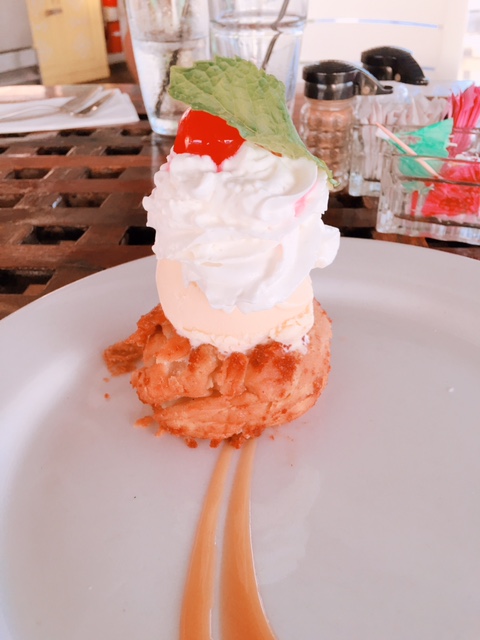 Chef Devan loves tamarind, and another of our favorite appetizers is the Wild Tamarind Shrimp. Lightly battered and fried, and then tossed in tamarind glaze and finished with a dusting of coconut, the shrimp is sweet and tangy with just the right amount of bite. And our #1 favorite conch fritters in all of Abaco are served at Dock and Dine. We could seriously make a meal out of these scrumptious bites of deliciousness. The fritters are filled with bits of tender, sweet, succulent conch, encased in batter and fried. Light as a feather, the fritters almost melt in your mouth.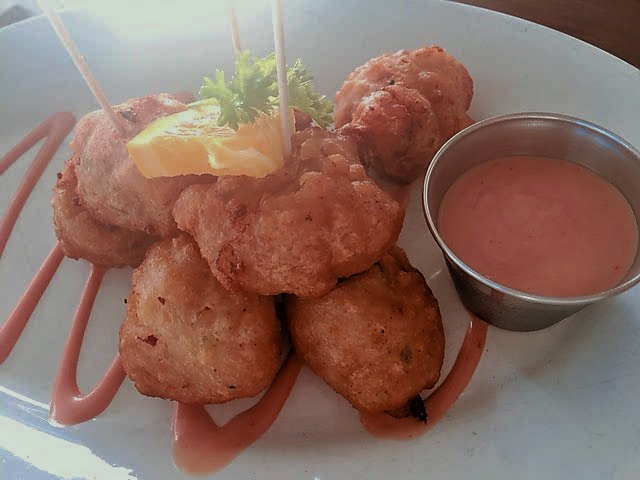 With over 700 islands to choose from, you can't make a wrong choice boating in the Bahamas! The Abacos are a great place to spend a couple of weeks or months just exploring. There are hotels and home rentals available on many of the islands of the Abacos. Grab your passport, bathing suit and snorkel and book your visit today.