10 Minute DIY Closet Doors to Curtain Transformation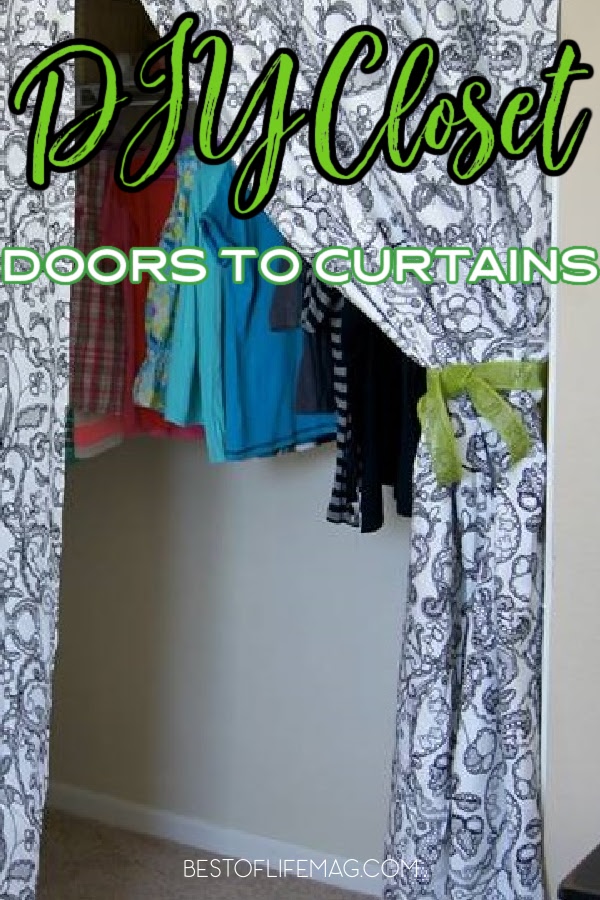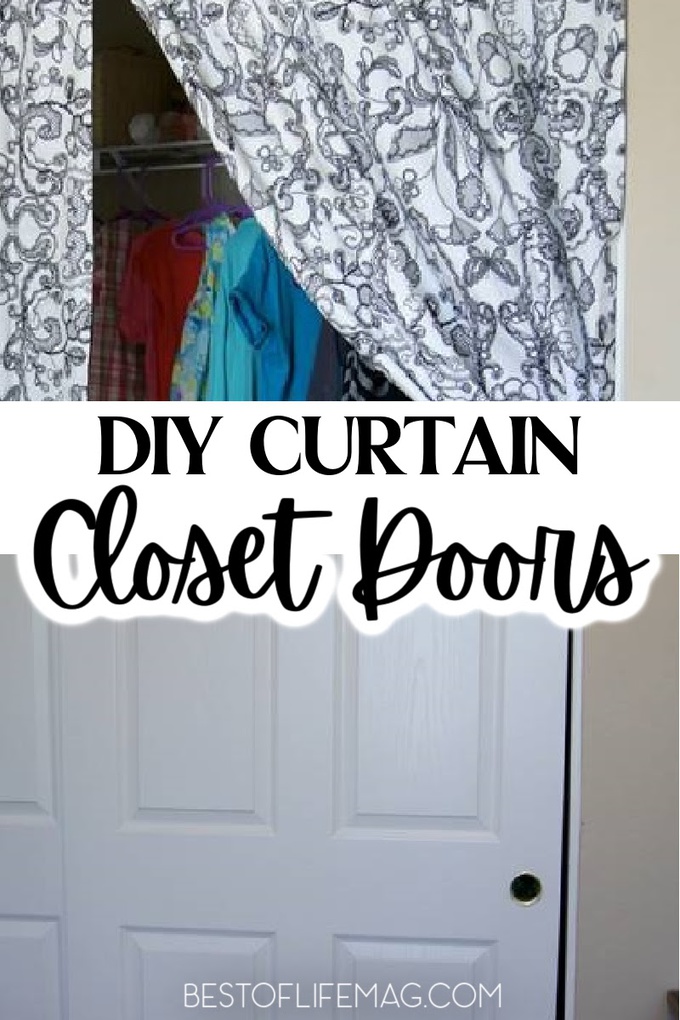 This 10 minute closet doors to curtain transformation is one of the easiest do-it-yourself projects that I have attempted. In fact, in may have only taken me 15 minutes once the process began. The first thing you need for this closet door to curtain transformation are closet doors that you would like to remove.
I'm working with sliding doors, but it also works with bi-fold doors and I will mention how to remove those in just a minute. This 10 minute closet door to curtain transformation will give any room a beautiful face lift!
Items you will need on hand for this DIY closet doors transformation
Tape measure
Tension/Spring mounted curtain rod
Screwdriver (Flathead and/or Phillips)
Curtains (I used 2 panels)
Measure
I started by measuring the length and height of the closet so I knew what length of the curtain I would need and also how long of a curtain rod I should purchase. I then made a quick trip to the store to purchase a tension rod and curtains, but you could also follow a guide on sewing your own from sheets, table cloths, or fabric.
There are many reasons that one might want to remove closet doors in a bedroom or an office. Some of those reasons might be because the frame is not truly square. The right closet side door doesn't touch the framed-out portion of the closet towards the bottom.
Another reason could be unsightly tracks or guides in the carpet, or in this case the lack of a guide to keeping the doors from swinging forward and backward. This can be dangerous because pushing the door out from the inside of the closet can cause it to jump off the track at the top where it is hung.
Evaluate Door Movement
Next, you want to evaluate how your doors will remove. Start with the door on the front track so you can easily move them out of the way. Pull the door out and up to lift it off the track. If they are hollow-core doors then they will be light enough that you can remove them yourself.
If you are nervous, by all means, ask for help to avoid damaging the walls or worse, your manicure. If you have bi-fold doors the track will be slightly different. You probably will need a step stool to reach the top. Using your finger or the flathead screwdriver you press down on the wheels to pop them out of the track.
Clean and Organize Closet Doors
Once the doors have been removed take a few moments and clean the shelves and vacuum the floor that have been hidden. Remove unwanted clothes and organize the remaining clothes by season, color, or even size to give them an organized and clean look.
Install Curtain Rod
Extend the curtain rod to the desired length to fit between the frame. Remember to make it slightly longer than you need so there is tension to support the rod and keep it from falling out. Run the tension rod through the drapery panels, being careful to hang them right side up and both facing forward.
Nothing is more frustrating than having to do this step twice. Once the curtains are on the rod place the rod into place behind or in front of the track. This one is actually between the white trim board and the track.
DIY Closet Doors Curtain Options
Let the curtains fall naturally to the floor to hide what is behind or you may want to choose to frame out your handy work. These are simply tied up with green burlap ribbon in a simple square knot. Another fun thing that could be added is a set of decorative drapery hooks or pulls to keep the curtains open while searching for your favorite pair of brown leather boots.
This DIY closet door to curtain transformation can cost as little as $8 if you have your own curtains on hand or as much as you can afford in drapery and embellishments. This DIY project cost me $29 in total so it really allows room for any budget.
More DIY
DIY Wine Rack Ideas for Wine Lovers | Wine racks seem fancy but they are even more fancy when you make them yourself.
DIY Burlap Wreath for Fall | Decorating for the fall is only the beginning. But DIYing your decor allows you to add even more personal touches to your home.
Stylish DIY Fall Décor | You can even go above and beyond and add personal touches throughout your home, not just on the front door.
DIY Margarita Glasses | Margarita glasses are fun and perfectly shaped to enjoy your cocktail. Why not add some personality to your glass though?
Festive DIY Memorial Day Wreaths | Memorial Day allows you to get a little more patriotic with your decor and you will like the way your home looks.Save