This site contains affiliate links. Please read our Policies for information.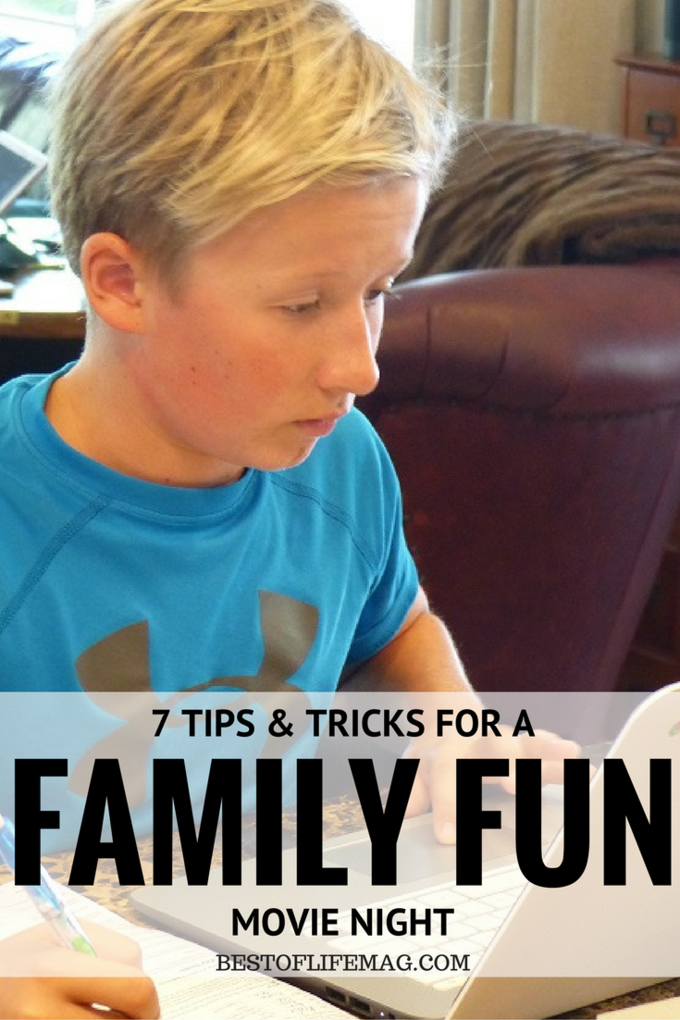 Can you believe that it's already "back to school" season?!? It's blowing my mind that the summer has flown by so quickly. One of our favorite ways to reconnect as a family during the school year is with a family movie night. Not only does it help us slow down and connect as a family, it's a super fun way to enjoy a night at home! We try and make summer last as long as possible by having outdoor family movie nights. Your life is probably busy enough without throwing one more thing into the mix…let me share with you 7 tips for a family fun movie night. These tips and tricks will have your movie night running so smoothly you'll want to plan one every week!
Gathering together as a family to have a movie night is a great way to stay connected as a family and have some fun!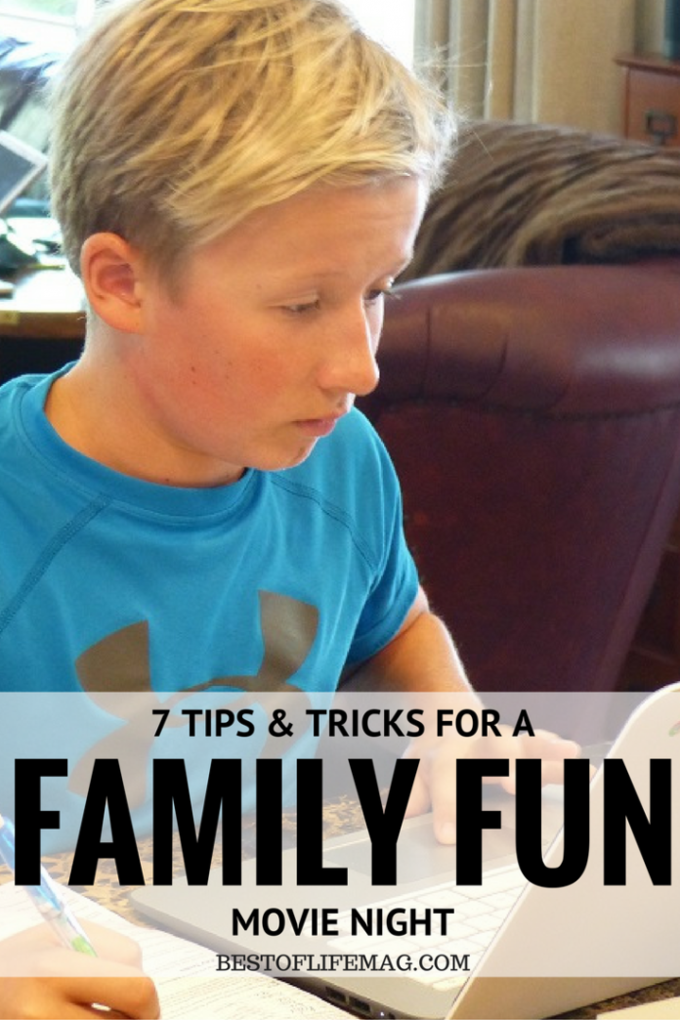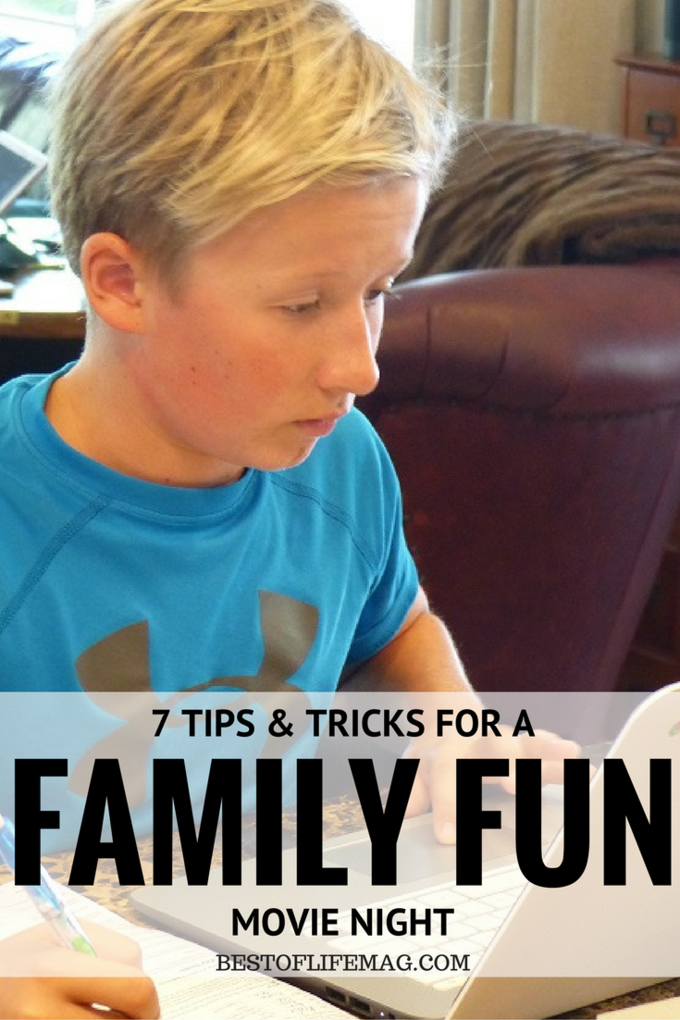 Pick Your Date
This may seem simple but we all know how hectic those school days can become. You've got school, sports, after school activities, homework, and not to mention all of the household chores and necessities! The first order of business for a family fun movie night is to pick the date and make it stick. Don't allow any rearranging, no bumping it to next week, no "please mom can I do this instead", keep that date set aside for family time.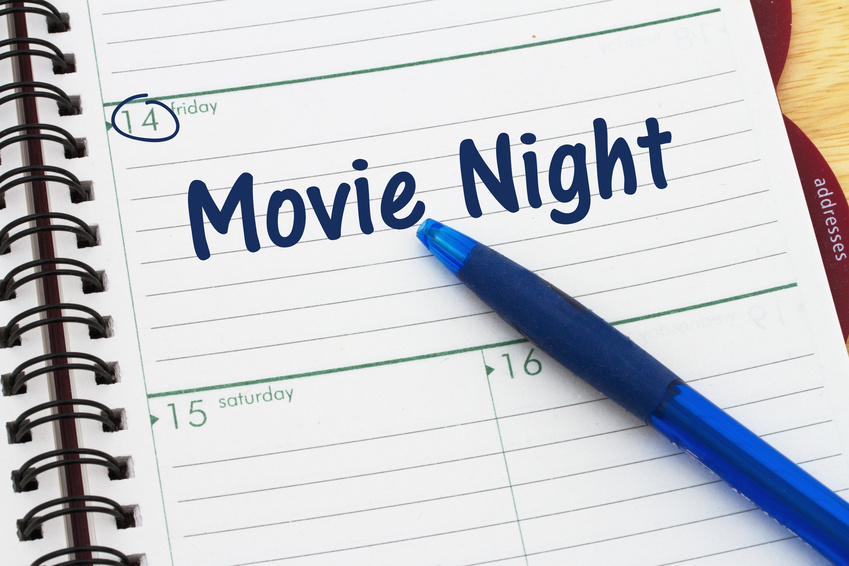 Choose Your Movie From a Hat
Everyone always has an opinion about which movie we should watch so put everyone's suggestions into a hat and choose one the easy way. No muss, no fuss, no fighting. Or maybe you're part of one of those magical families that can always agree when making decisions, in that case you can skip the hat and go right on with your planning. One great way to make this decision even more fun is to browse the movies available through Xfinity on demand with the X1 system. There are tons of new release movies, free movies, and with certain channel subscriptions you get free movies on demand as well! You can look specifically for family friendly movies, you can even ask your remote to show you free movies with a specific rating!
Setting is Key
Our family LOVES to do outdoor movie nights. If this is an option for you, I highly recommend you try setting up and watching your movies outdoors. It makes it feel like such a special occasion. Not to mention it is super fun to watch the movie outside! You'll need a projector that can either hook up to your phone or laptop in order to make this work, everything else you can kind of substitute if necessary! A plain white bed sheet will make a great screen, air mattresses, sleeping bags, or outdoor furniture will work for seating, and of course you can enjoy the yummy snacks indoors or outdoors. Xfinity shines in this area as well. Not only can you access your DVR from your smartphone, laptop, or tablet, you can also access your On Demand library from your devices as well. With awesome streaming speeds you'll have no trouble enjoying your favorite family movies in the backyard!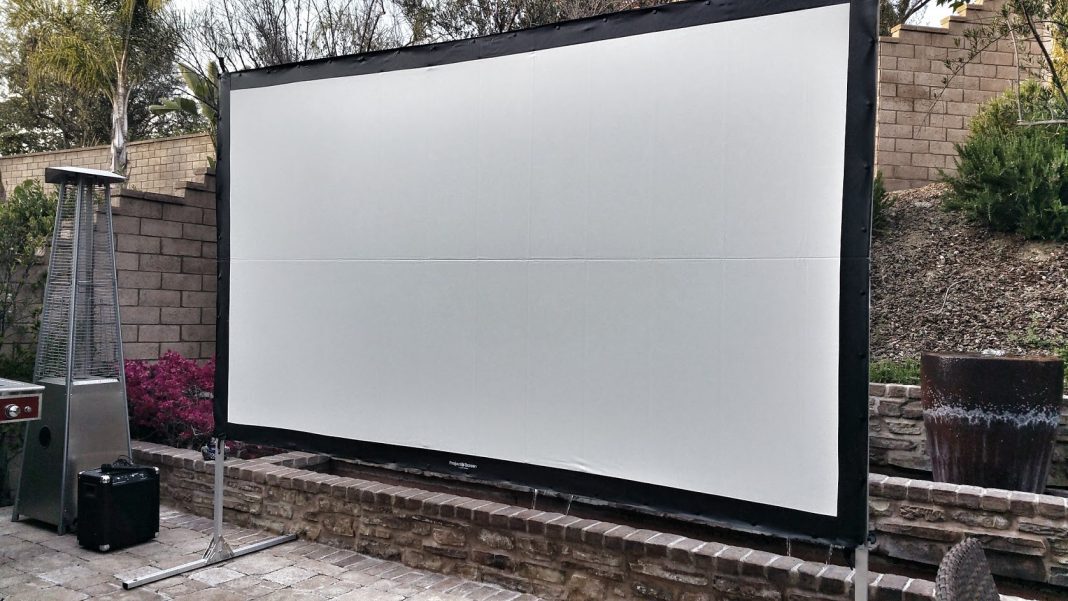 Nix the Devices
Decide ahead of time if you are going to allow electronics. During family movie night it can be distracting and end up defeating the purpose of family time if everyone is on their phones. This rule goes for adults as well as teens/tweens and kids. Put them away and take the time to actually enjoying being together. Spending time together as a family while watching a fun movie is a great opportunity to connect and have fun, no devices necessary!
Get Comfy
If you decide to watch your movie indoors or outdoors you'll want to be extra cozy. Put on those comfy sweats or pj's and snuggle up with your favorite blanket. The best part of a movie night at home is not having to be cramped in a theater seat next to a stranger! Spread out, get comfortable, and cozy up with your family!

Snack Attack
One of the best parts of movie night is the snacks! It's another great opportunity to connect as a family and have some fun at home. Whip up a new dessert, some awesome snack recipes, and more! Pinterest is a never ending wealth of ideas when it comes to snack foods. Use your lightning fast Xfinity internet to stream recipe videos or help you search for great ideas online. Sure, you could just use it for school projects and learning OR you could take a break from all of that and find out the easiest way to whip up some cupcakes stuffed with candy!
Let's Talk About That
Part of a great family movie night is discussing the movie after it's over. Not only does this encourage healthy conversation tactics it's also a great way to keep the family time going strong. After your movie is over you can just discuss simple things that pertain to the movie or you can go a little deeper and discuss the themes, values, morals, and more! Depending on the age range of your kiddos it can be a really rewarding experience to see what kinds of things your children are taking away from films. Another great option is to watch movies that have accompanying texts. Read the book first or after you watch the movie and see how it holds up!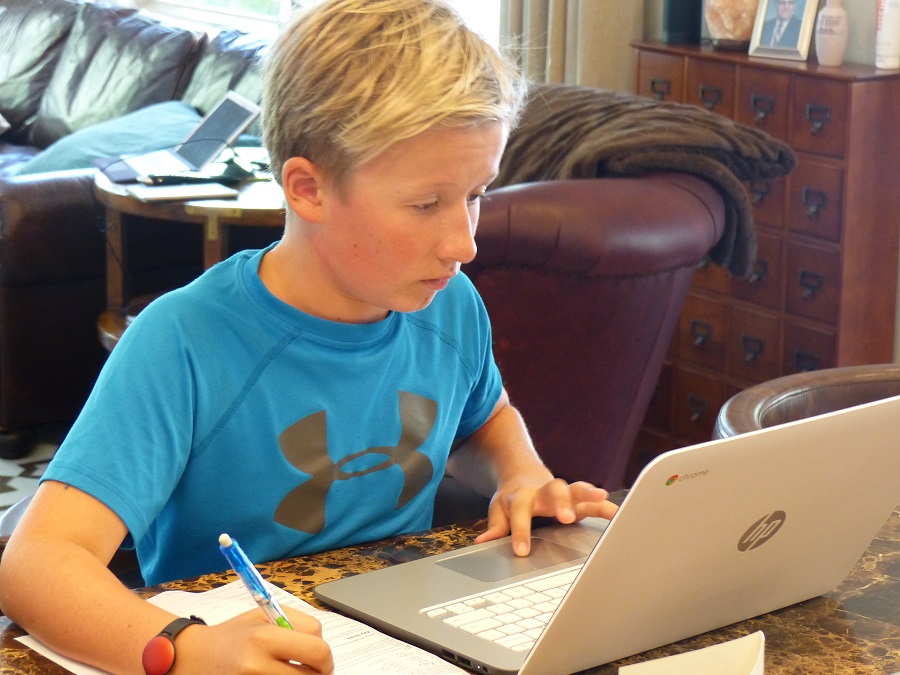 More Back to School Tips
Back to school doesn't have to be a maddening disaster. There are lots of ways to make it easier on both you and the kids! One great way to keep everyone happy is with internet and wifi that can accommodate the whole family and their devices. Back to school means homework, school projects, research, and more. Make sure everyone stays connected so they can get the most out of their education. Xfinity X1 not only has lightning fast internet and wifi speeds, it is also packed full of family friendly and educational programming. Forget remembering TV channels, just press to talk and let your X1 remote find that programming for you! The best thing of all is that the new system allows you to quickly and easily find the programming that you're looking for. There are advanced filtering options, smart searches, AND you can do all of these things with just the push of a button on your X1 system remote. You might not have a maid but you'll be able to pretend you have one by bossing around the TV!Save
This is a sponsored conversation written by me on behalf of XFINITY. The opinions and text are all mine.
Save