This site contains affiliate links. Please read our Policies for information.
The Amazon Echo Show is the newest device in the Echo lineup. Like the Echo or the Echo Dot, the Echo Show comes with Alexa features and you can do all of the things you can with the other Echo devices. BUT, you can also do so much more with the Amazon Echo Show! What makes the Echo Show better than any other Echo device is the touchscreen display and the front facing camera. All it takes are these two new features to open up a world of possibilities.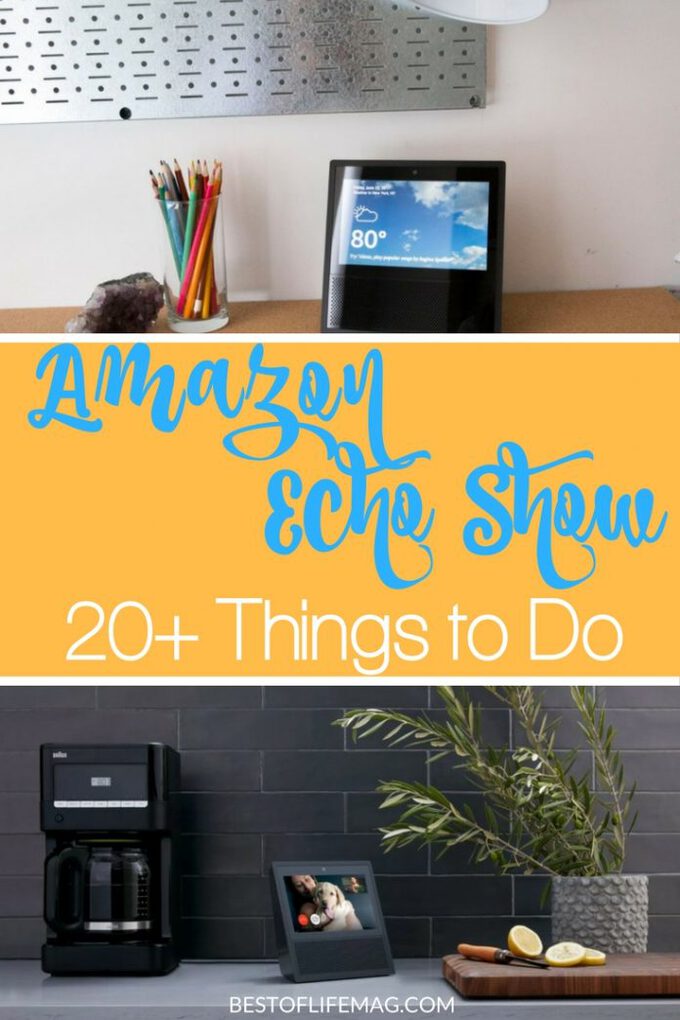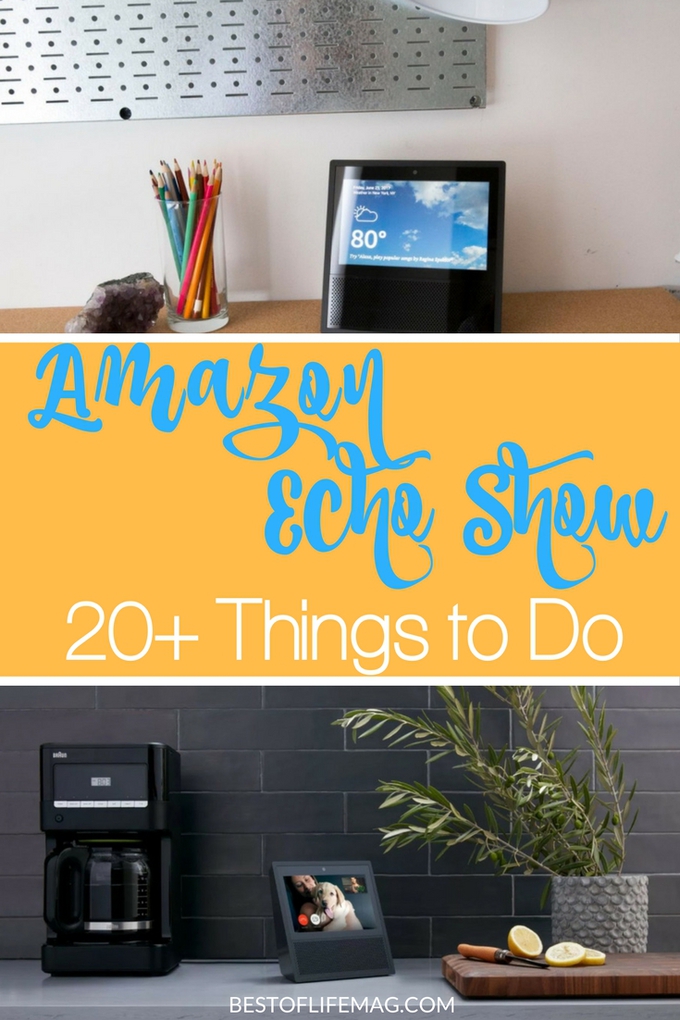 There are so many amazing things you can try with the Amazon Echo Show that will make life even easier in your smart home.
Amazon took the lead in the smart home race when they created the first Echo. The world's first at home digital assistant that is activated by voice, gestures, and touch. Using the original Echo device changed the smart home industry because it took away the need for using your hands when turning on or off lights, televisions, vacuum cleaners, or locking the doors. Now, Amazon is taking things to the next level by adding two new features and a whole new level of capabilities. A touch screen and a camera is all the Echo needed to become the Amazon Echo Show which is loaded with fun capabilities!  The Amazon Echo Show is available at Best Buy.
Video Calling
The New camera adds a bunch of new features to the Echo line-up. But the most important and coolest one may just be video calling. You can video call any other Amazon Echo Show device or any other device with the Alexa app.
Hands-Free Videos
The touch screen display on the Echo Show is similar to the ones you'd find on a tablet. This screen allows you to watch videos whenever you'd like. Currently, only Youtube and Prime videos are supported but we believe other video services will be available in the future.
Check Security Cameras
Many security cameras come with the ability to view them from anywhere in and out of your house. Some new smart cameras come with Alexa support, meaning you can control them with Alexa. Using devices like, Ring Doorbell, Netgear Arlo Pro or Nest Cam, you can view their feeds on the Echo Show.
Photo Frame
The display on the Amazon Echo Show is connected to your Amazon account. If you upload pictures to your Prime Photos account, you can have them display on your Echo Show. Change the settings and have different pictures show on a regular basis.
Discover New Recipes
Another time that display comes in handy is when you're in the kitchen. We've all struggled with a tablet or smartphone in the kitchen with our hands dirty. We can't touch the screen to scroll down for the next instruction with our hands covered in batter. Along with introducing you to new recipes, the Amazon Echo Show will scroll down for you, making it easier to follow instructions while cooking.
Karaoke
Ok, this one is more of a fun feature and may not get a lot of use. Unless of course, you're cleaning the room the Echo Show is in and are alone. You can have Alexa show you the lyrics to the song you're listening to and turn it into a karaoke machine of sorts.
Play your Playlists
Listening to music is easy with the Echo Show. Just like other Echo devices, the Show lets you access your favorite music apps like iHeart Radio, Amazon Prime Music, Spotify, Pandora and more. If you have playlists set up in a music app that works with Alexa, you can just ask Alexa to play that playlist.
Restaurant Reviews
Getting restaurant reviews is something we all do when we're looking for a new place to eat. Hearing how good a restaurant is can be useful but seeing how good it is can be even better. The Echo Show will show you pictures of the restaurant along with the reviews.
Shopping
Another thing we would like to do is see a product before we buy it. Here is another way the Amazon Echo Show will come in handy. You can see a picture of the product on Amazon before you buy. Gone are the days of hoping the product is the right one when ordering from an Echo device.
View Calendar
Remember the days when calendars were seen in the kitchen with markings all over them of plans to come? Well, now you can see that calendar again using the Echo Show. You can even have it flip to a specific day by voice or by touch.
View Weather
The touch display can also give you a view of the weather outside before you head out for the day. Just like on a tablet or smartphone, the weather display will give you all of the information you need and read it aloud. You can stop the reading aloud by simply touching the display.
Baby Monitor
The Amazon Echo Show comes with a 5MP front facing camera. This camera can be used for many things like video calls and more. But maybe one of the most useful is using it as a baby monitor. Once you have two devices, you can set one in the nursery and check in on that one with another Echo Show.
Scan Items
That very same camera can also be used when shopping. Simply ask Alexa to add something to your shopping list or to buy the item by simply holding it up to the camera. Say, "Alexa, scan." and it will scan the item and give you the option of ordering it through Amazon.
Connect via Bluetooth
Inside the Echo Show is a decent set of speakers. Those speakers can be used to play your music or the sound in the videos. You can also connect another device via Bluetooth to the Echo Show to play whatever you'd like to play.
Set Reminders
Have you ever asked someone to remind you to do something and then that person forgot to remind you? That problem is gone when you have an Echo Show. You can ask your Echo show to remind you about anything. All you need to do is say "Hey Alexa, remind me…" and set a time and date. Once set, you will be reminded and Alexa won't forget to remind you.
Dropping In
Not all features are as appreciated as others but this one will make for a fun time and could come in handy. Introducing, Dropping In with the Amazon Echo Show. Dropping In lets you connect to other Echo Show devices without being invited. To drop in on someone you'll need to be on their accepted list and they will get a warning that you're coming in. They will have a few seconds to say, "Alexa, hang up." to close the virtual door on you. But this feature could come in handy if your elderly parents aren't answering the phone.  We use it a lot to communicate through our home like a modern day intercom.
Display Lists
Some of us are visual creatures meaning we need to see something in order to understand it better. Echo devices have always been able to read off lists like shopping lists or to do lists. The Echo Show will not only read these lists to you as well as show them to you on the display.
Flash Briefings
Flash Briefings have become an important part of the start of any Echo owner's day. Using the Echo Show for Flash Briefings will not only give you the latest news and info, it will also play short videos along with them. Your flash Briefings are now a lot like a personalized news show just for you.
Get Movie Times and Info
Want to see a movie but don't know what to see? The Echo Show will not only display movie times near you but also give you info on the movie. You can read the full synopsis of the movie and even see some ratings before you make the final decision.
Call and Text
Echo devices have become a great way to stay in contact with other Echo owners through the Alexa app. You can call and text other Alexa users and the Echo Show is no different. It's a great way for family and friends to have a group chat or call without clogging up our phones.
Manually Control the Camera
The camera comes with an always on setting, which to some could be seen as an invasion of privacy. Luckily, you can manually control the camera through the settings. Change a few settings to make it so the camera only comes on when you need it to or ask for it to turn on.
Get Discounts
Another benefit of having the Echo Show is that you are off to a great start building your smart home. Amazon can help you along the way even more by allowing you to get discounts on other smart home tech. You can get devices like the Arlo Security Camera, Wemo Smart WiFi Plug, or the Philips Hue White and Color Ambiance Starter Kit.
The Amazon Echo Show is available at Best Buy and is sure to be a fun and useful addition to your home!
More From Amazon
Amazon Fire TV Tips and Tricks
Amazon Echo vs Tap vs Echo Dot: What's The Difference?