This site contains affiliate links. Please read our Policies for information.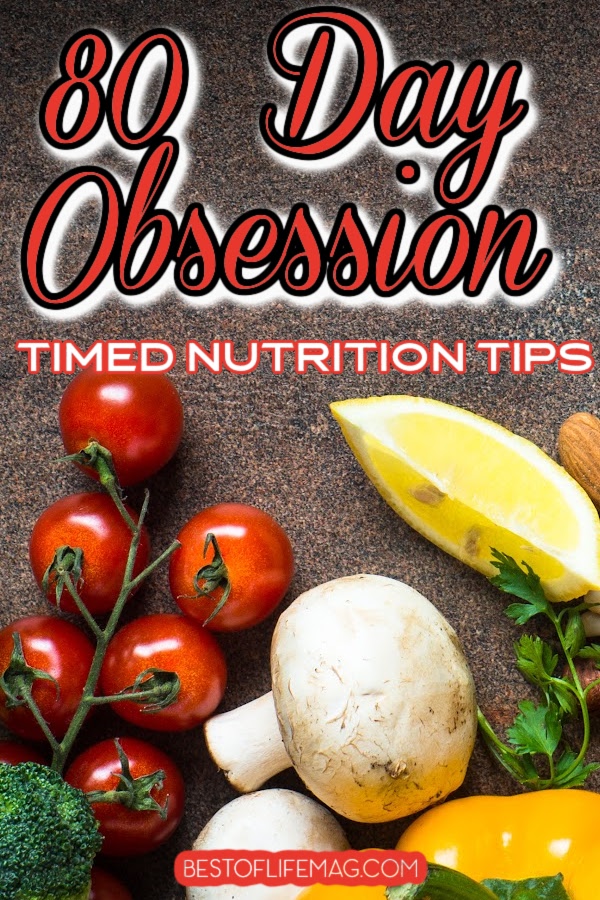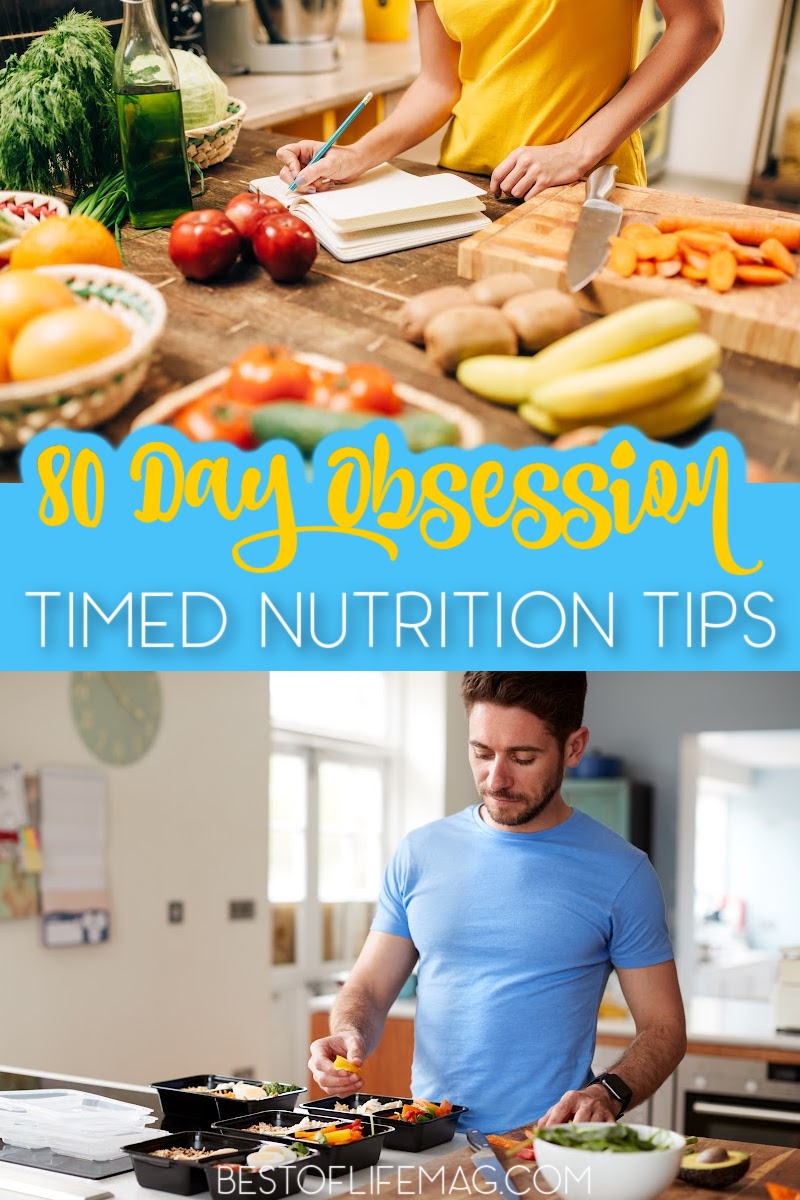 Great abs are made in the kitchen and you know that what you eat is just as, if not more, important than what you do. Sometimes maneuvering your way around
nutritional plans
and deciding what to eat is so confusing you might just let it slide. With the
80 Day Obsession
Timed Nutrition plan, everything is taken care of for you.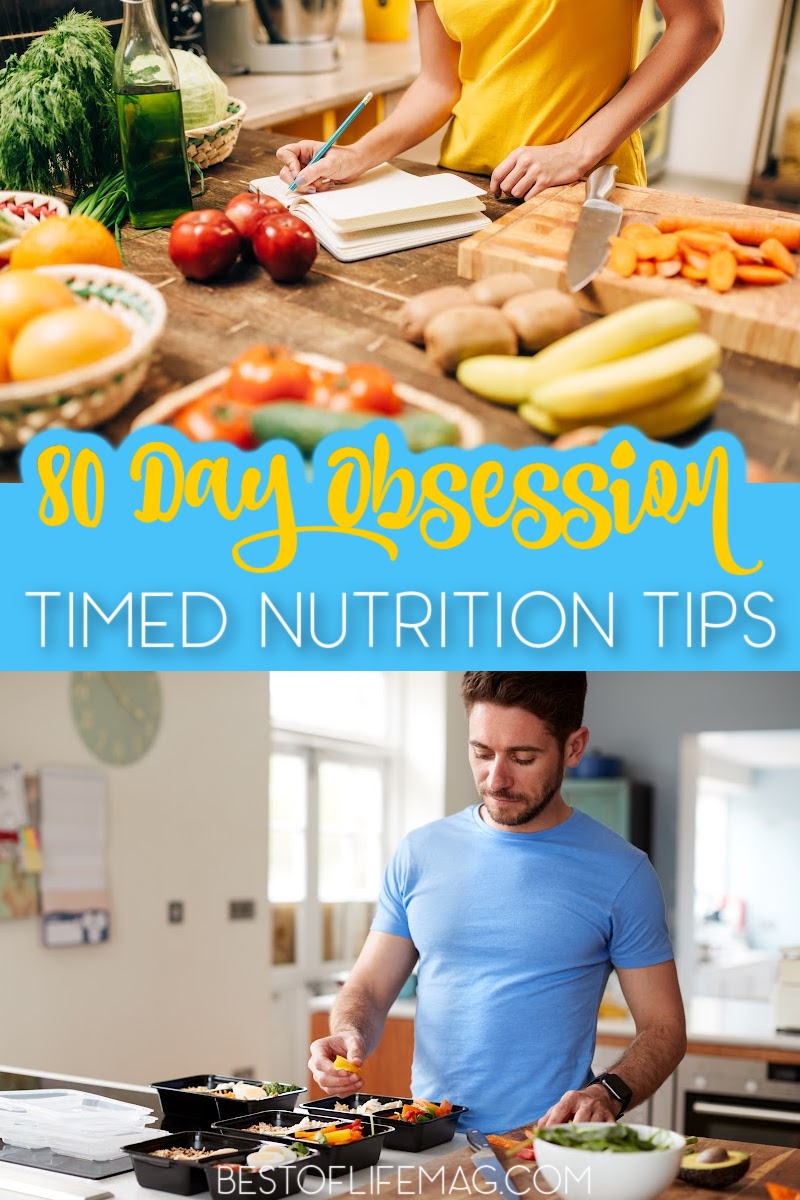 A key part of the success of the 80 Day Obsession Workout is the Timed Nutrition Plan that takes Beachbody portion control containers to the next level for maximum weight loss. Just what is Timed Nutrition and what should I expect, you ask? We'll lay it out for you here.
Be sure you enjoy these 80 day obsession timed nutrition breakfast recipes along the way. 80 Day Obsession has all of the tools you need to get fit and feel better about yourself. One of those tools is known as Timed Nutrition. Using Timed Nutrition we can do what we need to in order to get the abs we want.
However, this isn't the tool that will do it alone. We need to make our way through the process and while it isn't made to be the easiest thing ever, there are ways to get through it all. There are ways you can be successful and get the body you've always wanted with 80 Day Obsession.
Nutrient Timing – An Overview
Nutrient timing is a planned alteration of nutrient intake in order to promote optimal health, workout performance and recovery, and building of lean muscle. In fact, nutrient timing based on how the body handles different types of food at different times of the day.
Timing certain types of food around your workout can also enhance athletic performance and provide better recovery.
Your Metabolism on Nutrient Timing
Choosing your food and the timing of your meals wisely, even if you're eating the same number of calories each day, can help shift your metabolism and alter your body composition. Nutrient timing is becoming an important part of many fitness plans.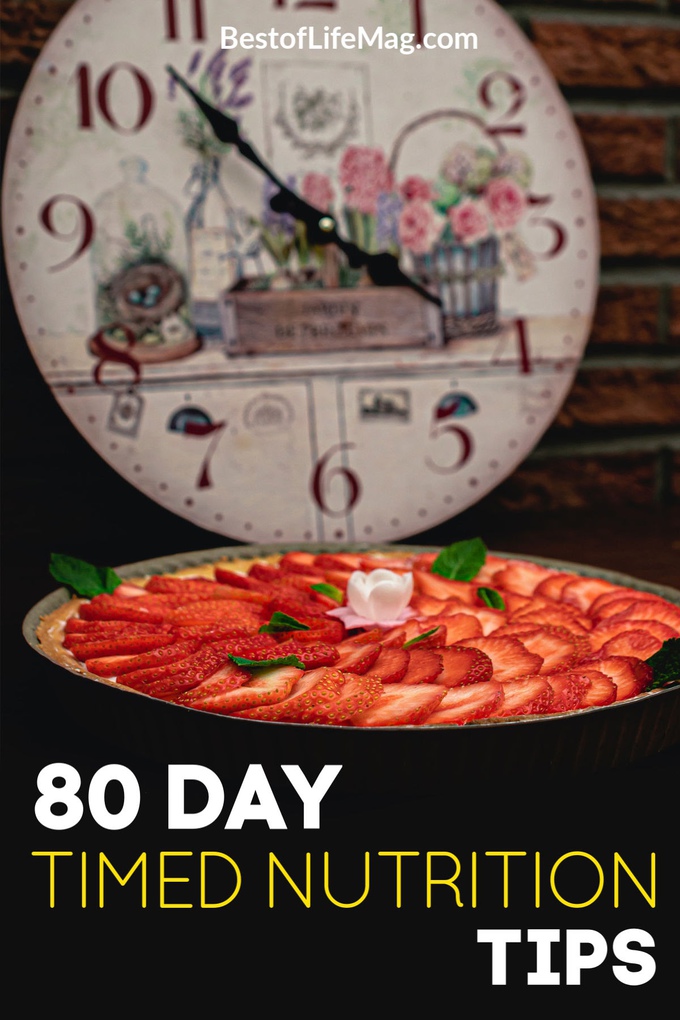 What Nutrient Timing Can Do For You
Providing the right fuel at the right times of the day will give you a noticeable increase in energy, help you burn fat while building lean muscle throughout each of the three 80 Day Obsession phases.
Nutrient Timing, The Details
The 80 Day Obsession eating plans are developed around Timed Nutrition, which now you know is simply eating the right foods at the right times. To get a little more in-depth, it considers how our bodies fluctuate during the day and gives us the right mix of protein and carbs to ensure the best metabolism performance.
Do Your Calculations
80 Day Obsession's Calorie Target Guide will help you set your ideal calorie intake through all three phases. This makes it even easier to plan your meals and stick to the Time Nutrition plan that is best for you.
Get Your Performance Supplements
Because 80 Day Obsession's Timed Nutrition plan so specifically timed to maximize your results, both Shakeology and Beachbody Performance(optional) are included as components of the meal plan. Shakeology is a quick and easy way to provide your body with the dense nutrition it craves every day and after a workout.
Beachbody Performance provides supplementation to get better results. Your eating plan will explain how to use each product.
Read Your Timed Nutrition Eating Guide
Timed Nutrition means you will follow a strict meal schedule. This plan is set and laid out for you in your program materials. It literally tells you what to eat and when. It's also print-ready so you can take it with you wherever you go.
Timed Nutrition Menu Planner
In your 80 Day Obsession program materials, you will find menu planners to help you through all three phases. Each phase will come with a meal plan that will make sure you get the results you want. Best of all, the meals are easy to make, delicious, and full of nutrition.
Meal Prep Means Success
One of the biggest keys to success in just about any nutritional plan, but especially Timed Nutrition, is meal prep. Having your meals ready days or even a week ahead of time will allow you to focus on eating exactly what and when you should and will help you avoid the "quick bite" pitfalls.
80 Day Obsession begins on a Monday so do your homework and you can have your meals prepped before the weekend is over!
Portion Fix Containers by Beachbody
Portion planning goes hand in hand with meal prep and Beachbody's Portion Fix containers help you create meals that deliver the nutrients your body needs, exactly when it needs them with no stress.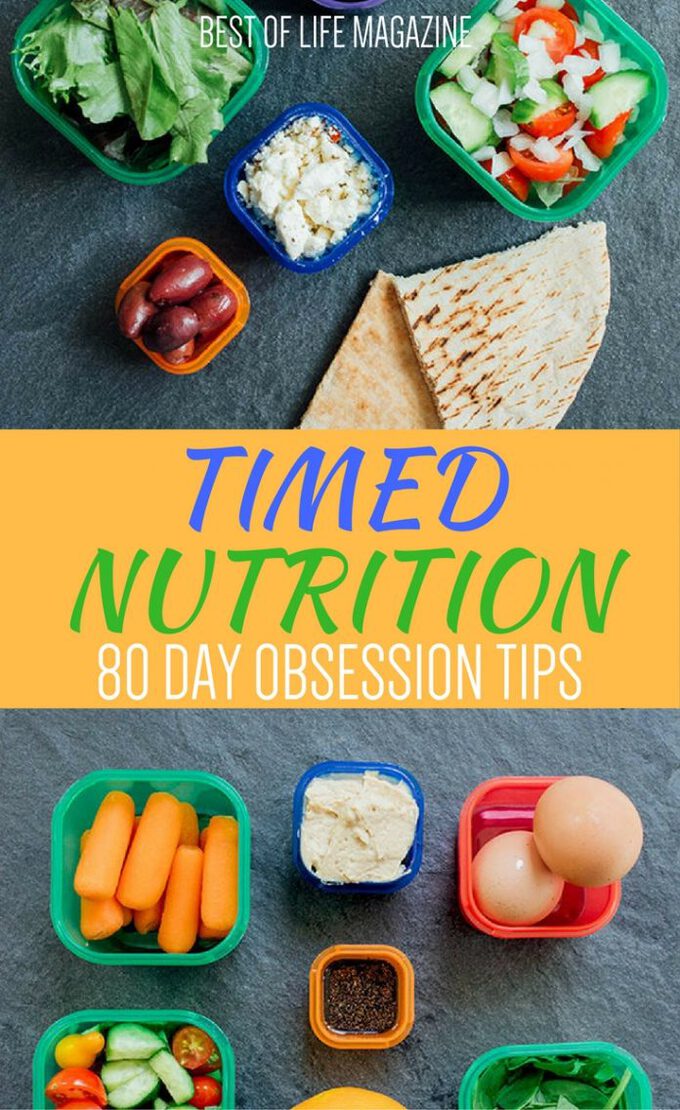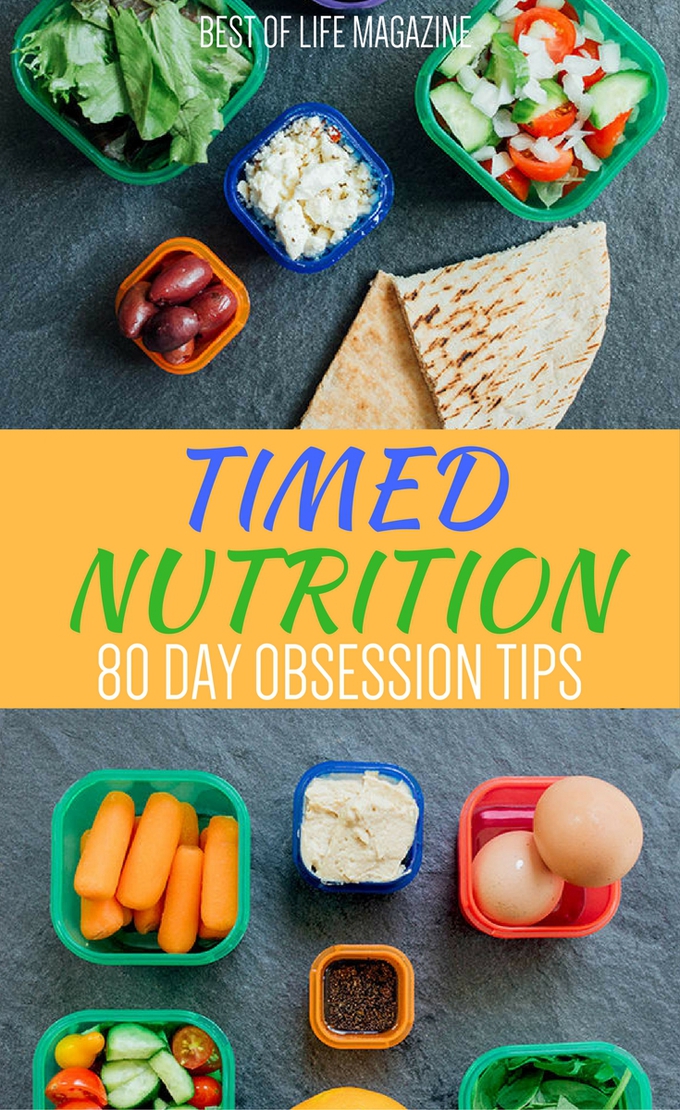 Take At Least One Meal With You
Another key to staying on your Timed Nutrition plan is to always remember to take at least one pre-prepared meal with you wherever you go. This is where the Beachbody Portion Fix containers really come in handy.
If You Are Stuck, Use Autumn's Recipes
Check out Fixate on Beachbody on Demand. Autumn has some foundational videos along with 100's of recipes you can use in your Timed Nutrition meal planning.
Schedule Your Workouts
Having a plan for when you will work out each day will make Timed Nutrition easier by allowing you to plan ahead for your meal block times. This doesn't mean you have to work out at the same time each day, but if you vary your workout times, your eating blocks will vary too.
Enjoy Your Refeed Days
Introduce in Phase 2, Week 6 of 80 Day Obsession is the "refeed day" where Timed Nutrition allows for a little extra to give your body what it craves.
There is a supplemental food list provided and be sure to watch the Weekly Obsession videos for ideas on how the Beachbody team enjoys their own Refeed Days.
What You Eat Still Matters
Timed Nutrition helps prioritize muscle gain over fat gain during a muscle gaining workout plan like 80 Day Obsession. Following Timed Nutrition and the workout schedule is the best way to get results. When you exercise regularly, the body is primed for fat loss just as it's primed for muscle gain or loss at specific times of the day.
The right foods at the right times enhance your efforts and will make you an 80 Day Obsession success story.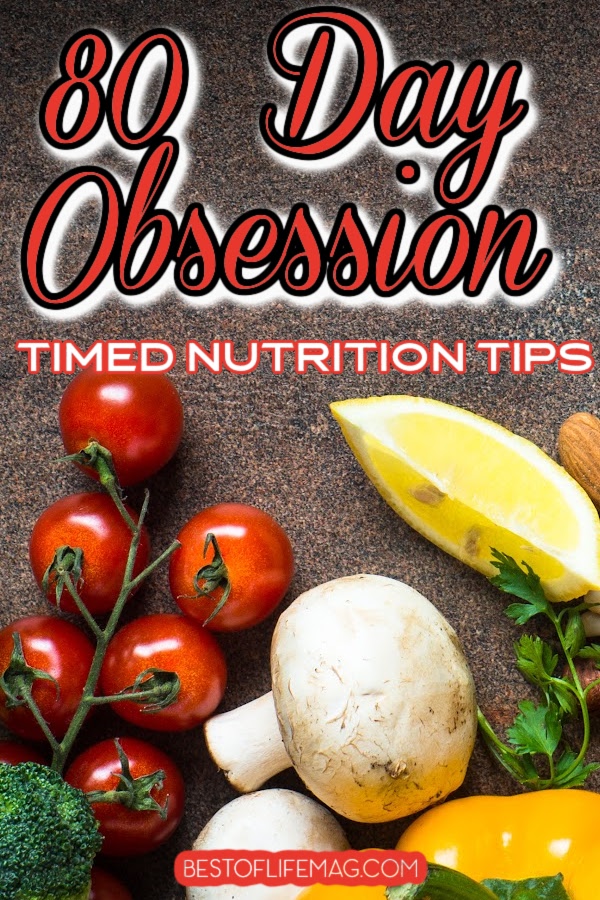 More Beachbody
80 Day Obsession Workout by Beachbody | Beachbody has plenty of different workouts and diet plans to choose from but stick with and finish one at a time if possible.
35 Timed Nutrition Breakfast Recipes | There are breakfast recipes that fit perfectly into your diet plan that taste delicious.
80 Day Obsession Equipment | There is equipment that you can use to help make sure you stay on track with your weight loss goals.
LIIFT4 Nutrition Guide | Another weight loss plan you can use from Beachbody is LIIFT4 but you may need a nutrition guide to help.
PRINTABLE 21 Day Fix Cardio Fix Cheat Sheet | 21 Day Fix is another popular diet plan that you can use to reach your goals.