10 Best Wine Toast Quotes to Say Cheers to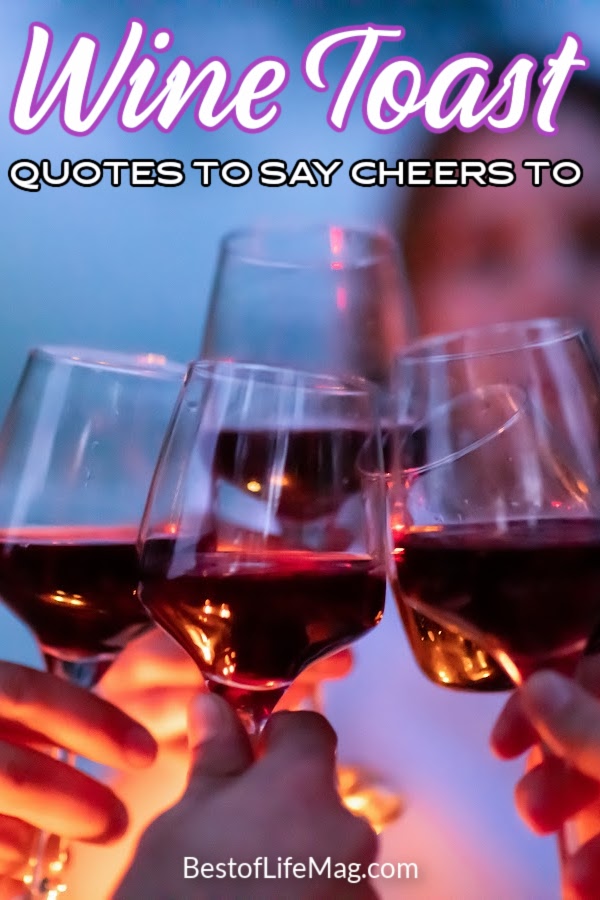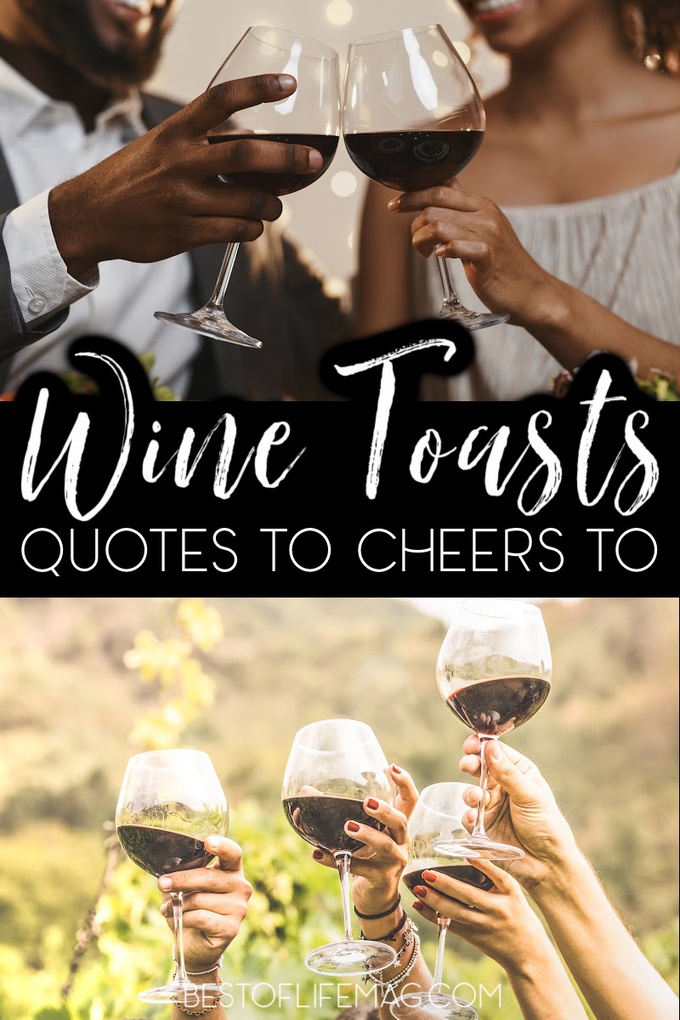 The flavor and art of pairing and drinking a good wine makes me feel luxurious. But some of the best wine toast quotes take class out of the equation. In the place of class is humor and wit and I'm very okay with that. Next time you pour a glass of wine with someone, show off with some of the best wine toast quotes ever.
After you pour a glass of wine with friends and family you need something witty to say, why not use one of the best wine toast quotes to get you through? After a long day running around in the hot SoCal sun, it's not a glass of water I crave. Instead, it's wine. Wine is what I reach for and for good reason.
I love the taste of wine, pairing wine, even just pouring a glass of wine is enjoyable. What's better than drinking a glass of wine? Witty, thought-provoking, LOL-inducing wine toast quotes to say before drinking that glass.
"May you get all your wishes but one, so you always have something to strive for!"
Of course, we want your dreams to come true, but if you have nothing to work towards you haven't earned your wine.
"A meal without wine is like a day without sunshine."
I couldn't imagine a day without sunshine, especially in SoCal. Oh, and without wine is just as impossible.
"May our house always be too small to hold all of our friends."
A glass of wine is great, but a glass of wine with friends is even better
To quote George Sterling, "He who clinks his cup with mine, adds a glory to the wine."
I'm pretty sure clinking glasses of wine was to make sure there wasn't poison in your cup so the glory could be a bit different today. 🙂
"There are good ships, and there are wood ships, the ships that sail the sea but the best ships are friendships and may they always be."
If you can't tell I really enjoy drinking wine with friends and family.
"To wine-Those plump grapes' Immortal Juice that does this happiness produce."
It's really hard to not be happy with a glass of wine in your hand. Even if you start out sad.
"Fill up boys, and drink a bout; Wine will banish sorrow! Come, drain the goblet out; we'll have more tomorrow."
Alright, the quote is "boys" but let's agree to change it to whoever we are with.
"To eternity, may it last forever."
This toast is for a few glasses in. It will be funny then, trust me.
"Here's to mine and here's to thine! Now's the time to clink it. here's a bottle of fine old wine, and we're all here to drink it."
Yes, yes we are.
"To wine. It improves with age. The older I get, the more I like it."
This is one of the many wine toast quotes that is a classic toast that's good for everyone.
More Quotes
Sarcastic Quotes about Love | Love is sarcastic if it weren't than it would just be sad. Let's have some fun with it and remember why we love each other.
Quotes about Change in Life and Love | The only thing that never changes is change. It always comes and the only choice we have is to live through out.
Pieology Quotes to Ponder | Pieology has some great pizza, but they also have inspiration all over the walls for us to explore.
Ronald Reagan Quotes to Live By from his Presidential Library | Sometimes, we should look to our past to learn what to do and what not to do with our future.
Jillian Michaels: Funny Quotes to Get you Through Tough Times | Every aspect of life can be a bit funny. Even working out, sweating, and trying to get to where you want to be in life.