This site contains affiliate links. Please read our Policies for information.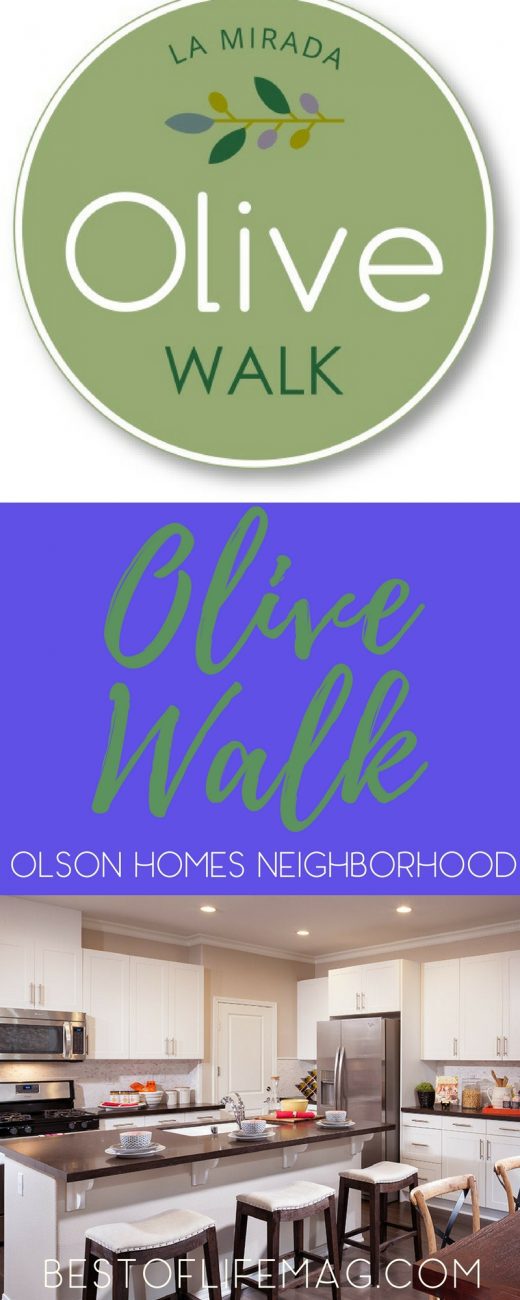 There are many different communities in Orange County and there is a deep history in each and every one. Land in the area was bought by a man named Andrew McNally in 1888. McNally used some of that land to grow his dream ranch with lemons, grapefruits, and olives all being grown. From that growth came the McNally Olive Oil Company which helped the area grow and thrive. Now, that history is represented in the newest neighborhood in La Mirada by Olson Homes, Olive Walk.
Olive Walk by Olson Homes is the gateway to urban style living in La Mirada, a city that CNN Money Magazine named as one of the "Best Places To Live".
Get our popular Best Surf Spots in Orange County ebook for only $5.99! This comprehensive list is perfect for surfers and beach lovers alike.
Olive Walk is the newest neighborhood built by Olson Homes that incorporates the history of the area into every block. Olson Homes has taken modern ways of building and mixed them with styles and notes from the past.The goal is to provide a comfortable, quiet style of living but not missing out on the conveniences of a modern lifestyle.
Olson Homes Olive Walk | Designs and Location
Every home is designed with comfort in mind and takes full advantage of the luxuries that technology provides. Efficiency is key in both life and, in the designs of these homes. Tankless water heaters, water efficient faucets, Energy Star appliances and more all contribute to your efficient life. The rooms are spacious and every room is prewired for cable TV, a CAT5e voice in the master bedroom and kitchen and a universal network in the living room. Outside the homes have a Spanish architecture and 2-panel square front entry doors. Not only are the designs built with homeowners in mind, the area is perfect for growing families. La Mirada is right in the middle, between Downtown LA and Orange County. Big-name attractions are just a short drive away, like Knott's Berry Farm and Splash Aquatics Center. Beyond that, the area is known for great local schools and a convenient urban community.
Olson Homes Olive Walk | Customizations
For homebuyers, there will be customization options and upgrades that can be picked from to make the house feel like home. There will be upgraded appliance, countertop and backsplash packages. Other options include pre-wiring for flat screen TVs, ceiling fans, and more outlets. For the family that loves entertainment, pre-installed home theater and sound systems can be added and security features can be installed. Buyers will even have the opportunity to choose interior paint packages and upgrade the finishes.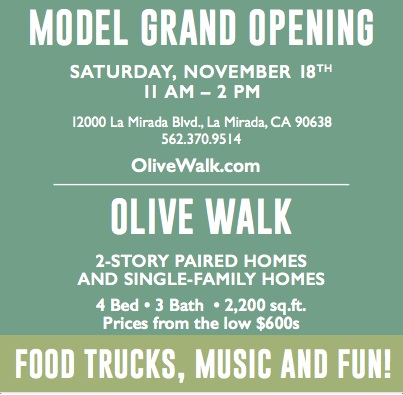 Olson Homes Olive Walk | Premier Event
All of the beautiful styles and options can be seen first-hand in the new community. Interested buyers can attend the premier event on Saturday, November 18th from 11 am to 2 pm. During the event, the model homes will be open to view and if you prequalify you'll get priority home selections and the first look at the homes. The event will allow everyone to get a first look at the homes but to also enjoy music, food trucks, and a balloon artist for children. While most of the festivities will end at 2 pm, the model homes will remain open until 6 pm for viewing.
To find out more about the event and to get pre-qualified, head over to Olson Homes or visit them on Facebook to follow the event.