This site contains affiliate links. Please read our Policies for information.
If you are going Keto or counting carbs, finding great tasting and healthy meals can be time-consuming and difficult. A Keto diet is so low in carbs it is in many ways similar to the recommended diet for a diabetic. While a diabetic may be advised to have anywhere from 20-50 or more carbs per meal, the Keto diet recommends in the first phase only 20 carbs per day! It is important to consult with your doctor to determine just how to incorporate low carb meals for diabetics each day.
There are easy to make low carb meals for diabetics that are perfect for doing meal prep, making it so easy to stick to your keto meal plan!
The type of carbohydrate you use is important as well. If your health care provider recommends a Keto or modified Keto diet to help you lose weight or control your Diabetes you will want to make those carbs count.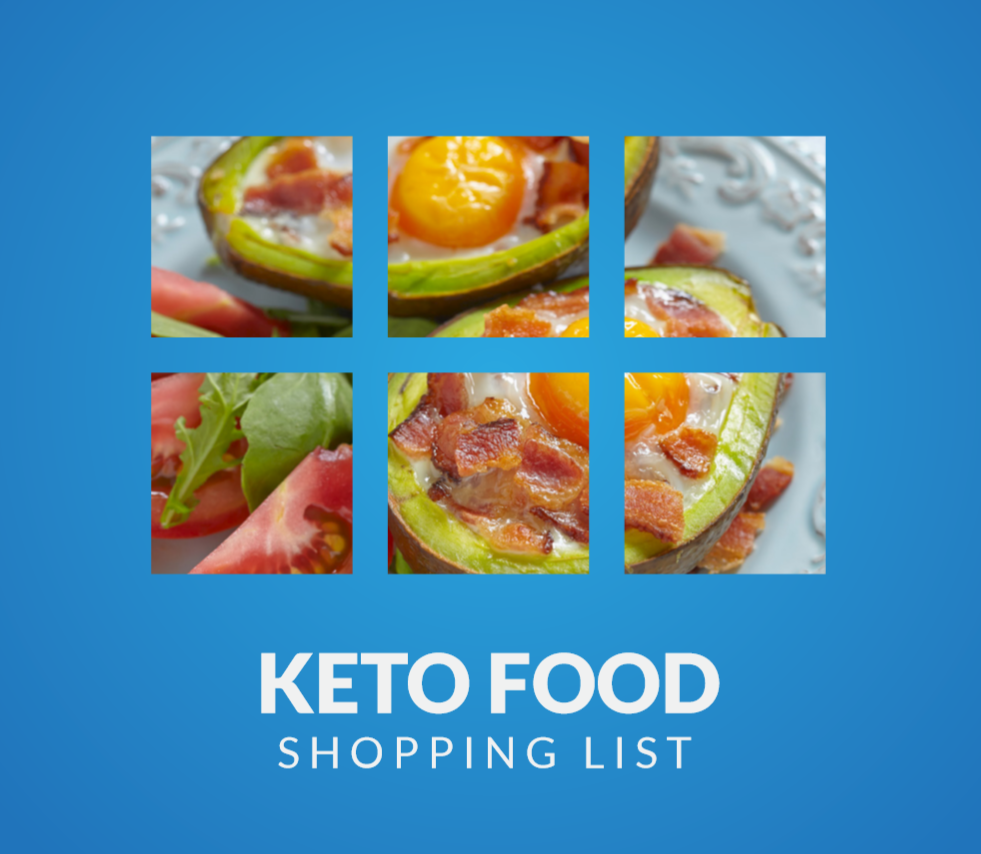 Be sure to get our Keto Food Shopping List ebook to make grocery shopping and meal planning easy peasy!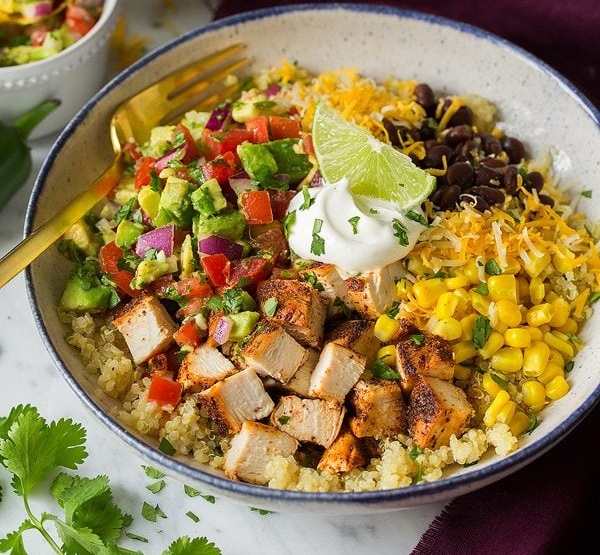 Aim for whole-food carbs like fruits, vegetables, and low-fat dairy. Keto friendly recipes can be a great addition to your diet and can help you manage your carbs even if you do not go truly Keto.
If you need to use a low-carb diet to control your diabetes or to help keep blood sugar levels stable, these low carb meals for diabetics will put a tasty and healthy meal on your table.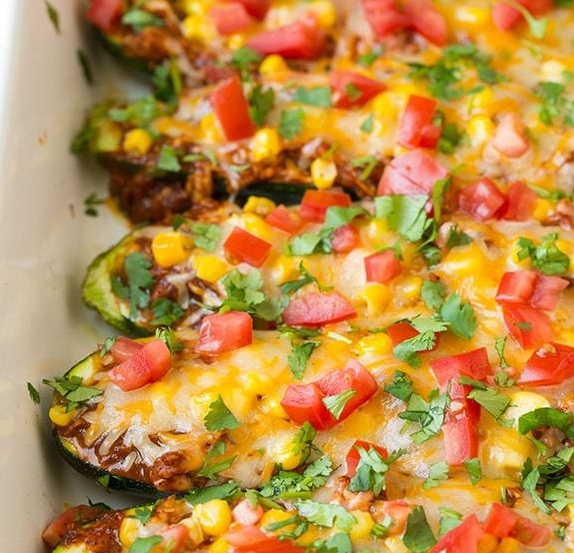 It's not easy living with a health condition that affects your eating habits. Everyone knows to avoid certain things, it's not hard to pass up a plate of dirt.
We all know not to eat dirt. But it could be hard to discern the difference between actual edible food. Eating healthy in general is a safe bet but even that could be dangerous depending on what type of diabetes you have.
Butter Chicken Spaghetti Squash Boats | I Food Real
Grilled Chicken Quinoa Burrito Bowls | Cooking Classy
Low Carb Mexican Cauliflower Rice Skillet | All Day I Dream About Food
15 Minute Cauliflower Fried Rice | Saffron Trail
Diabetic Lasagna Recipe | Living Sweet Moments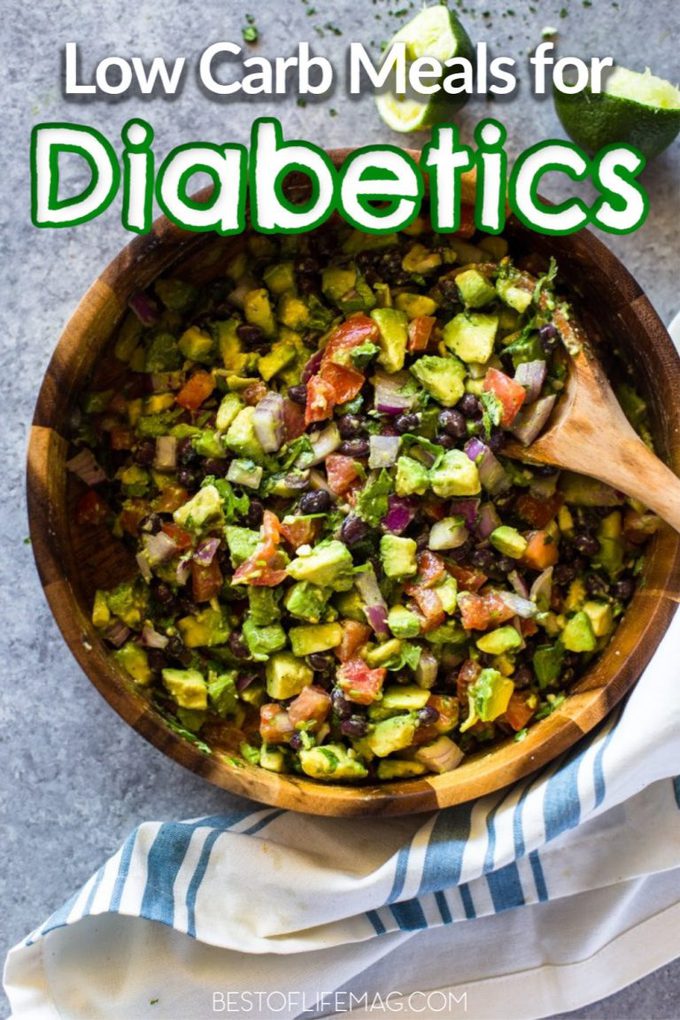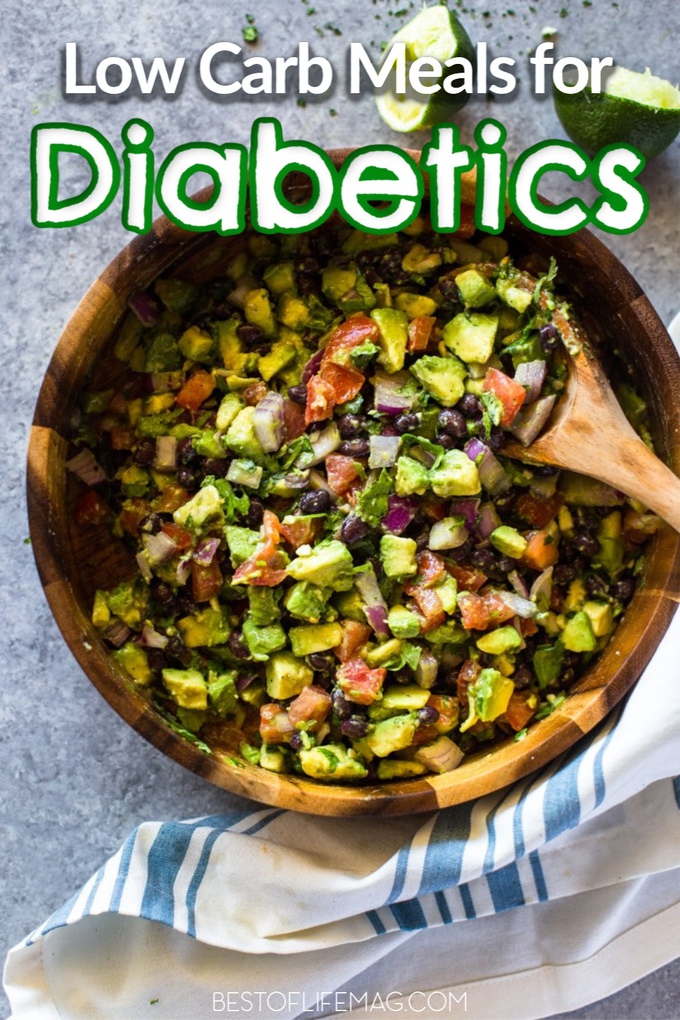 Low Carb Meals
Low carb meals are a bit different than most healthy meals. These meals are ones that focus on the nutritional value of each ingredient rather than the overall nutritional value of the dish.
This is why these recipes are so valuable to those with diabetes. But the difference isn't noticeable. These recipes are recipes everyone can enjoy without noticing those missing carbs.
Skinny Bell Peppers Nachos | Skinny Ms
Italian Chicken and Vegetables Sheet Pan Dinner | Yellow Bliss Road
Avocado and Black Bean Salad | Gimme Delicious
Chicken Cabbage Stir Fry | Skinny Points
Chicken Taco Salad | Diabetes Meal Plans
Meals for Diabetics Prep
People who eat low carb also enjoy meal prep. This makes eating right so much easier. You can make any of these recipes ahead of time, freeze, and heat them up when it's time to eat.
You could even take these meals for diabetics with you on-the-go so that you have healthy lunches at work or healthy meals while on a road trip. Almost every one of these meals can be cooked this way and they will taste just as good heated up as it would freshly cooked.
Slow Cooker Lemon Garlic Chicken – Diabetic Recipe | Just a Pinch
Baked Chicken Fajita Roll-Ups | Eat Yourself Skinny
Easy Chicken Salad with Herbs | Wholesome Yum
Chicken Enchilada Zucchini Boats | Blog Lovin
Low Carb Chili | The Low Carb Diet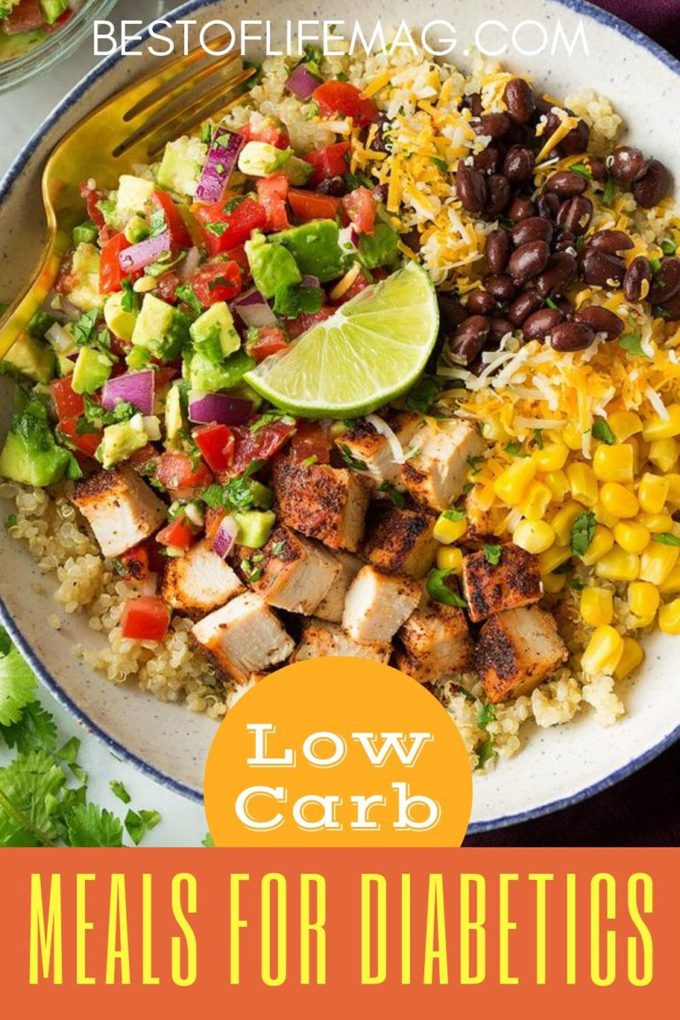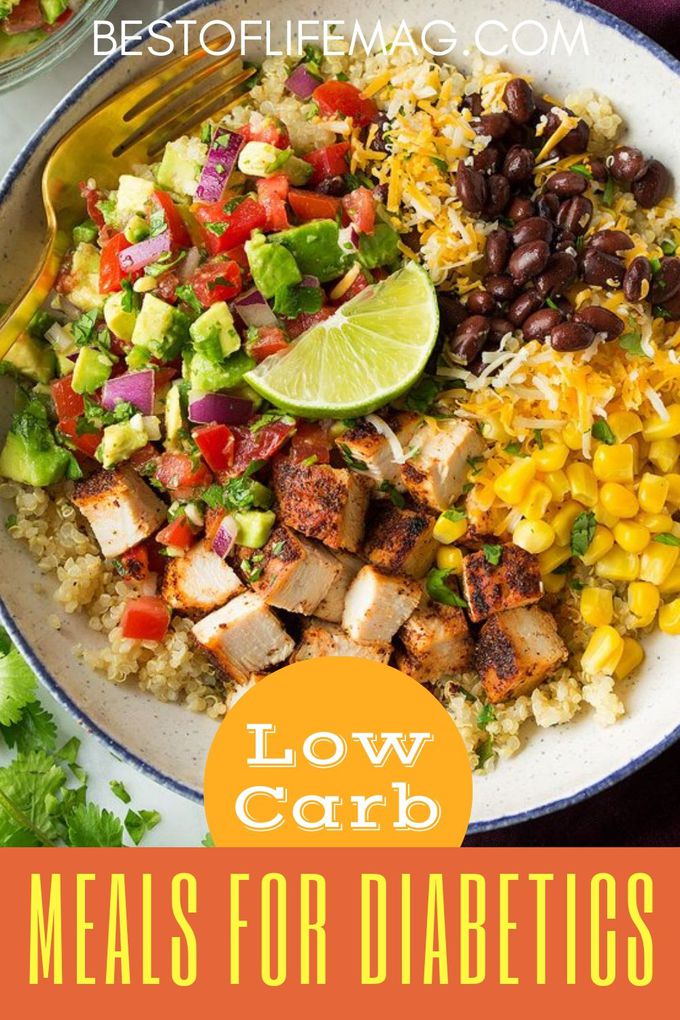 If you are diabetic and also want to lose weight, you might be considering the Keto diet. There are two things to consider; the number of carbs per day and type of carbs. You could also use as many of these meals for diabetics as you'd like.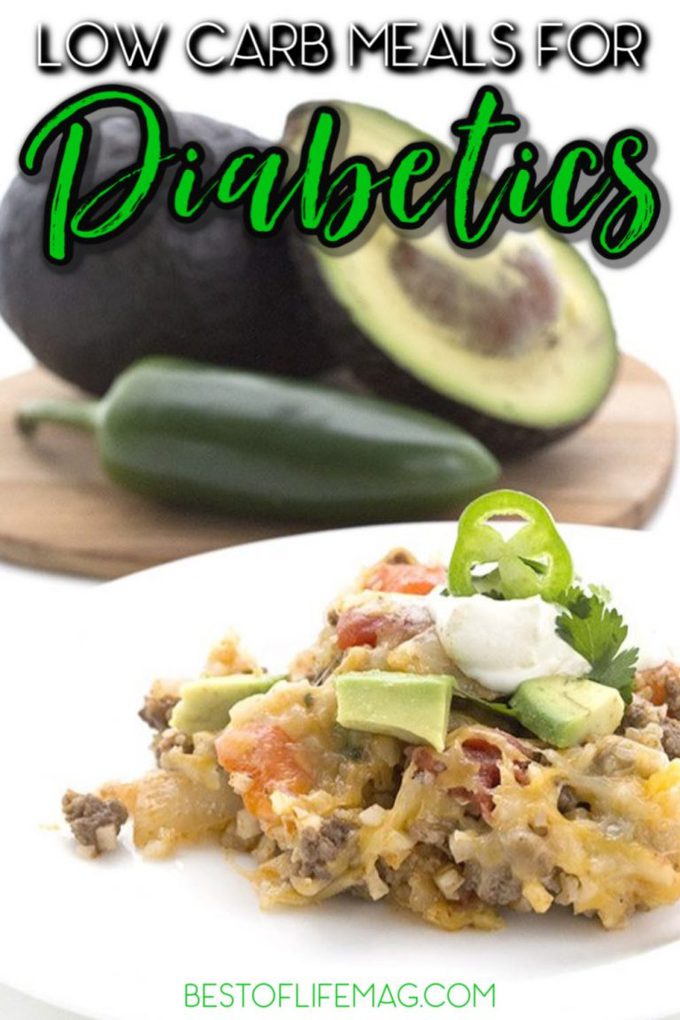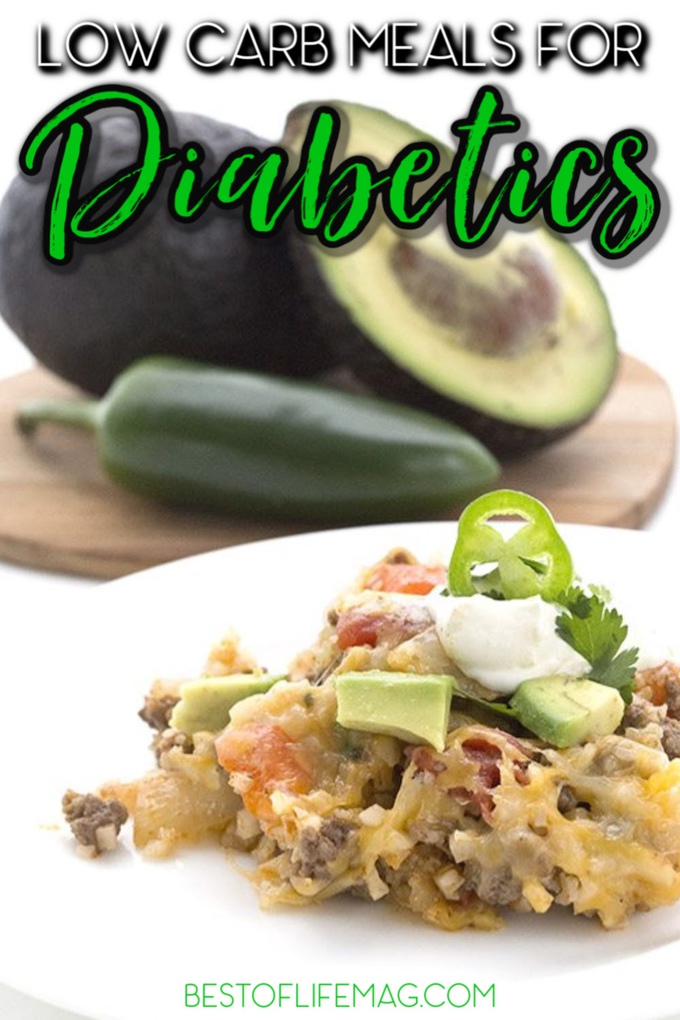 More Low Carb Meals
High Protein Low Carb Recipes for Breakfast
Low Carb Chocolate Dessert Recipes | Keto Chocolate Dessert Recipes
Crockpot Keto Side Dishes | Slow Cooker Low Carb Side Dishes
Easy Crock Pot Chicken Tortilla Soup Recipe | Low Carb Slow Cooker Tortilla Soup
Low Carb Bread Recipes for the Bread Machine
Ketogenic Crockpot Bacon and Chicken Recipe | Low Carb Chicken and Bacon
Instant Pot Keto Chicken Recipes {Low Carb Recipes}
On the Go Keto Snacks | Grab and Go Low Carb Snacks