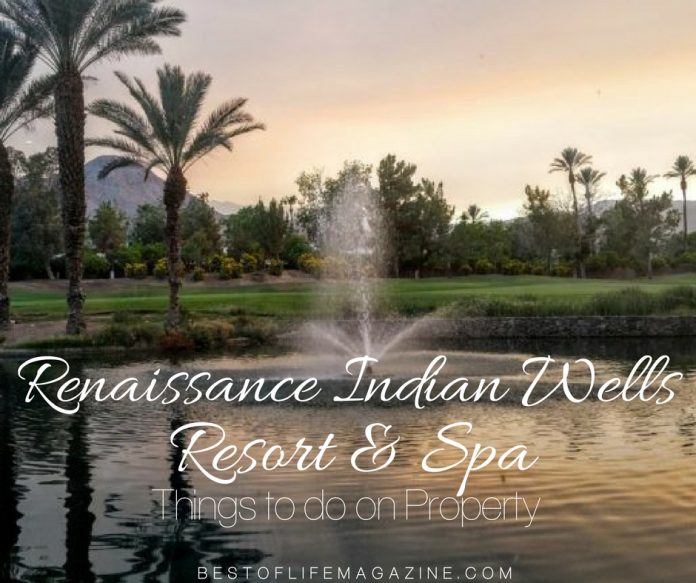 This site contains affiliate links. Please read our Policies for information.
Summer is finally here and after a long school year, we could not wait to kick summer off with a sponsored weekend trip to Palm Springs. Complete relaxation and upscale accommodations were important to us in choosing the resort we would stay at, but we learned there is far more to the Renaissance Indian Wells Resort and Spa.

You know me! I don't travel without my camera, smartphone, comfortable shoes, and the perfect luggage. Other than that all you will need is some sunscreen and probably a good book to enjoy by the pool!
There are so many things to do in Palm Springs at the Renaissance Indian Wells Resort and Spa that make it a great vacation spot.
Play in the Pool
You are in Palm Springs after all.  So kick back and enjoy a day by the pool. There are a few different sections of the pool which allow everyone to spread out and enjoy themselves.  Our kids LOVED that floaties were sold at the pool and as parents, we loved that they could purchase two for around $21.00.  They lounged, we lounged, we played, they played.
The weekend was relaxing and everything we needed to refuel as a family.
Hit Some Balls
The resort itself is situated in the Santa Rosa Mountains in Palm Springs' Coachella Valley with views of the Indian Wells Golf Resort. The views are spectacular so whether you want to play a full round, just hit some balls, or take a lesson, a beautiful course awaits. There is a Concierge in the lobby of the resort that can assist you with reservations.

Rejuvenate at Spa Esmerelda
Spa Esmeralda is located on the main level when you enter the resort and is waiting to pamper guests with customizable treatments and relaxation.  Appointments are recommended so make sure to plan a day or so in advance to make sure you get the time you want.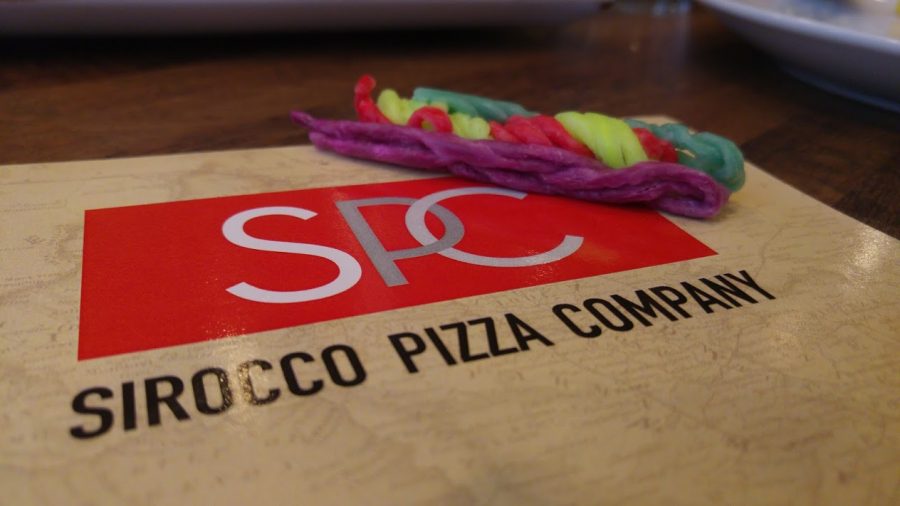 Dine at Sirocco Pizza Company
Sirocco Pizza Company quickly became a favorite for our family.We recommend grabbing a pizza for dinner at SPC and then enjoying a salad or sandwich for lunch!  You can also customize your own meat and cheese plate and the desserts are out of this world. You will feel at home the moment you enter SPC so talk with the staff and let them fully welcome you.
Rent Bikes
The Fitness Center at the Renaissance Indian Wells Resort and Spa has everything you can want for a vacation workout but takes it a step further with special classes and bike rentals as well.  Grab the family and head out to take in the views together as a family.  If you want to experience a longer ride, the resort is located near trails and safe streets that make biking a breeze. 
Relax in a Cabana for the Day
There is a unique sand beach by the pool which offers a really nice feel for families. We rented a cabana in this beach area for Father's Day and the beach provided a lovely ambiance. The filtration system in the pool design makes it so none of the sand gets in the actual pool so it truly is the best of both worlds.  
Sip Starbuck's at Cafe Biscotti
Let's face it – coffee makes life better. Plain and simple.
Cafe Biscotti brews Starbuck's coffee making it easy to maintain your morning routine without leaving the resort.  Plus, they have some amazing scones that the kids will love…and parents will too.
Savor Sushi
Glo Sushi offers to places to enjoy their food; dine at the counter or dine in the lounge located just outside the restaurant. We are huge sushi fans so found this to be a delicious and light option for the warmer weather.  If your kids don't like sushi, no worries!  They can order from the main lounge menu and you can sit together in the lounge area.
Keep Kids Busy
The Renaissance Indian Wells Resort keeps families at the center of everything they do including making sure kids are happy and busy.  There are special kids programs filled with fun crafts, dive-in movies, and camps.  Some allow parents to stay with their child and others are independent so there is something for everyone.
What are you most excited to experience at Renaissance Indian Wells Resort in Palm Springs?