25 LIIFT4 Meal Plan E Recipes | LIIFT4 Meal Planning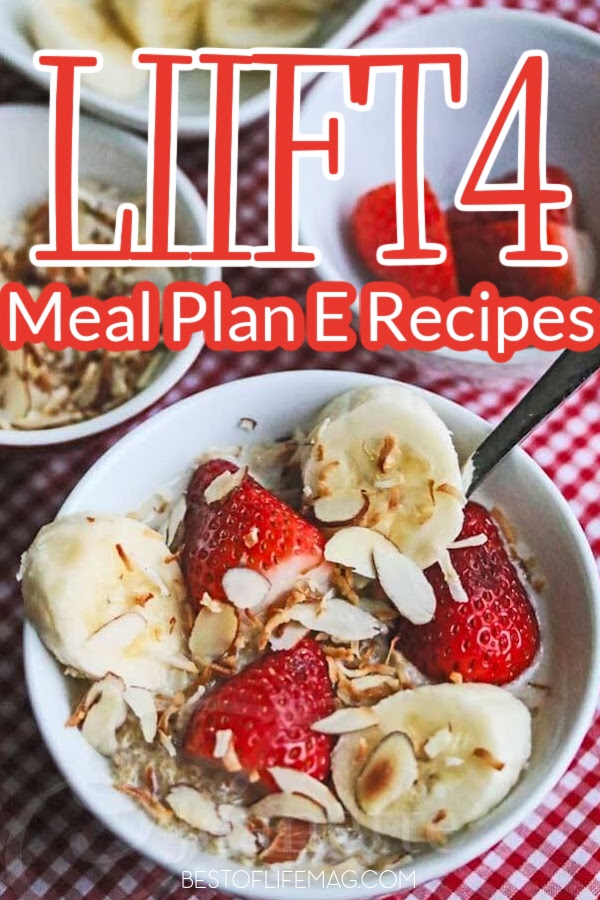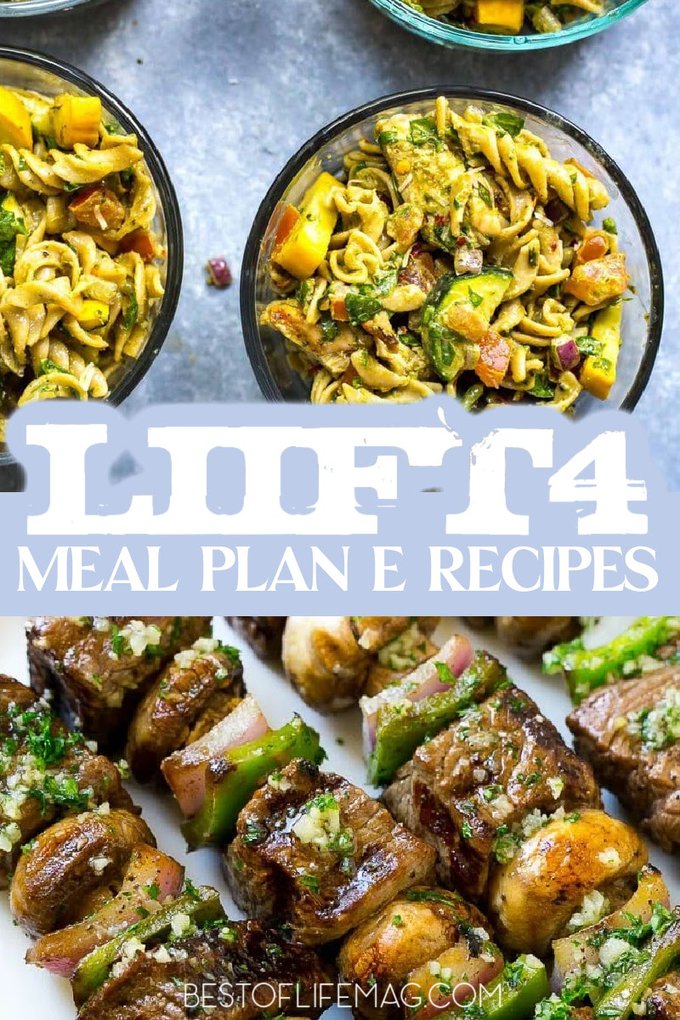 LIIFT4 Meal Plan E allocates 2300 – 2499 calories per day to your meals, 6 days a week, with one cheat day. You will be working out incredibly hard, and this is the way, along with your Shakeology and Beachbody supplements, to fuel your body and recover properly.
With LIIFT4 by Beachbody, you will build lean muscle and burn a ton of calories, all with a 30-minute high-intensity workout four days a week. Since you will work so hard, your body needs the right fuel. LIIFT4 Meal Plan E might be the right combination of protein, fats, and carbs for you.
The LIIFT4 Nutrition Guide will provide you with the information you need to personalize your meal plan and get the right mix of macros. Nutrition plans are flexible. There are no specific meals to eat, and no required meal prep to do, but meal planning is a great way to be successful.
Each plan is approximately based on a 30/30/40 macronutrient plan (protein, fats, carbs). It's as simple and choosing the nutrition plan that is best suited for you and your goals. If you are between 240.5 and 259 pounds you will lose fat, gain lean muscle and get stronger starting with Nutrition Plan E.
If you are using Beachbody food containers, this plan converts easily to containers. LIIFT4 Meal Plan E calls for 7 veggie containers (green), 5 fruits (purple), 6 protein (red), 5 Carbs (yellow), 1 healthy fat (blue), 1 seeds and dressings (orange) and 7 tsp oils and nut butters.
LIIFT4 Meal Plan E Recipes | Breakfast
Crock-Pot Chicken Chili with Roasted Peppers | The Best of Life Magazine
Peach Pie Smoothie Bowl | Recipe Runner
Mexican Breakfast Bowl | Feasting At Home
Hearty Southwestern Frittata With Beef | My Sequined Life
Breakfast Pizza with Sausage and Egg | Tip Buzz
Coconut Milk Quinoa with Fresh Fruit | Jeanette's Healthy Living
Protein Breakfast Muffins | Living Well Mom
Breakfast Meal Prep Bowls | Damn Delicious
LIIFT4 Meal Plan E | Lunch
Starting your day off with a healthy breakfast is pretty easy once you get the schedule down. But lunch is more important because we often aren't at home. We find it easier to run to the nearest burger place and grab something to go. But these LIIFT4 meal plan E recipes can help you be better prepared.
One Pot Shakshuka | Maya Kitchenette
BBQ Chicken and Roasted Sweet Potatoes Bowl | The Creative Bite
Whole Wheat Summer Pasta Pesto Bowls | The Girl On Bloor
Black Bean and Avocado Enchilada Meal Prep | Budget Bytes
Mango Black Bean Quinoa Salad with Lime Dressing | Healthy GF Family
Healthy Tuna Casserole | My Crazy Good Life
Chickpea Pasta Salad | Build Your Bite
Vegan Mediterranean Meal Prep Bowls | Hummusapien
LIIFT4 Meal Plan E | Dinner
The proper ratio of 30/30/40, protein, fat and carbs, in these 25 recipes will keep you fueled up and ready from morning till evening. Each recipe was selected based on the LIIFT4 Nutrition Guide Plan E guidelines and they are all easy to make. They will easily fit into your personalized plan.
Roasted Sausage and Vegetables | Maria's Mixing Bowl
Steak Kabobs with Garlic Butter | Dinner at the Zoo
Carne Guisada | Kawaling Pinoy
Hearty Spaghetti with Lentils Marinara | Cookie and Kate
Mushroom Walnut Bourguignon | Carrots and Flowers
15 Minute Caramelized Black Pepper Chicken | The Iron You
15 Minute Zucchini Pasta with Poached Egg and Cherry Tomatoes | Half Baked Harvest
Basque Style Chicken with Peppers and Olives | Simply Recipes
Whole30 Unstuffed Pepper Bowls | The Clean Eating Couple
More LIIFT4 Meal Plans
25 LIIFT4 Meal Plan A Recipes | You will fall under one of the many different meal plans from LIIFT4, Plan A has a different set of recipes.
LIIFT4 Meal Plan B Recipes | You may even fall under plan B which means you will need specific recipes for that plan.
25 LIIFT4 Meal Plan C Recipes | You will need an entirely different set of recipes for plan c.
25 LIIFT4 Meal Plan D Recipes | Meal Plan Ideas | And don't forget about plan D recipes. LIIFT4 gives you all of the plans you will need to reach your goals.
Beachbody Hybrid Calendars for LIIFT4 Workouts | You can make a hybrid calendar of workouts so that you reach your goals without getting bored from the same workouts every day.