Transform 20 Week 2 Workouts and Tips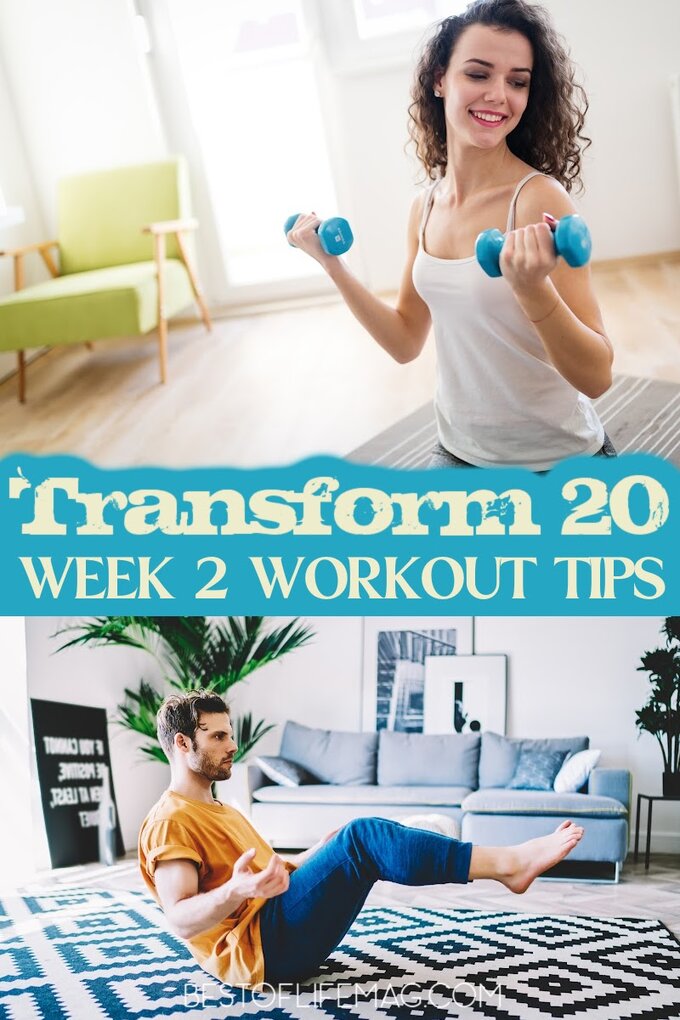 You've made it through the first week of Transform 20. Transform 20 week 2 is the second half of the Commit chapter of your transformation. This week is focused on ramping up your metabolism with some serious cardio. Ready to discover what is in store?
Make your way through Transform 20 week 2 by understanding the plan and utilizing tips from someone who has been there before. Whenever you start a new at-home workout plan, you want to know what is coming your way.
Beachbody is great at finding the best trainers to help curate a massive library of at-home workouts. Transform 20 is one of those workouts. This workout is meant to help you transform not only your body but your mindset as it pertains to living a healthy lifestyle.
During Transform 20 week 2, you will burn more, work more, and see even more results take hold.
Transform 20 Week 2 Workouts and Tips | Burn: Day 1
By now, you are used to the fast-paced warm-up, which is about 2 minutes in length. Then, get ready for 3 blocks of work and your Transformers. The first set includes a knee lunge pull, the step sprint move you will recall from week 1, and a triple hop-hop-hop-jab.
Repeat this on the other side, and you reach the first Transformer, Rapid Taps. Set 2 is over-the-top rising planks, squat lunges, and burpee taps leading up to Twist Oblique Kicks which is Transformer 2. Your final set is adductor squat hops, rising floor springs, and lunges with heel surges.
Again, you will repeat each move for balance on the other side. Your last Transformer is Rocket Man, which launches you into a much-deserved cooldown.
Tip – The Transformers repeat for each day of the week for your entire 6 weeks. Monday's Transformers will always be the same. You may not see improvement in week 2, but don't fret! You will. This is why this first chapter is called Commit.
Transform 20 Week 2 Workouts and Tips | Faster: Day 2
This workout earns its name. It's a fast-paced 20 minutes of high intensity that will build endurance and shred fat. The first set moves you through a runner sprint step, over-the-top taps, and a superkick with arm raise, repeated. The first Transformer is Over the Top X Jacks.
Set 2 is a burpee with heel surge, over-the-top mountain planks with walk-in abs, and low-toe tap. After repeating the set, Transformer 2 is an L Reach. Your last set is ski taps, rising plank jacks, and scissor steps. Simple but so difficult!
You will finish the work with Ski Abs In/Out, the final Transformer. Take a second or two to record your reps and enjoy the cooldown.
Tip – This workout should have you drenched in sweat! Keep a water bottle nearby. The workout is only 20 minutes but you need to keep hydrated to stay cool and energized and to keep you from the post-workout munchies!
Transform 20 Week 2 Workouts and Tips | Stronger: Day 3
You are going to keep all the intensity of your week but pull back a little on the pace of the workout. Day 3 is all about building muscle, which keeps your metabolism burning calories even when you are at rest. Set 1 includes a corner-to-corner step reach, a step lunge with a kick, and an uneven push-up with a spider lunge.
Transformer 1 is the 90-degree Ab Trapper. The second set consists of alternating squat lunges, tricep dips with a leg cross, and lunge taps. You will be breathless when you hit Transformer 2, Hover Ab Kicks. Now you are in the home stretch, and the final set is tough.
Narrow tricep push-ups on the step to a wide pushup, then tight rope pulls with a pulse and a core-burning leg raise to heel step tap up and down. Transformer 3 doesn't let up with a Burpee Hop. You earned your cool down right here.
Tip – This one is tough, but you might be feeling pretty strong. If you are eating well, on a meal plan, or even on your own, you may be already noticing some changes in definition or even just feeling less bloat. Write these things down in your log!
It's important to track your progress, and it really helps you stay with it.
Transform 20 Week 2 Workouts and Tips | Powerful: Day 4
The Powerful warmup is a little longer than the first 3 days of the week. You will need it because the exercises in each set are also a little longer. The first set includes frog jumps with squats, step burpees, step push-offs, push-up punch planks, and alternating steps with arm raises.
Your Transformer for this set is the Parkour. Set 2 consists of bear crawl over the step to jump and back, over-the-top X jumps, planks with side-to-side foot taps, and wide lunges. The second Transformer is the TS Squat Reach.
The last set of moves are a rising jack on and off the step, rising planks with a jack on the step, down-and-back burpees with a heel surge, and tricep dips with alternating arm raises. The final Transformer is the Lunge Punch.
Tip – Pay attention to how you are feeling and what time of day you are getting your workouts in. Do these workouts when you are feeling the most energy. If that's early in the morning, then set your alarm and get up. You will get the most out of work this way.
Transform 20 Week 2 Workouts and Tips | Cut: Day 5
Just like your first week of Cut, this class combines cardio for fat burning and a combination of holds and pulses for sculpting. The first set starts with alternating side taps, then lunges with pulses and leg lifts with arm raises.
This set repeats for balance on the other side, and Transformer 1 is Over the Step Jumps. The second block of work is push-ups with in-and-out abs, seated tricep dips with leg lifts, and hover bicycle abs with an isometric hold. Transformer 2 is the Hand Release Push Up.
Your final set ramps up the pulses with lunges and squats, then a downward dog with a cross under and a step squat to a calf raise. The Triangle is Transformer three, and with that, you are finished.
Tip – You are almost done with the Commit chapter of Transform 20. Congratulate yourself and take advantage of motivational rewards like stickers for your step that you can apply after you complete a chapter. Try to resist rewarding your efforts with a cheat day.
Transform 20 Week 2 Workouts and Tips | Balanced: Day 6
The last workout of the Commit chapter is here. This workout is all about being positive and bringing balance to your workouts and your life. But that doesn't mean it's easy, and you still have the Transformers to get through.
Knee lunges and hip flexor stretches to plank and in-and-out abs start you off, followed by slingshot stretch with squat and another knee lunge with hip flexor. This active recovery set leads you to Transformer one, Climb Push Ups.
Set 2 consists of a hip flexor back hold with a kick, hip ups and down crunches with a clap, and a star reach to plank oblique crunch. Transformer 2 is the Plank to Oblique Trap. The final Commit block of work is a lunge with heel surge and toe tap, quad stretch, plank walk to downward dog, and reaching back to an ankle grab.
Give your all to the last Transformer, Balanced Dips, and you are done!
Tip – Enjoy your rest day before beginning the next chapter, Climb, but be sure to watch the Transform Your Life with Shaun T. portion of this chapter, where you will find motivation, hear success stories, and find out what's in store for you next in your journey.
More from Beachbody
Transform 20 Calendar Schedule and Workout Tips | You will need a tight schedule to stick to for a while to help make this a routine.
Transform 20 Workout FAQ | Beachbody | There is nothing wrong with having questions about a workout program like this one.
Beachbody LIIFT4 FAQ | LIIFT4 Things to Know | LIIFT4 is another program people have found success using.
Beachbody 2B Mindset FAQ | Cost – What to Expect | 2B mindest is a great way to make sure your eating habits stay within a healthy place.
80 Day Obsession Workout by Beachbody | Tips, and Things to Know | Get ready to be obsessed with your health and fitness.