This site contains affiliate links. Please read our Policies for information.
Yesterday, I woke up and I realized that I am now a mom of a teenager.
The good news is that it's taken about thirteen years to get here, but it's now official. And like most parenting lessons, this one has been a gradual unfolding. When your children are little, they seem to grow at the speed of light. Lots of physical and emotional steps quickly mastered. But as they get older, the steps get bigger and the climb a lot more difficult. These three tips will help you build a relationship with your teenager and support them as they need.
Do Research. One of the best ways to build a solid foundation with your teen is to learn as much as you can about their physical, emotional and social development. I know for me, doing research on teen development has helped me a lot. I've also gained invaluable insight from friends who already have teenagers in their home. Understanding and realizing that during adolescence your son or daughter may be going through certain emotional and physical changes can help you feel better prepared for when those changes actually happen. For example, peer relationships are critical during this time. As a parent, when my son started middle school, I found resources that would support healthy emotional development and positive peer relationships. One of those resources is an organization called Lion's Heart (www.Lionsheartservice.org). It's a nonprofit organization that encourages and supports teen volunteer efforts to serve in their local community. There are also additional resources through community centers, sports clubs, church groups, etc. And although having a teen can offer some challenges, doing research can be a helpful way to prepare for the changes that are happening within your own family.
Stay Objective. Another tip towards building a solid foundation with your teen is to learn how to respond objectively. This is not an easy task, but one worth exploring. One way to learn objectivity is to begin within your own heart before speaking with your teenager. The next step, is to try this technique with your teenager. The next time you are speaking with your teen and there is a strong emotional reaction, take a moment before you respond. Instead of reacting, take a calm, deep breath (or two) and ask yourself, "How can I better help them get centered or problem solve versus reacting?" If at any point, your conversation gets heated, it's also okay to take a break and come back to the discussion when everyone feels less reactive or stressed. When there is objectivity, answers magically appear. It's important to remember that calming your own body first and then asking questions will help your teen learn to problem solve and develop self control. All which have positive effects for future conversations and problem solving.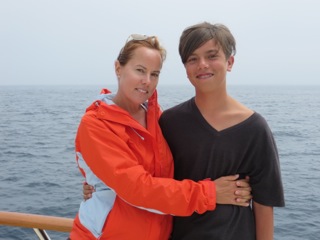 Listen and Encourage Them. One last step toward building a solid foundation with your teen is to listen and encourage them on a regular basis. Adolescence is a time for huge transition. There are a lot of complex changes happening within them physically, emotionally and socially. Taking time to listen and encourage them on a regular basis will set the stage for a close and encouraging relationship. This doesn't have to be a big production, but can look like when they want to talk, be there to listen and not judge them. If they want to pursue something, try your best to support them and their interest (even if it seems different from the past). One of my dear friends has two teenage daughters and she has said that some of her best conversations have happened in the car driving to and from school. It's a special time without interruption to listen and encourage them. She also said that although there are times when she's shocked by what her teenage daughters tell her, she's at least glad they are talking. So whatever you can do to keep the lines of communication open, I encourage you to do that. If it's driving them to the mall, do it. If it's shooting hoops, do it. Just keeping the communication open will be a great strategy as you walk through the world of being a teen together.
Sandee Bandettini, MS, MFT #38003 is a licensed Marriage and Family Therapist that offers resources, support and classes to nonprofits and schools on mindful ways to live healthy and happy lives. She also volunteers her time to various nonprofits whose focus and attention are on the health and wellbeing of children. For additional information, please see her website: www.SandeeBandettini.vpweb.com.