15 Canning Recipes with Meat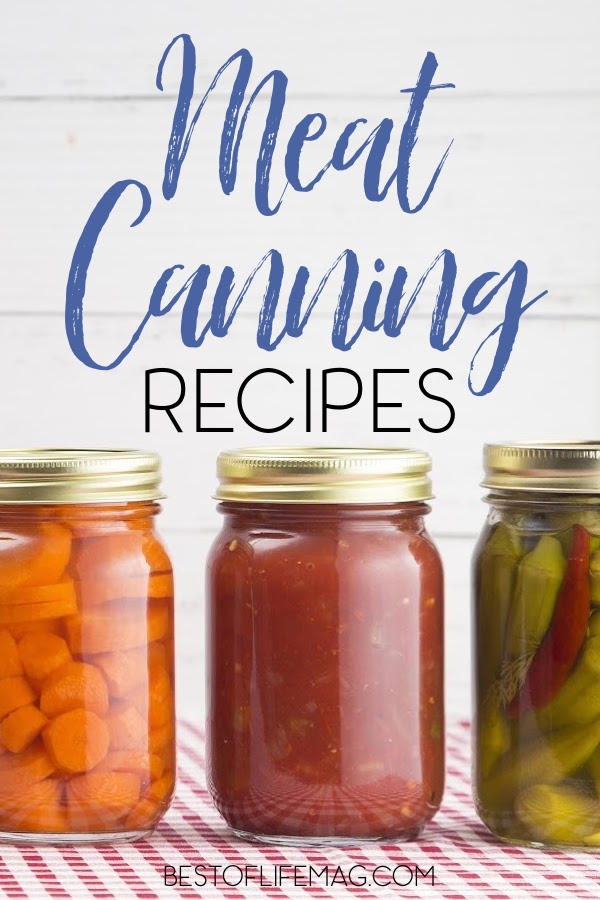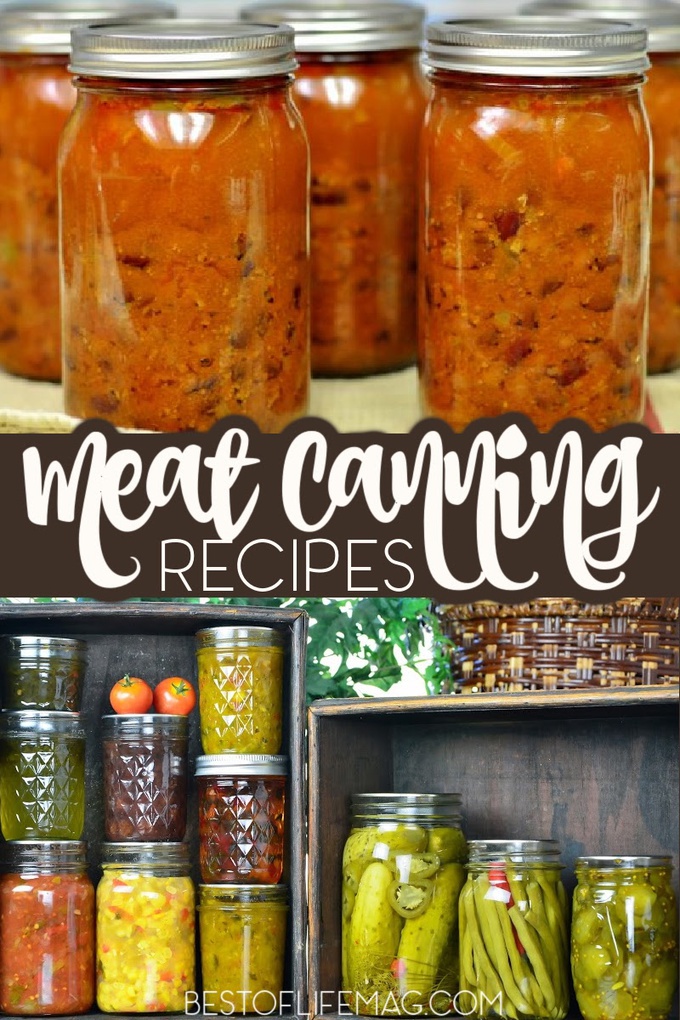 Canning meat is a great way to preserve meat for self-sufficiency. Whether you are a beginner or an experienced canner, there is something here for you. Canning meat might seem like a daunting task, especially for beginners, but this ultimate list of canning recipes with meat will make the process much simpler than you would expect.
Canning recipes with meat offer a bit of variety to cooking and meal planning and help you store food for a rainy day. In fact, canning meat is super convenient and much easier than you would think. Meat must be processed in a pressure canner.
You can, can shredded pork, turkey, chicken, ground beef, fish, and much more. The result will be the most tender meat you will ever eat. Using these recipes, you will be able to can meat with the right precautions and build your pantry.
When it is chilly out one of my favorite things to eat is a big bowl of warm soup. Using these canning recipes will make preparing soups and stews that much easier. From chicken noodle soup to chili, you will be able to can some of your favorite comfort meals.
You don't have to be a pro to get started canning at home, either. Anyone can pick up canning if they want, it is just a matter of finding the right recipes and having the right supplies. You can become a pro after you try a few times to get it done correctly. Build your food storage pantry with these 15 canning recipes with meat and be prepared for anything.
Canning Stew Meat | A Traditional Life
Canning Homemade Chili | Creative Homemaking
How to Can Cabbage Beef Soup | Hidden Springs Homestead
Bone Broth Chicken Soup | A Modern Homestead
Split Pea and Ham Soup (and how to can it) | The Grateful Girl Cooks
The Basics
There are also some basic meat canning recipes that are tasty and easy. If you ever find yourself with an abundance of meat, try some of these meat canning recipes to create shelf-stable food for emergencies or to preserve it for a later date. You can even use canning to help with meal prep on a whole new level.
Meal prep is the act of making large recipes, dividing them up into containers and then refrigerating them for later. The purpose of meal prep is to make it easier to eat healthy when you don't have time to make a full, healthy meal. It is easy to see how canning can help with that.
Canning Turkey | Healthy Canning
Canning Salmon | Country Living in a Cariboo Valley
How to Pressure Can Chicken at Home Easily and Safely | Back to Our Roots
Canning Sausage | Healthy Canning
Canning Venison | Morning Chores
Fast Food
Get dinner on the table fast with these great canning recipes. There are kid-friendly recipes that the whole family will love. From spaghetti to sloppy joe's, you'll find yourself with plenty of options when it comes to dinner time. The point is, you're able to use previously canned ingredients to speed up your home cooking time.
Of course, these recipes won't be as fast as fast-food restaurants. But you can rest assured that the recipes are healthier options and having full control over what you use is important. Knowing what it is you're eating is winning the battle against unhealthy living. Especially as it pertains to canning recipes with meat.
Pressure Canning the Best Spaghetti Meat Sauce | Greneaux Gardens
How to Can Chili | The Grateful Girl Cooks
How to Can Sloppy Joe Filling | Homespun Seasonal Living
Canning Ground Beef | Healthy Canning
Canning Shredded Chicken | Little Blog on the Homestead
More Recipes
Kid Friendly Crockpot Freezer Meals | Crockpots are fantastic at making recipes in batches so oyu can can them for later.
Crockpot Lasagna Recipes with Spinach | But some recipes are better eaten fresh. That's not to say you couldn't use a pasta sauce recipe you made and canned previously.
Beer Can Chicken Recipe with Gas, Grill, and Charcoal Directions | You can even use the can when you're done to make some amazing chicken on the grill.
Crockpot Taco Tuesday Recipes filled with Flavor | Ultimately, canning is a great way to meal prep for other recipes or to make your own canned ingredients fresh at home.
Chicken and Veggies Sheet Pan Dinner | Dairy Free | But not every recipe is about canning, and it is important to get a little variety in your life.