This site contains affiliate links. Please read our Policies for information.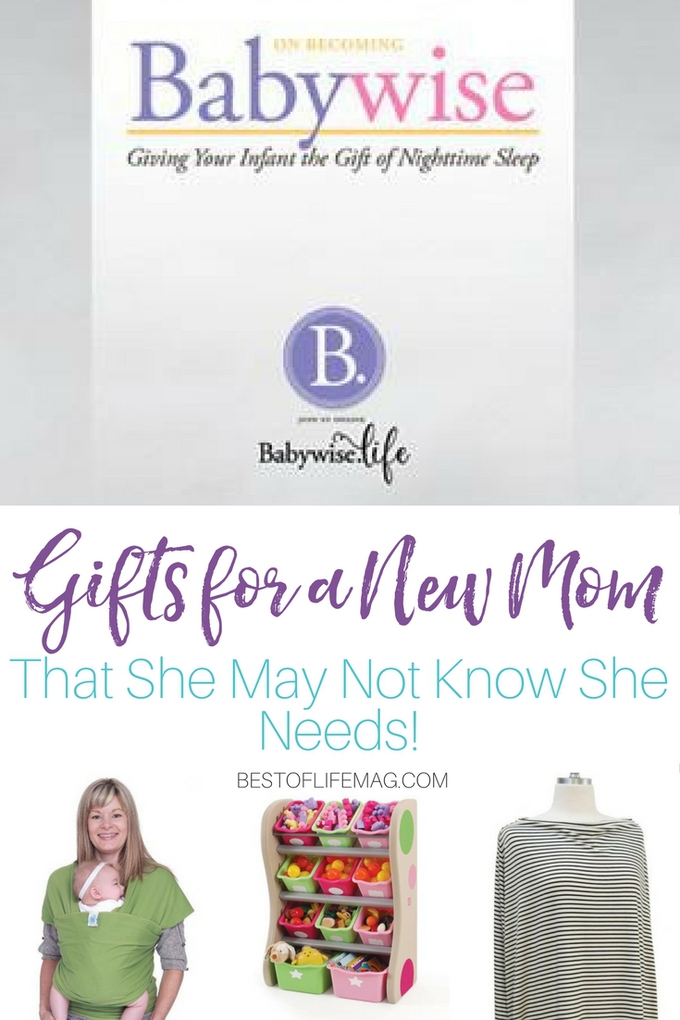 It can be tough to find the perfect gifts for a new mom. You don't want to seem too pushy or overly involved but at the same time you want to give her something that will be useful and of course, adorable! The hunt is over: these are amazing gifts for a new mom that she may not know she needs. All of these items are cute, useful, and wonderful for gifting.

Finding gifts for a new mom can be hard! This list is sure to have something for everyone to enjoy. Even things that she might not know she needs!
As a mother, I can attest to the usefulness of the mountains of diapers, clothing, wipes, and other baby goodies that you end up with during those last few months of pregnancy.
It makes nesting so much easier and having a stockpile of the necessities can be a true blessing once the baby arrives. This is another great post for essential baby items, check it out! You can never have too many perfect gifts for a new mom.
These are all items that I have discovered along the way that I would love to give and get as gifts for new moms. Each one has it's own useful spot in the day to day routine with a baby and if nothing else, I LOVE feeling prepared…overly prepared is even better with the first child!
Gifts For A New Mom That She May Not Know She Needs:

This book is excellent for new moms…and dads too! It's a great gift idea for a new mom because it contains some seriously useful info.
The great thing about gifting books is that they pass on knowledge that you may already have but they do it in a thoughtful and helpful way. Sometimes the last thing a pregnant woman wants to hear is one more person telling her how to do EVERYTHING.
With these books you can gift her knowledge that she can work through at her own pace.

Gifts for a new mom should always include adorable, comfortable, matching PJ sets! These come with robe, nursing tank, Shorts (or pants) and an adorable matching newborn gown.
They're totally comfy and every new mom will love being able to match her little one…even if it's only until the first spit up!

Nursing pillows are amazing. They are not only useful but they're also ridiculously comfortable for new moms who are trying to nurse.
It can be a stressful, tiring, and totally absurd emotional time in the grand scheme of child rearing and anything to make that process more simple and comfortable is a MUST.

You can tell by the name that this product has a lot of great uses. I love items like this as gifts for a new mom because she will soon learn the importance of making sure everything and everyone in her life is multitasking.
Stylish products that are also useful are wonderful. You never know when you are going to need a product like this and because it comes in so many beautiful colors and prints you can always be sure it will match your favorite outfits and baby gear.

There have been some major updates to the gear that is available for new moms to help baby proof their homes and nursery. The best thing about these safety items is that now, most of them come in more user-friendly, non-invasive looking formats.
Baby-proofing used to mean ridiculous bright white strips of foam, clunky gear that even adults couldn't get past, and more. Nowadays it's so easy to baby proof and all without totally destroying the aesthetics of your home.
You can keep your furniture and decor looking beautiful AND know that your baby is safe from any injuries at home.

If you are looking to give some amazing gifts for a new mom, check out some storage options. I don't think I ever really realized how much STUFF goes along with kids until I was trying to find somewhere to put everything.
There are some seriously adorable storage furniture, shelves, and more available that will help keep everything organized.

If the mama you are buying for has decided to go with traditional diapering methods, you can't go wrong with gifting a diaper pail.
Those diapers really do stack up and unless you want to take the garbage out three times a day you need something to help contain the smell! A quality diaper pail will be a new mom's best friend for years to come.

A baby wrap is an excellent addition to the running list of great gifts for a new mom. Wearing your baby lets you spend quality time close to one another while also freeing up mom's hands for other tasks. As baby grows there are also lots of incredible ways to use a baby wrap to continue carrying your kids more comfortably!

This is another gift that will be useful for years to come. By the time bathtime rolls around mom or dad is going to be exhausted. If you have hard floors like we do, this can totally save your knees from aching while you wash baby and let them enjoy some tub time!
Save