This site contains affiliate links. Please read our Policies for information.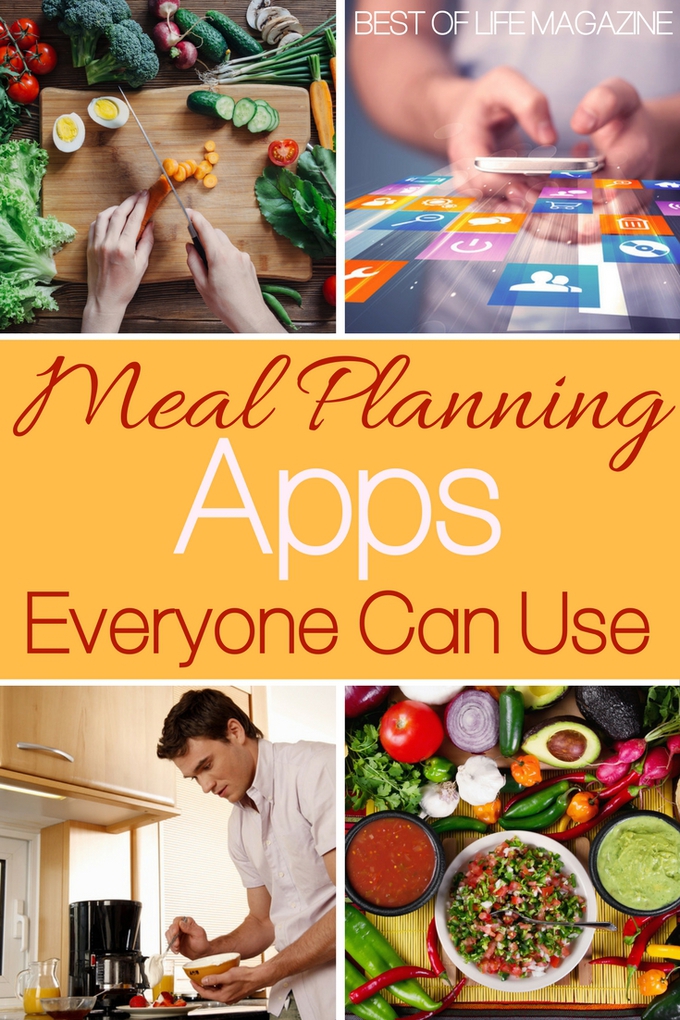 Moms everywhere answer many different questions but one of the hardest questions is, "What's for dinner?" Meal planning for an entire family can get complicated. Some may want tacos on Tuesday but others would rather have steak. Maybe you're a mom who likes to try something new every week and not stick to the same old meatloaf recipe handed down through the generations. Meal planning apps can help you get the meals you want on the table and keep smiles on the faces of the whole family.

The great thing about meal planning apps is that you can access them from a variety of sources. You can use your smartphone, a tablet, your computer, and sometimes even your smartwatch!
This means that you will always have access to your recipes, tips, shopping lists, and more. Heck you can even sync some of these with a smart fridge!
Get a little help cooking every day from meal planning apps that answer the age old question, "What's for dinner?" with ease.
Being a parent in the digital age has its complications. We need to monitor what our kids are doing on social media or what websites they visit. But we can also get a little help from technology to get through our everyday tasks.
One of the most important tasks we have is creating a healthy diet for our family. Meal planning apps are a perfect example of how technology helps us through life.
Coming up with new recipes doesn't get any easier than Mealime. Mealime is a meal planning app that does the meal planning for you every single night. When you download the app you create a profile.
Your profile will consist of eating habits, favorite meals, food preferences and allergies and more. One your profile is set up, Mealime will come up with different healthy recipes every day. When you're ready to cook, the app has a "cooking mode" that keeps your screen turned on with the instructions clearly visible.
Organization is key to a healthy week of meal planning and Spoonacular is here to help. Spoonacular has a database recipes that you can choose to make whenever you'd like. The best aspect of Spoonacular is that it syncs with your Google Calendar so you can plan a week, two weeks, a month or as far out as you'd like.
Simply schedule a meal and it goes to your calendar and you can reorganize whenever you'd like. When it's time to make a recipe, you can check the shopping list that comes with every recipe and get started.

Every family wants to eat healthy but keeping track of it all can be very difficult. Nutrino is an app that lets you log and track your meals along with the nutritional info that comes with every meal.
First, Nutrino gets to know you through a profile that lets you set your tastes, allergies, lifestyle and more. When you're ready to go, Nutrino will make suggestions but also let you rummage through list after list of recipes.
Most meal planning apps will have a database of their own recipes. Paprika is different, Paprika is a meal planning app that pulls recipes from the internet. What this function means for you is you can find recipes from the Best of Life Magazine and add them into the app.
Once there, the app will create a shopping list separated into sections like dairy, canned goods and more. Another cool feature is cloud sync. Using the built-in cloud sync you can access your recipes on all of your devices.
Mealboard
|
iOS
Unfortunately, Mealboard is only available on iOS but it is a must-have for all Apple users. Not only can you sort through thousands of recipes but you can keep track of the ingredients in your kitchen.
You will need to input your kitchen's stock but if a recipe calls for 4 onions, chopped, and you have two already the app will add two onions to your shopping list. Anyone who shops at the grocery store will know how useful this feature is to real life.
You can also add the price of ingredients from your local store and the app will deduce how much each meal costs. Mealboard is a meal planners dream app.