Green Margaritas for St Patricks Day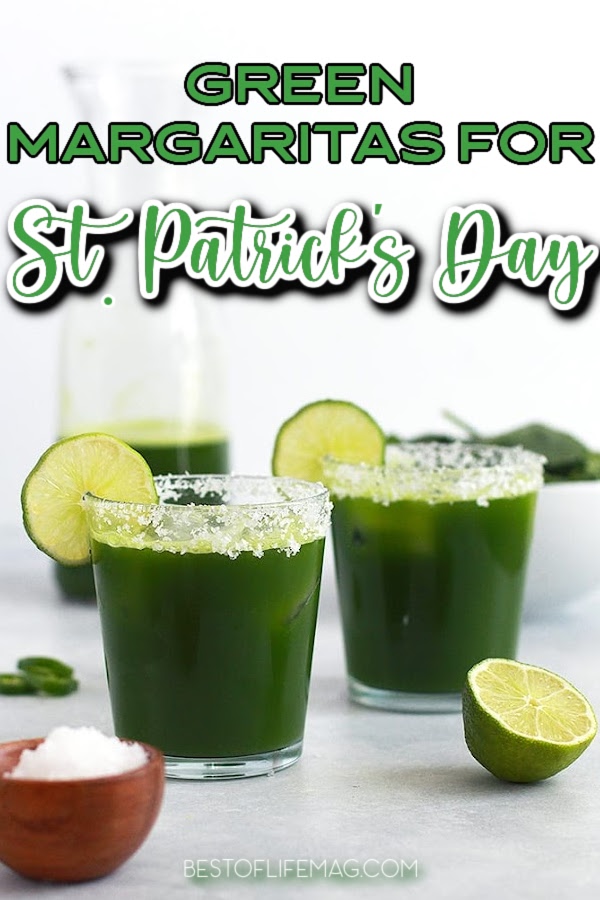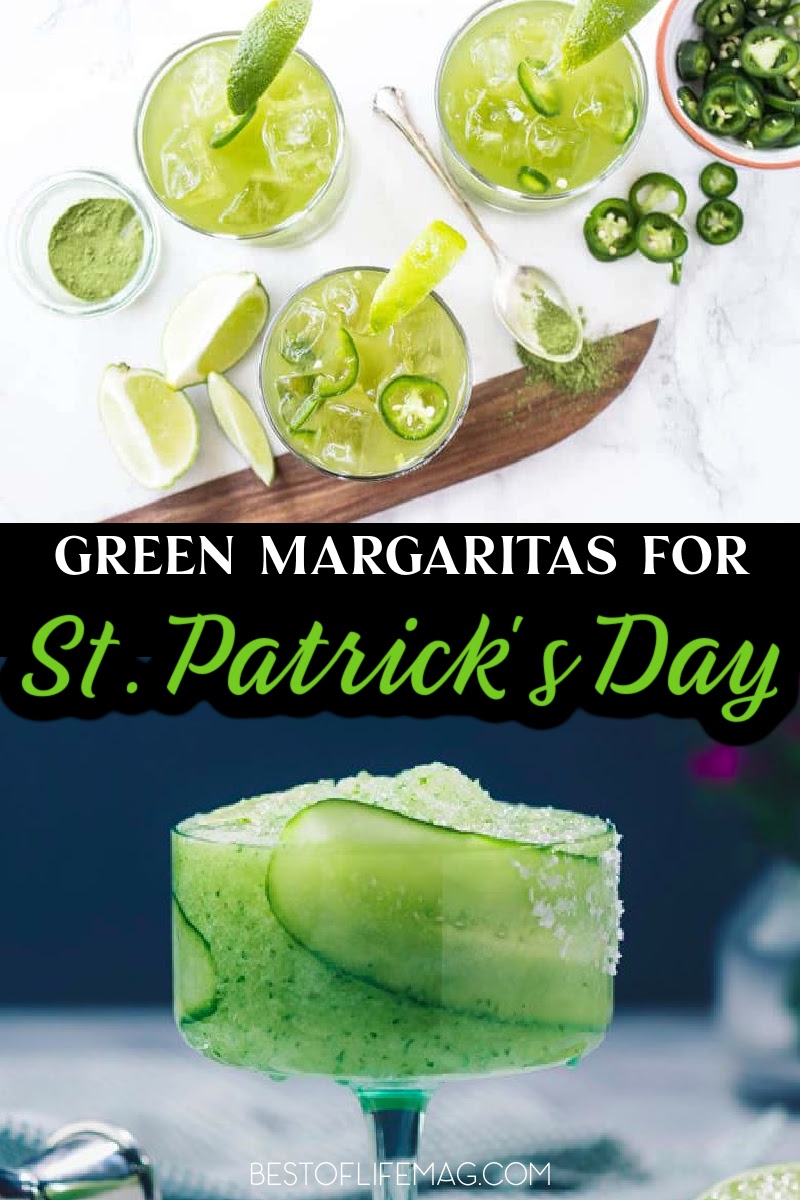 People of Irish descent enjoy the day of the "wearing of the green ". In fact, not only the Irish but parade and party-goers all over will wear green to celebrate. It has even been said that wearing green makes you invisible to pesky leprechauns who will sneak up and pinch you. So why not enjoy green margaritas for St Patricks Day, too?
Green margaritas for St Patricks Day can help you get into the Irish spirit with some spirits of your own and some of the easiest cocktails to make. Why stop at wearing green? Why not toast to this uniquely Irish/American celebration by drinking green as well?
We aren't talking green beer here either, but something a little extra. Your green drinking this St. Patrick's day could be a green margarita. The origins of St. Patrick's Day and all things green didn't begin in the US, but we can take credit for the St. Patrick's Day party as we know it.
Now it's time to ditch the green food coloring and go with a drink that can be made naturally green and uniquely ours. A standard margarita already has lime as its green ingredient, but why stop there.
These 20 green margaritas for St Patricks Day take advantage of not only lime but natural green ingredients like avocado, cucumber, and even green juice. Some of these margaritas are even healthy! Start your celebration with a green juice margarita made, even made as a mocktail, and then kick it into gear by happy hour with something like the green jalapeno margarita.
Green doesn't have to be boring.
Best Green Margarita Recipe | Living Locurto
Green Goddess Margaritas | How Sweet Eats
Low Carb Easy Green Margaritas | Low Carb-ology
Irish Margarita | Restless Chipotle
Spicy Matcha Margaritas | Wicked Spatula
Green Margaritas for St Patricks Day
Margaritas make the perfect cocktail for St. Patrick's Day. No, there aren't many margarita recipes that include Guinness but that doesn't mean they don't work. Margaritas are so easily customized and that means you can easily make them green.
In fact, margaritas might be the easiest cocktail to turn green without sacrificing flavor. You won't even need to alter the recipes much.
Cucumber Elderflower Margarita | The Feed Feed
Avocado Margaritas | Gimme Some Oven
Green Juice Margarita | Cooking With Janica
Lime Margarita Jello Shots | Crafty Morning
Green Margarita | Liquor
Flavors
Margaritas have so many different flavors. You could make a green apple margarita or an avocado margarita. Either way, the cocktail will come out green naturally. The best part is, margaritas are easy to make so you can make large batches for parties or a single glass.
Skinny Cucumber Margarita | The Awesome Green
Glowing Green Margarita Mocktail | Fit Living Eats
Sour Green Apple Margarita | Heather Christo
Midori Margarita | Food
Lime Sherbet Margarita | Just A Pinch
St. Patrick's Day
Green margaritas for St Patricks Day are just the beginning. St. Patrick's Day is filled with different activities. Many towns and cities celebrate the holiday with Irish festivals. You most likely won't be bringing your margaritas with you to any of these events.
But they are a great way to bring the Irish fun home with you. Be sure to enjoy responsibly. Happy St. Patrick's Day!
Green Tea Margaritas | Carollyn Williams
Pepper Jelly Margarita | Spicy Southern Kitchen
Honeydew Lime Margaritas | Girl Versus Dough
Cabo Green Margarita | The Daily Meal
Green Jalapeno Margaritas | Justine Celina
More Margaritas
Margarita Jello Shots | Easy Margarita Jello Shot Ideas | Margaritas come in many sizes and flavors, but what about texture?
Blackberry Lemonade Margaritas | Tequila Blackberry Cocktail | The best part about margaritas is the wide assortment of fruity flavors you can enjoy.
Minute Maid Limeade Margarita Recipes | You can even add in some nostalgic flavors like Minute Maid limeaide.
Margarita Recipes Without Triple Sec | Triple Sec is a common ingredient in margaritas but that doesn't mean they have to have it.
Margarita Recipes with Grand Marnier | In fact, you can change the ingredients in many ways, like using Gran Marnier instead.