Healthy Copycat Chopped Salad Recipes | Perfect for Intermittent Fasting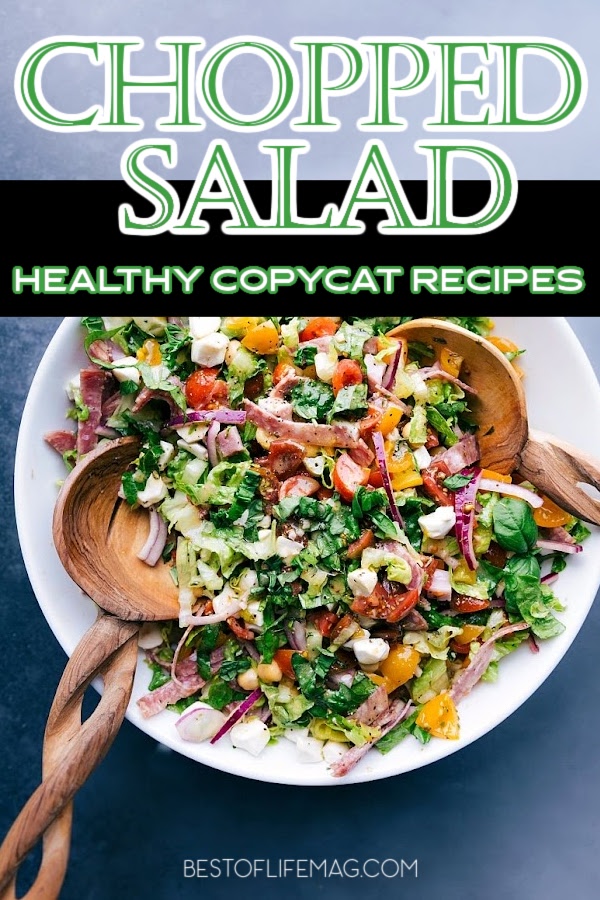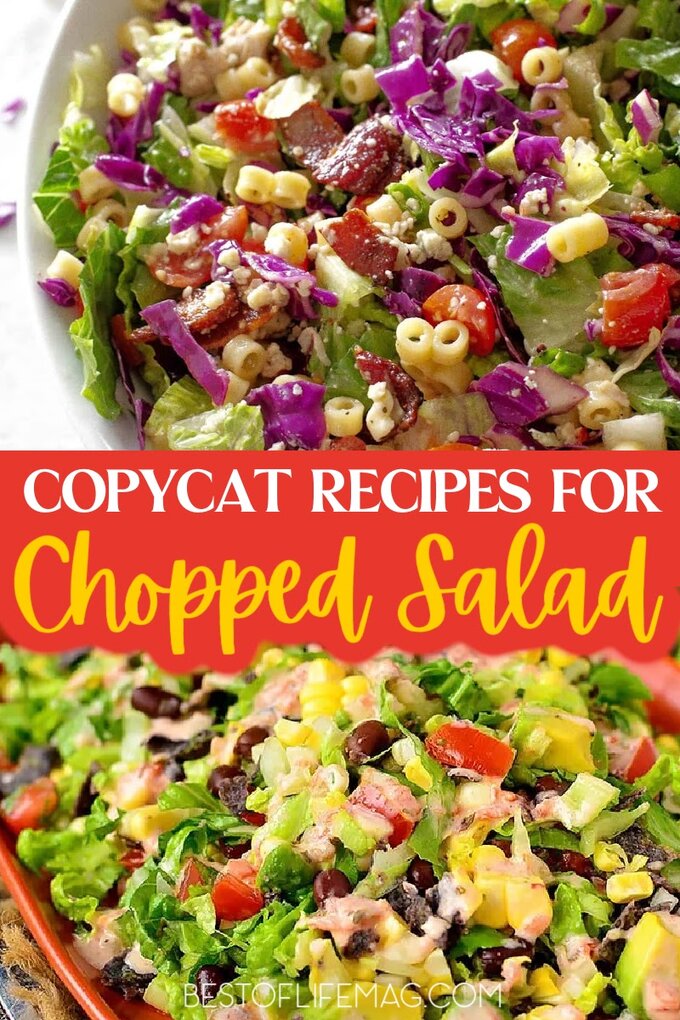 You don't eat for 16 hours out of the day and only eat for a set 8 hours per day. There are many different recipes you can enjoy during those 8 hours, but the best ones are the healthier ones. Healthy copycat chopped salad recipes would be a good place to start.
Eating healthy is very important, especially if you're intermittent fasting. The goal of intermittent fasting is to limit the hours in a day in which you can eat. Those hours are entirely up to you though the 16/8 intermittent fasting plan is the most popular.
Build your collection of healthy recipes for intermittent fasting and start with delicious and healthy chopped salad recipes. These are perfect for a 16/8 IF plan! Intermittent fasting has no rules as far as what you can eat. That means many people eat whatever they want, just during those eating hours.
However, everyone should be doing everything they possibly can to make sure intermittent fasting works properly. As a result, you will want to eat as healthily as possible. You could make a list of recipes that you use as go-to recipes during intermittent fasting. In fact, planning is a big part of weight loss.
The question is, which recipes should you add to your tool belt? There is a laundry list of recipes you can use, but start easy with some of the best chopped salad recipes around. These recipes are healthy copycat chopped salad recipes which means they come from a popular restaurant.
That's right; you can surely eat from a restaurant as long as you know the ingredients are fresh and natural. That is why making these recipes at home yourself is always a safer bet. You have full control of the ingredients, and that means you have full control of your diet.
Healthy Copycat Chopped Salad Recipes
Portillo's Chopped Salad | The Girl Who Ate Everything
Maggiano's Chopped Salad | The Novice Chef
Ruth's Chris Steakhouse Salad | Italian Bella Vita
California Pizza Kitchen Salad | Chelsea's Messy Apron
Outback Steakhouse Salad | Carrie's Experimental Kitchen
Restaurant Chopped Salad Copycat Recipes
We all have our favorite restaurants and a favorite dish at that restaurant. Luckily, there are people out there who are much better at breaking down a recipe than others. Those people have found the best salad recipes from those restaurants and shared them with the world.
Now, you can enjoy these healthy copycat chopped salad recipes all you'd like. Believe it or not, these recipes do taste a lot like the ones you'd get delivered to your table.
Cheesecake Factory Chopped Salad | Food
Sammy's Woodfired Pizza Chopped Salad | Oh So Delicioso
Pappadeaux Chopped Salad | Sporting Road
Costco Asian Chopped Salad | Perry's Plate
Chilis Southwestern Chopped Salad | Iowa Girl Eats
How to Use Healthy Copycat Chopped Salad Recipes
You can start meal planning once you have a better idea of the hours you want to follow. Most people use the 16/8 method, which is 16 hours of no eating and 8 hours of eating. You start your day with coffee or tea and don't eat a thing until noon.
You can eat these healthy copycat chopped salad recipes and other recipes from noon until 8 PM. However, you cannot eat from 8 PM until noon the next day. That is how 16/8 intermittent fasting works. You will find success; you just need to stick to the plan.
Bravo's Insalata Della Casa | Life Love and Good Food
Carrabba's Chopped Salad | Dash of Sanity
Morton's Steakhouse Chopped Salad | Morton's Steaks at Home
Autumn Salad | Natasha's Kitchen
Northstar Chopped Salad | Neighborfood Blog
More Intermittent Fasting
Best Intermittent Fasting Books for Beginners | Intermittent fasting is a great way to manage your diet better and lose some weight.
Intermittent Fasting 16/8 Foods to Eat | You can easily eat on a different schedule, but what you eat still makes a difference.
Easy Salad Recipes for Work | Intermittent Fasting Friendly | Salads are perfect on-the-go recipes that you can pack into small containers and take with you to work.
Intermittent Fasting Lunch Recipes with Chicken | Intermittent fasting is all about eating on a specific schedule, and chicken makes that easier.
Intermittent Fasting Hours: Plans and Hours to Eat | There isn't just one intermittent fasting schedule to utilize for weight loss.