35 No Dairy Diet Breakfast Recipes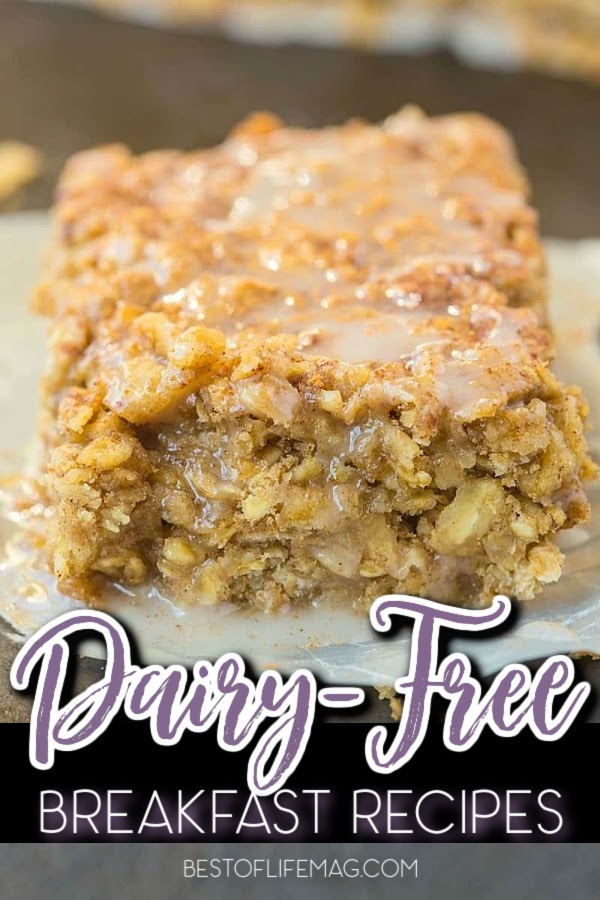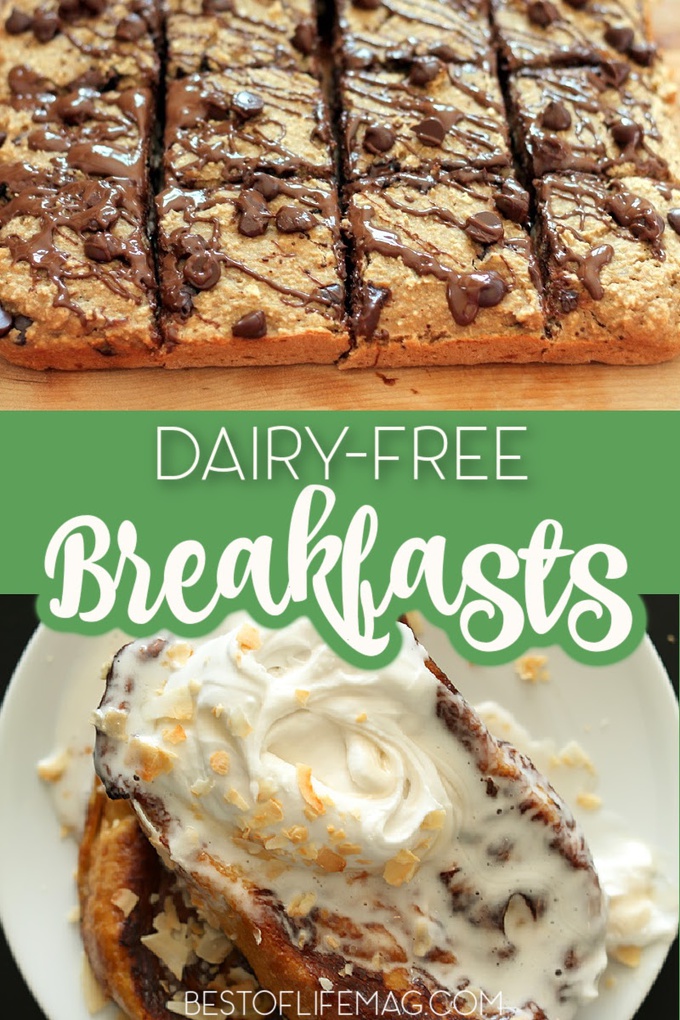 One of the staples of a breakfast is milk or some form of dairy. The problem is some of us need to have a dairy free diet. It could be due to health reasons or it could just be a special diet for a set amount of time. That means we have an opportunity to get creative with our breakfast.
Living a no dairy diet lifestyle could seem like it limits your options, but you can enjoy dairy free breakfast with these easy recipes. Breakfast is where you will get your energy for the start of the day, so it's important to have it. It's also important to enjoy it when you do because eating something you don't want is never good.
Too bad you couldn't enjoy a low-calorie cocktail in the morning and just get going. Starting the day off with a good meal, sans dairy, then ending the day with a good dinner recipe is like the perfect daily sandwich.
Baked Banana Peanut Oatmeal | Happy Healthy Mama
Sticky Cinnamon Roll Baked Oatmeal | The Big Man's World
Blueberry Pancake Bites | Mashup Mom
Peanut Butter Banana Oatmeal Smoothie | What the Fork Food Blog
Apple Pull Apart Bread | Petite Allergy Treats
Cinnamon Rolls | Allergy Free Alaska
DIY Coconut Yogurt | Raising Generation Nourished
No Dairy Diet Dairy Substitutes
The first step in becoming dairy free is to learn what the substitutes are. You can enjoy many of the recipes you already do if you learn how to use the substitutes. For example, you can replace milk in a sauce recipe with soy milk or something similar.
Cashew milk, coconut milk, almond milk, oat milk, rice milk, and soy milk are all popular milk substitutes. Soy and cashew are good for sauces, oat milk is good for hot drinks. The rest are general substitutes.
Cinnamon Sugar Pumpkin Muffins | Averie Cooks
Almond Joy Overnight Oats | Rabbit Food for My Bunny Teeth
Flourless Chocolate Zucchini Muffins | Running with Spoons
Vegetable Quiche | Gimme Some Oven
Strawberry Chia and Quinoa Breakfast | Maria Ushakova
Pumpkin Coffee Cake | Real Food with Jessica
Paleo Breakfast Bread | The View from Great Island
Coming to Dairy Free Terms
The next step is to come to terms with the fact that you are living dairy free. That means focusing on what you can have rather than missing the things you can't. This is not easy, but it is possible.
You will start to find that you can have that cupcake so long as it's dairy free and you can have that coffee with dairy free creamer. The possibilities truly are endless. You should always be looking for what you can have.
Banana Nut Oatmeal Breakfast Cookies | Be Whole Be You
3-Ingredient Breakfast Skillet | Lexi's Clean Kitchen
Vanilla Bean and Blueberry Chia Pudding | The Healthy Family and Home
Coconut Cream Pie French Toast | Minimalist Baker
Pumpkin Breakfast Cookies | Leelalicious
Paleo Coffee Creamer | Dr. Monica Bravo
Dairy Free Waffles | Four Plus an Angel
Stock Up and Plan for No Dairy Diet
One of the last things you want to do is struggle to find something to eat or drink. That is why you will need to do a little planning as you adjust. Of course, you will learn and it will become second nature the longer you are on a no dairy diet.
But start with planning ahead and stocking up. You will want to stock your fridge and pantry with dairy free options. Remove all dairy from your home so at least you know your house is a safe place. This will help with the adjustment period.
Banana Bread Chocolate Chip Breakfast Bars | Ambitious Kitchen
Paleo Breakfast Casserole | Paleo Running Momma
Rise And Shine Smoothie | A Beautiful Plate
Vegan Baked Cinnamon Donuts | Southern in Law
Red Velvet Donuts | Flippin' Delicious
Maple and Brown Sugar Oatmeal Muffins | Mother Thyme
Oatmeal Breakfast Bars | Veggie Balance
Learn to Read Labels
You already know how to read but we often skip reading the labels in the grocery store. Instead, we grab whatever it is that strikes our fancy at the time. But you don't have that luxury anymore. It is important to read labels.
More specifically, you need to read the ingredients labels of everything as you're learning. Dairy goes by many names like whey, lactose, or even casein. The goal is to find these things before they ruin your diet plan.
Cranberry Orange Scones | 24 Carrot Kitchen
Upside Down Apple Honey Cake | Texanarin
Cookie Dough Milkshake | Princess Pinky Girl
Raspberry Mango Smoothie | Joyful Healthy Eats
Dairy-Free Blueberry Cream Cheese | The Vegan 8
Sausage and Butternut Squash Frittata | Cook Eat Paleo
Zucchini Muffins | Tia's Kitchen
More Dairy Free Recipes
Vegan Edible Cookie Dough Bites Recipe | Cookie dough is a great snack that you absolutely can enjoy with this dairy free option.
Slow Cooker Chicken Broccoli and Rice Casserole | Chicken is a dairy free person's best friend.
Dairy Free Slow Cooker Chicken Tortilla Soup | You can even enjoy a plethora of soups and broths that fit into a no dairy diet.
Instant Pot Keto Chili – Without Beans + Dairy Free | You can even have chili! Chili is a blessing that goes with so many different things.
Chicken and Veggies Sheet Pan Dinner | Dairy Free | We're back to that chicken which is delicious when you use this recipe.