Dairy Free Ketogenic Recipes to Enjoy | Low Carb Dairy Free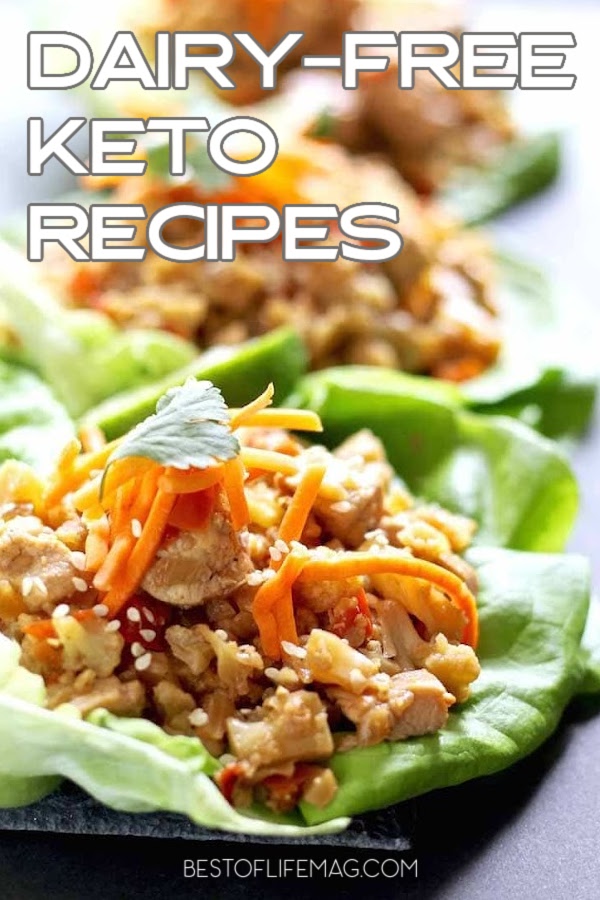 Throw into the mix that you're trying to follow a set diet plan and things get even more difficult. However, keto diets leave a lot of room for wiggling your way through online cookbooks. You can easily find dairy free ketogenic recipes that not only fit your extreme diet plan but also taste great.
Finding recipes that you like can be difficult when you need or want to live dairy free. If you are in need of some of the best dairy free ketogenic recipes to stay healthy and get healthier you should start your search right here. A keto diet is a diet that counts carbs and helps you lose weight.
But just because you're starting a diet doesn't mean your schedule suddenly opens up. Easy diet recipes will help you stay on track throughout your path to health. And these keto breakfast recipes can help you get off on the right track each morning.
Ketogenic diets are diets that raise the intake of fats and lower the amount of natural energy. By doing this, your body enters a state of ketosis. Once in ketosis, your body will turn to the stored fat for energy.
It's easy to find ketogenic recipes, especially on the internet. However, it gets a little harder when you also need to leave out dairy. But there are dairy free ketogenic recipes that you can use to get and stay healthy. You just need to find a place to start.
Dairy Free Cream of Chicken Soup | Healthful Pursuit
Low Carb Egg Salad | iBreathe I'm Hungry
Chipotle Lime Shrimp and Zoodles | Katrina Runs for Food
Easy Breakfast Biscuit | Healthy Living How to
Zesty Nacho Kale Chips | Delicious Obsessions
Dairy Free Ketogenic Recipes
Ketogenic recipes come in many different types. You can find recipes that fit into your dairy free lifestyle for breakfast, lunch, dinner, and even dessert. You don't need to worry about skipping a meal because they all taste great and are easy to make.
Easy Keto Thai Skillet Chicken | Keto Diet App
Roasted Radishes with Rosemary | Olive, and Herb
Chipotle Lime Roasted Broccoli & Cauliflower | The Spunky Coconut
Meatza Pies | Stupid Easy Paleo
Taco Egg Muffins | Peace, Love, and Low Carb
Starting a Keto Diet
When you start a ketogenic diet, it's important to remember to get a good workout routine. You don't need to overexert yourself but you do need to consume energy. Your body will be in a ketosis state, meaning it will use fat for energy instead of glucose. Adding a workout to your diet will help you shed the pounds in a healthy way.
Lemon Garlic Shrimp with Celeriac "Grits" | Bare Root Girl
Grain Free Fish and Chips | Sarah Lynn Smile
Creamy Paprika Chicken Skillet | Everyday Maven
Healthy Chicken Lettuce Wraps | The Fit Blog
Broccoli Tots | Primavera Kitchen
Plan Ahead for Keto Diets
One of the most important aspects to any diet isn't just the diet, it's the planning stage. The more detailed your plan the less likely you'll be to slip up. However, a slip isn't the end of the world. You can make a mistake and get back on track the next day.
Crockpot Carne Asada | Pastured Kitchen
Mini Quiche | Fresh Planet Flavor
Chocolate Peanut Butter Fudge | Low Carb Yum
Blueberry Vanilla Scones | Mama Shire
BLT Summer Roll | Avocado Pesto
More Keto Recipes
High Protein Low Carb Recipes for Breakfast | High protein and low carb is the name of the game and not just for lunch and dinner.
Low Carb CrockPot Recipes with Chicken | Chicken can be made into so many different dishes and the crockpot can help with the majority of them.
Low Carb Buffalo Cauliflower Bites Recipe | Buffalo cauliflower bites are the perfect alternative to chicken wings and the unhealthy cooking methods.
Easy Keto Recipes with Ground Beef | Ground beef is also relatively versatile and can fill your calendar up with recipes to enjoy.
Keto Crockpot Chili Recipes | Low Carb Chili | Chili is perfect for summer and benefits greatly from low and slow cooking.