Low Carb CrockPot Recipes with Chicken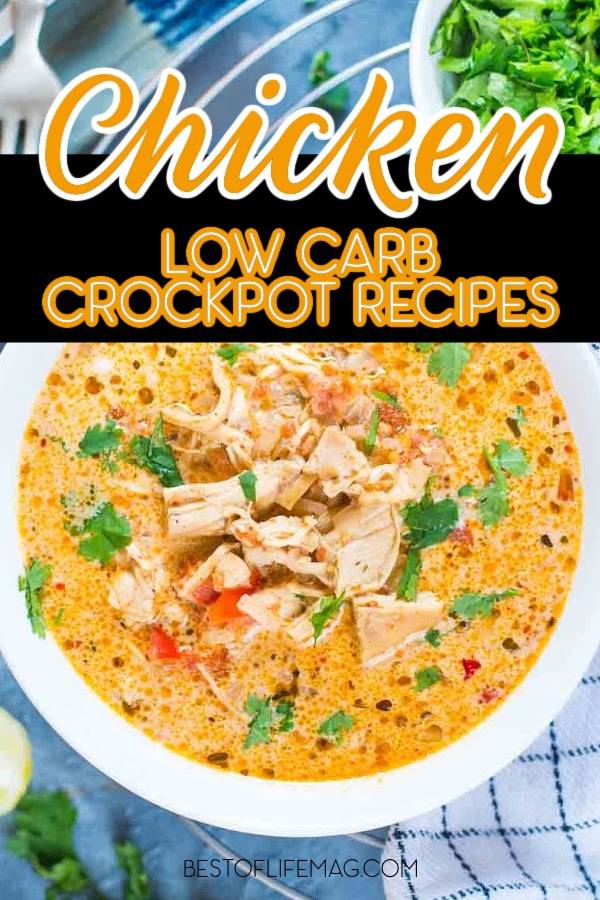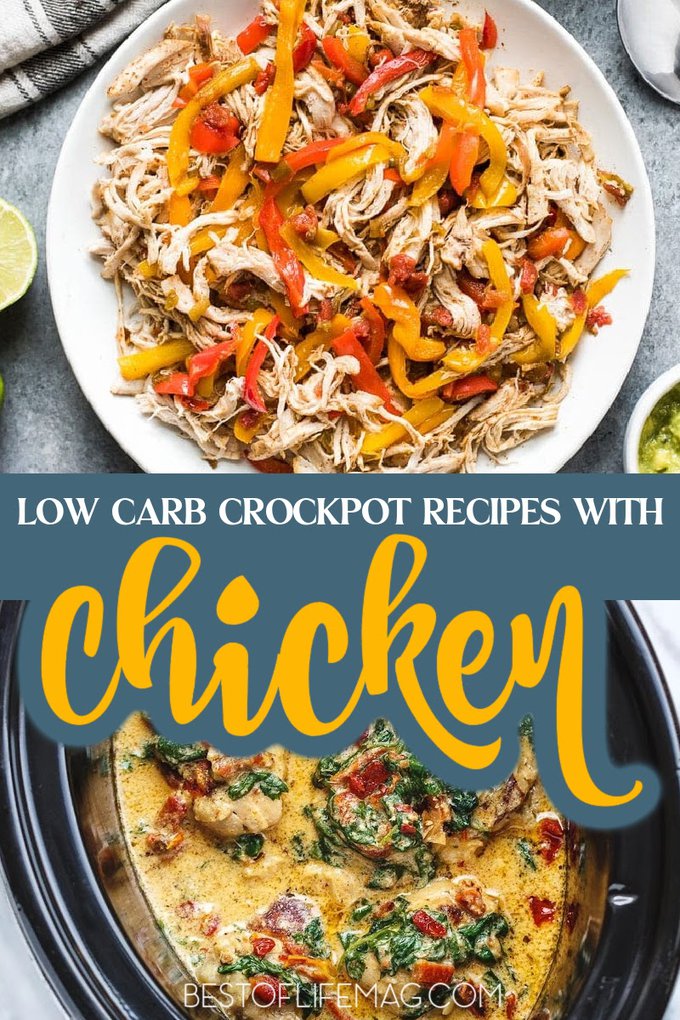 Just being able to set it and forget it, then come home to a hot meal, is a luxury that should not be taken for granted! Lately, I have discovered another reason to love the CrockPot. It is a great kitchen tool for helping you stick to your low carb diet. Perfect examples can be found in low carb CrockPot recipes with chicken.
You probably already know I am in love with my CrockPot. Yes, it's true. Along with my Instant Pot, the CrockPot is an absolute lifesaver. Having a CrockPot makes eating low carb even easier, and low carb CrockPot recipes with chicken are great recipes to help you get started.
While there are a million different types of low carb diets out there, a widely accepted daily carb intake of fewer than 150 grams is considered to be low carb. Some are drastically lower, and for many reasons, you may choose a range that suits your dietary and health goals.
Eating within this generally-accepted range can help you achieve all kinds of health benefits as well as weight loss. Eating low carb means making the right choices when it comes to the rest of your diet too. Choosing healthy proteins and fats and making your carb choices come from vegetables and unrefined starchy foods is the best way to feel full and satisfied.
Chicken is one of the best protein sources for low carb dieters since it is lean and versatile. Here's where your CrockPot comes into the picture! There's no need to eat tasteless, rubbery, grilled, or broiled chicken day in and day out when you can slow cook a juicy low carb meal that is flavorful and filling.
These low carb CrockPot recipes with chicken will give you just that, and they are perfect for meal prepping too!
Low Carb CrockPot Recipes with Chicken | The Best of Life Magazine
Shredded Chicken Tacos Crockpot Recipe
Crockpot Chicken and Bacon Sandwiches (Keto Options)
Low Carb Crockpot Chicken and Veggies Soup
Low Carb Slow Cooker Tortilla Soup
Crockpot Chicken Chili with Roasted Peppers
Low Carb Chicken Dinners
Chicken is one of the easiest meats to use on a low carb diet. There are so many ways to cook chicken and so many different flavors you can utilize. But the biggest benefit of chicken is affordability. We often think that losing weight would be too difficult because of the cost. But these recipes make it far more affordable to eat healthy and lose weight.
Slow Cooker Jalapeno Popper Chicken | Mommy's Fabulous Finds
Slow Cooker Mexican Chicken Soup | The Flavours of Kitchen
Keto Gumbo | Fit Mom Journey
Low Carb Taco Soup | Plain Chicken
White Chicken Chili | Low Carb-ology
Variety in Weight Loss
Another big problem people wander into is boredom. We find a few recipes we like that fit our diet plan, and then we stick with those recipes for months. But then we get tired of those recipes and venture out for something different. It can be difficult to find quick options that fit a keto diet. But then we end up just giving into the easiest choice which is fast food.
The goal should be to find as many recipes you enjoy as possible. You want a menu that can last you at least six months. The longer you do a keto diet, the more familiar you get with what you can eat and what you need to avoid. Six months is the perfect amount of time to learn enough and become a low carb pro.
Chicken Broccoli Alfredo Soup | This Mom's Menu
Crock Pot Chicken Fajita Soup | Eating on a Dime
Keto Crack Chicken in the Crock Pot | Mess for Less
Low Carb Crock Pot Ranch Chicken | Baking Outside the Box
Slow Cooker Mississippi Chicken | Moore or Less Cooking
Meal Prep Crockpot Recipes
Another big benefit of low carb crockpot recipes with chicken is the meal prep aspect. Meal prep is when you cook a bigger meal than you require. Then, you save the leftovers and use them throughout the week. These recipes allow you to make multiple recipes in a week that can be used for meal prep.
Prepping meals like this saves us even more time and effort while keeping us on track. There are enough recipes here to keep you meal prepping for an entire year! The only thing holding you back now is that annoying voice that thinks you can't do this. Time for a truth bomb; you can do this!
Crock Pot Garlic Parm Chicken | The Frugal Girls
Crock Pot Low Carb Buffalo Chicken Soup | Food Faith Fitness
Keto Crock Pot Chicken | Trina Krug
Slow Cooker Chicken Tikka Masala | Savory Tooth
Easy Low Carb Slow Cooker Creamy Chicken Marsala | Sweet C's Designs
There are many ways to use chicken in low carb recipes, many of which are healthy and delicious. Many recipes can be altered so that they fit your personal needs (although we personally think they're perfect just the way they are).
More Low Carb Recipes
Low Carb Buffalo Cauliflower Bites Recipe | Cauliflower is often used as a substitute for chicken. Not that chicken isn't healthy enough, but sometimes we want a change of pace.
Low Sugar Snacks for a Low Carb Diet (Diabetes Friendly Too!) | Low sugar snacks could make a big difference in how much we struggle through the hunger.
Low Carb Meals for Diabetics | Keto Meals that Reduce Blood Sugar | Diabetics have a very difficult time managing their blood sugar. But keto is not completely impossible.
High Protein Low Carb Recipes for Breakfast | Protein is your best friend when you're on a keto diet.
Low Carb Chocolate Dessert Recipes | Keto Chocolate Dessert Recipes | Chocolate is the perfect solution for a sweet tooth while on a low carb diet.