This site contains affiliate links. Please read our Policies for information.
A busy and active lifestyle is part of life and finding easy recipes that help you keep up with that lifestyle is important. And while I am on a dairy free diet because of an allergy, many choose to be dairy free because of the health benefits. This recipe for peanut butter oatmeal balls fits perfectly into a dairy free diet and is also gluten free!  Plus, these oatmeal balls with peanut butter require no baking making them even easier to make on the fly so you can always have a healthy snack with you.

This no bake peanut butter oatmeal balls recipe is gluten free and dairy free making it the perfect healthy snack for an active lifestyle.
This no bake recipe for peanut butter oatmeal balls makes approximately 20-25 bite sized balls depending on the size of ball you create.  If you are looking for a substitute for dairy free chocolate chips, Choco No No's or dried fruit are options to consider that keep this recipe dairy free and gluten free.

Gluten Free Dairy Free Peanut Butter Oatmeal Balls Ingredients:
1 cup creamy salted peanut butter (Trader Joe's)
4 tbsp. organic virgin coconut oil (Trader Joe's)
3/4 cup golden brown sugar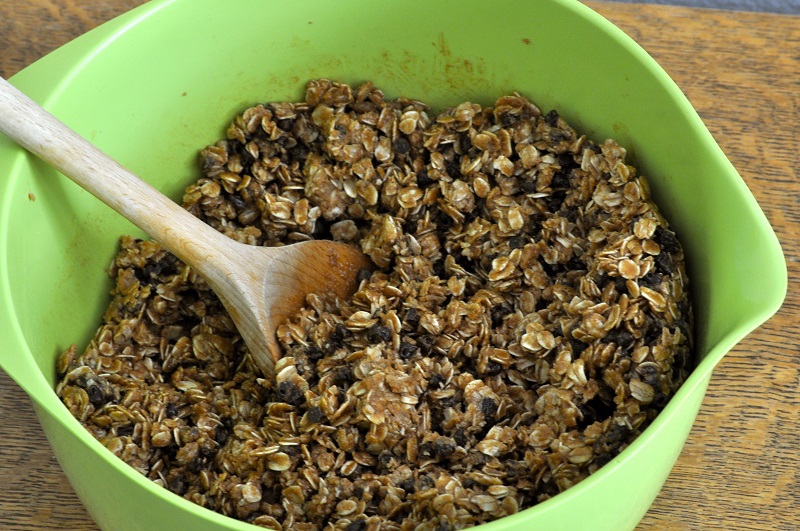 1 Tbsp. 100% pure maple syrup grade A (Kirkland)
2 cups quick oats (gluten free)
1/2 cup dairy free mini chocolate chips (Enjoy Life Semi-Sweet Mini Chips)

Instructions for No Bake Dairy Free Gluten Free Peanut Butter Oatmeal Balls:
In a large bowl, combine peanut butter, coconut oil, brown sugar and maple syrup. Stir mixture until smooth.
Add in the oats and mix until fully incorporated.
Add the chocolate chips and stir.
Shape into bite sized balls by squeezing ingredients together.
Place on wax paper in a storage container and store covered in the refrigerator.
Peanut butter oatmeal balls will be ready to eat after a hour in the refrigerator or 20 minutes in the freezer.
Enjoy!