This site contains affiliate links. Please read our Policies for information.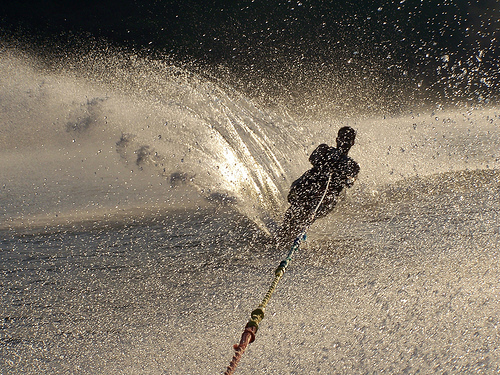 Recreational boating attracts more than 83 million people annually, notes the National Marine Manufacturer's Association. If you want to join the more than 12 million registered boat owners who travel our waterways, you'll need to consider the total cost of boat ownership. Storage, transportation, maintenance and safety factors come at a price before you ever set sail.
Selecting a Boat
Do you want to purchase a new boat, or save some money and buy used? What size boat do you need? Are you going to pull skiers, or just cruise the lake all day?
Buy new and you'll pay more upfront but benefit from a manufacturer's warranty with fewer overall maintenance issues. A used boat will be more affordable initially, but may require more repairs to ensure it's in optimum shape. You can benefit from a marine survey before you buy to help determine the shape of the boat.
Fuel efficiency is another part of the selection process. Water conditions, speed and weight of the boat impact how many gallons are used per hour, so consider these variables to estimate how much fuel will cost for each trip.
Associated Boat Costs
Boats aren't cheap to operate and maintain. If you lack a garage or yard space for your boat, you'll need to find a storage facility or marina, which will require monthly payments. To transport the boat, you'll need to buy a trailer to hitch to the back of your vehicle.
Is your vehicle powerful enough to pull a boat? If you need a vehicle that looks good, drives great and can pull a trailer, read up on Toyota Four Runner reviews to see if a vehicle upgrade is in order. If you have a big boat, a Tundra may be more appropriate.
All boats require cleaning and care for the engine and hull. If you prefer to do repairs yourself, a selection like a pontoon or skiff boat may be ideal. These boats are rugged and uncomplicated when compared to a yacht or catamaran, which demand professional maintenance.
The Price of Safety
The U.S. Coast Guard reported more than 4,500 recreational boating accidents in 2011, totaling $52 million in damages. The agency urges safety training to significantly decrease these incidents.
Most skilled sailors will, at some point, encounter precarious situations like bad weather or boat malfunction. Vessel safety checks by certified examiners and free courses offered by the Coast Guard can minimize risks. Invest in life jackets and other emergency equipment to ensure preparation for the worst scenarios. Boaters have to contend with traffic, so understanding marine laws and signals can prevent miscommunications on waterways.
These preparations can save you money, even when you have boat insurance. According to the Insurance Information Institute, your home insurance may cover $1,000 of your boat, but you'll have to add liability coverage for injury, theft and passengers. Boat insurance requires a premium based on either an agreed amount predetermined by you and the insurance provider or the actual cash value based on the boat's market value.
The cost of buying a boat can rack up quickly, but if you're ready to commit to these budgetary considerations, you may be able to better enjoy the leisure of boating.
image by Out.of.Focus
Carolyn Thurman, our contributor, is thrilled she quit her job as a waitress and became a full-time freelance writer. Now she has more time to spend with her husband and kids.