This site contains affiliate links. Please read our Policies for information.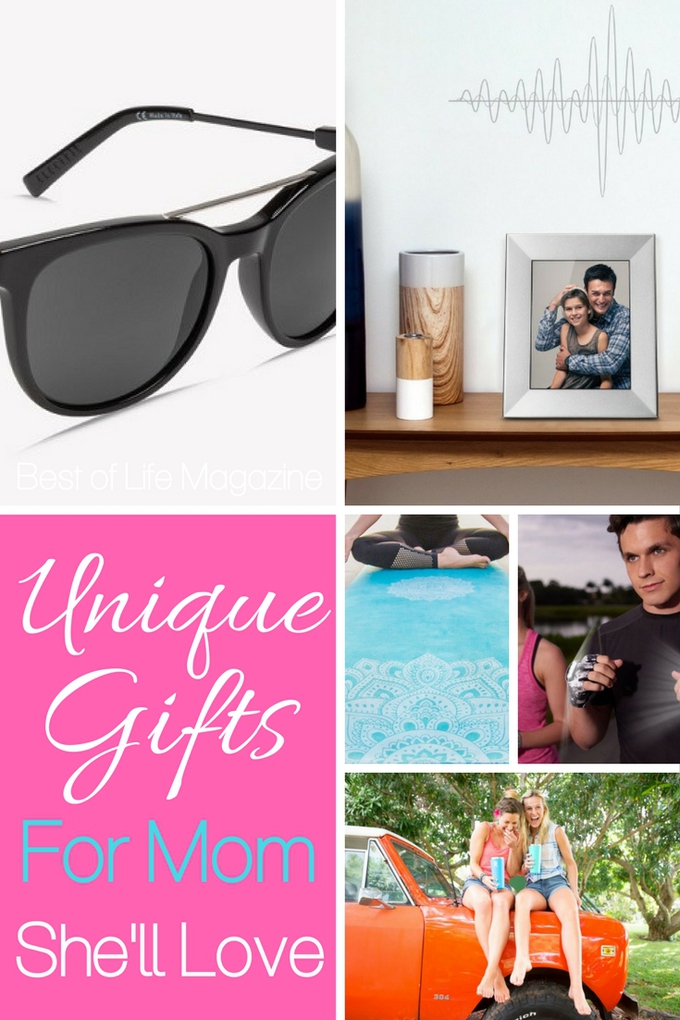 Everyone has a mother, a unique person in their life that has helped them through the bad times and celebrated the good. We should always be saying "thank you" and expressing our gratitude and love for our mothers. However, there is one day out of the year, when mothers get a little extra praise. Mother's Day is when we go above and beyond for our mothers and get them a little something special while showing them a little extra love and appreciation. These unique gifts for mom will let you show her just how special she is.

Celebrate mom this Mother's Day with the best unique gifts for mom and make sure she knows just how grateful you are for her being her.
As a mother, I can tell you that I love getting a nice small gift on Mother's Day. I love the handmade gifts just as much as the store bought and more than anything, I love the little things like breakfast in bed, the kids making their own cards for me, and the extra snuggles.
Mothers can't be forced to do yoga but if they already do, why not give them some style? The Combo Mat by Yoga Design lab is the perfect yoga mat.
This mat was specifically designed to help people avoid slipping, remove the need for a towel, and is machine-washable. There is a top layer that is microfiber and the bottom is made from rubber tree material. They also come in many different styles as unique as mom which make them unique gifts for mom.
Style is important to many of us and mothers depend on their children to stay on trend. The Bengal Wire Sunglasses by Electric are stylish and trendy.
These sunglasses were designed in California and handmade in Italy which means they've got the California style with a classic Italian build. Help mom stay on trend this summer season with a fresh pair of shades.
Mothers have always loved nothing more than to display their families in frames on a wall, mantel, or table. While getting them a frame is still possible, maybe it's time you help get them into the digital age with a gift that keeps on giving.
The Nixplay Iris photo frame is a digital frame that connects through WiFi to a cloud storage filled with photos of whatever you want. Mothers may not know how to program the frame, but that's what makes the Nixplay Iris even better. Photos can be added to the frame from anywhere by any member of the family.
The Nixplay Iris keeps on giving as long as you keep updating. Imagine you took family photos but have had no time to go to mom's house to show them off.
Now, all you need to do is load the new photos to the frame and she will be surprised to see the new photo in the frame. But things get even better. For Mother's Day, Nixplay is putting the Iris frame on sale! If you buy one frame you get 25 percent off, buy two and get 35 percent off, buy three frames or more and get 40 percent off! The Nixplay is probably one of the most unique gifts for mom you can find.
Moms love going on runs and walks with friends and she definitely needs a pair of Run Lites! Run Lites are gloves with LED lights built into the knuckles of the gloves. The goal is to help mom stay visible and safe wherever she is.
Speaking of taking night walks or runs, hydration is important. Even if mom isn't running around a lot, a Hydro Flask 32 ounce tumbler is a great gift.
The tumbler comes in many different colors to fit mom's style and is made from pro grade stainless steel. The best part about the Hydro Flask tumbler is that it easily fits in the hand and is easy to grip thanks to the powder coating on the outside.
What will you get mom this year for Mother's Day?