This site contains affiliate links. Please read our Policies for information.
I am a complete diaper bagaholic…If you have been looking for that perfect mini backpack that can hold enough stuff for outings with your children but still be fashionable enough for you to wear when you are out "on your own" (do you remember that?), then look no further!
The Ju Ju Be Mini Be will do all of that for you plus more!
I personally have been through at least 40 diaper bags and at least 5 of these have been mini backpacks.When Ju Ju Be released their Mini Be this last year, they hit the mark.It is the perfect size for small trips out with the children and transitions perfectly to a purse for you when you have those rare outings on your own.The Mini Be measures in at 7 3/4 " x 12" x 4.And its extra features only add to an already fabulous bag!
I love the bottle/sippy pockets on the sides of the bag.Despite the smaller size of the bag, these pockets hold very large bottles and sippy cups making this bag easy to use with babies on up!They have structure to them and don't sag off of the bag itself. This means your bottles will not fall out when you bend over to pick up your little one.In true JJB fashion, the bottle pockets are insulated too…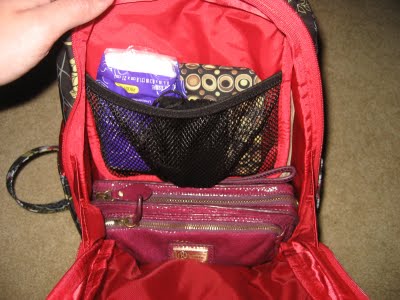 Another feature I am also quite fond of is the insulated snack pocket!It is located on top of the bag and when the bag is unzipped, you can see the snack pocket hanging down a few inches in the interior.I can fit a bag of cheerios, fruit strip, small bag of teddy grahams, GoGurt & ice pack if I need it all in the snack pocket.If my snacks spill, the pocket wipes clean…and my toddler can unzip the pocket while I am wearing it to access his snack when we are shopping. A smart and functional pocket to say the least.
This leads me to the functional interior organization of the Mini Be.Those of you that know JJB bags, know you can depend on them to be organized in the best ways.You may be thinking, "OK, so then there is a snack pocket that hangs down inside the bag….no thanks."Leave it to JJB to turn the fabric that does hang down into perfect function.They added a mesh pocket to it and it makes a great place to store your wallet, lipstick, coupons, or other small items.I like to put my wallet in the mesh pocket b/c I can easily access it without looking into my bag.This leaves the remaining interior of the bag for all of your other items:hand lotion, cell phone, socks, medicine, etc.If you are looking for a great way to store a diaper or two…try a Be Quick from Ju Ju Be.I put 2 diapers, wipes, & trash bags inside mine and it tucks ever so beautifully behind the snack pocket inside the Mini Be while still leaving plenty of room in the main compartment of the bag.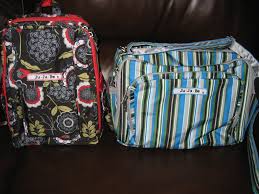 Another great feature – the exterior magnetic pocket on the front!I like to put my cell phone in there and it makes a great place to stick receipts, shopping lists, and coupons.Some JJB fans put a diaper with wipes in this pocket leaving the rest of the bag open for other essentials.And as always, the exterior pocket features JJB's smart magnetic closure where the magnets find each other on their own. What does this mean for you?Never having to worry about your possessions falling out because the pocket didn't close correctly…and never having to wake a sleeping baby…pure bliss.
All of these wonderful features, combined with side gussets so your belongings don't fall out, a key chain, a grab and go handle for easy pick up, a padded breathable back & an extra set of straps for when your little girl wants to wear it, make the Ju Ju Be Mini Be a wonderful mini backpack diaper bag.
In a nutshell, it fashionable and functional.You really do not have to lose one for the other!