This site contains affiliate links. Please read our Policies for information.

There are many different workouts to get you to your goals. Some workouts are for your chest, others for your biceps and others the entire body. Measuring the rate of success for each individual workout can get complicated. There is a way you can do something very similar by using an app. Using your smartphone during your squats workout, you can monitor the amount of calories you've lost and get a challenging workout that will give you quick results.

Lift your booty with the Squats Workout app that can help you monitor your calories, stay motivated!
What Squats Workout App Does
Squats Workout is an app that helps you through any workout where you're fighting against gravity. Push-ups, pull-ups, sit-ups, and squats. When you use the app you can count the amount of work you're doing as well as calories lost. The next step for the app is to take all of that information and put it into an easy to read graph.
How It Helps
When we workout, we're counting either out loud or in our heads, problem is, we can't count everything. Squats app does the counting for you and will even tell you where you land with calories lost. After the workout is finished, you can read the graphs and numbers to see where you're improving or falling behind. There is also an option that pins widgets to a screen on your phone. Those widgets will tell you, in plain and easy to read ways, where you're numbers are up or down. This is great knowledge to have in order to stay motivated. You can't fix what you don't know is broken, and Squats Workout will tell you if it's broken.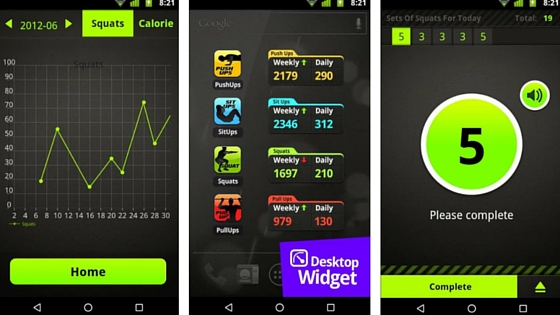 Squats Workout App Features
Squats Workout allows you to select whether you're training or just practicing. Select training and get going. The app is simple to use, one example is for squats. Open the app, tap "Training" and then hold your phone out in front of you with both hands. Using the accelerometer in your phone, the app can tell how many times you've gone down and then up again. The function is the same for the other workouts available. If you find that it made an error, you can manually add or subtract reps after the workout is complete.
When it comes to working out, there are two things that get the most credit, your diet and your routine. While those both are correct, you should add tracking. Tracking your routine is the only way you can see if it's successful or if it's a failure. You may not see physical results right away, but you can see what's going on inside by tracking calories and reps. Technology has made that easier, so many different apps for full workouts or just for specific workouts. There's no excuse not to be using some of these tech options to help you reach your goal.