Margarita Recipes with Grand Marnier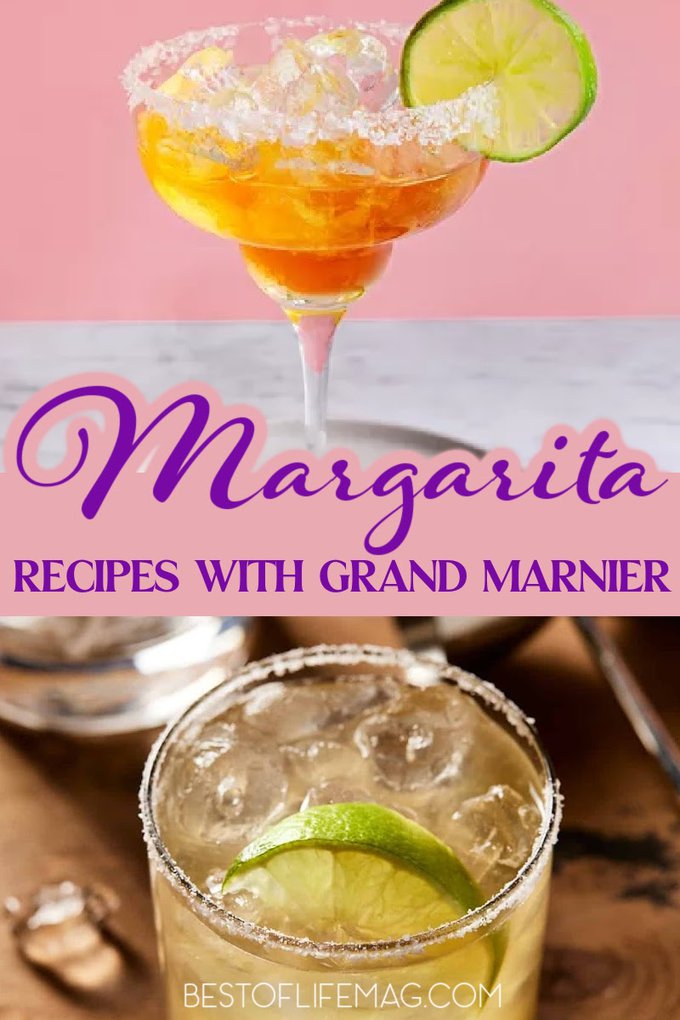 There are countless margarita recipes which vary in ingredients, flavors, and even the salt, but you can change another ingredient as well. Swap the triple sec for Grand Marnier, the flavor of your margarita will change. Try it for yourself with these margarita recipes with Grand Marnier.
Grand Marnier is the cognac of orange liqueur and tastes great in a margarita. Switch up your own margarita routine with any of these margarita recipes with Grand Marnier. Margaritas are easy cocktails that usually come blended or on the rocks.
Both methods work fantastically so don't be afraid of either one. They also play an important part in taco Tuesday, which some of us take very seriously. Margarita recipes with Grand Marnier utilize the flavors from the cognac which is made in a very special way.
Grand Marnier is made with Ugni Blanc grapes from within the Cognac region in France. After being double distilled in copper stills, the cognac is ready to go. Grand Marnier can be enjoyed straight, on the rocks, or of course, in a margarita.
Whether you take yours on the rocks or in slushie form is up to you. Whether you're out of triple sec or are just looking for a way to switch up your classic margarita, Grand Marnier offers a subtle, delicious twist on a favorite cocktail.
Margaritas are great for parties, summer gatherings, or even just a night in. But you can also pair your drinks with good food, kind of like wine. The question is, what will you pair your margaritas with? May we suggest some of your favorite chips with the best and fresh, authentic guacamole
Margarita Recipes with Grand Marnier
Grand Margarita | Liquor
Classic Margarita with Grand Marnier | Alexandra Cooks
Best Margarita | How Sweet Eats
Cadillac Margarita | The Spruce Eats
Top Shelf Margarita | Food Network
Grand Marnier vs Triple Sec
You may be wondering why you can easily make this switch in just about any margarita recipe. The answer is simple, Grand Marnier is triple sec. However, triple sec is not Grand Marnier. The difference is subtle but enough to make them similar.
Grand Marnier is an orange liqueur blend of triple sec and cognac. That means you can substitute Grand Marnier for triple sec because it is just triple sec with extra ingredients. Of course, you could go for a more straightforward flavor by just adding triple sec instead of Grand Marnier.
Jenessa's Cadillac Margarita | Renee Nicole's Kitchen
Honey Lemon Anejo Margarita | Kitchen Swagger
Perfect Margarita | Bon Appetit
Margarita Tradicional | Food Channel
Golden Margarita | Garnish with Lemon
Margarita Mixes
There is a line that has been drawn by home bartenders everywhere as to which is better, margarita mixes or homemade. However, there are benefits to both. Margarita mixes are great when you are in a hurry or just don't feel like going through all the steps to make a fresh margarita.
On the other hand, the flavor from a homemade margarita can't be beat. The only other option would be to combine the two. Use a mix to jumpstart the process but then add fresh ingredients as well. These recipes should help you along your journey to find the best margarita.
Probably the best journey you will take this year.
Ultimate Frozen Margarita | The Pudge Factor
Sunny Orange Margarita | Spend with Pennies
Rick Bayless Perfect Margarita | Bluprint
Strawberry Margaritas | David Lebovitz
3-2-1 Margarita | What a Girl Eats
More Margaritas
Margarita Jello Shots | Easy Margarita Jello Shot Ideas | Margaritas are fantastic just the way they are, but why not try something a little different? Margarita jello shots are a good starting point.
Blackberry Lemonade Margaritas | Tequila Blackberry Cocktail | This blackberry lemonade margarita is fantastic when you use fresh fruit and even better in the summer.
Best Low Carb Margarita Recipe | Low Carb Patron Margarita | Just because we like to enjoy a margarita every now and then doesn't mean we can't also be health conscious.
Mermaid Margarita Recipe | Teal Blue Margarita | You may want to add a theme to your margarita and mermaids are the perfect margarita theme.
Strawberry Jalapeno Margarita Recipe on the Rocks | Spicy is another great theme and you may be surprised by just how amazing this spicy margarita can be.