Easy Salad Recipes for Work | Intermittent Fasting Friendly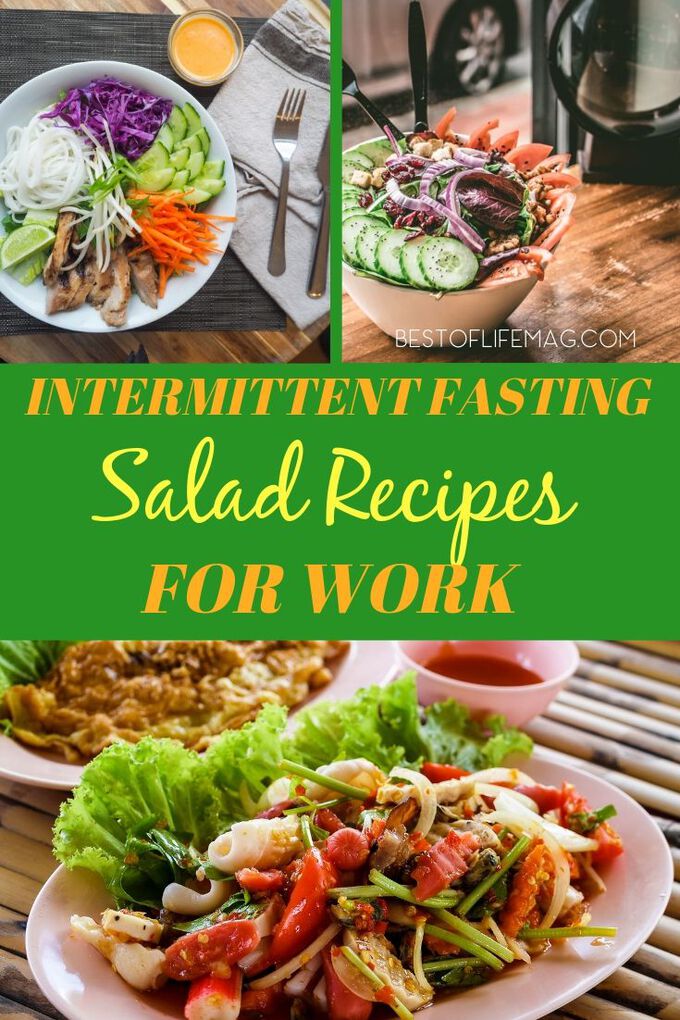 Intermittent fasting is a great way to lose weight. The idea is to have a set amount of hours when you can eat during the day. Then, you will need to make sure that you consume nothing but water, coffee or tea during the remaining hours of the day. But it is also important to make sure that you eat right during those eating hours. Easy salad recipes for work could help make sure you continue to eat right. Even when you're at work.
You can use some easy salad recipes for work to help you stay on track while you practice intermittent fasting to lose weight.
The most popular way to practice intermittent fasting is with the 16/8 schedule. That is 8 hours of eating time and 16 hours of not eating time per day.
Intermittent fasting is a great way to lose weight and change your eating habits so you can become healthier. But you will want to make sure that when you do eat, you eat healthily.
Easy salad recipes for work can help. Especially if your goal is weight loss. Most people like to combine other diets with intermittent fasting.
Broccoli Salad with Bacon | Keto Cooking Christian
Creamy Cucumber Salad | Wholesome Yum
Antipasto Salad | Sassy Southern Yankee
Cauliflower Salad | Buns in My Oven
Broccoli Cauliflower Salad | The Keto Diet Club
Sesame Chicken Chopped Salad | Whole Kitchen Sink
Taco Salad | Green and Keto
Paleo, low carb, keto, Whole30, these diets are all great diets to use while intermittent fasting. Using these diet plans and recipes you can make sure that you reach the goals you want without fail.
Spinach Cobb Salad | That's Low Carb
Avocado Chicken Salad | Beauty Bites
Mexican Street Corn Salad | This Mom's Menu
Cranberry Chicken Salad | Simply Whisked
Mediterranean Chickpea Salad Jars | The Girl on Bloor
Crunchy Detox Salad | Eating Bird Food
Mediterranean Bean Salad | The View from Great Island
Easy Broccoli Pasta Salad | Organized Island
After all, isn't that what we all want? An easier way to lose weight and succeed.
More Intermittent Fasting
How to Get Through Hunger When Fasting
Intermittent Fasting Hours: Plans and Hours to Eat
Healthy Salad Recipes for Intermittent Fasting
Why Does Intermittent Fasting Work?