This site contains affiliate links. Please read our Policies for information.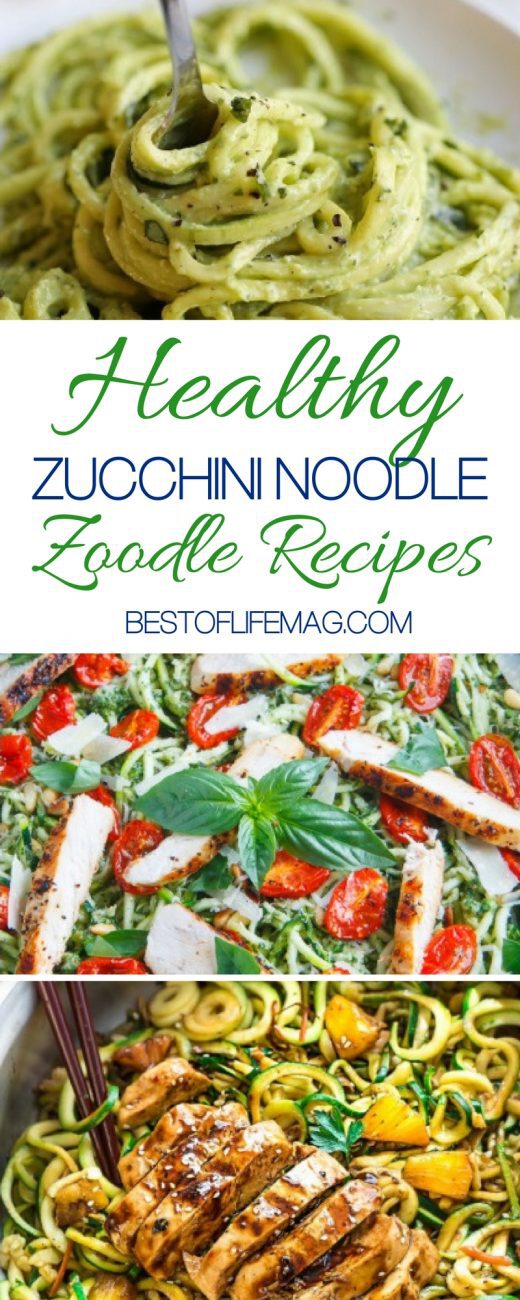 Zucchini is a vegetable that is often treated like a fruit but there is another way to treat zucchini; as noodles. Zucchini noodles or zoodles are a healthy alternative to the regular noodles we know so well. Zucchini noodle recipes are a healthier way to enjoy your favorite noodle dishes. You do need a spiralizer to turn a zucchini into noodles but it's super easy. Once you have the zoodles, you can cook them similar to noodles you already know about.
Zucchini noodle recipes are a great way to eat healthier, feel better and still enjoy those usually heavy noodle dishes without the guilt.
Zoodles have been around for a few years or so but are still a favorite amongst healthy eaters. The health value of zucchini is already well known, plenty of B nutrients and not a lot else.
However, we can't go around eating plain zucchini all day and this is how a spiralizer can help. A spiralizer is a kitchen gadget that can turn sold vegetables into noodles of almost every kind. Once you have the spiralized zucchini you can make dozens and dozens of different zucchini noodle recipes.
21 Day Fix Zoodle Recipes | My Crazy Good Life
Zucchini Noodles with Creamy Avocado Pesto | Eat Yourself Skinny
Pesto Zucchini Noodles with Roasted Tomatoes and Grilled Chicken | Closet Cooking
Zucchini Shrimp Scampi | Damn Delicious
Teriyaki Chicken Zoodles | Life Made Sweeter
Zucchini noodles are a great way to enjoy the pasta dishes you loved but had to give up to get healthier. Regular pasta is filled with gluten and carbs that just aren't as healthy as the B vitamins in zucchini.
In fact, pasta is often used by athletes to overload on carbs the night before a big event. Unfortunately, we're not all running marathons.
Cilantro Garlic Lime Chicken with Zucchini Noodles | Mrs. Happy Homemaker
Zucchini Noodles with Chicken | iFoodReal
Sun-Dried Tomato Mediterranean Zucchini Noodles Salad | Whole and Heavenly Oven
Zucchini Noodle Caprese | My Best Badi
Zucchini Noodle Bolognese | The Movement Menu
The health benefits of Zucchini noodles is why they have become so popular so fast. Unlike most diet trends, zoodles aren't showing any sign of fading away or becoming yesterday's news. Quite the opposite, zoodles have a growing fanbase. Now you can add yourself to that growing list of fans.
Zucchini Noodle Curry | The Fitchen
Drunken Thai Zucchini Noodles | How Sweet it is
Spinach Parmesan Zucchini Noodles | Two Peas & Their Pod
Stir Fry Zucchini Noodles | Diethood
Zucchini Noodle Pho | The Girl on The Bloor
Zoodle recipes work really well in diet plans already established by trainers as well. Add these recipes to your lists of foods to eat on the 21 Day Fix or Weight Watchers. You will quickly realize why everyone loves zoodles so much.
Honey Sriracha Chicken Zucchini Zoodles | RasaMalaysia
Lemon Herb Zucchini Noodle Salad | The Healthy Maven
Chow Mein with Zucchini Noodles | Paleo Hacks
Zucchini Noodle Macaroni and Cheese | Casual Claire
Greek Zoodles | Sustaining the Powers