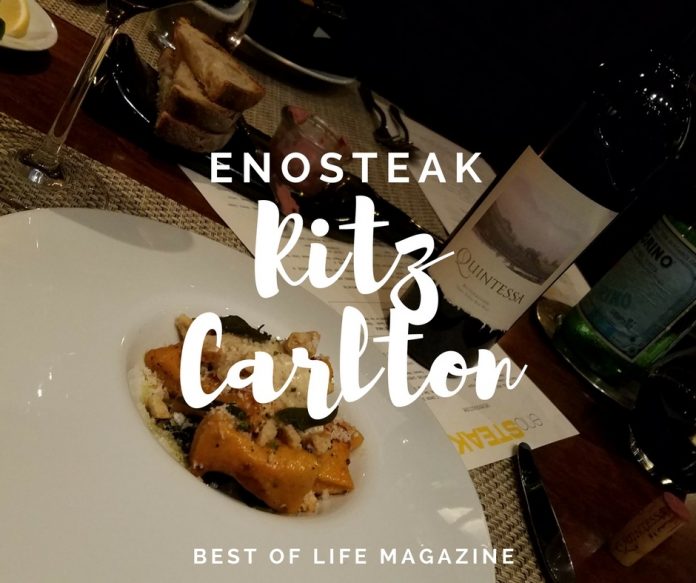 This site contains affiliate links. Please read our Policies for information.
I remember the first time I went to the Ritz Carlton Laguna Niguel, I admit I was intimidated.  I had been to fine hotels before but this was The Ritz!  My imagination kicked into overdrive, picturing myself making such social faux pas like using the wrong fork, not drinking with my pinky in the air, or showing up in white shorts after Labor Day (ok – guilty as charged).  After having been to the Ritz several times now and dining at enoSTEAK, I can say my concerns were unfounded. In fact, everyone at the Ritz Carlton Laguna Niguel makes you feel like you are coming home.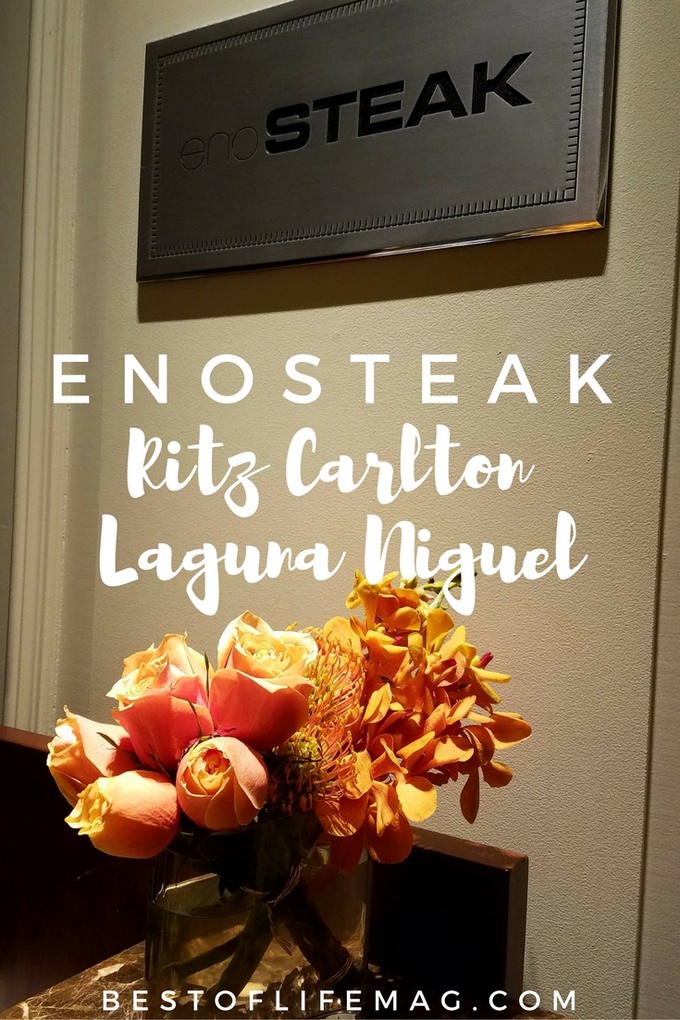 Experience a true wine lovers dining experience at enoSTEAK Ritz Carlton Laguna Niguel.
It's not too often I get all dolled up to go out to a fancy restaurant free of kids and the stress of the day. These are my go to products to get beautified and ready for a night out! I need the right tools, a great primer will do wonders on its own, and of course my staples for foundation, mascara, and perfume.
The Ritz Carlton is an amazing place but not because of pomp but rather its atmosphere of elegance and accommodating service, is set against a backdrop of the Pacific Ocean with surfboard art throughout.  Going to the Ritz now feels like coming home, albeit to a professionally decorated and staffed home.

Luxury Service at enoSTEAK Ritz Carlton
Walking up to the entrance of ENOsteak feels like walking from the living room to your dining room.  Service was amazing from the moment we were greeted by the hostess, who asked us once how to pronounce our last name.  After years, of having our very difficult last name butchered it's always a welcomed relief when someone makes an effort to pronounce it properly.  What really stood out though, was that every subsequent staff member automatically knew how to pronounce our name and did not shy away from addressing us by it.  I mention that because while not everyone has that same situation, it's indicative of the level to which the staff pays attention to detail.
enoSTEAK Wine Cellar
As you enter ENOsteak, your eye is drawn first to the centerpiece of the dining room, the floor to ceiling glass wine cellar.  With my love of wine, I could have camped out in there, sleeping bag and all had they let me.  Everyone in the restaurant has a view of the wine cellar while they dine as well. For those who truly love and appreciate wine, the aura of the cellar will captivate you throughout your entire meal.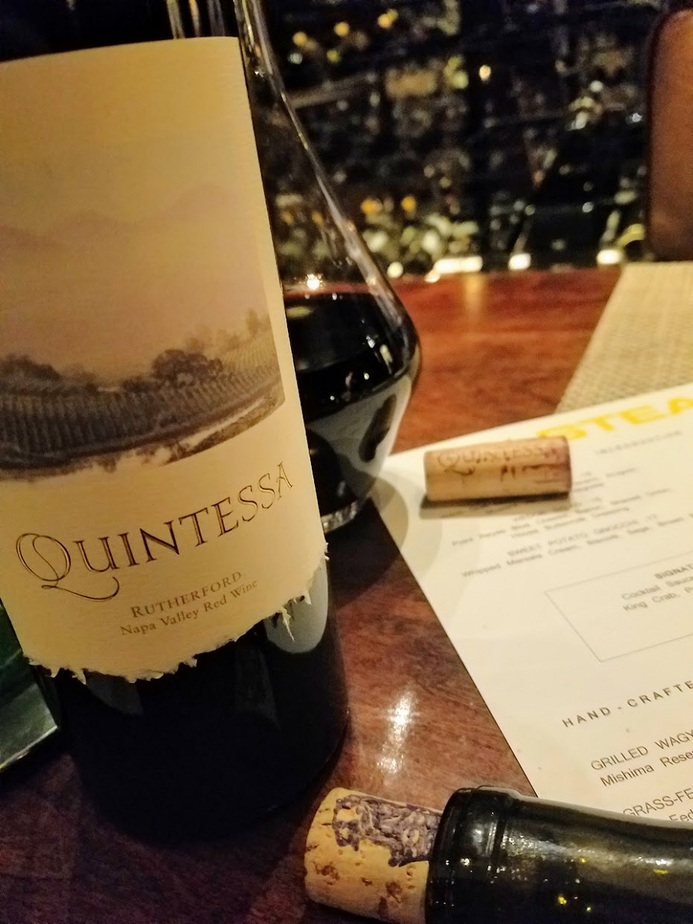 Ambiance
Seating is intimate though you needn't worry about dining on top of other patrons or risk having to inadvertently listen to the next table's conversation as seating is also well spaced. Lighting is kept low and made more romantic by the fireplace, and while it's bright enough to allow you to enjoy the art and easily read the menu, it's muted enough to encourage you to stay focused on the company at your table.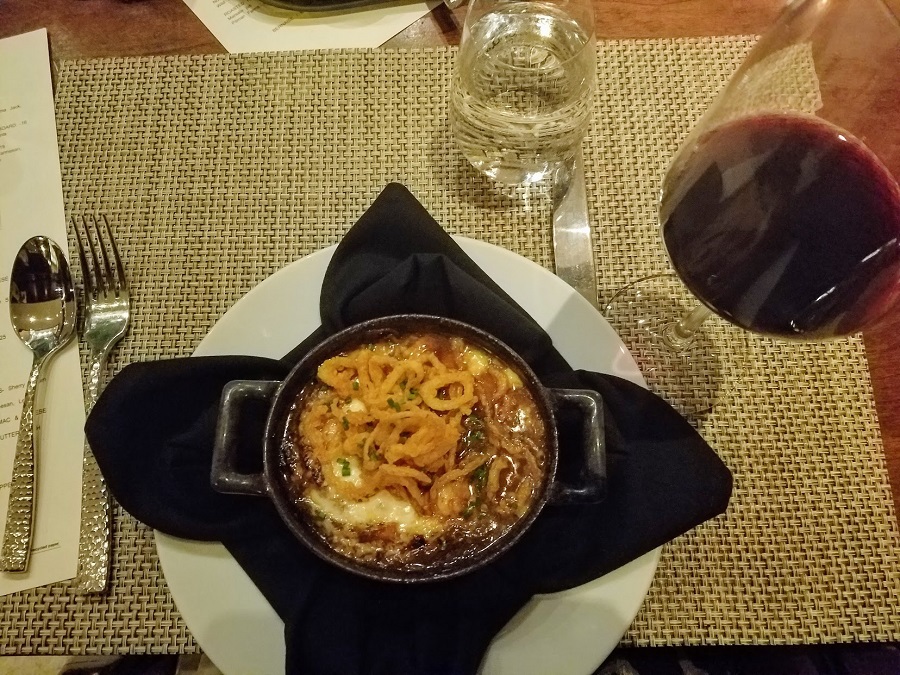 The Food
We may live in California now but that doesn't mean I have forgotten my Midwest roots.  A good – truly good – onion soup is to be savored when it is found.  Because it takes more than onions to make a good onion soup.  Having enoSTEAK's onion soup as a starter with the Sweet Potato Gnocchi was quite possibly the most perfect start to a meal I have had in a long time.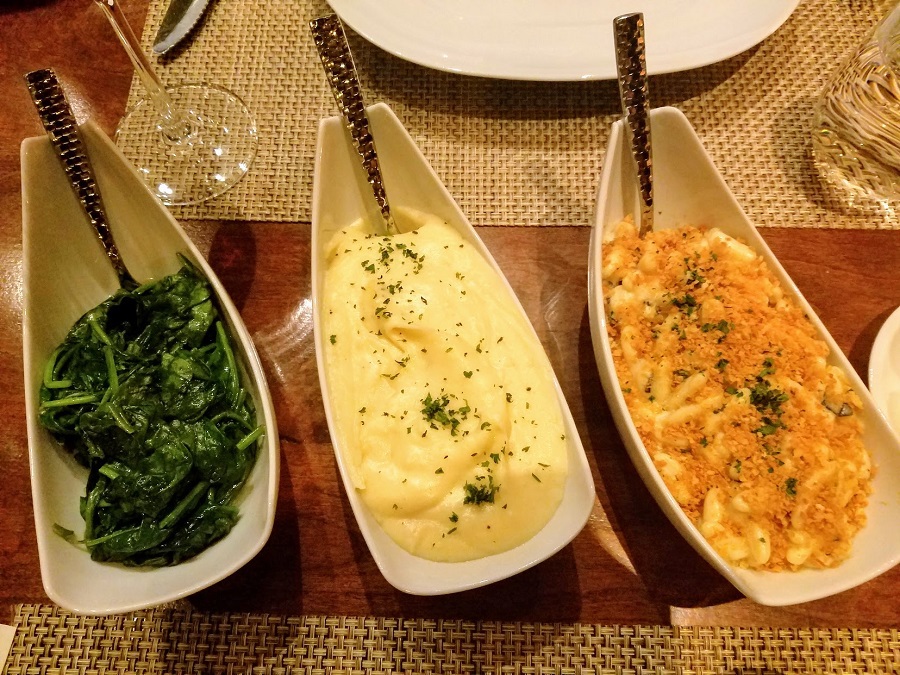 My husband and I both love steaks so I ordered my absolute favorite, a lovely grass fed tenderloin, while hubby tried a Dry Aged Ribeye Chop.  Honestly, he ordered that Ribeye Chop to truly test the limits of enoSTEAK since everything had been beyond amazing to this point.  The Ribeye Chop confirmed that enoSTEAK knows how to delight guests throughout their entire dining experience.  It was incredibly to say the least, especially when paired with beautifully crafted sides.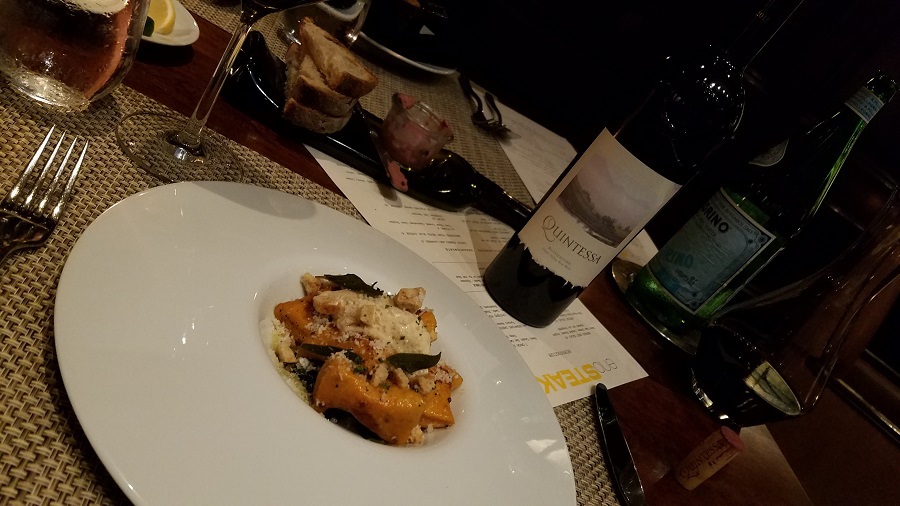 Ritz Carlton Laguna Niguel is well known for a comfortable classy vibe that embodies Southern California. If you are looking for a restaurant that will take you beyond where the majority of restaurants will go, enoSTEAK is it.  From presentation to the ambiance and dishes offered for each course, enoSTEAK is in a league all its own.
Save